« The Morning Rant
|
Main
|
Unbiased Journalist Ron Jeremy Junior of the Totally Unbiased National Laughingstock Wants to Start Suing Websites for Reporting on the Justin Fairfax Sexual Assault Allegations »
February 04, 2019
#BelieveAllWomen: A Woman Went to the Washington Post Alleging That Virginia Lieutenant Governor Justin Fairfax Had Sexually Assaulted Her, But The Newspaper Refused to Publish
The site "Big League Politics" shared a private post from a woman who said an office holder who assaulted her at the the Democratic National Convention was about to get "a very big promotion." She says her attacker won a statewide office in 2017.

On Monday morning, Fairfax released a tweet that said "the person reported to be making this false allegation first approached the Washington Post ... after being presented with facts consistent with the Lt. Governor's denial of the allegation, the absence of any evidence corroborating the allegation, and significant red flags and inconsistencies with the allegation, the Post made the considered decision to not publish the story."

Fairfax says he will take legal action at anyone "attempting to spread this defamatory and false allegation."
Here's that Big League Politics post-- the woman alleges this sexual assault happened in 2004.
Pierre Omidyar's MySpace Page has completely ignored the entire Northam situation, because, of course, Bill Kristol contributed to Northam and encouraged "Republicans" to vote for the infanticidal maniac.
But now Charlie "3-Wives" Sykes finds an angle to cover the story in that inimitable Bulwark style.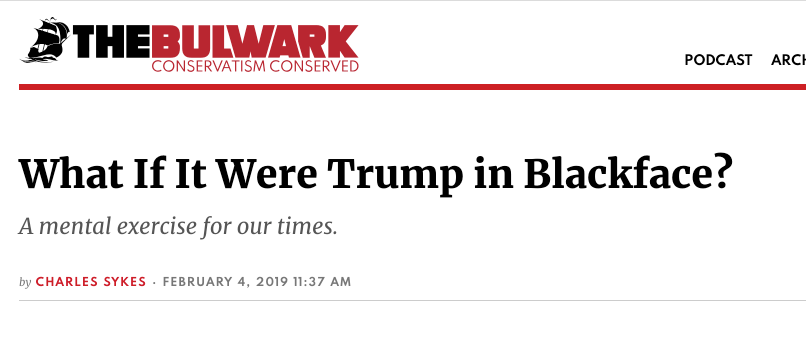 As you might remember, Ekdahl predicted this two days ago:

posted by Ace of Spades at
11:57 AM
|
Access Comments