« Donald Trump, Jr.'s Phone Calls Before and After Meeting With Veselnitskya Were Not To His Father, as NeverTrump and Liberal (BIRM) Conspiracist Theorists Hoped, But to Business Friends of Don Jr.'s
|
Main
|
Bill-Kristol-Backed Infanticide Advocate Ralph Northam: I Regret Nothing About My Comments in Support of Post-Natal Murder »
February 01, 2019
Big League Politics Scoop: Bill-Kristol-Backed Democrat Ralph Northam Posed in Blackface for His Medical School Yearbook
Big League says they have "obtained photos," which is vague.
"Obtained photos" could mean "someone sent us gifs of the yearbook," which is not great proof because these things are easily faked. All you'd have to do is take a picture of Ralph Northam's page but then swap in a blackface photo from some other source. It is impossible to look a guy in blackface -- from 30 years ago -- and say "That's not Ralph Northam, that's an imposter!"
On the other hand, if they have the yearbook itself, that's a lot harder to fake. Then you're talking about a lot of time and expertise to fake a physical book and artificially age the paper and etc.
So is this real? I dunno. I'm going to leave it to the photo's mother and doctor to decide if it is viable. Until then, I'm going to keep it comfortable.
In case you missed the "joke," his friend beside him posed in KKK robes.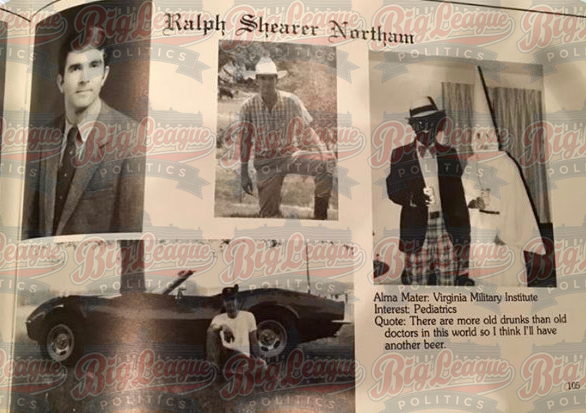 Image from Big League Politics,
in case you couldn't tell from the watermark
Hey Bill -- Womp womp.
Thanks to Dr. Spank, whose real name is Mooncookie Sillypants Van Der Snizz III.
Related: A Phoenix bar featured a photo of coal miners, faces dark from soot, discussing a proposal to go on strike in a bar.
A patron claimed the picture was #Triggering because, even though no one disputes the picture is exactly what it is claimed to be (miners just coming off of work), one could misinterpret it and then take offense over one's own stupid misinterpretation.
This is now a controversy in today's world. People really want this bar to take down this photo because ignorant people could intentionally misinterpret something so that they can be offended.
Did you know firefighters are all racist for up to two hours after putting out a smoky blaze? That's the rule now, apparently.
Sargon of Akkad talked about this stupidity a couple of days ago.
Related: Joe Biden defended racial segregation in 1975, claiming he was doing so because being forceably kept separate from whites was "a matter of black pride," despite lots of blacks marching in protest of segregation.
His position was not motivated by "black pride," of course, but to appease his white voters.

posted by Ace of Spades at
02:58 PM
|
Access Comments