« Tuesday Overnight Open Thread (1/29/19)
|
Main
|
Mid-Morning Open Thread »
January 30, 2019
The Morning Report - 1/30/19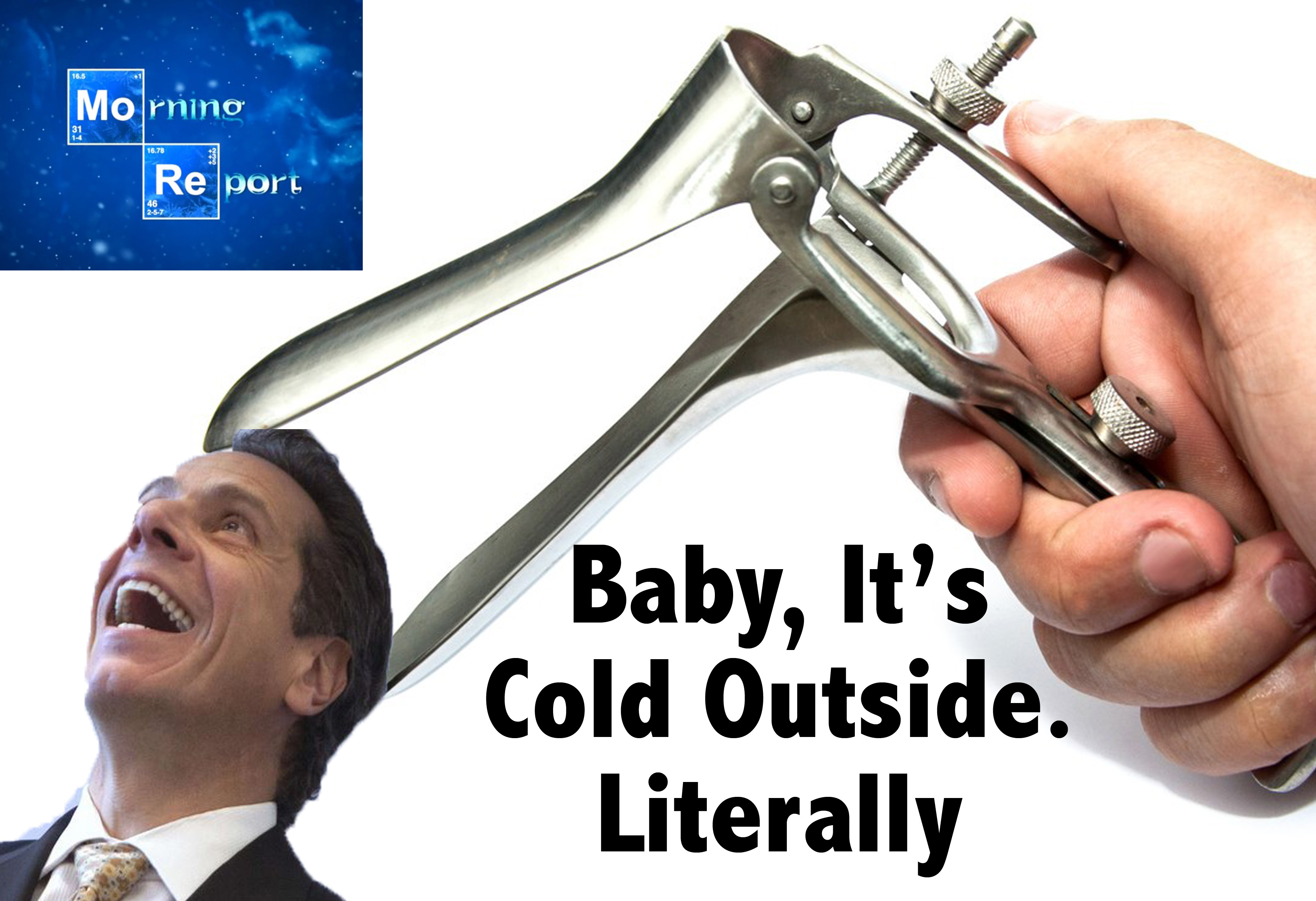 Good morning kids. Midweek and up front, the Stalingrad-like conditions in the Midwest (minus the artillery, snipers and cannibalism) are not to be poo-poo'd. If you are in the affected areas, stay the hell indoors unless absolutely necessary for you to venture outdoors.
Back to the main event, which continues to be immigration/Amnesty, the wall and the aftermath of government shutdown theatre, the latter only being an intermission as the shutdown could resume in three weeks if no deal is reached to fund the wall. On that score, we are learning that the usual gang of crony corporate fascists have been invited to the White House (hopefully not at the President's suggestion) to party with Son-In-Law Kushner about what sort of Amnesty they can foist on the American people to replenish their stock of cheap labor whilst providing Democrats with more voters and aid in the dissolution of American culture and society.
It makes absolutely zero sense to correctly define the existential threat to our nation of unchecked mass migration as well as the solutions to same in the form of a border wall and other security measures while at the same time offering to reward and perhaps encourage more of it with concessions in order to get that border wall. And that assumes it's not another Wimpy hamburger-now-pay-you-on-Tuesday-for-it psych out as with Reagan and Simpson-Mazzoli in '86. The deal should be a la Michael Corleone to Senator Pat Geary: nothing, and I'd appreciate your putting up your original $50 billion proposal from a few years ago as well. Seriously, this really is the hill to die on both politically as well as in real terms vis a vis the life of this nation going forward. I do not trust Jared Kushner and I certainly do not trust the Koch Brothers, Tom Donahue and all the rest who have no problem lining their pockets by aligning themselves with those who would seek our destruction (see the last link in the Politics section). I think my only consolation is that Democrat Party leadership as well as their key 2020 prexy hopefuls have adamantly stated that border security and a border wall are non-starters, and in fact "immoral" so the President may not in fact even have to consider any concessions on Amnesty.
And that leads us to what will happen when this three week pause ends and there is no funding for border security? I think the President at that point will be forced to pull the trigger on declaring a national emergency and unilaterally ordering the construction of the border wall. That will, of course, in turn lead to an instantaneous flurry of lawsuits and injunctions from Judges Buch M. Danno and Tyne E. Bubbles and possibly even a pretext for the Dems to bring up impeachment, the lack of any sort of just cause notwithstanding. The problem here is that there are some in the GOP-e that are warning Trump not to declare a state of emergency and in fact, one jagoff RINO from Idaho is saying there could be enough votes to override a veto of any border-wall-less budget deal.
So far, as I have stated these last few days, I continue to believe that despite the media and others claiming Trump caved, I think he has made and continues to be playing this quite well, all things considered. It certainly would help if he actually had a political party behind him in this fight, but he never had one to begin with so screw them with a sideways pineapple up the shitter. Send Jared back to Saudi Arabia to hang with Prince MbS and kick the Kochs to the curb.
In other Amnesty headlines, wives of Border Patrol Agents rip Palsi Pelosi in writing, Rancida T-Labia of Joo-hate fame blathers about Muslim bans as well as abolishing ICE, a previously deported illegal alien child rapist gets nabbed at the border yet again, and a look at assimilation, or lack thereof, since Tom Brokaw spoke the truth and Mark Levin takes a whack at the topic.
Civil War 2.0 and the War on Religion: A leader of the "Antifa" terrorists has been exposed in DC and now let go of his non-profit gig (awwww), the case of a university Christian group banned for refusing to let a sinner lead it goes to court today, Trump supporters assaulted at a rally in 2016 in San Jose may at last get justice, and Rabbi Fischer with a thoughtful open letter to young Nick Sandmann.
Democrat-Leftist Scandal Sheet: Hack-Keem Jeffries rushes to defend the Joo-haters in his party, one of them thanks the "Palestinian" goon for inspiring her to new heights of Joo-hatred, video emerges of Bernie Sanders' partying half-naked at the Lubyanka after his wedding (feh), and the threat from the Democrats' new Islamic State Caucus in the House.
Politics: As the Democrat field for 2020 begins to shape up, some links will be here and in other sections as they spew out their usual pablum depending on the issue. But, first up, no sooner than Kamala-Toe got hammered by Howard Schultz about universal health care, she flip-flops on the issue harder than a one-ton tuna on the pitching deck of a Japanese trawler, Schultz got into a war with would-be trillion dollar larceny enthusiast Fauxca-HasBeen, a couple of links on primary season heating up including from Daniel Greenfield on how alike they all are despite the "diversity," GOP women's group pushes back against the Dem plan to target certain Republicans, two essays on Alexandria Ocasio-TacoRosado being targeted for termination by her own party, incest aficionado Ilhan Omar tries to reboot Fannie Mae/Freddie Mac and the Community Reinvestment Act, Democrats get the phrase "so help me G-d" removed from committee oaths of office, "Tank" Abrams, the mirror universe Lauren Hutton gets tapped to deliver the Democrat response to the SOTU address, a couple of good essays that bolster my opinion that Trump really did hold his own (if not came out ahead) during the shutdown and finally, yes, they really do want us dead.
First Amendment, Censorship and Fake News Fakery: Ace covered the Jussie Couture or whatever his name likely faked hate crime in depth yesterday. One very sobering look at how computers are the new thought police.
Guns, Guns, Guns: Rural Washington State becomes a sanctuary state for the second amendment, South Dakota is next to pass "Constitutional carry," and Kamala-Toe spews out a particularly tone deaf gun grabbing line, in light of Andrew Cuomo's baby killing edict.
Foreign Desk: With Venezuela still fluid, pressure is being put on the OAS to recognize Guaido and give Maduro the heave-ho, NATO nations agree to fork over the do-re-mi for their own defense thanks to Trump, China's massive spy operation disguised as tech company Huawei gets handed an indictment in WA and NY, and DNI Dan Coats on the Syria situation.
We-All-Slam-For-I-Slam: The down side of Austrian women being shown a lot of love from the migrants, and a restatement of what the head-chopping, clit-clipping, space-rock-worshipping pedophile death cult really is all about.
Domestic Affairs: Quite a good essay from commenter "StirFryLaura" about the EEOC and bureaucracy in general in context to the shutdown.
Crime and Punishment: When it comes to getting to the bottom of the Mandalay Bay Massacre, the FBI gets its meme (gotta be a raging Leftist or a brainwashed neo-Muslim).
The Economy, Stupid: Salena Zito with another good outing on the American dream and Trump policy reviving same, CBO data once again confirms that the Trump tax cut works big time, Obama anti-franchise regulations destroyed a lot of jobs, California government and the law of unintended consequences, and Molly McCaughey on how any Dem plans to soak the rich won't really have that much of an effect on them at all. The rest of us is another story.
Abortion: Not to be outdone by Andrew Cuomo, Virginia Dems propose a law making it legal to kill the baby just as it's peeking out of momma's hoo-hoo. I beseech G-d in Heaven to bring malach-ha-mawis down on these people with a vengeance.
Healthcare: Just as the Weather-Controllers announced a possible cure for all cancer, we might have a major breakthrough in Alzheimer's with the identifying of a cause; gum disease. Also, more Americans are growing old alone and the scourge of the death doctors.
Education: Home Depot's Bernie Marcus drops a big old truth bomb.
Red-Greens: After Howard Schultz gets ripped for being right about socialized medicine, he attempts to make up for it by spouting the Climate Change drivel and a look at Andrew Cuomo tilting at windmills, literally.
Feminazism and Transgender Psychosis: 6-year-old Texas boy is going to suffer horrible thanks to his sick-in-the-head parents.
Hither and Yon: CBS sez Super Bowl, si, SuperBong, no, a look at the war on Western Civ and whitey, and an update to the Upper West Siders being inundated with derelicts. Hey, do like Ilhan Omar demands and let them into your condos, h8trz!!!
Anyway, links from around the world, across the nation and up your street. Have a better one and remain blessed.
BORDER WALL, MIGRANT INVASION, AMNESTY, IMMIGRATION, BORDER SECURITY

posted by at
06:57 AM
|
Access Comments