« Tonight's ONT Is Crazy
|
Main
|
Mid-Morning Open Thread »
January 25, 2019
The Morning Report - 1/25/19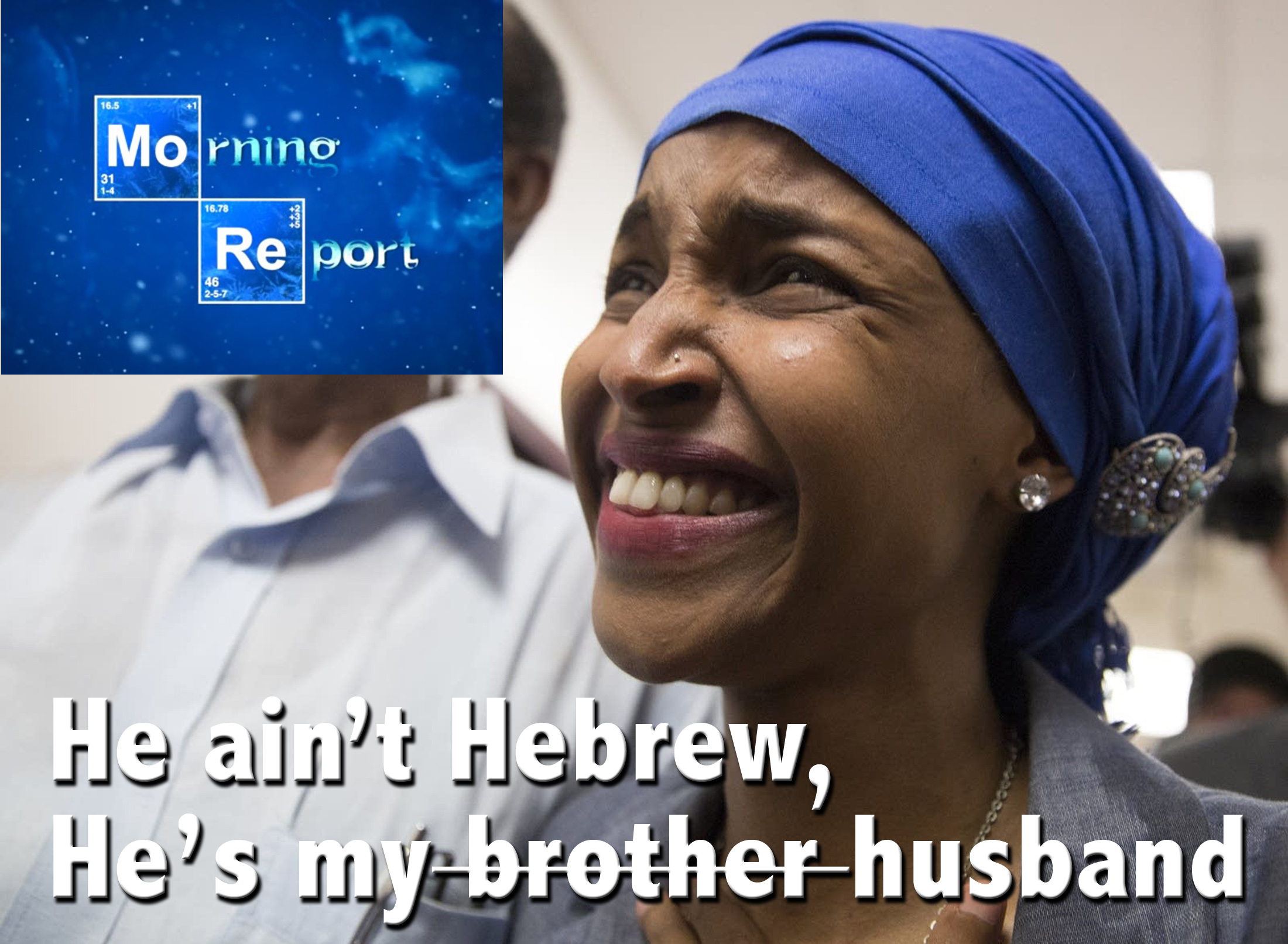 Good morning kids. The weekend is here so let's get with it. The situation in Venezuela still topping the news and from what I can glean, the US and Canada are backing Guaido while calling for Maduro to step down, Maduro isn't budging and by all indications has the military behind him. This is going to get ugly and we should be doing everything possible to help the suffering Venezuelan people excise this cancerous, bloated tick short of actual boots on the ground. The only exception would be to rescue any US citizens or diplomatic personnel who are in immediate mortal danger. Other than that, the usual gang of vermin are rushing to support Maduro and blast our President including Turkish Turdogan and his goon squads. Jack Dorsey has absolutely no problem whatsoever in allowing Twitter to be used by them. And related, see the fine link examining how foreign agents are using our social media to sow internal political discord. Meh, they don't need to when we have the Democrat Party, 99.999% of American academia and the Media willingly doing that job already.
Next up the continuing Mexican standoff in DC and the border itself. Frankly there are or were so many bills and proposals that were floating around both Houses of Congress and the Oval Office that it's hard to keep track of what has or has not passed, is likely to pass and what the fine print actually says. I believe two bills that were in the Senate have already died but that there may be an option there that actually has a chance. Meanwhile, Palsi Pelosi is digging in her Imelda Marcos edition Prada stilettos and not budging. Mark "ol Yeller" Levin out and out calls her an American fascist. And see the link about all the bills the Democrats have rejected despite their lying about poor innocent bureaucrats dropping dead in the streets for missing two paychecks already (which will be paid to them anyway once this circus ends), but there is a growing revolt within her party to fund the dang wall. It should go without saying not to trust what the Media is pimping; the Democrat Party is in disarray/semi-open revolt over this and other reasons. The President is winning this battle. The longer this goes on the stronger his position gets. Hang tough, OrangeManBad, and for good reason; we have a crisis at our border and internally with the upwards of 25-30 million illegal aliens already in country draining our resources, creating havoc and causing the rapid dissolution of our society and culture, which is of course intentional on the part of the institutional left. A bevy of links to underscore all of this as well as what the President can do via Executive authority to go around Congress, Judges Buch M. Danno and Tyne E. Bubbles notwithstanding.
News from the latest front in Civil War 2.0, the persecution of the Covington MAGA hat kids where a Kentucky prosecutor is vowing to go after anyone threatening these kids, Joe Bidet opens his festering cake-hole to blaspheme the Lord and dehumanize political opponents, and Trump-averse Jim Treacher sez he's going to buy a MAGA hat, that says something. More on this in the Fake News Section so stay tuned...
To politics where first up in the scandal sheet, you'll be proud that the GOP leadership in the Senate has given closeted organizer Cory Booker a pass for his leaking of confidential information during the failed attempt to destroy Brett Kavanaugh. Ah, collegiality. Feh. Next, incest enthusiast and Joo-hater Ilhan Omar has accused the President of trying to engineer a coup against that great humanitarian Nicolas Maduro. Meanwhile, after publicly supporting some stooge as Somali president, her brother-in-law gets hired to serve in that regime. You'll be happy to know that Palsi Pelosi has seated her on the House Foreign Relations Committee. Unreal. Next, Alexandria Ocasio-TacoRosado is pissed at the WaPo of all outlets for calling her a liar, sensing her waning chances, Fauxca-HasBeen is hot and horny to tax wealthy people on the assets they already have that have already been taxed, the married homo mayor of South Bend is running for prexy (he said "Butt-a-gig!"), and two very good essays on us normals and them terrorist tyrants.
First Amendment and Fake News Fakery: Tu-Ca rips Savannah Guthrie a new one for her puff piece interview with Taunto the Buffaloed Soldier, Twitter CEO Jack Dorsey sez "bias? what bias?", clear majority of Americans think the media hates them, even a 40 year friendship is not enough for Conrad Black to, in his way, attack George Will for his insane NeverTrumperism, and Propaganda - it's what's for breakfast, lunch and dinner with the Left.
Guns: All sorts of gun-grabbing regs in Florida totally failed to stop a mass shooting two days ago.
Foreign Desk: Besides Venezuela, Iran's nuke chief confirms they violated the nuke treaty, big wins on the battlefield and diplomatic fronts for Israel over the Farsis and the fictional "Palestinians," and a call for the US to get out of Syria. I agree but the premise of peace and stability coming just because of that is a stretch.
We-All-Slam-For-I-Slam: For once Marc Lamont Hill is right, the vast majority of sweet, innocent so-called "Palestinian" protesters/marchers killed by the evil weather-controllers were terrorists, 2 Saudi teen sisters really did not want to go back home, and Daniel Greenfield exposes the evil axis of the ADL, former (and current) Nazi collaborator Soros and Hamas at their annual shriner's convention.
Domestically, the shutdown shows all sorts of agencies that can be abolished, for the people!, an Ohio steel mill that was on death's door is thriving again thanks to the Trump tariffs, and the free markets are the key to Seattle making a comeback. Too bad a rabid commie red-dot Indian runs the place.
Abortion: Catholic bishops pen a letter to Andrew "baby, it's cold outside the thighs" Cuomo all but excommunicating him, and who needs Cuomo when the GOP will fund the slaughter willingly in Congress. Feh.
Healthcare: 70% of doctors surveyed think they hooked their patients on dope.
Education: A revolting piece on the brainwashing mills, a Florida school board will keep old trench-coated geezers in girls locker rooms, parents be damned, and NYC's thug schools chancellor don't want no charter schools horning in on his racket.
FemiNazism: Interesting angle on the APA and toxic masculinity.
Hither and Yon: American Airlines boots smelly passengers off a flight, and Christian Toto with a thumbs up for a new flick called The Kid Who Would Be King. Hmm, something other than socialist agitprop? Might have to check it out. Enjoy the weekend!
Anyway, links from around the world, across the nation and up your street. Have a better one and remain blessed.
BORDER WALL, MIGRANT INVASION, AMNESTY, IMMIGRATION, BORDER SECURITY

posted by at
07:49 AM
|
Access Comments