« NBC "News:" A MAGA Hat Is Literally Hitler
|
Main
|
The Morning Report - 1/25/19 »
January 24, 2019
Tonight's ONT Is Crazy
So, people* often ask me what it's like to do an ONT.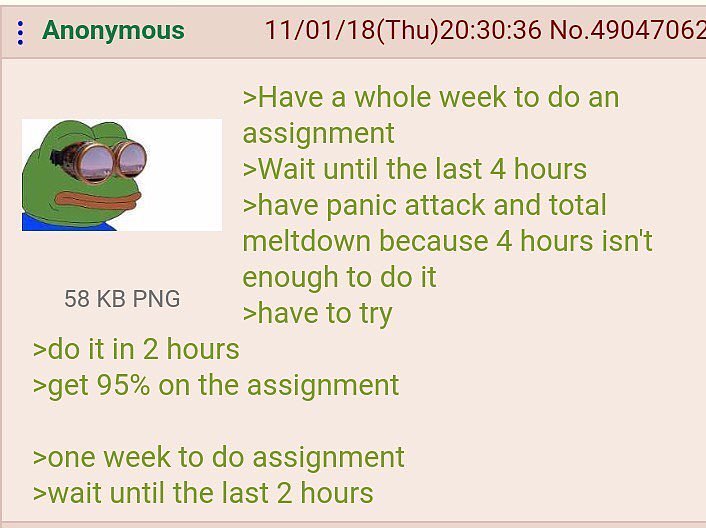 *I say "people", but really it might be one of my other personalities. Klaus, I think, the Bavarian fishmonger who doubles as a penny-a-throw male whore at the local Gasthaus on weekends. I'm really not sure anymore.

Have a Drink

The Dirty Truth About Turning Seawater Into Drinking Water
This was a better article than I expected. It laid off of the usual We're-all-going-to-die-in-12-years! ecoweenie stuff, instead it acknowledges the usefulness of the process, but points out that there is a major by-product, brine, and says we better figure out a use for it. Refreshing.

Bad Crazy
Sarah Hoyt is a sci-fi author, and while I confess that I've never read any of her books (not intentionally or anything, I've just never come across one), the writing she does on her blog is sharp and on point and demonstrates a keen mind for dissecting the culture. Like this one: Bad Crazy
Bad crazy often starts as a bridge made out of soap.  Insane-crazy, a theory dreamed by some college professor with too much time on his or these days often her hands and an ax to grind or a pony to ride.


But it's such a just-so story it spreads and hides.  It hides so well that people don't realize they're infected.  But its distorting effects twist society's processes to the point that something vital stops working.


Yes, the entire myth of "toxic masculinity" is one of these.  It was born of the disappointment of feminists.  Look, in the days when women were actually held back, those that made it were exceptional people.

…

So I understand that in the early twentieth century, women that made it to positions of prominence, where they became known for professional excellence, had to be GOOD at it.  Amazing, in fact.


And even then, they might hit a glass ceiling, because they were the nail that stuck up. Everything conspired to bring them down.


Female liberation was played against this.  People looked at these women, knew what they'd achieved against what obstacles, and dreamed that "if only women were allowed to be on an even footing with men, they'd be the best at everything. Every woman would be a leader."


This is a form of insanity, because women are still human, and most humans are… average. That's why they call it "average."


But you can see how what they saw would deceive them.


Except that the obstacles were removed and women… were people.  Sure. There are exceptional women, just as there are exceptional men, but in many ways, even with contraceptives, we women are still running with our legs in a biological sack.  Oh, men too. They're just different sacks.  And men's impairments, in a way, apply better to business, to creating, to competition.


Look, it's become "sexist" to refer to PMS and women's hormonal cycle as being at all different than men's hormonal gearing up.  Yeah. Any ideology that requires me to ignore my lying eyes in favor of their theory is bad-crazy which can destroy society, so these are my middle fingers.  Reality is what it is.
Read the whole thing, it's not just about "toxic masculinity".
Tough Guy
You may be tough, but you'll never be "Yank a tooth out of a wide awake tiger's mouth" tough.

What Do You Call Cheese That Isn't Yours?

Turns out the chemical formula for the ingredient that makes smooth melty cheese, trisodium citrate, is - and I'm not making this up - Na3C6H5O7 .

How To End Racism

Class Struggle

Donald Trump is a symptom of a new kind of class warfare raging at home and abroad
I've really come around to this kind of thinking lately. I tend to view things through an historical lens. For most of my life I've thought of Western Civilization as the natural evolution of society, but lately I've become more cynical and am wondering if it was an aberration, and what we're really doing right now is regressing to the mean. For 99% of human history, society has taken the form of a handful of wealthy/powerful elites ruling absolutely over a vast sea of helpless serfs. We broke that mold half a millennia ago, leading to previously unimagined prosperity for the population of the West. Now it seems that we're squabbling our way back down into the morass. I dunno.
Here's something else along those lines. It's at Sarah Hoyt's site (see above), but it's not by her.

Sports Silliness

Lawsuit Filed to Have Ending of Rams vs. Saints Replayed After Missed Call
I know a lot of you don't care about the NFL anymore, if you ever did, but last weeks' round of championship games featured a awful call. Not as awful as the Martin Gelinas no-goal call that most likely cost the Flames the Stanley Cup in '04, but this one most likely cost the Saints a Super Bowl berth.
That's textbook pass interference, and 2 refs standing right there blew the call. Now some fans want to sue. That's just silly. Instead, just do what I do and bitterly insert references to the blown call into conversations and blog posts for the next 15 years. ;)
Presented Without Comment

Tonight's ONT brought to you by D.H. Lawrence: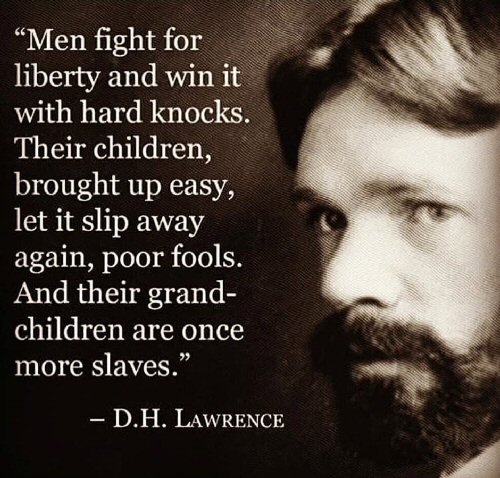 posted by WeirdDave at
09:31 PM
|
Access Comments