« Saturday Gardening Thread: January 26 [KT]
|
Main
|
Chess Thread 01-26-2019 »
January 26, 2019
Ace of Spades Pet Thread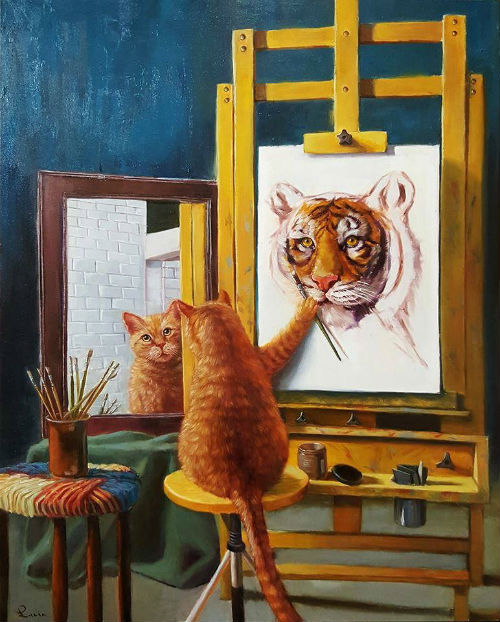 ***

Good afternoon and welcome to the almost world famous Ace of Spades Pet Thread. Go ahead jump onto the furniture and make yourself comfy. Let's enjoy the world of pets.
***
A Little of This. A Little of That.

Is your cat overweight? Out of shape? Here you go!!
***

Do pets experience jealousy? This classic dog clip reveals the answer.
***

A couple of fun videos from our friend Hank Curmudgeon.

Most ducks fly south for the winter. These ducks wish they would have.
***
Meet The PetMorons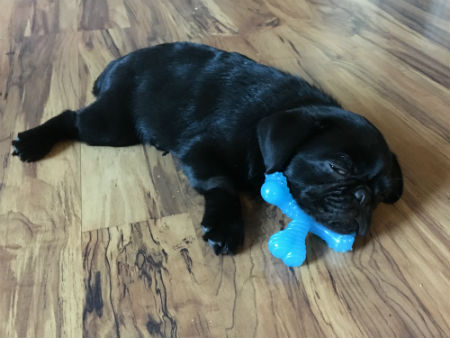 our newest 18 weeks, Bark Vader - Syd
What a cute puppeh. If you are on the Pet Thread today jump in and let us know its heritage. Thanks for submitting Bark Vader's photo.
***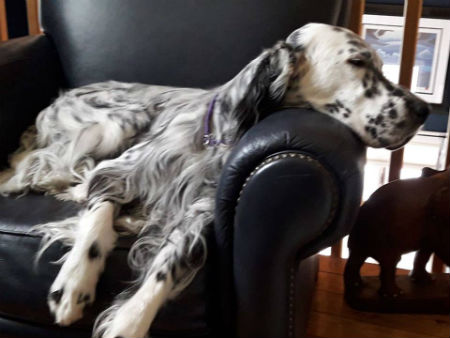 This is the newest addition to the menagerie. Arrow is a year and a half old Blue Belton English Setter. He's as sweet as can be. My wife has high hopes for him. If you see him in the ring at Westminster, you'll know her dreams have come true. i just hope he's a great influence on Levon the Terrible. Either way we love the big guy. - Thomas
Good luck with the show ring Thomas. We have several Morons here who either have been or are still involved in the show world. Looks Arrow has a favorite chair. Nice.
***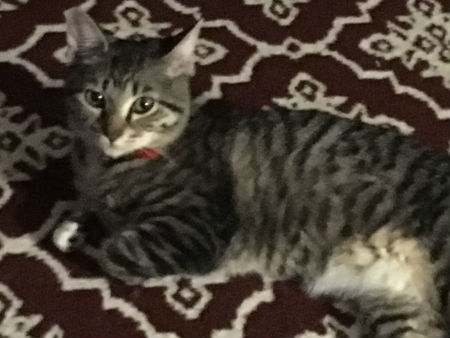 Momi the terror - Don't let her looks fool you. She has to be the most infuriating yet adorable kitteh ever.

When she's not knocking stuff off counters or shelves, she's climbing the walls or drapes, literally.

Fortunately, she's also very loving.

SMH at her antics - Lisa

I think you're just making stuff up about this angelic little kitteh. She's too cute to be the terrorist you claim her to be. We appreciate her photo and story.
***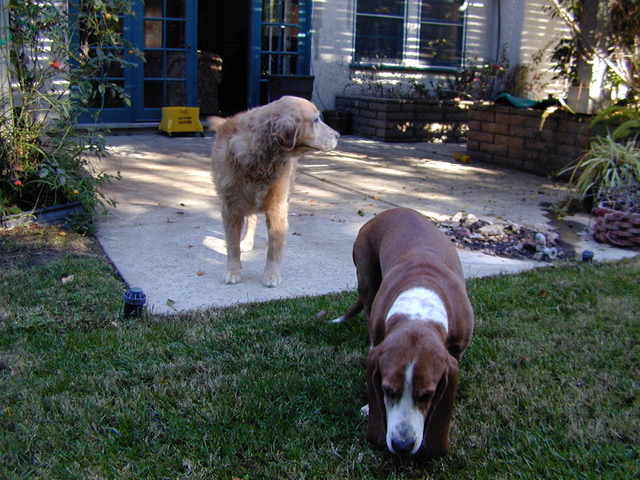 I have had two rescues and two puppies over 23 years. All bassets although my golden retriever was still with me for the first basset puppy. A friend brought him over and asked if I would raise him. Malke bassets are notorious for being difficult to house train. The golden did it all herself. She showed him what to do and where to go. She was still with me when the basset, Dudley, died of cancer and I went to a shelter for another basset. The family were hysterical.

Charlie was a little guy with his hind legs in a cart. When I walked into the shelter in Acton, CA, he walked right up to me, dragging his cart, and put his head between my legs. Who could resist that ? Anyway, I took him home and from the first day, he did without the cart. He was an angel. I sent the cart back to the shelter. He had a funny walk but did fine for the three years until he became completely incontinent, I eventually had to put him down but he was loved. For the last year, he wore a diaper.

We now have another rescue and she has been with us three years. - Mike K
Mike you have a big heart. And I agree with you, how could you resist that dog? Charlie won the lottery when you came into his life. Thanks for sharing with us today.
***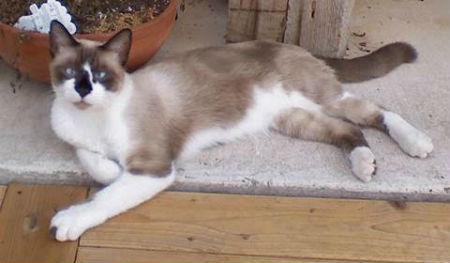 Mis Hum,

Once upon a time, someone dumped a beautiful cat near a home in the country. The kind couple who lived in that home noticed the cat, offered him food, adopted that cat and loved him as their own. They named him Sam.i.am, but because the cat had an affinity for rolling in the dirt, he became known as Dirt. And Dirt was a great cat and a blessing, preferring the great outdoors to the house, except when it was cold or rainy. Ever the gentleman, Dirt behaved himself when he was inside the house, never scratching furniture, clawing people, or jumping on the countertops. Dirt would defend the country property from all intruders, especially other cats. About three years later, a feral kitten decided to hitch a ride with the lady of the house (unbeknownst to her), hiding between the skid plate and the engine of her truck. Once discovered, the kitten ran off to a woodpile, and after a couple of days he was eventually coaxed up to the house with food, and then into the lady's lap, where he purred. Dirt adopted the kitten, now named Gizmo, and taught him to hunt and stalk, and showed him how to behave in the house. And life was good. Dirt loved to nap on the deck, climb trees and hunt lizards. Gizmo loved to sleep on his little bed inside.

And then one day, the lady noticed that Dirt was not as agile, and thought perhaps he had taken a tumble outside. Days passed to weeks, and weeks to months. Dirt eventually stopped going outside and it became more difficult for him to get around. And then one day, when the lady was holding Dirt in her arms, he told her he wanted to climb trees and chase lizards again. Dirt said he loved his people so, but that he was ready to go where he could run and jump and play without pain or care. And so it was that the kind couple escorted Dirt to the Rainbow Bridge. They held hands as they watched their great cat cross over the bridge, with only a backward glance as if to say: "I will wait here for you, and it will be a happy day when I see you again!" And while the couple was sad for their loss, they thanked God for the blessing that had come into their lives and who was their beloved Dirt.

/Legally Sufficient

(This was taken in 2008, about a year after Dirt was dumped out here and adopted by us. He was about two and a half years old at the time.)
So sorry to hear of your loss L.S. It sounds like Dirt was one of a kind. Quite the looker as well. Condolences again.
***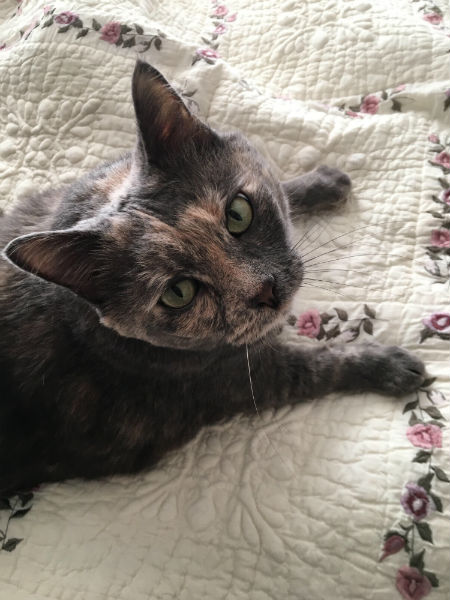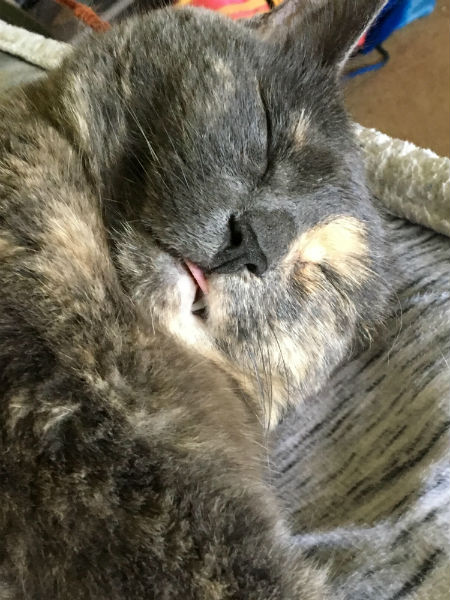 On the website my name is WeBoned!

These are my niece's cats. They are torties and the first one is Lily, she is about six years old. Eating and sleeping are her favorite hobbies, seeing as she never skips a meal and sits by the food dish all day.

This if fluffy, Lily's twin sister. She has quite the tortitude. Fluffy spends her time getting high off catnip, breaking into boxes of things, and scratching at people's ankles as they walk by.
Well thank you WeBoned! Appreciate you submitting photos of pets that aren't even your tax write off. They must mean a lot to you.
***
Had to put my good boy Ike to sleep last week. He was over twelve years old and weighed about 105 lbs. most of his life. He saved my rear twice, three times if you count how he kept me sane after my husband passed. Glad he got to live in God's Country (East Texas) for the last years of his life.

Bean Counteress of Rohan
I am so sorry to hear about your loss. What you did is never easy, even if it is the right thing to do. Pets certainly do not live long enough.

A great group of pets this week. Thank you for the submission of photos and links. Do you have something you wish to submit? Well, you can reach us at petmorons at gmail dot com.
Have a great week!!!
H/T Photo above the fold: Ladyl

posted by Misanthropic Humanitarian at
03:01 PM
|
Access Comments