« Sunday Overnight Open Thread (1/20/19) Before The Eclipse Edition
|
Main
|
Mid-Morning Open Thread »
January 21, 2019
The Morning Report - 1/21/19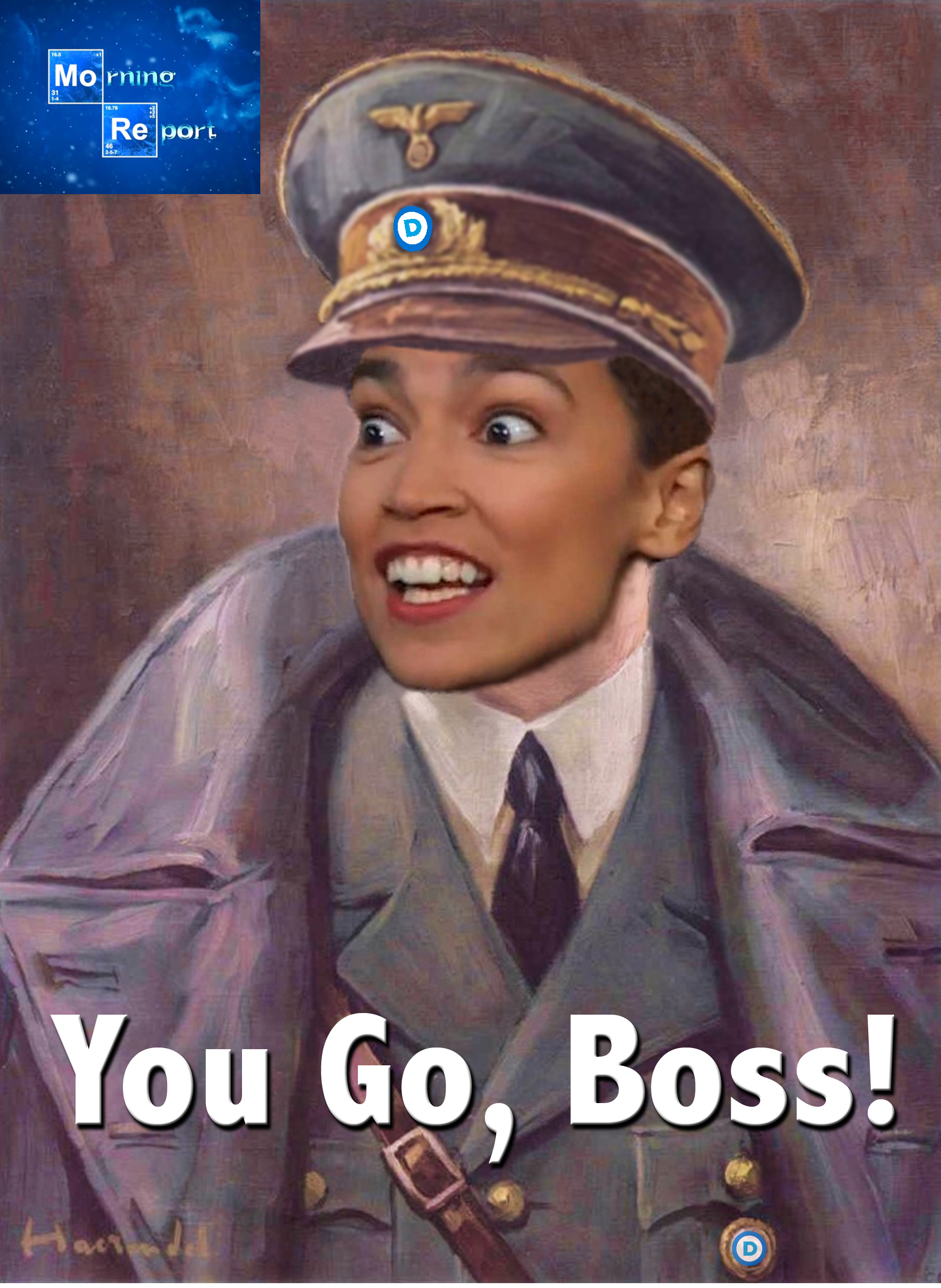 Good morning kids. Monday and Martin Luther King Jr. Day. Lots of stuff to get to so here we go. First up, the President took to the airwaves over the weekend to offer the Dems an amnesty for the DACAns in exchange for full funding for the Border Wall and border security and an end to the shutdown. Palsi Pelosi and Cuck Schemer flat out rejected the offer out of hand, reportedly even before the President spoke. As of this morning, though, CNS News (see second link) is reporting that the President is thinking of sweetening the deal with some sort of much broader amnesty. While the first deal was no doubt something of a ploy to get the Dems to look like the intransigents that they are, this upping the ante if you will is kind of a dangerous gambit (and it kind of negates the reason to even have a wall in the first place if you really are willing to grant a blanket amnesty to potentially millions of new Democrat constituents). But, be that as it may, the Dem-Left-Media Complex has staked everything on denying the President anything even remotely resembling a political victory, perhaps even with something as tempting as an Amnesty for those already here. I hope I'm right on this and would hate to see them call his bluff. Of course he could theoretically lay out all sorts of pre-conditions that could kill the deal but best not to get ahead of ourselves.
For now, with the rejection of this latest offer to compromise as well as the absolutely-no-way-to-spin-it disaster of being grounded from leaving the country, the Democrats are behind the 8-ball. Couple of good links on DREAMrs as cannon fodder for the Dems as well as a look at the hacks-in-black who have usurped Executive branch authority. Meh, they've usurped Legislative branch authority for so long so I guess they like to have a complete collection.
The other big story that broke over the weekend was the phony confrontation between a group of exuberant Catholic school teens in MAGA hats waiting for their bus at the Lincoln Memorial and some bedraggled Iron Eyes Cody-looking stooge. What the media spun as a gang of white racist thugs tormenting and persecuting an innocent, peace-loving native American was almost immediately exploded via eyewitness accounts as well as videotape that the NBC special effects crew couldn't alter in time. Turns out what happened was the exact opposite; the kids were set upon by some freaks from the "Black Israelites" who hurled racial slurs at them as well as more significantly threats of violence. But that of course didn't stop the media from churning out the instant agitprop. Apologies are owed to these kids, big time, which of course will not be forthcoming and naturally they'll still be blamed for incitement because proudly wearing MAGA hats in public is right up there with murder, or something.
Back to shutdown theatre, we take a look at where we are with this as well as the State of the Union Speech, the President has cancelled all Congressional travel on government aircraft for the duration, and how the Media has attempted to spin this fiasco of their and their political wing's making.
In general politics, despite the exposure of Women's March leadership as flat-out rabid Jew-haters, Alexandria Ocasio-TacoRosado has nevertheless decided to go all in with them, Daniel Greenfield on the hate fest that is the Women's March and the bug-eyed, buck-toothed, big-titted Bolshevik is setting back the women's movement (and her party) decades. Elsewhere, Trump as General Grant (he fights), Kirsten Jello-Brain shambles and stumbles in a failed attempt to excuse her support of tighter immigration before she became a candidate for president, the invaluable Discover the Networks has the rap sheet on the horrendous Julian Castro, a freshman black Democrat commits political suicide by stating she's pro-life and Christian, two links on the Progressive cancer and the era of big government and lastly, Steny Hoyer looks back on the good old days when the GOP was led by John "Lost Weekend" Boehner. Thanks, Steny; it's good to be reminded from time to time of exactly why we voted for Trump.
First Amendment and Fake News Fakery: BuzzFeed does the Baghdad Bob boogaloo on its latest fictitious Michael Cohen-inspired Trump smear, and the epic failures of narrative of both Palsi-Pelosi and the Women's March.
Mueller Inquisition: the latest honey-trap Colluzhnikov myth crumbles like a wet blini, Victor Davis Hanson asks a rhetorical question about the FBI, and Mark "Ol' Yeller" Levin goes scorched earth on Mueller and his henchmen.
Guns, Guns, Guns: Virginia's tyrant of a governor sees his gun-grabbing edict go down in flames in the state's house, beware this "Disarm America" movement and Missouri foster parents sue the state over gun rights.
International: Dovetailing with CBD's piece over the weekend, two more articles putting a chink in the armor of the rise of China including the slowest growth rate for them since 1990 and how PDT's tightening of the screws on them is long overdue and working to reign them in, geopolitically and economically. North Korea sounding conciliatory ahead of the planned second summit, New Zealand's PM issues rhetoric bolstering Brit Brexit hopes, and the Euro-Peons are reluctantly inching closer to Trump on Iran policy.
We-All-Slam-For-I-Slam: I don't think we're in Ohio anymore.
Domestic Affairs: The head of the DoJ Criminal Division under Bush 43 shielded drug execs from prison and is now a mouthpiece for big pharma (I'm shocked), court rules in favor of non-union road construction labor, get those judges confirmed, boys, and expect the impeachment machine to be cranked up to eleventy if Ruth Bader-Meinhoff ankles SCOTUS.
Crime and Punishment: an examination of the smiley-face serial killer case.
The Economy, Stupid: as expected, NYC eateries lay off workers after the $15 an hour wage increase goes into effect, will the same madness infect red state America, and a look at the growth of high tech industry out in the sticks.
Heatlhcare: the opioid crisis is spreading to suburbia.
Education: A House panel looks at $52 million worth of fraud at UCF.
Red Greens: No, NY Times, tthe sudden "polar vortex" is not proof of global warming, Obama's minions are still causing havoc at the EPA (RIF the hell out of them already), and banning plastic bags isn't all that great for the environment after all.
Feminazism: A watch company's response to Gillette's anti-man fiasco goes viral, and Gillette conveniently overlooked one particularly toxic male. Hmm...
Hither and Yon: Tu-Ca gets hammered for his latest monologue about flyover country and victimhood, Christian Toto on self-righteous jerk Judd Apatow's genuflecting to the PC police. and finally, Martin Luther King Jr.'s dream has been perverted into an utter nightmare. Happy 90th, sir.
Anyway, links from around the world, across the nation and up your street. Have a better one and remain blessed.
BORDER WALL, MIGRANT INVASION, AMNESTY, IMMIGRATION, BORDER SECURITY

posted by at
07:22 AM
|
Access Comments