« EMT 5/20/18
|
Main
|
They Politicize Sports, Eating, Dressing, Sitting And Now Shaving?
What's Next? »
January 20, 2019
Sunday Morning Book Thread 01-20-2019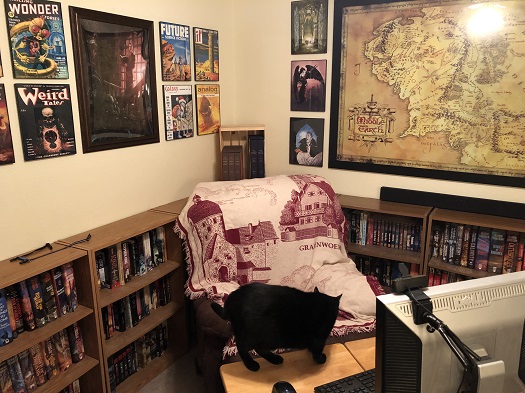 Library/Man Cave of Lurker 'Lord Squirrel' (and Cat)

Good morning to all you 'rons, 'ettes, lurkers, and lurkettes, wine moms, frat bros, and everybody who's holding your beer. Welcome once again to the stately, prestigious, internationally acclaimed and high-class Sunday Morning Book Thread, a weekly compendium of reviews, observations, and a continuing conversation on books, reading, and publishing by escaped oafs who follow words with their fingers and whose lips move as they read. Unlike other AoSHQ comment threads, the Sunday Morning Book Thread is so hoity-toity, pants are required. Even if it's these pants, which only goes to show that some people like to sit on cats.
(h/t Hank Curmudgeon)

Pic Note
I've been a long-time lurker at the ol' Ace o' Spades HQ and have really appreciated the Sunday Book Thread. I was actually inspired by the pics to do something about my own personal library, so last summer I made a few adjustments to how I store and catalog my books. I converted my office into a library of sorts, though it can only house about 1/3 of my fantasy and science fiction collection. The other 2/3 was moved to my living room.
LS's wall art is pretty awesome, too, I'd say. Especially that framed Middle Earth map.


It Pays To Increase Your Word Power®
Word of the Day: DYSANIA (n.) difficulty in getting out of bed in the morning.
Usage: Ace cackled with glee when he found out that the cure for his chronic Dysania was bed rest.


Fahrenheit 451 Got It Only Half Right
I was forced to move on to the 1632 series yesterday when I completed the book I was working on and the next in the series would have required a download while my internet service was out. I would sure like to know why Amazon retracts your download of a book if you have not opened it for a while. I have been caught on this crap before when I went down to GA to look after uncle in brother's camp house at a lake which had no internet service. When you pay for and download a book from Amazon it should be in your memory forever.

Posted by: Vic at January 13, 2019 09:01 AM (mpXpK)

I have the Kindle app on my Samsung tablet, and I hadn't noticed what Vic is complaining about here, but this brings up something we need to always keep in mind. When you buy ebooks from Amazon, or Apple, or Google, you don't really own them, despite the fact that you've pay for them. In the first place, the Kindle books on your device are wrapped in a DRM layer which which incorporates the debit or credit card you used for the purchase into the encryption. This prevents you from copying the ebook file to a thumb driving and giving it as a "pirate" edition to someone else who hasn't puchased it. And if you've changed or updated your card information in your Amazon account, I believe it has to reverify and update the DRM on each of your previously purchased Kindle books. This may account for what Vic is seeing. Maybe.
This necessity of continual contact with the Amazon mother ship also means that it is they, not you, who ultimately control the content. This is something I find this to be especially insidious. Because occasionally I will open up a Kindle book and Amazon informs me that they are "updating" the content of the book I purchased. They don't ask my permission, they just automatically do it. The possibility that I might not want an updated copy is apparently of no importance to them.
So who decides what content gets added to your "updated" book, and what content gets removed? I don't know. And what is their criteria for deciding what edits to make? I don't know. Who ultimately determines what you're allowed to read? I don't know. Not you. That's all I know.
A few months ago, I ran into some guy on Twitter who said that a couple of movies that he had purchased (not rented, purchased outright) from Apple disappeared from his movie library. When he contacted Apple support, they told him, "oh, those movies are no longer available in your area" (which was Canada). When he complained, Apple offered him a couple of coupons for free movie rentals. And that was the end of that.
I know that incident was about movies, not books, but still, the principle is the same. It is not a stretch to imagine this message popping up on your Kindle: "We removed this book from your library because we have determined it contains hate speech." Or "We've update your edition of Huckleberry Finn to removed racist language."
And then what will you do?
Here is my thinking: Every Kindle and Nook ebook I have purchased I am holding on to lightly. They're not trustworthy and the content could be altered or disappear at any moment. Whenever I can, I use outlets such as Baen Books where I can buy ebook files not encrusted with DRM that I can store on one of my archival hard drives. If I have purchased a Kindle book that I very much want to keep, I have no qualms about going online and finding a non-DRM version I can keep for myself and Amazon can go pee up a rope.
Ultimately, this means that the best guarantors of our freedom to think is (drum roll) brick-and-mortar libraries. Because they contain actual hard copies of books. Because all that can happen to them is they can be confiscated or destroyed. They can't be edited or deleted without anybody noticing, and where you think what you're reading is what the author wrote, but what you're actually reading is only that which has been permitted by the censors of Amazon or Google.
And when some silly bint writes that you should never own more than about 30 books, she can go pee up a rope, too. A free people aren't really free until they can think freely, and for that, they need books. Lots and lots of books.

Moron Recommendations
119 Also this week, I downloaded The Man From the Train by Bill James, recommended here by one a youse morons. I'm listening to it on my way home from work.

True crime regarding a series of axe murders (of entire families! ) in the early 1900s, in different states, which no one connected then. James believes they were committed by the same person, travelling by train, but that they were never connected because we lacked the communication and informational networks of today.

I'm going to have to get hard copy, though, because I get focused on driving (yay, right? ) and lose some of the story.

Posted by: April at January 13, 2019 09:51 AM (OX9vb)
Yes, I suppose you could get away with all kinds of sh* back in the old days. Before he passed, my father caught the 'ancestry.com' bug and devoted a lot of time trying to trace family roots. It wasn't made any easier by his grandfather who, one day, just up and walked out on his wife and kids, and disappeared. Dad managed to track him down to Oklahoma Territory where he had a new wife and kids, and a whole new life. You can't do that nowadays.
Anyway, The Man from the Train: The Solving of a Century-Old Serial Killer Mystery investigates, as April says, a number of horrific murders that happened around the turn of last century:
Between 1898 and 1912, families across the country were bludgeoned in their sleep with the blunt side of an axe. Some of these cases—like the infamous Villisca, Iowa, murders—received national attention. But most incidents went almost unnoticed outside the communities in which they occurred. Few people believed the crimes were related. And fewer still would realize that all of these families lived within walking distance to a train station. When celebrated true crime expert Bill James first learned about these horrors, he began to investigate others that might fit the same pattern. Applying the same know-how he brings to his legendary baseball analysis, he empirically determined which crimes were committed by the same person. Then after sifting through thousands of local newspapers, court transcripts, and public records, he and his daughter Rachel made an astonishing discovery: they learned the true identity of this monstrous criminal and uncovered one of the deadliest serial killers in America.
I can just see a guy in some tiny attic looking at a wall full of old photos and newspaper clippings with different lengths of colored yarn going every which way, manically connecting everything.
Bill James, by the way, is known chiefly for his The Bill James Handbook, an annual compilation of baseball statistics. Apparently, James invented some sort of statistical tool for baseball analysis called 'The Shift' but I'm not going to tell you about it because I don't know what it is and I'm too lazy to look it up. And if you're a big time baseball fan, you probably already know all about it, anyway.
Wait, isn't James the guy behind the whole Moneyball thing?

___________
280
I'm about 150 pages into "The Prize" by Daniel Yergin.

This book is so interesting. It's about the discovery of oil and the making/or losing of many vast fortunes in the industry.

It won the pulitzer prize....but, don't let that stop you from checking it out. It's a gem so far. I hope it stays on point the rest of the way.

Posted by: Some Guy in Wisconsin at January 13, 2019 11:03 AM (u95+k)
According to the Amazon blurb, The Prize: The Epic Quest for Oil, Money & Power is considered
..."the best history of oil ever written" by Business Week and with more than 300,000 copies in print, Daniel Yergin's Pulitzer Prize–winning account of the global pursuit of oil, money, and power has been extensively updated to address the current energy crisis.
What I know about oil is that it saved whales. Specifically, John D. Rockefeller, ruthless businessman, evil tycoon, and greedy capitalist pig saved the whales when he made the production of kerosene economically viable. Prior to that, the primary fuel used in America was whale oil and whales were been hunted to extinction to meet the ever-increasing demand.
So thank you, evil, greedy, capitalist white man! You saved the planet.
___________

Books By Morons
This is going to be good. A lurkette author e-mailed me this week to tell me about her Under the Staircase® series of children's books which is described as
A mystery and adventure series that teaches treasured values: personal responsibility, individual liberty, and economic freedom.
The Secret Under the Staircase is the first in the series:
"So, you're the ones…"
A mysterious package appears just as Maya and Nate start helping in their grandparents' store. Inside is just one book: a faded copy of Free to Choose. In a race against time, they must decipher a series of cryptic messages to discover the secret under the staircase. But can a bunch of kids really solve the centuries-old riddle? Can they save their beloved town before it's too late?
There is one sequel so far, The Hidden Entrance, and I assume there will be more coming. I hope there will be more coming because this series looks like it's going to be completely awesome for kids. Occasionally, I've seen questions in the comments from morons looking for suitable books for their children (or grandchildren), and this series, which one Amazon review describes as "Harry Potter meets Ayn Rand" sounds like it would be just about perfect.
I asked the author what would be the appropriate age range for this book. She replied:
The age range is 6-12. It's written so that kids age 6-9 understand the books, and kids age 9-12 have fun digging into the layers. Each book is about 120 pages, with 12 chapters, plus a prologue to set the stage and an epilogue to tease the next book.
This lurkette also is the one who sent me the above pic of the beach library in Tel Aviv (on the Mediterranean).

___________
Don't forget the AoSHQ reading group on Goodreads. It's meant to support horde writers and to talk about the great books that come up on the book thread. It's called AoSHQ Moron Horde and the link to it is here: https://www.goodreads.com/group/show/175335-aoshq-moron-horde.
___________
So that's all for this week. As always, book thread tips, suggestions, bribes, insults, threats, ugly pants pics and moron library submissions may be sent to OregonMuse, Proprietor, AoSHQ Book Thread, at the book thread e-mail address: aoshqbookthread, followed by the 'at' sign, and then 'G' mail, and then dot cee oh emm.
What have you all been reading this week? Hopefully something good, because, as you all know, life is too short to be reading lousy books.
[Update]: Ann McElhinney and Phelim McAleer's book, Gosnell: The Untold Story of America's Most Prolific Serial Killer is on sale for 99 cents on Kindle today.
Meanwhile, their Gosnell movie DVD, which current is the #1 top selling DVD on Amazon, can be pre-ordered for the insanely reasonable price of $9.99.

posted by OregonMuse at
09:30 AM
|
Access Comments