« Wednesday Overnight Open Thread (WOOT WOOT 1/9/19)
|
Main
|
Mid-Morning Open Thread »
January 10, 2019
The Morning Report - 1/10/19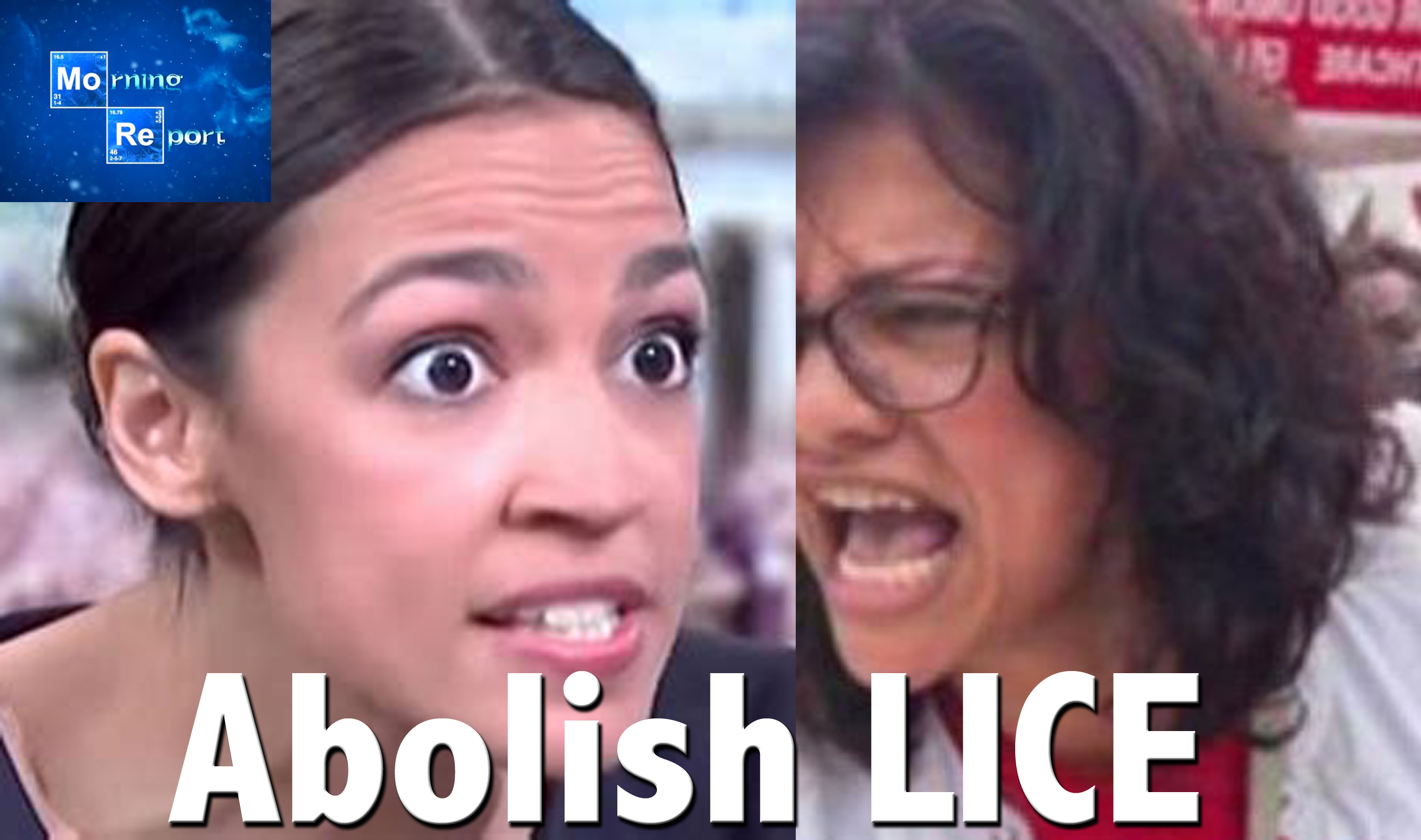 Good morning kids. Thursday and the continuation of the so-called "government shutdown" over the refusal of the Democrat-Left media complex to ensure our national sovereignty by securing our borders continues. The President's speech Tuesday night to the American was a grand slam while the response from Palsi and Schemer looked like a hostage video. On a tactical level, the President made a reasonable case and Democrat refusal to budge, despite as recently as 2006 fully on board with passing legislation for border walls and security to the tune of over $50 billion, 10 times the amount requested by this President, potentially clears the path for him to declare a national emergency and order the wall built via the Defense Department or some other discretionary funding mechanism. And speaking of which, see the rather infuriating link about the DoD letting $27 billion from the previous allocation (we no longer do Constitutionally mandated budgets) expire, but I digress. Along with the stammering and stuttering and obfuscations about why they are now completely against what they once (allegedly) supported, the only argument coming from the Dem-Left-Media Complex is that walls don't work and are a waste of money (that being risible, all things considered).
...But what evidence is there that walls - for millennia the most basic unit of construction and defense -are ineffective? A wall, or fence, runs along much of the border near population centers like San Diego and El Paso, and these barriers appear to work, to the extent that a partial wall can be said to work. A 440-mile wall separates Israel from the West Bank; it has dramatically reduced terrorism. Saudi Arabia has a wall on its border with Yemen and has begun construction of a wall on its Iraq border, too. Hungary, Russia, Lithuania, and Slovenia have built border walls. Belfast and Derry have "peace lines" (walls) separating Catholic from Protestant neighborhoods. The 1,800-mile, impermeable India-Pakistan border is visible at night from space because 150,000 floodlights light it. The United States maintains 25,000 soldiers in South Korea to preserve the integrity of the fence dividing the Korean peninsula... It's hard to escape the conclusion that critics oppose a wall not because it wouldn't work but because it would...
Cromulent point #2, which gets close to what this is all about:


...Many on the left seem clearly offended by the idea that nations have the right to determine who crosses their boundaries. Today's sanctuary-cities lobby grew out of the 1980s crusade of "solidarity" with Central American revolutionary movements; it echoes those earlier movements' conviction that northern migration from Latin America is righteous anti-colonialism, a revenge of history. It echoes, too, a sense, pervasive if often unstated, that Americans don't deserve the country that their ancestors - including African slaves - built...
Close, but still no cigar. It's a motivation, and a very powerful one, of many Dem-Leftists, some of whom are more open about it than others. And that's also why we are seeing the confrontation with the old guard Trotskyites with the up and coming Maoists, but there too I digress. But all of that, along with the homosexual, transgender, black, feminist, anti-Israel, anti-Judeo-Christian, anti-Western and all the other allegedly disenfranchised and put-upon minorities in this country are merely the cannon-fodder/useful idiots for the aforementioned to obtain absolute power and overthrow the nation as founded, and subjugate or liquidate all who oppose them. And they achieve that by importing millions and granting them instant citizenship, along with the upwards of 30 million illegal aliens already behind our lines and making them instant Democrat voters and eager defenders and dependents of the Welfare State. That is what all of this is all about. And if that were to happen, it would be lights out America. And what the Leftists can't steal, the Islamists will decapitate/de-clitorate.
Along with the potential next moves of the President and the GOP leadership vis a vis executive action or some sort of a deal (and that frightens me [sorry, Don Surber]), everyone's favorite bananas chiquita Alexandria Ocasio-TacoRosado voted to fund ICE while blasting it as the second coming of the Waffen SS, and then this champion of the poor claimed her personal chef had to flee back to Mexico. Ol' Yeller utterly napalmed the Dems over MS-13, Gavin Nuisance doubles down on sedition and yet demands double the money from the government he is in open revolt against, and lastly the brother of a victim of one of Nancy Palsi's spark-of-humanity brigades is left with nothing but memories. Hey, omelettes and eggs on the road to utopia.
On to politics where Jake Tapper the fake fapper commits a random act of journalism on Kamala-Toe, leaving her flustered and stammering, a tranny billionaire will no longer fund GOP candidates because he's nuts or lacking thereof, Nevada's new Dem governor hires a guy who protected perverts to lead the sexual harassment task force, Dems say they won't talk about not refusing their paychecks during the shutdown because, distractions, and DNC chair Tom Perez won't say why the 180 swing on border security for the party.
Elsewhere, the President holds all the cards with the shutdown (the more it lasts, the more America sees that they really can survive without a government up their ass 24/7/365), Tom Styrene won't be running in 2020 but wants to reverse the Reagan legacy (how about giving up all the money you made since 1981?), an Obama hack-in-black runs interference for election-thief Brenda Snipes, Rabbi Fischer with sound advice for Cocaine Mitch, Rancida T-Labia defends her right as a woman to be crude, foul and uncouth (is there a Koranic proscription on this? Moron imams, please weigh in), and the "most dangerous of morons" is not someone from the Horde. Guess who?
First Amendment, Fake News Fakery: unindicted terrorist front group CAIR gets Laura Loomer booted from Twitter, Mollie Hemingway on the media's epic failure vis a vis the President's speech, fired Google exec James Damore confirms his company's collusion with our biggest enemy, the NY Times is forced to issue a retraction over the Russia collusion/Manafort story (see the link in the next section on the dossier two years on), and the exposure of Conservatism, Inc.
On the international scene, Iran takes an American hostage for the first time in the Trump era, the Euro-Peons are all harrumphing over the perceived demotion of their ambassador here, and Turk Turdogon snubs John Bolton.
Taqqiya Sunrise Dept.: A Saudi flag sculpture, the one with the Koranic Satanic verse on it somehow gets green-lit to be displayed at the World Trade Center, French prisons incubate terror and sodomy but mostly terror (and sodomy), and this Rancida T-Labia is a real piece of work, but you knew that.
Domestically, a Marine Corps special ops guy petitions for reinstatement after the Navy admits he was railroaded, no money for a wall but plenty for homo porn films to be screened in Mumbai, Sherlock Holmes and the Case of the Sticky Wicket (or Rectum, I Nearly Killed Him), several links highlighting the dangerously ignorant Ocasio-TacoRosado, a look back on Starbucks' own "open borders" disaster, Wisconsin's economic miracle was fun while it lasted, and raising the minimum wage is great up until employers cut all those kind of jobs.
Healthcare: the new Dem House is already ramping up the Medicare for All push, DeBolshevik's single payer for NYC is complete political hackery and bad medicine, and SCOTUS may allow infanticide in the womb if the viable tissue mass is retarded or female. And I thought masculinity was toxic (sarc).
Feminazi News: Ford employee dares to go against company line on transgender insanity and gets fired for his troubles (i.e. first amendment rights), the worst country in the world for women gets to chair the UN committee on women. Oh, Rancida T-Labia? Pick up the white courtesy shoe and eat it.
From hither and yon, this Manning freak needs to have a conversation with a set of brass knuckles, a look at Minneapolis' May Day parade madness, and a look at the Millenials as the new lost generation.

Anyway, links from around the world, across the nation and up your street. Have a better one and remain blessed.


BORDER WALL, MIGRANT INVASION, AMNESTY, IMMIGRATION, BORDER SECURITY


posted by at
08:00 AM
|
Access Comments