« Tuesday Overnight Open Thread (1/8/19)
|
Main
|
Mid-Morning Open Thread »
January 09, 2019
The Morning Report - 1/9/19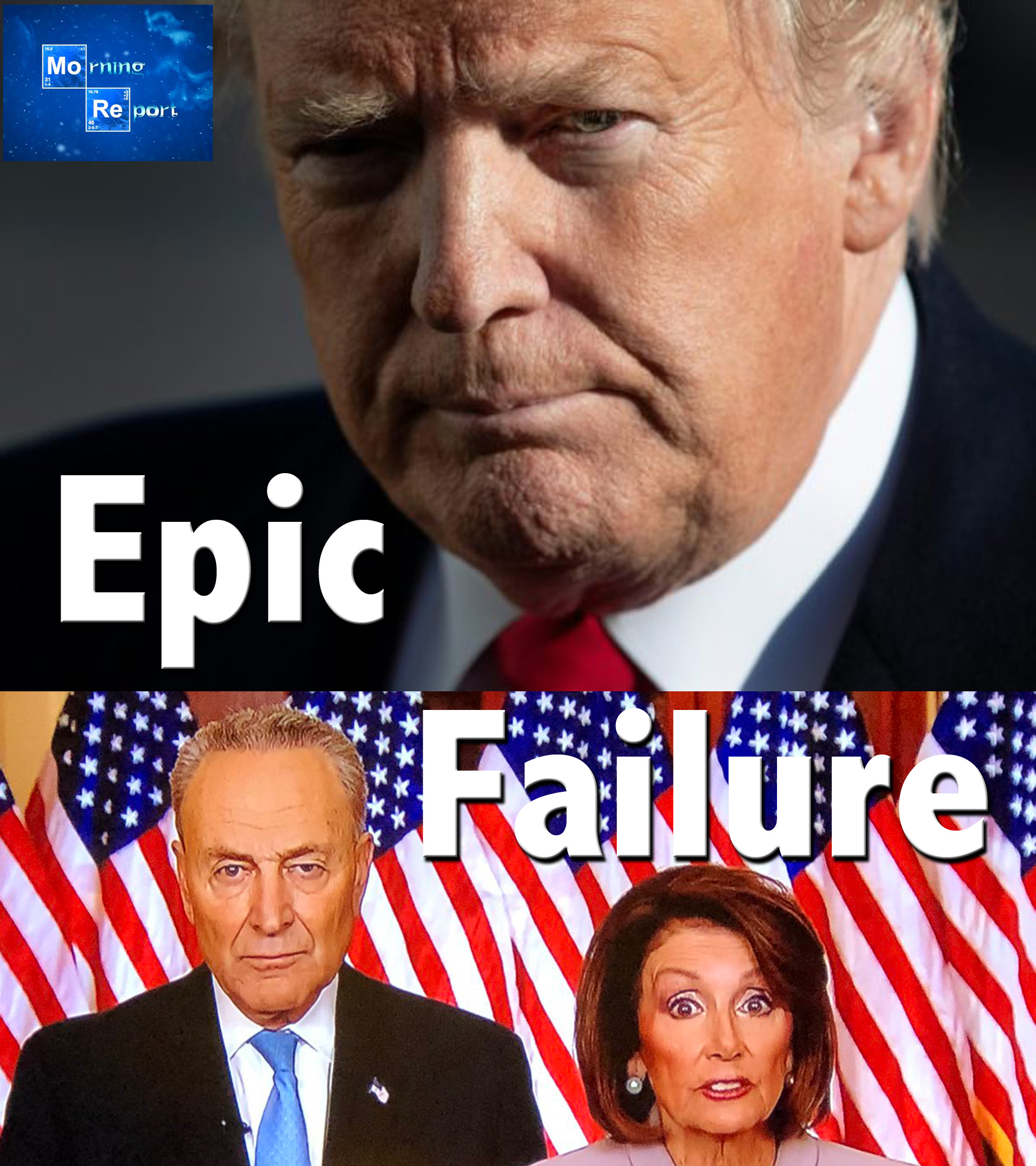 Good morning kids. Midweek and the big story is of course President Trump's 8-minute nationally televised address to the nation last night on the crisis at our border, the insistence on a border wall as well as beefed up border security. By any honest accounting, the President hit it out of the park both in terms of tone, facts and placing the blame for both the disaster that is our immigration non-policy as well as the concomitant kabuki theatre of the government "shutdown" exactly where it belongs - on the pinheads of the Democrat-Left-Media Complex.
Some anticipated the President declaring a national state of emergency and citing his legal authority, ironically in the form of a law passed by the Democrat-controlled congress in 1976 in the wake of Watergate, to bypass the legislature and build the wall on his own. Though absolutely justified, it would've played right into the hands of the Leftist meme of Trump-is-literally-Hitler/Dictator. Instead, he once again slammed the Democrats into the ground in front of the entire nation and blamed this entire mess on their intransigence. They are also tarred with the same brush as fundamentally unserious and dangerous about protecting our citizenry and national sovereignty. Standing in sharp contrast to the President was the shockingly wooden, shrill and tone-deaf response from Cuck Schemer and Nancy Palsi that even their allies (and to some their puppet masters) in the Media could neither hide nor spin. From every leftist quarter came some of the most unhinged responses - many even before the President actually spoke, preemptively declaring him a liar. A few wanted him to be prevented from speaking entirely, which I guess both indicates that they justifiably feared his connecting with the majority of the American people and not just the base, and their totalitarian mindset. The highlight/lowlight came from the Latina lunkhead, the bug-eyed, bucktoothed, braindead Bolshevik Alexandria Ocasio-TacoRosado, who was on the Rachel Madoff show going bonkers with every trite trope, falsehood, meme, distortion and lie you can imagine. And so it goes.
Continuing in the immigration section, great commentary from Rabbi Dov Fischer and Mark "Ol' Yeller" Levin on the true nature of the Democrat-Left as it pertains to this situation, a previously deported MS-13 animal is arrested once again, ICE nabs an illegal alien activist who's also here illegally in Maryland and who will hopefully get a long distance trebuchet/Pinochet the hell out of here, and even the likes of Jeh "Feh" Johnson and John McStains feared the terrorist threat from a porous southern border.
To politics where in the Democrat Scandal subheading, Rush Limbaugh on how the huge story of the Democrat false-flag rigging of the Alabama election is getting zero media attention, the Kamala-Toe aide who quit after allegations of sexual misconduct still features prominently in the 2020 aspirant's book, Rancida "irritable vowel" Tlaib-ia is not an anti-Semite; she just hates shape-shifting weather-controllers, and another look at how ballot harvesting and illegal aliens might have helped cost us control of the House.
Elsewhere, Ted "In Lieu Of Decency" Lieu is sad he has to give back campaign cash from Ed Buck just because of two dead homos in his house, Tulsi Gabbard is none-to-thrilled with the anti-Papist rhetoric coming from her party vis a vis one of Trump's recent judicial picks, Ron DeSantis strikes the right chord on judicial activism in Florida, Gallup shows that a majority of Americans are still conservative, which clues one in on why the Dems need open borders (to fill their voter rolls), a companion piece with a positive spin on conservatism going forward, Molly McCaughey on Dems' love of squalor and poverty, something similar on a global perspective with an Ocasio-TacoRosado angle, and despite the usual Dem frontrunners for 2020, the story of Obama's rise might be replayed in this cycle as well with another Maoist unknown.
First Amendment and Fake News Fakery: Daniel Greenfield tears down the Media's wall of lies about Trump and the Wall, even the National Laughingstock admits there is a crisis on our border (not enough illiterate future Democrats getting in, I guess), Robert Spencer on Amazon's latest taqqiya sunrise, and Tu-Ca is dead on accurate in his description of the elites and the rest of us.
Some developments in the Mueller witch hunt, SCOTUS rules against the mystery firm in a Mueller grand jury scrape, the lawyer for a Russian firm facing off against Whitey Bulger's protector is pissed at the judge for siding with the latter, and suddenly Schiff-For-Brains is not so sanguine about Mueller; could it be that his final report will be a giant goose-egg?
Guns: A look at how the administration's recent bump stock ban was a bad idea, given the history of the give-em-an-inch BATFE and, in the crime section, 4 unlucky schmucks break into the wrong house.
At the international desk, Italian and Polish conservatives might seek an alliance in the upcoming EU elections, another look at the upcoming Israeli elections and maybe the Chi-Coms ain't all that much after all (I still am very wary of them, and they have nukes). Lastly, contrary to Democrat-Left, yes indeed anti-Zionism is anti-Semitism.
Back over here, a TSA official is combatting government shutdown-inspired blue flu at that useless agency, and a couple of pieces on Bill DeBolshevik and Gavin Nuisance in the wake of both announcing free health care and insurance for illegal aliens, the Department of Commerce is not helpful on online and phone scammers and why Trump needs to reform the Fed.
Healthcare: Planned Mengelehood's Prexy openly admits that their mission is to kill babies in utero "for the people!," Andrew "Cui-Bono" Cuomo and the shambling old bat who will never be president are pimping a bill in New York State making abortion a civil right, or something, drug companies are hitting Ohio's new governor Mike Dewine with lawsuits, and why relying on the Chi-Coms for our meds is a suboptimal situation.
Education: Los Angeles braces for a teachers strike, but considering the union and most of the teachers are full on commie propagandists, maybe that is a blessing in disguise.
Red-Green News: The spike in CO2 emissions is not a big deal; not to rational people with half a brain who realize a) it's part of a natural cycle in which man plays no part and b) it's not a pollutant - it's plant food.
From hither and yon, more Americans than ever want to emigrate, which leads me to question their sanity/politics in the first place, Bryan Cranston gets ripped by the Cultural Revolutionaries for daring to accept a role as a cripple, Christian Toto highlights 8 comedians who shun SJW bullshit in the wake of the Louis C.K. non-outrage outrage, and a good essay on our insane quest of the Warhol 15 minute spotlight, all thanks to social(list) media.
Anyway, links from around the world, across the nation and up your street. Have a better one and remain blessed.


BORDER WALL, MIGRANT INVASION, AMNESTY, IMMIGRATION, BORDER SECURITY


posted by at
07:35 AM
|
Access Comments