« Kellyanne Conway Blasts Jim Accoster
|
Main
|
Tuesday Overnight Open Thread (1/8/19) »
January 08, 2019
Trump's First Prime Time Address at 9 PM Eastern Will Address Border Security and the Shutdown
C-SPAN plans a live feed when the speech begins.
The President will make the case for the need for border security -- which is pretty obvious, but the Democrats are counting on New Special Voters to carry them to victory, so it's suddenly not so obvious.
He is not expected to announce a national emergency to set the military to building the wall.
It will only be 8 minutes long.
CBS News will air the president's address, scheduled for 9 p.m. ET.

The president's remarks will run no longer than eight minutes, according to the White House. Mr. Trump is expected to address the partial shutdown, the border crisis and the deadline for federal workers' paychecks.

The White House is asking for $5.7 billion for the president's border wall, but Democrats have already indicated they won't give him funding for his border wall.
ON NOW.
CNN's Anderson Cooper Offers a "PREBUTTAL" to a Speech Not Yet Given.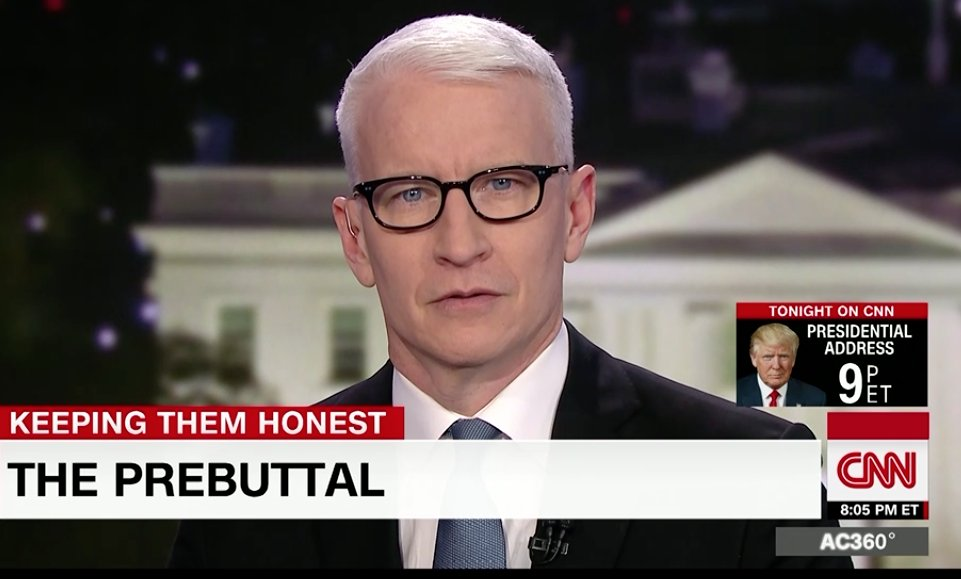 I always love seeing the cucks kissing up to CNN and then telling us they're the Real Conservatives.

posted by Ace of Spades at
08:44 PM
|
Access Comments