« Saturday Gardening Thread: It's a New Gardening Year [KT]
|
Main
|
Chess Thread 01-05-2019 »
January 05, 2019
Ace of Spades Pet Thread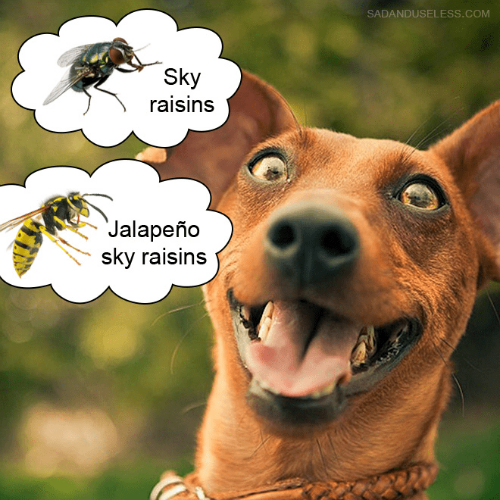 Photo from sadanduseless.com
***

Good afternoon and welcome to the almost world famous Ace of Spades Pet Thread. Pour yourself the beverage of your choice and relax and enjoy the world of animals.
***
A Little of This. A Little of That.
***
***

A couple of links from our Moron friend Hank C.
Beautiful cats. H/T Hank Curmudgeon
***

How to wrap a dog..............H/T Helen

Meet The PetMorons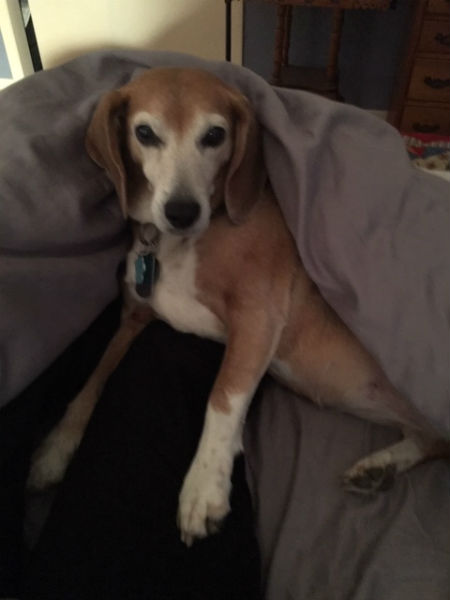 This is Cookie. Her hobbies are chasing squirrels and bunnies and napping. Here she is getting ready for bed. She allows me to sleep on the bed too. - Nerdygirl
Quite the little lady you have there Nerdygirl. That's nice she allows you to use the bed. Thanks for sharing with us.
***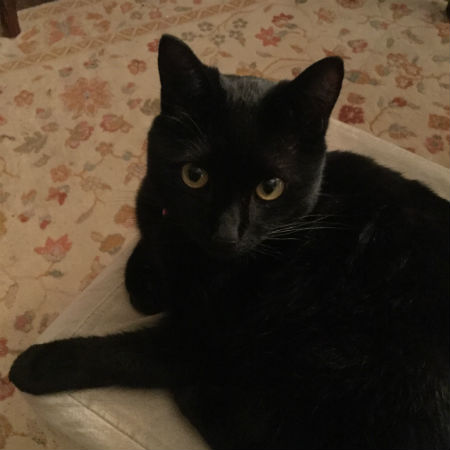 Here is the story of Wicker Longtail, a stray who found us.

DH and I went to a park to drink our after-supper iced tea, something we *just don't do*. But we did that day.

So we're at the park at a picnic table, minding our own business, when I look up and there's a small black cat sitting primly in the middle of the lawn, about 100 feet away. Staring at us, she was.

I ignore the cat, look back up, she's now 50 feet way, sitting primly. Staring at us. (You can see where this is going...)

I say hello to the cat, next thing we know she's about 3 feet away, looking up at us. She was straggly, dirty, and ribs-sticking-out skinny. She jumped on the picnic table and did the "you two look like you'd be good slaves" routine of purring, rubbing, etc.

We left the park without her.

Got home, felt terrible that we didn't accept Her Majesty's gracious appointment as slaves, and went back with a can of tuna, water, a bowl, and an Imperial Vehi -- er, a cat carrier.

When we got there--no cat. We called and called, she finally came out. She jate the tuna in record time, drank a bunch of water, and settled into the carrier with not a little complaint.

We named her after the Park we were in when she found us.

That was four years ago. Today she is a beautiful, sleek 10 pound beauty. She earns her keep by being the scourge of all mice, chipmunks, and squirrels on our little farm.

The photo is Wicker taking it easy.

Love to all on the Justly World-Famous Pet Thread!!

Flyover Pilgrim

What an amazing story and what soft hearts you and the DH have. It sounds like a match made in heaven. We appreciate you sharing your story today.
***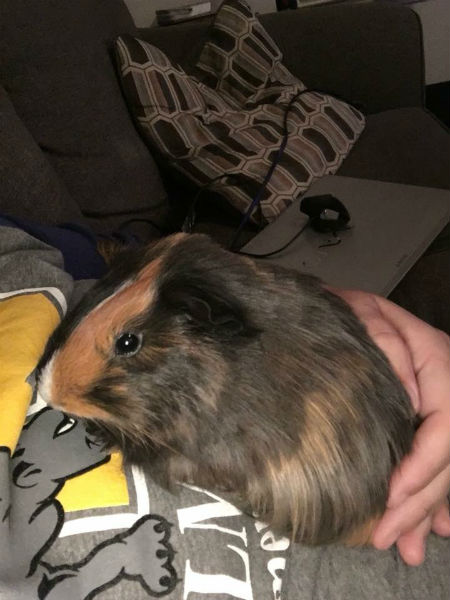 This is my grand-guinea pig, Stevie. Stevie was my oldest granddaughter's 8th birthday present. He has two fur-brothers, a collie named Motley and an Australian Shepherd named Auzzie. All three of them went to the groomers last Wednesday. Yep. The guinea pig went to the groomer...mostly because my daughter can't trim his nails and he hates having his belly washed. Groomer said it took two people to do his nails. I would have loved to see that... - antisocialist
There you go again, keeping the piggie down. I learned something new today, I didn't know one would take a guniea pig to the groomer. Stevie looks quite stunning. Thanks for submitting his photo.
***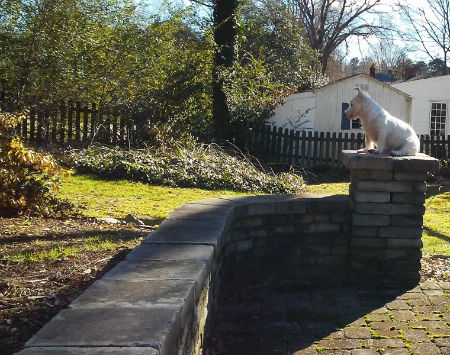 This is Keefer.
He stands on a wall.
And he says, "No one's gonna hurt you today. Not on my watch." - Keith
Quite the protection detail you have their Keith. Keefer is a cool looking doggeh.
***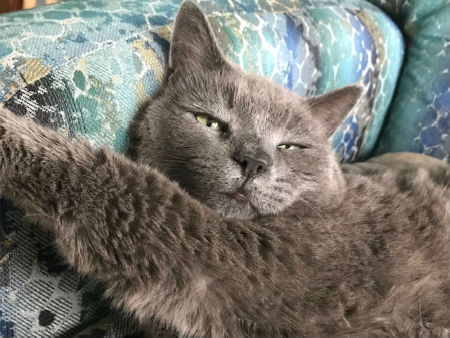 We got Calvin five years ago from the local shelter. He was the king of all he surveyed. He tolerated other cats but hated dogs with a passion. He would sit on the front lawn and when a dog walking by would show interest, he would stand up and slowly walk toward the dog, daring it to come closer. This was very confusing to the dogs and their owners. He also ran off some local undesirables loitering in front of our house even though he was just looking for attention! He had a stroke in June which caused some heart damage. We gave him two pills a day and he seemed to be feeling fine. He had another stroke on the day after Christmas and died in my arms. He was the bestest boy and I know he'll be waiting for me across the rainbow bridge. - Len
I'm very sorry to hear of your loss Len. Calvin had quite a home for the past 5 years. Thanks for sharing your story.
***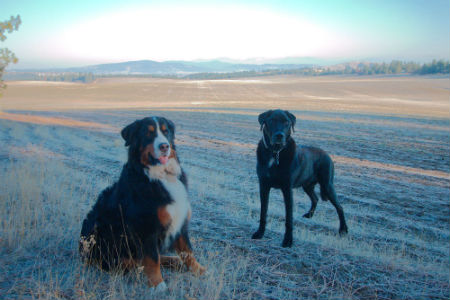 An avid AoS lurker and sometime commenter under a few different handles (though I've finally settled on "Cranky Old Fart" because it's what I am and what I do). I figured it's high time I introduce my walking buddies, Beorn and Boris. Beorn is a six year old Bernese Mtn. Dog (125 lbs.), and Boris is a nine year old Black Lab / English Mastiff mix (113 lbs.). They work guard duty on our eastern Washington homestead and also keep furniture from floating away.

It's hard to express how much we (The Missus and I) love these guys.

Also, a shameless plug, I started painting pet portraits as a hobby for friends and family a few years ago and recently started offering my services to the general public. I've included a sample image of my work that includes both these guys and one of our cats, Frank. I offer a No-Risk, Buy It Only If You Love It deal. Those interested can visit PetArtWorks.com for details and more samples.

Thanks for all your work putting this together each Saturday. I love seeing all the critters.

-Cranky Old Fart

I've checked out the website. Beautiful work done by C.O.F. Those are some big dogs you have there. Walking buddies? Hope they don't go at too fast a pace. We appreciate you sending their photos is.
***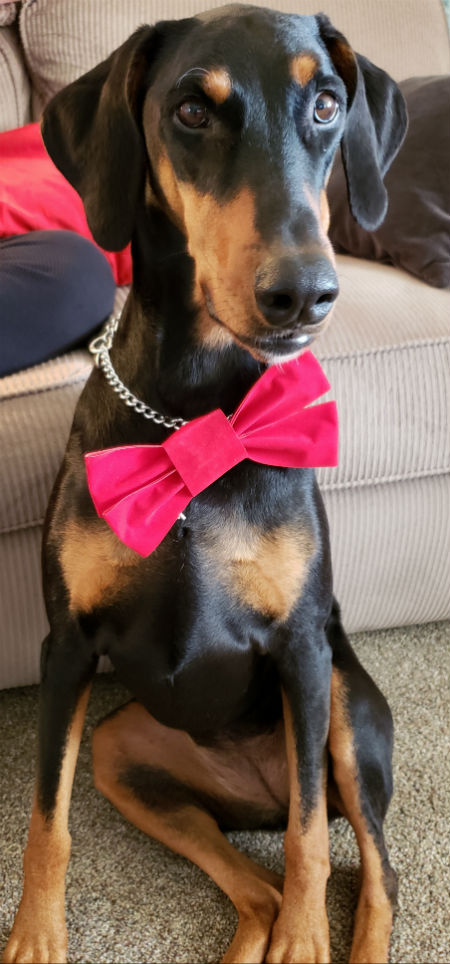 My Geddy loves mom so much she tolerated having a bow attached to her leash. She's very friendly, just don't crowd her. She can't wait for summer to go swimming in the irrigation canals again.
S.Lynn
We must admit the bow isn't as overboard as the earlier Christmas wrapped dachshund. Geddy appears to be tolerating the event quite well. Thanks.
***

Once again, a fantastic group of pets. Also some nice H/Ts from you folks. If you would like to submit your pet's photo or some other pet story, link, video, etc. you can reach us here at petmorons at gmail dot com.
Thanks again and have a great week!!!!


posted by Misanthropic Humanitarian at
03:00 PM
|
Access Comments