« Christmas Overnight Open Thread (12/25/18 )
|
Main
|
Mid-Morning Open Thread »
December 26, 2018
The Morning Report - 12/26/18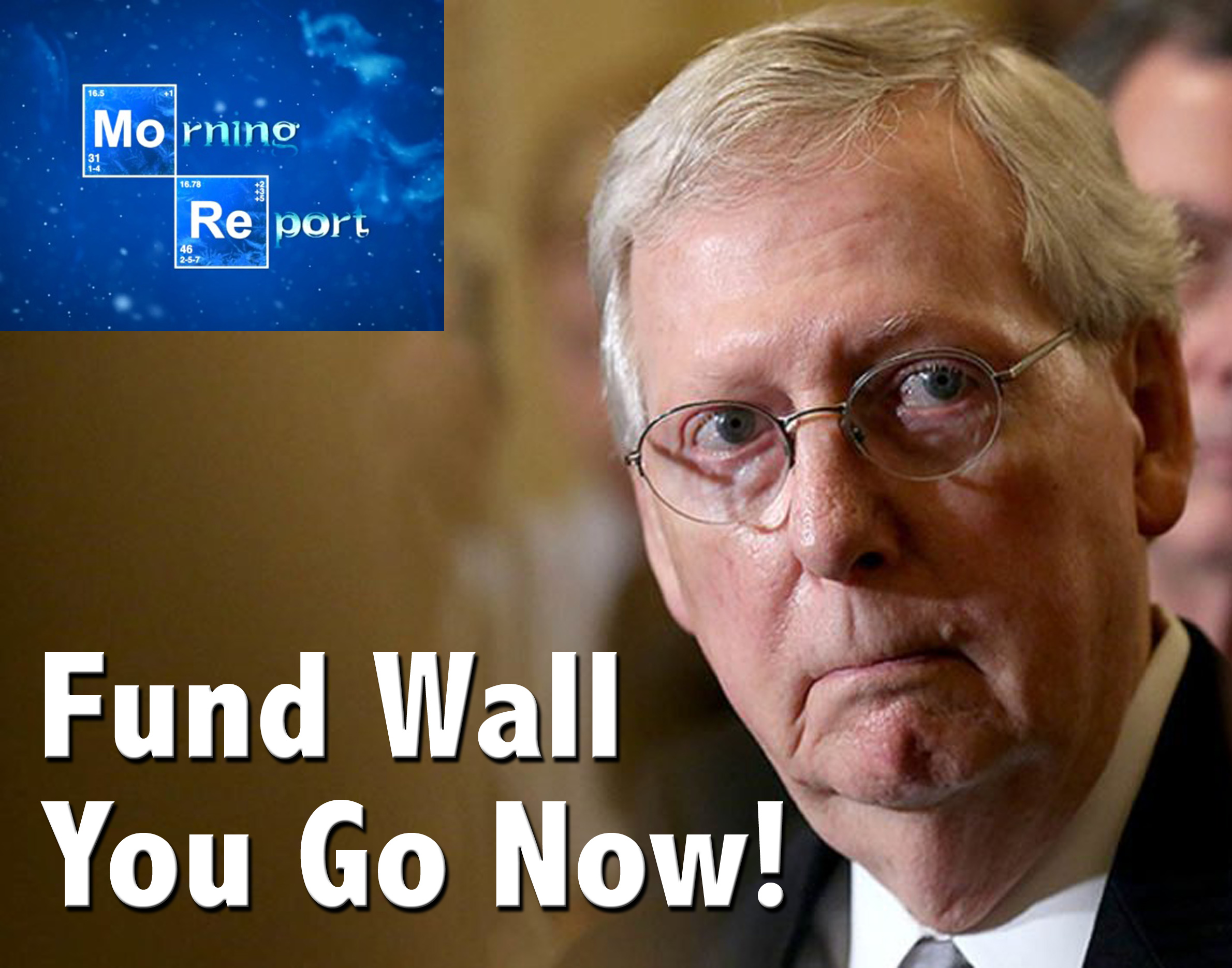 Good morning kids. The day after Christmas and we're now in the final stretch towards New Year's. Somewhat light on content yet there are some interesting links nevertheless so let's get to it.
The government still remains shut down while being closed for the Christmas holiday (figure that out and win a cookie), but the President remains steadfast in his demand for funding for the Border Wall and border security. Meanwhile, Beto "Mickey" O'Rourke is getting his Irish up over ICE evidently leaving a couple hundred migrants at the El Paso bus station which is being used as some sort of shelter and not to await southbound buses, as we all know real walls mean real security and a call for Cocaine Mitch to stop stammering and stuttering and use budget reconciliation to fund the damn wall, like it's been used dozens of times in the past. Chao sez "You go now!"
To politics where we start with the story of a riches-to-rags raging Joo-hater once feted by the likes of Obama and Hillary now behind bars in Florida, Loopy Ocasio-Fiasco once again belches out a pearl-necklace of wisdom, California's primary process is insane, a couple of good links examining the pseudo-con Trump hatred and how the progressives manufacture crises to grab power, like they are doing with the shutdown and the migrant invasion force.
In First Amendment, Fake News Fakery files, the New York Times has visions of sugar plum fairies dancing in decapitated heads, and with the law governing NSA snooping set to expire, the ACLU is suing the government to get more info on what a renewal would look like. It is axiomatic that anything the ACLU does should be opposed tooth and nail, but I have my trepidations on the NSA vis a vis this issue. Even more so given what the intel and LE agencies have done to Trump and us lo these past few years. And speaking of which, in the Mueller Coup files, American Thinker asks really a rhetorical question as to the nature of that "investigation."
Moving down an amendment, a good piece on the growing awareness of 3-D gun printing and a parallel growth in keeping the technology safe from the gun-grabbers.
Over at the Foreign Desk, with ISIS seemingly in retreat from Mesopotamia, US-led airstrikes continue as the coalition is still worried about the terrorists in the region, Angelo Codevilla weighs in on the Trump Syria decision, Spanish police with a BOLO on a migrant in country who threatened a mass I keeeeel you!, civil rights concerns over Romania's corruption crackdown, Chi-Coms hate Jesus, and Dr. Ledeen with a good approach to bringing down the mullahs. Meanwhile, some positives that can happen with the departure of Mad Dog Mattis.
In the Medieval Pedo Files, a Miami man arrested for posting bomb-making info is an ISIS sympathizer and Daniel Greenfield with another Islamic "charity" and its direct ties to the Obama administration.
Domestically, the family of Dan Ryan, for whom an expressway in Chicago was named for is none too pleased with Bill Daley (not Roger Healy Bill Daley, but Daley Machine Bill Daley) for proposing to rename it after Obama, the GAO is sounding the alarm on state budget crises, Kevin Spacey is in hot water again (and I don't mean a catamite-filled jacuzzi), a look at DC decriminalizing theft, the homeless GoFundMe scam has a happy ending, the CDC says 2018 was a banner year for drugs and VD and the Democrats are hot and horny to institute Loopy Ocasio-Fiasco's insane "Green New Deal."
Meanwhile, as the Women's March rails against evil Jooz, the annual international gender survey labels Islamic countries as horrendous to women; Iran still allows marriage to prepubescent girls. Hello? Tamika Mallory? Linda Sarsour? Bueller?...
From hither and yon, Dennis Quaid who will be playing Ronald Reagan in an upcoming biopic croons in a documentary called No Safe Spaces, NASA administrator Jim Bridenstine is up on ETs, and a look at Peter Jackson's moving World War 1 tribute They Shall Not Grow Old. Going to see it tomorrow and will issue a full report.
Anyway, links from around the world, across the nation and up your street. Have a better one and remain blessed.


BORDER WALL, MIGRANT INVASION, AMNESTY, IMMIGRATION, BORDER SECURITY


posted by at
06:29 AM
|
Access Comments