« Chess Thread 12-22-2018
|
Main
|
Saturday Overnight Open Thread (12/22/18) Holiday Stuff Edition »
December 22, 2018
Saturday Evening Movie Thread 12-22-2018 [Hosted By: Moviegique]
It's A Wonderful Life

Even if you hate Frank Capra's post-war flop about a man who finds value in his life by seeing it undone, it can be startling how starkly it reveals why good human drama can no longer be made in America. And watching it this time, I realized what The Boy and I get out of the classics and new Asian movies we've seen this year.
I've probably seen this It's A Wonderful Life more than any other movie, and I've certainly written about it more than any other. The noir photography, the depths of depression it plumbs, the libertarian Pottersville-is-better-than-Bedford-Falls nonsense, and most recently, the weird stuff on Potter's desk. The Flower, who saw it for the first time in 2016, wanted to see it last year and again this year.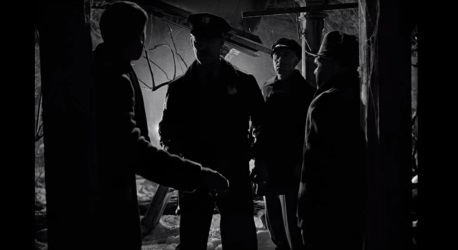 Bert would be the most bad-ass cop in a Christmas movie till Al Powell shows up.
What struck me this time was how deeply flawed all the characters were, with the possible exception of Mary (Donna Reed, From Here To Eternity), and yet how George's little acts of grace (however begrudingly he accept his role) gave them the room to express the better angels of their nature.
George (Jimmy Stewart, The Philadelphia Story) is belligerent. He's quick to anger. He's self-sacrificing to a fault: A lot of his despair comes from his inability to share any part of his burden, not even with his wife. He's clearly planning to go to jail for Uncle Billy.
Speaking of whom, Uncle Billy (Oscar, Tony, Emmy-winner Thomas Mitchell, Gone With The Wind) is incompetent to the point of genuine danger, and probably an alcoholic. And he handles all the money, apparently.
On the subject of alcoholism, Mr. Gower (H.B. Warner, The 10 Commandments) nearly kills someone and boxes young George's ears when he tries to stop him.
Sam Wainwright (Frank Albertson, Psycho) may be a philanderer, though it's hard to say how seriously he takes any potential relationship with Mary, he does call her his girlfriend while having another honey hanging on him.
Violet's (Gloria Grahame, The Bad and the Beautiful) sins are self-evident.
Even Harry, the war hero, comes home all too conveniently with a wife and a fancy new job knowing full well that his brother isn't going to be able to chain him to the Savings and Loan. He'll make the sacrifice for George as George did for him, but he has to know (just as we do) that George won't let him get "trapped".
Mary comes closest to being perfect. But after his temper tantrum—when he's trying to apologize—she says "why must you torture the children?" It's that retort which sends him out to commit suicide.
The people of the town, when we see them, are quick to be manipulated by Potter. Although it is they, ultimately, who save the day, they are easily scared, gossipy, and overly-reliant on George's good nature.
One is supposed to like these people. And, shockingly enough, one does. Mr. Gower buys George his getaway luggage (that he never gets to use) but is also seen leading the bond effort to support the war at home. Sam, once he's contacted, is ready to float George a $25K loan. Violet sticks around to help George, and apparently to brave out rehabilitating her reputation.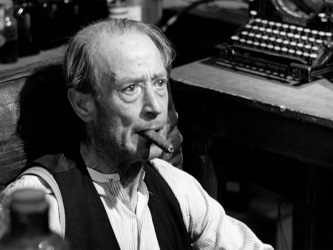 Spanish flu was a bitch.
In other words, these people are good in spite of their occasional (or even frequent) sins. They're real people. For all the broad stereotyping here, there's more life in each character who passes through Bedford Falls than in any big-ticket modern Hollywood movies. They've all sinned, sometimes gravely, yet all are shown to be worthy of redemption.
But the current media ethos is that there are good guys and there are bad guys—not even in the fun Star Wars way, but in a dreary universe where right-thinkers are untouched by sin and wrong-thinkers are condemned to, well, whatever hell the right-thinkers have in their power to create.
It's weird to think we've seen more mainstream Korean and Chinese movies than we have top 40 Hollywood films this year. (Usually we see about half of the top 40, this year we've seen, or will see, about 5 out of our over 130 theater screenings.) And surely part of the reason is sheer novelty, since Asians have different tropes and archetypes which make things seem a little fresher. But part of it is that the characters are more human, probably because they're not worried about oversensitivity. (Korean films, in particular, tend to be exclusively Korean. Even Koreans who spent some time in America are suspect.)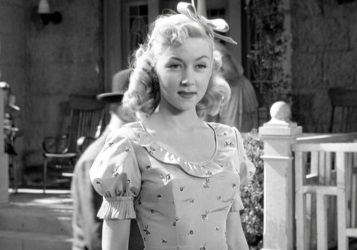 Gloria Grahame was aggressively heterosexual.
But I remember the characters. For all my crustiness about superhero movies, there was a lot of impressive stuff in Avengers: Infinity War—but not, ironically enough, the characters. Whereas I remember the down-on-his-luck boxer who slugs his autistic brother once (in a moment of panic) and spends the rest of his movie trying to regain that brother's trust. I remember the girl who rediscovers her vanishing mom through cooking. Even typing the trope makes my eyes roll, but I remember the soft, greedy businessman who finds love with the sensitive scientist at the south pole.
The thing is, to have a character arc, you have to have a character who can change. The change has to be personal and material, and it has to reflect a reinterpretation of how the world works—generally the admission that one's previous view was wrong somehow. (You can have the character change badly, of course, but that's more a horror trope or ultra-edgy indie drama conceit.) But if there's only one correct way to think ever, only one correct way to be, there can be no meaningful change.
And if there can be no forgiveness, a character who was wrong once can never re-enter the ranks of good guys: Old Man Gower and Uncle Billy can't sell war bonds, Mr. Welch should be sent to jail for punching George, Violet deserves to be slut-shamed (or shamed for thinking she should be slut-shamed?) and Clarence may as well have let George jump.
You don't have to like this movie to see that it deals more with genuine human issues than anything turned out of Hollywood in 2018.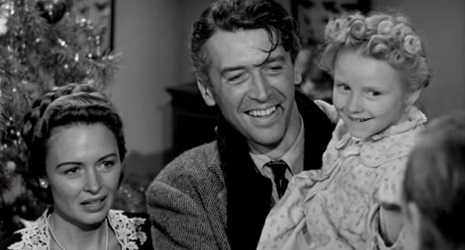 I was going to make an "every time a bell rings" #metoo joke but it just wouldn't be in the spirit of the season.

posted by OregonMuse at
07:24 PM
|
Access Comments