« Allen West Disagrees about Syria
|
Main
|
Gun Thread: Mail Call! [Weasel] »
December 23, 2018
Food Thread: I Say "Chowder," You Say, "Chowdah," Let's Call The Whole Thing Off!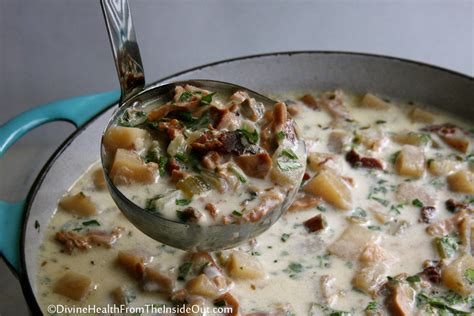 It's damned fine eating...even the crappy canned stuff is palatable. But a pot of homemade New England Clam Chowder is a thing of beauty, and coupled with some crusty bread it is one of life's joys. Sure, there are other clam chowders, but we won't discuss the Manhattan version because it pales in comparison to the creamy version. In fact, I doubt that the Manhattan version would even exist if it weren't for the Red Sox and their loud, obnoxious, coarse and all around detestable fans. Why bother with an alternative if not to avoid even the appearance of accepting New England "culture?"
Melville writes wonderfully about bowls of chowder, both clam and cod, and it is worth a read, if just for the image of a 19th century kitchen producing such delights! I think Ace is going to suggest Moby-Dick; or, The Whale for his next book post, so you might as well get a head start!
...a warm savory steam from the kitchen served to belie the apparently cheerless prospect before us. But when that smoking chowder came in, the mystery was delightfully explained. Oh! sweet friends, hearken to me. It was made of small juicy clams, scarcely bigger than hazel nuts, mixed with pounded ship biscuits, and salted pork cut up into little flakes! the whole enriched with butter, and plentifully seasoned with pepper and salt.
***
And here's an interesting variant:
Hatteras Chowder
, from commenter LMD Outer Banker:
This recipe makes a huge pot of chowder, we only make it for large groups of family and friends, so if you want smaller amounts, you will have to figure the proportions:



One 51 oz can clam juice

One 51 oz can chopped sea clams

One 5 lb bag of white potatoes, peeled and diced. Put into large stew pot, cover potatoes with water and cook until soft, do not drain.

In skillet cook 6 strips of bacon. Then mince a large onion (sweet) and saute in the bacon grease

Mix onions and grease into the pot with the soft potatoes and water.

Add the two cans with the clams and clam juice into the pot.

Salt and pepper to taste. Add half stick of butter.

Simmer for 30 minutes.

Crumble the bacon and add to the chowder.


All finished, except I add a little parsley, my husband does not.

Also, some versions of Hatteras chowder use Oregano for seasoning. If you use the above recipe and add some celery and crème, then you have Carolina chowder. I guess the people on Hatteras were too poor to add cream, hence the clear broth.
******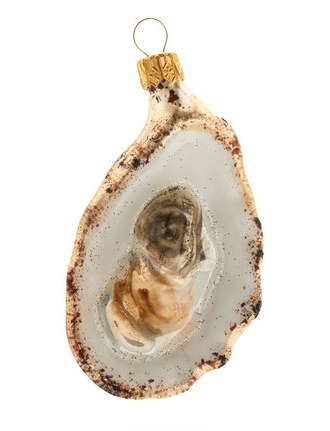 These are fantastic! I wish I had a Christmas tree just to be able to hang these.
23 Food Ornaments to Make Your Christmas Tree Look Like a Buffet
Hmmm...they aren't just for Christmas though...

***
Buffalo-anything works for me, so this is tempting. But I have never had much luck with caramel and popcorn; the hot caramel always seems to shrink the popcorn down a bit too much. I eat it of course, because caramel is God saying that he loves us and wants us to be happy.
Buffalo Wing Popcorn
By the way, popcorn is a great vehicle for pretty much any flavor; savory, sweet, both. I have a jar of cheese powder that is just a fancy version of the cheese packets from Kraft Mac & Cheese, and it goes fantastically on popcorn. So does black pepper. And bacon.
***
Artichoke Dip is disgusting and greasy and overly rich, and I cannot resist it. This one sounds pretty good, but honestly, is it possible to make a bad one?
One Artichoke Dip to Rule Them All
[Hat Tips: artisanal'ette]
******
The problem with coating candy with chocolate, at least for me, is that I tend to wear most of the chocolate, and the rest goes on the ceiling and the floor and the walls. But I keep trying, because in the pantheon of sweets, a dark chocolate caramel is pretty much the top.
Chocolate-Dipped Caramels
The tempering technique is pretty straightforward, so maybe this recipe will work better than the nine others that necessitated a repainting of the kitchen.
******
Christmas cookies are goofy...but fun!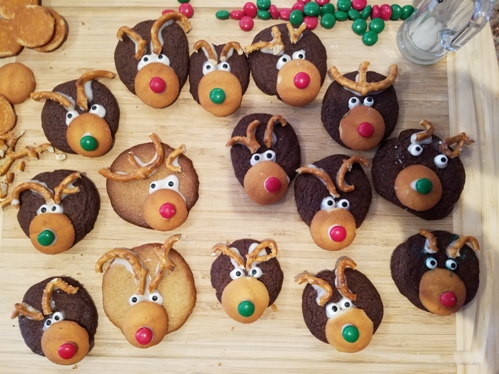 [Courtesy of long-time commenter and NJ/NY Moron DJLadysmith]
******
Here's an egg nog recipe from a lurker who calls himself, "A Deplorable From Tennessee Who Escaped From Chicago."
Ingredients:
1 dozen large eggs (extra large or jumbo works too)
1 Quart half & half
1 pint heavy cream
1 pint light cream
(it's pretty hard to find heavy vs. light, so just buy a quart of whipping cream)
1 half gallon milk
1 fifth of rum (light or dark, it doesn't much matter)
1 fifth brandy
12 ounces of bourbon or whiskey (no scotch!)
2.5 cups of granulated sugar
Nutmeg

Separate eggs and beat whites until stiff
Beat yolks
Fold whites into yolks
Add cream, half & half, sugar and milk and stir well. Do not beat.
Add liquor and stir well
Ladle into glass jars or punch bowl for storage (don't use plastic - it might melt)
Serve in punch cups or glasses with nutmeg sprinkled on the top.

This will keep in the refrigerator for a week to 10 days

Don't try to drink more than 16 to 24 ounces depending on your capacity. You will regret it.

The source is the Three Rivers Cookbook Volume 1 (from Pittsburgh).
Apparently the following graphic is appropriate when drinking this concoction.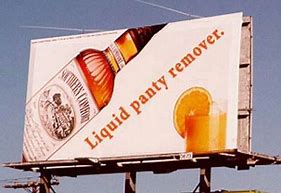 ******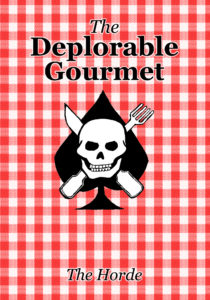 What? You thought you could get away without a pitch to buy a cookbook? You're lucky it isn't a photo of the latest sourdough boule!
Click on the graphic, buy a few for your friends and family, and be cheered by the good works that the profits will do.
It has been a year since Bluebell and Weasel and the several other fine Morons produced this witty and clever and laugh-out-loud work. It is impressive that they did so much work, so well and so quickly, yet deny any responsibility for its success.
I know better. They all did a great job, so don't let them sneak off without a note of thanks and a pat on the back (careful though; Bluebell just sharpened her newest shiv).

******
Food and cooking tips, Haggis, young wild pigs, Scotch Eggs, thick and fluffy pita and good tomatoes that aren't square, pale pink and covered with Mestizo E.coli:
cbd dot aoshq at gmail dot com
. Any advocacy of French Toast with syrup will result in disciplinary action up to and including being
nuked from orbit.
******
&topic=world_news">

posted by CBD at
04:00 PM
|
Access Comments