« Wednesday Overnight Open Thread (12/19/18 )
|
Main
|
Mid-Morning Open Thread »
December 20, 2018
The Morning Report - 12/20/18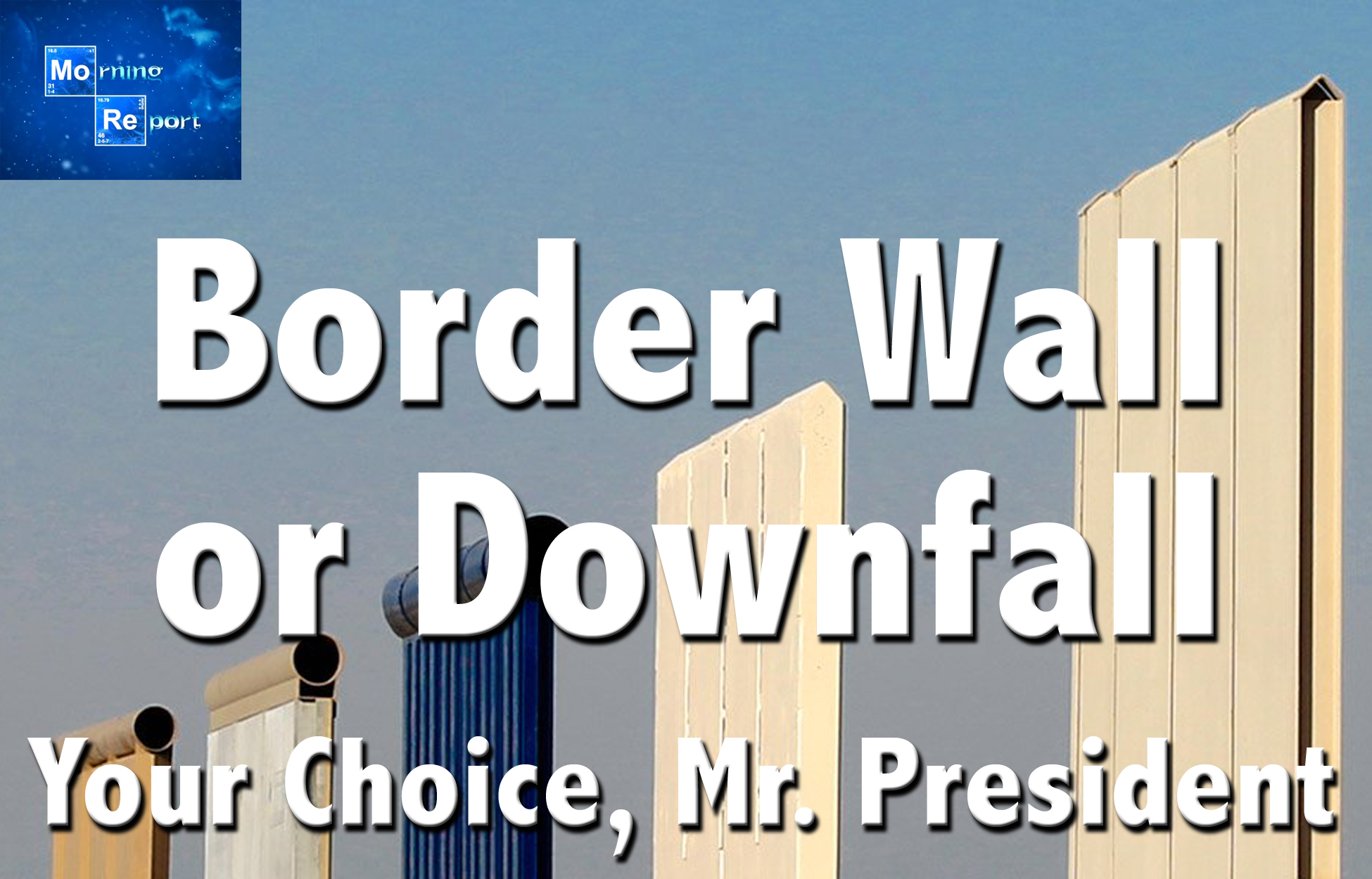 Good morning kids. Thursday and what a difference a day makes in the mindset of yours truly. I'm sure many of you are getting that same sinking feeling that I am regarding the President and the Border Wall. While I laid out my long-standing position of standing by Trump due to his virtually singlehanded string of incredible accomplishments over the past two years, as well as previous head-fakes on some key issues, I am on the verge of a break-glass-pull-handle moment.
The GOP-controlled Senate has passed the stop-gap funding measure that includes absolutely nothing in Border Wall funding and the House is expected to follow suit, thus completing the kabukkake government shutdown theatre that we have seen over and over and over again since the Obama Reign of Error. Besides that, yesterday saw the passage of the FIRST STEP criminal justice reform bill which some see at best as purely a sop to racial politics and at worst releasing criminals and drug dealers out onto the streets. Along with that, the administration has announced we are bugging out of Syria which I am of two minds on. Without any real endgame or mission what the hell are we doing there, but then again to leave is to effectively cede control of a strategic area to Russia and more dangerously Iran. Argue amongst yourselves on that one, but I'm getting into the weeds here.
This latest continuing resolution does one thing: continues the disaster of borrowing and spending money we do not have on things that do little more than line the pockets of elected and unelected tyrants and fuel the dissolution of America as founded. It is the manifestation of something you identified and railed against at the very beginning - the Washington DC swamp. And the fact that it does not and will not include the measly $5 billion for a Border Wall which was the centerpiece of your campaign and more crucially the rock upon which the only thing you have going for you - your base - rests, is of course a slap in the face to you but a boot in the groin to the millions of us who stood and still stand by you. And the piece de "resistance" (how's that for an ironic turn of phrase) is learning that the State Department, without any need of consent or approval of anyone, is going to send a $10 billion dollar payoff to Central America and Mexico to allegedly help improve conditions so people won't want to migrate.
Are. You. Fucking. Kidding. Me?
Here's Limbaugh yesterday (read or listen to his whole monologue as he puts it all in context to what I've stated):
Meanwhile, over here, $5 billion, a rounding error in the federal budget, is enough for the Democrats to say, "Shut down the government. We're not gonna let this happen." 'Cause it isn't about the $5 billion. It's about choking off the continuing supply of prospective Democrat voters, a permanent underclass.

For that reason -- since it's not about the $5 billion and since it's not about the budget and it doesn't bust the budget and it doesn't do anything -- I think the president ought to veto this. This is why he got elected. This is why people stick with him. This is why his support base has not abandoned him during this full-frontal effort of the Democrats and the media to destroy him. They've hung with him because of this. This issue predated Trump.

The American people have been telling Washington for 25 years they don't want this, and the American people have continued to triumph. Washington continues to try to thwart the will of the people on this. Finally, the people elected somebody who actually said he meant what he was talking about regarding this, and they have stuck with him. The president should veto this thing, tell 'em he's not signing it and leave for Mar-a-Lago today. He's not supposed to leave until the 21st. Somebody in the White House tell him I'll meet him on the first tee tomorrow.
Amen. Mr. President, you have two options. If you do as Rush Limbaugh, Mark Meadows, I and others are imploring you to do, that is veto the CR, you will have exposed the disgusting practice of foregoing the normal budgetary process in favor of these sham resolutions as well as exposed the Democrat-Left and far too many in the GOP as dangerous in their disregard of national security and sovereignty, and cemented the bond of support between you and all of us like never before. If you do not make a stand right here and right now, you will have damaged your credibility with the American people to the point where it may very will be irreparable. It's in your hands, Mr. President. This is what you were elected to do. Do it.
In other news on the Immigration and Amnesty front, this Emmet Kelly hack-in-black who Roland Freisler-ed Michael Flynn in court went Hawaiian on the administration's asylum rules and unilaterally put the kibosh on them, a Quinnipiac poll shows support for the border wall at a record high, 3 illegal aliens murder a citizen for exposing their illegal alien hiring scheme, a GoFundMe campaign to raise cash for the Wall raises a few million in a short time (drop in the ocean but a nice sentiment), Mexican drug cartels are now using ultralights to fly in illegals, a look at California's sabotaging of ICE and mass immigration is turning America into a shit-hole.
To politics we go where we lead with Civil War 2.0 and the usual Democrat-Left insanity, the mouthpiece for this Yvette Felarca terrorist is pissed that the judge at her assault trial doesn't see her as a brave freedom fighter, and the NY Times of all outlets has revealed that the Democrats used the same shady tactics in the Alabama race that Doug Jones won that the Russkies supposedly used in 2016. We've already mentioned the Continuing Resolution outrage, a look at what Moonbeam hath wrought, Jeffrey Lord on Trump's enemies, for those keen on regurgitation and projectile colitis, I give you Paul Ryno's farewell speech, and IBD on that poll we reported on that shows hatred of government near the top of voter concerns... just as the Dems win the House. What a coinky-dink.
To First Amendment and Fake News fakery, yet another call for Google to be smashed to bits, some migrant caravans are more equal than others in the eyes of the Agitprop Media, naturally the US is added to the list of nations most dangerous to journalists while the Financial Times slobbers all over Nazi collaborator George Soros' soft, rubbery yutzik, and a leftist troll creates fake news so that us hateful gullible rubes will swallow it in order to prove we're hateful gullible rubes.
In Mueller witch hunt and Coup news, it's now confirmed that a McStains underling passed the Steele dossier to BuzzFeed, said amateur teen webzine wins in court, James Comey pulls a what-difference-does-it-make regarding the origins and veracity of the dossier, this Emmet Kelly guy is a real piece of work, and as more and more comes out, Mueller is looking worse and worse. Not that he will ever suffer any real consequences to being an enabler and co-conspirator of thugs and tyrants.
To guns we go where a Baltimore woman just pulled an epic maneuver on Baltimore's gun buyback nonsense and this DoJ bump-stock ban and confiscation is a disaster, for liberty and possibly the administration as well.
Over at the foreign desk, Mark Levin warns about Syrian premature evacuation along with a few other links on this topic, religious leaders want Trump to take up the mantle of the persecution of Nigerian christians, notes on Chi-Com mandarin Xi, the NorKs are threatening to nix the nuke talks, and Sanders and Feinstein, of the self-gassing Jew contingent, are opposing anti-BDS legislation in the Senate. To the bottom of a mikvah they should go.
In military affairs the President activates the new US Space Command (I hope recruits are not called Space Cadets), and the danger to US troops from the latest mapping apps. I slam you slam we all slam for Islam, and Daniel Greenfield on Obama's legacy of global Christian genocide. Domestically, the defeat of Tom Cotton's amendment to the new crime bill exposes the whole thing to Daniel Horowitz, New Haven firefighters are not hot about the union, a look at the repeal of a state housing law and how it could be disastrous for New York, despite the attempt to drive it out of business Chick-Fil-A is surging in the marketplace, the Fed is intentionally sabotaging the economy with rate hikes, and in spite of that the Trump Tax Cuts are to be celebrated. Elsewhere, Walter Williams on the deadly incompetence of the FDA and though not linked I saw a story the other day where Fauxca-Has-Been has a brilliant idea: the government will manufacture all medications.
Education is jammed with links including prospective North Carolina teachers flunk basic math, the Federal School Safety Commission is proposing new mental health rules to bolster school safety, disparate impact was and is a disaster for the aforementioned, in Britain, you blokes that get nosebleeds are in for a rude awakening, and speaking of California, the golden state leads the way... right to the bottom in education. No more surfing but there will be "serf-ing."
To Red-Green envirocommunism where the DC AG is being sued in relation to bite-sized billionaire Doomberg's involvement with states' A'sG colluding to destroy the oil industry, trying to expose Russia as the puppet masters of enviro groups and a fine essay on the green movement and its attempt to destroy the American economy and way of life.
From hither and yon, maybe it wasn't such a great idea to let men whip it out in the ladies room, the Ivy League is good for women - to find rich husbands, that is, it's the circle of jerks as SJWs on the warpath to kill "hakuna-matata," and finally Peter Jackson's documentary They Shall Not Grow Old is on my must-see list.
Anyway, links from around the world, across the nation and up your street. Have a better one and remain blessed.


BORDER WALL, MIGRANT INVASION, AMNESTY, IMMIGRATION, BORDER SECURITY


posted by at
07:47 AM
|
Access Comments