« Saturday Gardening Thread: Not much time before Christmas [KT]
|
Main
|
Chess Thread 12-15-2018 »
December 15, 2018
Ace of Spades Pet Thread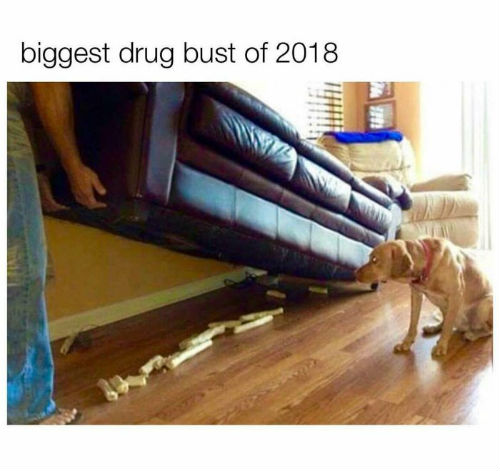 ***

Good afternoon and welcome to the almost world famous AoS Pet Thread. Does today's opening photo ring a bell?
So grab yourself a beverage, relax and enjoy the world of animals.
***
A Little of This. A Little of That.

It was only a matter of time. Climate change is responsible for increase in animal bites.

Stanford researchers warn that the number of animal bites is likely to rise amid climate change and developmental pressures.

Rising temperatures are already exposing people in temperate climates to more mosquitoes and ticks, and developmental sprawl is reducing the amount of land available exclusively to animals.

"As available habitat for these animals increasingly overlaps with human development and recreational activities," the researchers wrote in a BMJ news release, "it is expected encounters with animals may increase and could result in increased animal-related injuries."
H/T ArthurK
***

It's a rerun from an earlier ONT this week. In case you missed it, A pair of dogs made it through the Paradise, CA fire to be reunited with owner.

Andrea Gaylord's house in Paradise, California, was completely destroyed by the devastating Camp Fire last month, but she feared she had lost something much more precious.

As she raced to escape a fire that killed 85 people in Northern California, she called to her two dogs, brothers Madison and Miguel, but they were nowhere to be found and had to be left behind.

"It was the worst feeling in the world,'' Gaylord said on TODAY Monday. "It's like you have to choose. The whole time I thought, 'What was going to happen to those dogs?' It was horrible."
***

An Australian kitteh has used up one of its nine lives.

-- An animal rescuer responded to a factory in Australia where he drilled a hole to free a cat that somehow became trapped between two walls.

Nigel Williamson of Nigel's Animal Rescue and Pest Control said he was called to a factory in Victoria on Sunday when workers discovered the trapped cat and State Emergency Service volunteers were unable to reach the feline.
***
A couple of links from our friend Hank Curmudgeon.

Another pet made it out alive of the Paradise, CA fire, Kitty-571.
***
Meet The PetMorons
Here is little Velvet. She is 19 years old. (She is both the tiniest and the longest lived cat I've ever had.) She was abandoned by her mother as a wee kitten in late fall and has been in our hearts ever since. We put food out and were finally able to entice her to come inside from the deck when she was about 6 mos. old. She endured a lot of cold icy nights and lost a hunk of her left ear to frostbite during that unusually brutal winter -- but that all just proves what a survivor she is. Unless one gets really lucky with the lighting it's hard to get good photos of black cats. But in this recent picture she was caught performing one of her favorite wintertime activities these days: blocking warmth to the whole rest of the room while she snoozes on the heat register.

Thank you again for the enjoyable pet section on the blog each Saturday. - (mostly lurker) corn and beans

Wow! 19 years is awesome. Velvet must have a pretty darn good life there at the corn and beans home. Thanks for sharing with us and your kind words about the Pet Thread.
***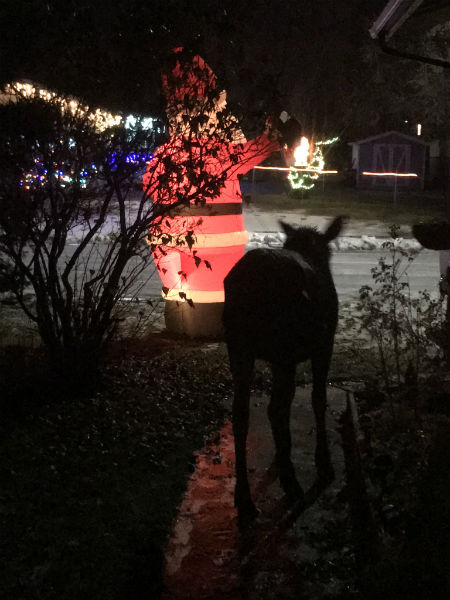 Chrissy-moose checking out the butt crack of our 12 foot inflatable Santa Claus. She has been snacking and sleeping in our back yard on and off for about a month. She's probably 1-1/2 years old, very fuzzy and healthy looking if a bit small. We also saw her probably paramour roving the neighborhood. He's got quite the rack. :)

tcn in AK
Maybe not a Pet Moron but definitely an Animal Moron unless it identifies as an amphibian. Thanks for sharing, that's a cool photo.
***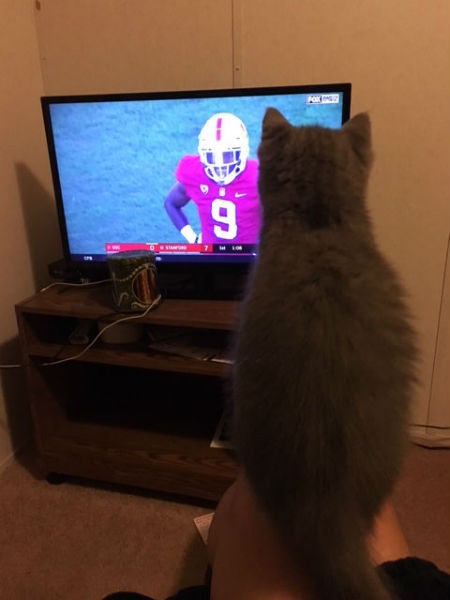 Hi Ace:
Not an oaf or a lurker, but I am a lout. This is Saki, our kitten. What better name for a mischievous kitten than Japanese rice wine? Should we have named her "Boone's Farm"?
I never thought I would live to see the day when I would have a kitten on my knee watching college football with me. We both disdain the NFL. -Ken
Saki? You could have name her 'Mad Dog'? Just kidding. Nice looking kitteh and glad she watches football and not figure skating. We appreciate you submitting this story.
***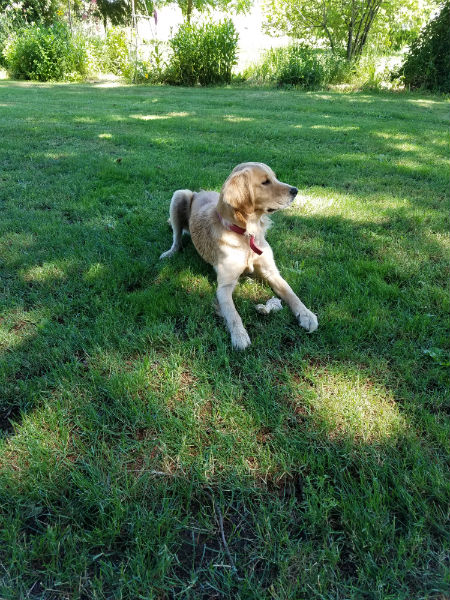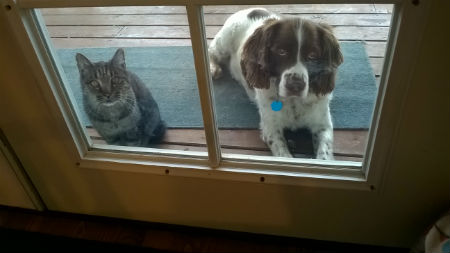 I am a faithful lurker , love to see everyone's pets, gardens. I've included pics of our new baby, Harley, a 4 year old Golden Retriever mix. She is always looking for a party, and for a free dog, only cost us $300 at vet, $350 for fencing to complete enclosure of our 5 acres. The other pic is our beloved Springer Spaniel, Biscuit, who passed away at age of 14.He is much missed, a faithful and loved companion. Beside him is Max the Cat, our 16 year old cat, otherwise know as the King of Siam. He is somewhat disgruntled that he now out lived 2 and has to train the third dog to our family. Max is the enforcer of our 5 acres, and a fabulous hunter. -David
Thanks for sharing these wonderful photos. Love the photo of Biscuit and Max, "Let us in, Dammit!". Sorry to hear of Biscuit's passing.
***

Thank you for stopping by this afternoon. And a BIG THANK YOU to those who submitted items for the Pet Thread.
If you have something you wish to submit you can at petmorons at gmail dot com.
Here's hoping you have a great week!!!

posted by Misanthropic Humanitarian at
03:00 PM
|
Access Comments