« Joy Behar Fuming At Meghan McCain's Interruptions; Threatens to Quit The View Unless Producers "Get This Bitch Under Control!"
|
Main
|
Tuesday Overnight Open Thread (12/4/18 ) »
December 04, 2018
Captain Marvel Is Obviously Already a Disaster. Can the YouTube Shillers and NPC Media Bully America Into Seeing This Piece of Shit?
Via JohnEkdahl, who tipped me about these Nerd Crew channels trying to spin Captain Marvel as not-terrible: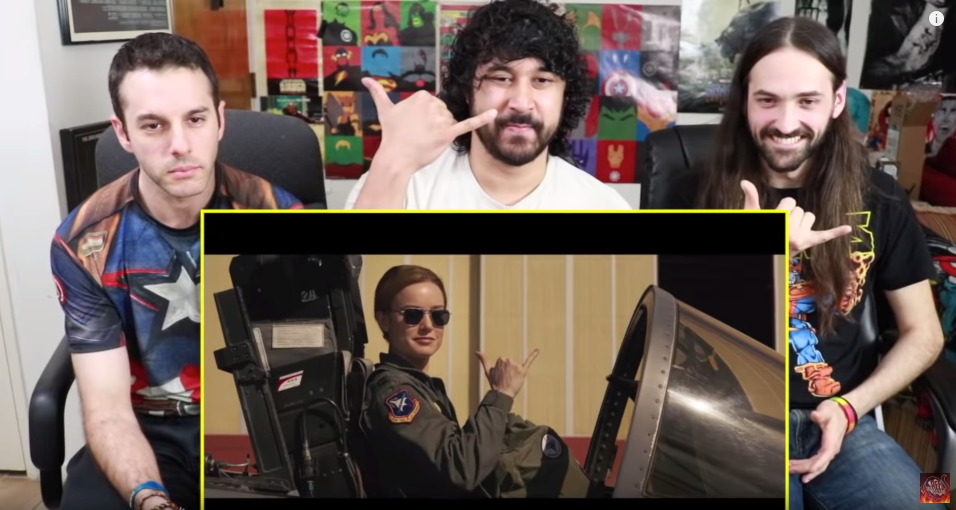 Nerd Crew type dudes pretending they're totally stoked by Captain Marvel.

This. Is. Sad.

This is not the nation that destroyed the Nazi regime.
If you're not into comic books, you probably don't know who the real, popular heroes are and who the perennially-cancelled-for-low-sales losers are.
Which is fine.
But if you're that kind of person, you're exactly the person that Marvel has been trying to convince for ten years that Captain Marvel is a Real superhero.
She's not. She's not even the original Captain Marvel. In fact, the name "Captain Marvel" was ripped off from the Captain Marvel/Shazam comic books, after those books went out of print.
Second-tier Spider-Man villains like The Shocker are more important and more interesting than Captain Marvel.
Fucking Stilt-Man has more legacy and more impact on the Marvel timeline than Captain Marvel.
Marvel keeps pushing her only because they're being criticized for not being diverse enough. And actually, they are pretty diverse -- it's just that most of their best female heroes are X-Men, and Fox owns the movie rights to the X-Men, so Marvel movies don't have access to them. (Until recently.)
So Marvel has been trying to make Fetch happen for like 8 years, pushing this character which is an absolute zero. Every eighteen or twenty issues, they cancel her series for low sales, then blast out an EXCITING NUMBER ONE ISSUE!!! (Number One issues always sell artificially high, because collectors are dummies who think that the fifth Captain Marvel #1 will one day have a fraction of the value of Action Comics #1 or The Amazing Spider-Man #1.)
It's a boring character, a terrible character, a character with the blandest, most generic power set imaginable, and a character with no personality at all, except "scowls" and "is a bad-ass, no-nonsense female."
Anyway, if you're a non-comic-fan and are wondering "Should I have heard of Captain Marvel before...?" the answer is "No, you shouldn't have."
She's a D-lister. A D-Lister that Marvel has for eight years tried to make an A-lister, and merely succeeded in making either a C-lister or, well, just a D-lister again.
But in case you haven't seen this Ghostbuster-esque trailer -- it even includes her slapping a physically frail woman; I can hear "The Power of Patty compels you!" in the back of my mind -- here it is.
This movie will suck. Count on it.
And count on sixty billion articles from The Mary Sue, Jezebel, and other people who don't actually like comics or action movies telling you why she's actually the best hero in the universe, even though her books sell like shit.
Ethan Van Sciver had a funny line about Brie Larson's scowling Block of Wood face: "When she looks at me with contempt, I feel like I owe her alimony payments."
People Want to Take Disney Down: One point working against this movie, among all the others.
People are sick of Disney. They're sick of Disney's success, sure, but they also suspect that critics are giving Disney free passes for mediocre or bad movies. Whether because of a fear of a backlash from Disney fans, or because they've been buttered up with access, or whatever -- Disney movies get reviewed better than they should.
People had an itch to see Star Wars fall. The moment it showed weakness in The Last Jedi, they pounced, and turned Solo into a box office disaster.
I think everyone except the people who are still totally on the Marvel train want to see Marvel bloodied. And we know we can't hurt Avengers 4 (even though Avengers 3 was overrated, and Avengers 4 is already predictable), but we sure can hurt this piece of crap.
It's the weak member of the herd.

posted by Ace of Spades at
08:45 PM
|
Access Comments