« Monday Overnight Open Thread (12/3/18 )
|
Main
|
Mid-Morning Open Thread »
December 04, 2018
The Morning Report - 12/04/18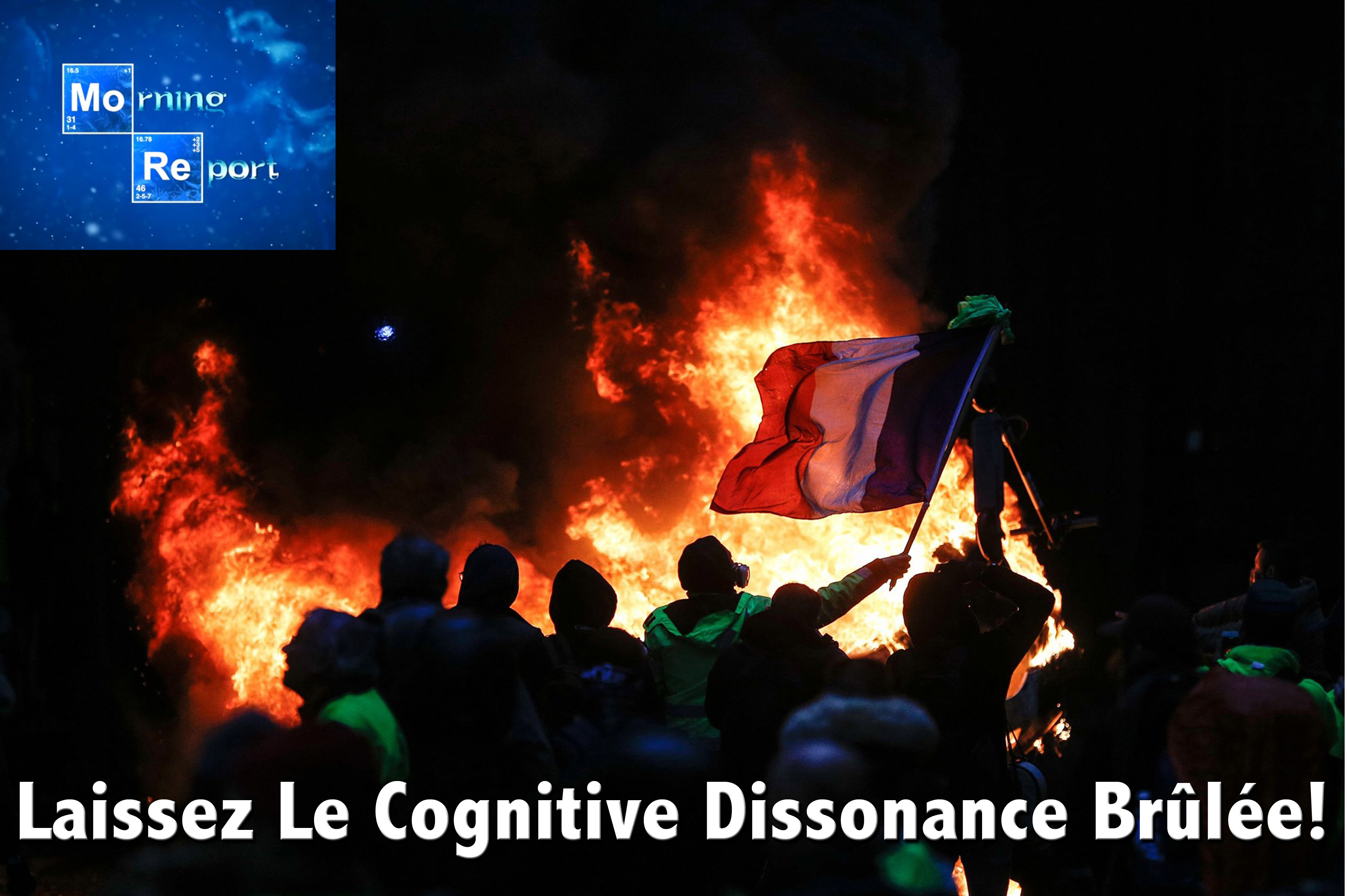 Good morning kids. Tuesday is here and lots of things breaking across several categories so let me mix things up a bit and not lead off with the big domestic story which of course continues to be the immigration/border crisis. More on that in a bit, but first, the rioting in France and the bubbling up unrest in Sweden are getting either very little to no attention in the Leftist house organ media, or otherwise distorted as to the underlying causes. In the wake of French prime minister Emanuel Macron's decision to implement a so-called carbon tax that would essentially make gasoline an unaffordable luxury, the citizenry have had enough and have taken to the streets. The question is, since France and Europe in general (and this is an opinion based on no real hard evidence) are not necessarily "car cultures" as is the USA, and since (again just my assumption) that the French people are more or less convinced that so-called "climate change" is a clear and present danger, then what the hell is really going on here? And then, as if to underscore the conclusion I am about to draw, Sweden has seen migrant centers go up in flames with the approach of national elections that have real ramifications for the future of that nation that by all appearances is all but subsumed by the self-inflicted national poisoning of Muslim immigration. Again, here is a society that since the end of the Second World War (in which it remained neutral and was untouched, except for making a handsome profit from trade with Hitler) has gone out of its way to present itself as some sort of model to the world of openness, tolerance and acceptance - to the point where the once heavily Jewish community of Malmo has been utterly terrorized by Muslims, but to point this out will bring the wrath of the government down on your head. Again, just as with the character of the French people vis a vis socialism and (since '45) general American antipathy, what's really going on in Sweden?
The latter I think is pretty clear (see the related Daniel Greenfield piece about rapists in a sleepy German town). But in France, is this just about the money or has the failure of the socialist model, particularly in terms of immigration policy going back to the late 1950s/early 1960s from its former Arab and Middle Eastern colonies caused the citizenry to say enough of this? Times change, people change and attitudes change. The question is is the reality of what is going on right in front of their faces on a daily basis enough to cause a wholesale sea change in attitudes or will the sort of societal/social cognitive dissonance continue? Look, I get it. The French hate us. But just as the late great Golda Meir quipped about the prospects for peace between Arabs and Israelis, France will perhaps rise again when they hate themselves less than they hate us (or something like that).
Now to the Illegal alien Invasion and the concomitant politics of it all over here, where the SCOTUS has rejected what could've been a big legal impediment to the construction of the border wall from the enviro-Commies, the Pentagon may be going wobbly on troop deployment to the border, this "By Any Means Necessary" group is fomenting a lot of the rioting/violence amongst the caravan invaders, two good pieces underscoring the citizenship question on the census which has big implications for the direction of our society and a big identity theft ring and the connections to illegal aliens.
In First Amendment, Fake News Fakery and Censorship, the only difference between Tim Cook and Benito Mussolini is the hair and the homosexuality, Twitter is/are hypocritical, SCOTUS nixes mandatory Bar Association dues, YAF beats UC Berkeley in free speech battle, Nimesh Patel gets "Apu'd" from an Ivy League stage, the new USMCA may be good for trade but it lets Big Brother Tech shut yo mouth, the media now uses Bush 41's corpse to beat up Trump and announcing the Fire Breathing Lunatic Network.
To politics where it certainly looks like we wuz robbed in California, Claire McAssKill spouts a "gee, ya think," Fauxca-Hasbeen longs for the days of gulags for kulaks, Cui-Bono Cuomo and Sandersnista are prepping for 2020, and Mollie Hemingway and a piece from American Greatness on NeverTrump Conservatism Inc.'s racket. And that segues nicely into the Mueller witch hunt where the Deep State's gonna Deep and Chuck Grassley wants FIB Chief Wray to answer for the raid on the Clinton Crime Family Foundation whistleblower. Don't hold your breath for answers, let alone justice.
On the international scene, along with more analysis of the Paris rioting, the President has persuaded Chi-Com mandarin Xi to knock it off with the fentanyl dumping, Iran has indeed violated all treaties and bans in launching its latest nuke-capable missile, families of people held captive by the Farsis ask Trump for action, a look at the new Trump of Brazil, and lastly a top US Admiral serving in the Middle East has been found dead of an apparent suicide while an ISIS head-chopper gets Tomahawked.
Closer to home, as Paris brulees, the GOP should look long and hard at the consequences of taxing carbon here (or else, what, I fear), Loopy Ocasio-Fiasco actually stumbles her way into a truth nugget about Tesla, Trump announces an end to green subsidies for electric cars and renewable goniffing, Maxine Waters blames the banks for the housing crisis caused by her party's insane lending laws, and yet another alarm bell of the debt and spending disaster.
In healthcare and policy, small biz looking for a final push in the lame duck session to ease insurance burdens, Obamacare is seen as a disaster by the people, and the NIH is still mulling aborted baby parts for UCSF's Frankenstein-Mengele-Maus mania. Why?!
In other mad scientist news, the weaponized law firms going after the oil companies craved anonymity (gee, I wonder why), and the UN sez "we're all gonna die!!!... unless you send your GDP to our office in Accra to remain blessed."
Lots of things from hither and yon including, Veggie Tales is evil and white but mostly white, 69-year-old man cannot be 20 years younger with this one neat Leftist trick, a couple of pieces delving into the evils of anti-semitism, "equality" and diversity, and a British dominatrix will whip white conservatives until their morale improves!
Anyway, links from around the world, across the nation and up your street. Have a better one and remain blessed.


MIGRANT INVASION AMNESTY, IMMIGRATION

Speaking of The Dominatrix, for your dining and dancing pleasure, I give you...

posted by at
07:47 AM
|
Access Comments