« Funny ONT Title Goes Here
|
Main
|
Mid-Morning Open Thread »
November 30, 2018
The Morning Report - 11/30/18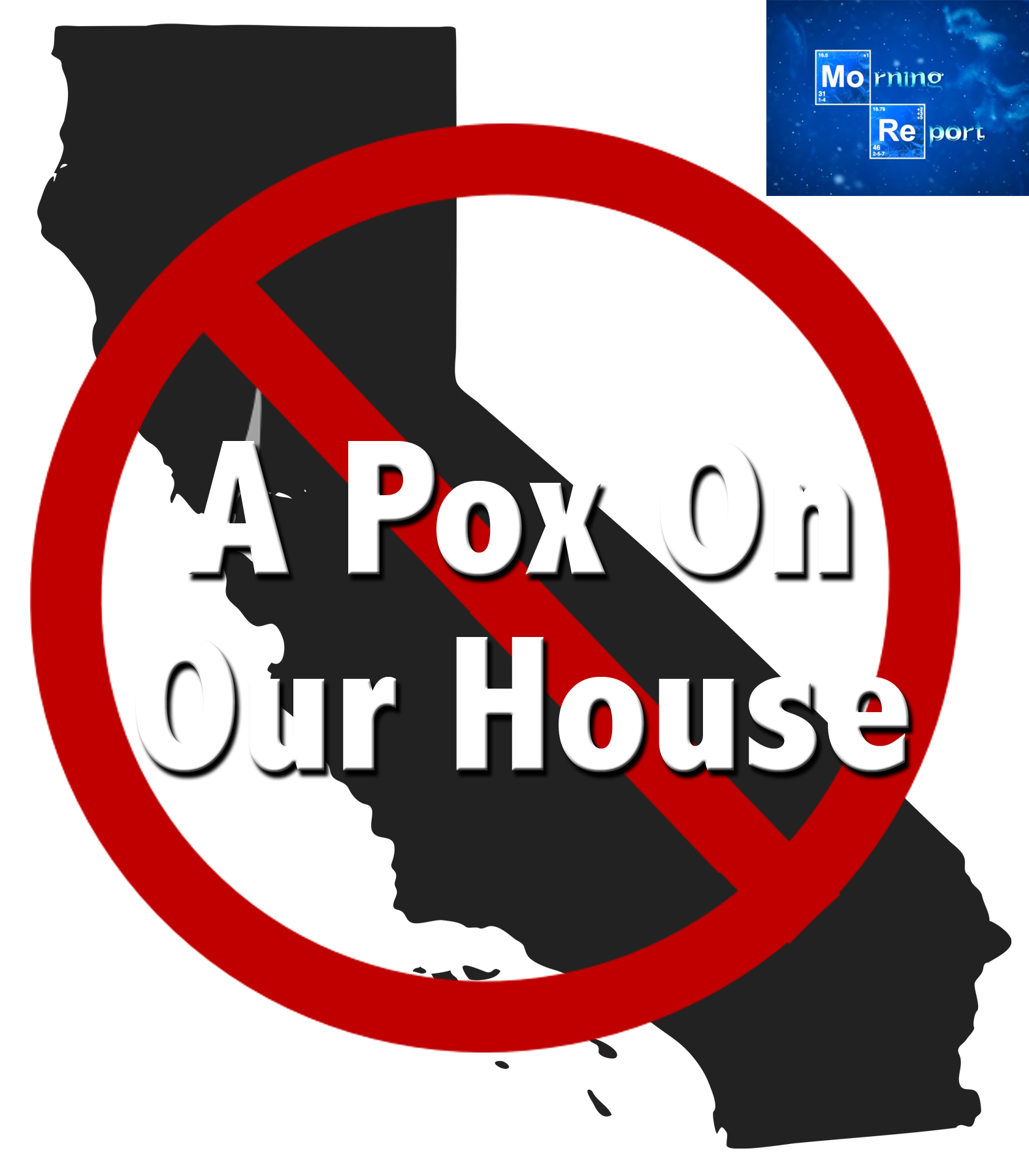 Good morning kids. The last day of November and the weekend is here. Lots to cover including several items that make what's left of my hair hurt (ma-nish-ta-na, right?). I'm sure you'll see which ones, so lez-be-on our way.
First up, to the migrant invasion mercenary hordes at the souther border where along with camera crews, women and children for props/human shields, illiteracy, sloth and a sense of entitlement (jeez, those are career highlights on Bob Menendez's Linked-In page), at least a third of them are bringing a veritable human wave assault of infectious diseases that have all but been wiped out (AIDS notwithstanding, since that was invented by the CIA along with crack to kill Maxine Waters' constituents). Meanwhile, Gavin Newsom Gaping Nuisance is supposedly going to recall the California National Guard from the front line (meh, Trump should nationalize them) while consigliere-cum-AG Xavier Becerra is plotting some sort of legal action against the President in order to protect the criminals and scum attacking our Border Patrol Agents and troops. California (along with DC) is the locus (and has been for quite a while) of much of the sedition and troubles that are tearing at the already tattered fabric of our society. Either cut them loose or decertify their statehood and dissolve their government. Meanwhile an illegal alien pulled a gun on one of our Border Patrol agents and here's an item that I defy anyone to find in any Democrat-Leftist Media organ, an illegal alien animal has plead guilty to the horrific rape and murder of an Islamic teenager. Lastly, there's quite a good essay on the open borders issue from Front Page Mag.
And, as is my wont, I want to highlight the other things that usually get embargoed by the media before delving into the meatier subjects. First, a man involved in an assault on a group of Marine Reservists in Philadelphia was charged in the crime, the FBI FIB has reportedly raided the home of a Clinton Foundation whistleblower, and speaking of California, the head of the state's Democrat Party has now resigned over sexual misconduct allegations. I assume his date complained of a lousy meal and no foreplay.
And like a bad thigh rash, as Mark Levin says, the Mueller witch hunt erupts onto the front pages mostly over the nothing-burger of Michael Cohen's guilty plea over a process crime that has absolutely zero to do with the President or even the allegations of "muh-Koluzhnikovs!" The Great One himself says the President has nothing to worry about, and several good links also lambaste grand inquisitor Mueller himself. But the salient point is that the process itself is the punishment. Though no real damage per se has been done to Trump, far too many people (thanks to the Media) actually believe that he with the help of Putin somehow stole the 2016 election and therefore, and more crucially, his entire presidency and agenda are illegitimate. The other lanky hunk of piss James Comey is suing to block his Congressional subpoena (as if his testimony is going to result in anything that lands his or anyone else's ass in prison) and this "protect Mueller" bill being floated in Congress (thanks, GOP-e!) is a total farce, but why let the Constitution get in the way of things?
In First Amendment and the Fake News Fakery Files, Google employees conspired to completely eradicate any conservative media research while at the same time compiling complete dossiers on school kids based on classroom product usage. Hey, can't touch them because, free enterprise, eh cuck-servatives? Meanwhile, Laura Loomer who is the closest thing to a real dictionary-definition journalist out there has chained herself to the doors of Twitter's NYC headquarters to protest that company's censorship of her and our voices. Lastly, leftist anti-semitism? Never heard of it!
To the political scene where the Voter Integrity Project is sounding the alarm on the attempt to steal a North Carolina House seat, but sure as G-d made little green botulinum toxin, Nancy Palsi slanders the GOP as the party that steals elections. Will the equivalent of Commissioner Gordon send up the Graham signal so he or someone else can slam this shambling bag of seizures lest that along with every other slander of Republicans and conservatives goes unchallenged? Meanwhile, creepy ballerina Rahm Emanuel is slamming his own party over Beto-Mania (is he hinting at a 2020 run too?), lawsuit is filed to force a special election for McStains' Senate seat, overwhelming percentage of Massachusettians have no love for Fauxca-Hasbeen, the Obama Foundation Crime Family seems to be doing the job the Clintons' used to, a pro-Bernie group gets smoked by the MuGus from Ghana, and the political necessity to Trump and the GOP of building that goddam border wall.
On the international scene, with the looming G-20, Trump will not be speaking with Putin as a result of the latest nonsense with Ukraine, is there or is there not some sort of looming deal with the Chi-Coms vis a vis trade and other issues, the US slams the Farsis for arms shipments to Yemen and the Afghan (thanks Obama!), analyses of both the Ukraine crisis, confronting the Chi-Coms, Ledeen on defining and then dealing with our enemies and lastly, Erdogan sez hold the onions... literally.
Closer to home, in defense news we have the sublime and ridiculous. The former being the ID'ing of 3 special operators KIA in Afghanistan (RIP and let's get the hell out of there), and the latter, a B-52 squadron commander has been sacked for doodling weiners (thanks, Obama part deux!). A Miami anti-crime group has a terror-linked Joo-hater in its midst, Tim Scott is turning into a Flake, Corker and Menedez team up yet again to screw Trump and America vis a vis Obama holdovers in a key US communications slot, lawmakers are useless when it comes to even the budget process let alone the budget itself, and key pro-lifers are pushing the administration to abort Planned Parenthood lucre. Also, the GOP and law enforcement reps are pushing last minute changes to this "First Step" reform bill, beat me in St. Louis Louie, and a look at the travesty of NYC's family court.
To the economy where a pro-growth group is warning the Fed to keep interest rates low (not if it's good for Trump they won't), a record number of Americans did not move last year, and Pennsy workers are suing the labor board over forced unionism.
In healthcare, VP Pence is bullish on the eradication of AIDS, a new study shows that pot really is a gateway drug (let's legalize it!), a look at how drugs and suicide are driving down life expectancy, especially among young males. Gee, how could this be possible (looks at schools, media, culture for past 40 years)?
Lots of Red-Green action to report. The UN Secretary is alarmed that more nations waking up to the Global Warming scam means they will go the way of the Clinton Foundation, documents suggest that the recent ramping up of law-fare against Big Oil stems from two lawyers feuding over fees, and Tom Styrene wants to jack up natural gas prices to kill the industry. He knows what's best for us. We should listen to him...
From hither and yon, Christian Toto on how Hollywood is rushing in to rescue Loopy Ocasio-Fiasco from us rubes who have the temerity to laugh at her imbecility, on the dangers of socialism, the need for nationalism and lastly, she farts in your general direction... and pulls a knife on you if it singes your eyebrows. Enjoy the weekend.
Anyway, links from around the world, across the nation and up your street. Have a better one and remain blessed.


MIGRANT INVASION, AMNESTY, IMMIGRATION


posted by at
07:24 AM
|
Access Comments