« Wednesday Overnight Open Thread (11/28/18 )
|
Main
|
Mid-Morning Open Thread »
November 29, 2018
The Morning Report - 11/29/18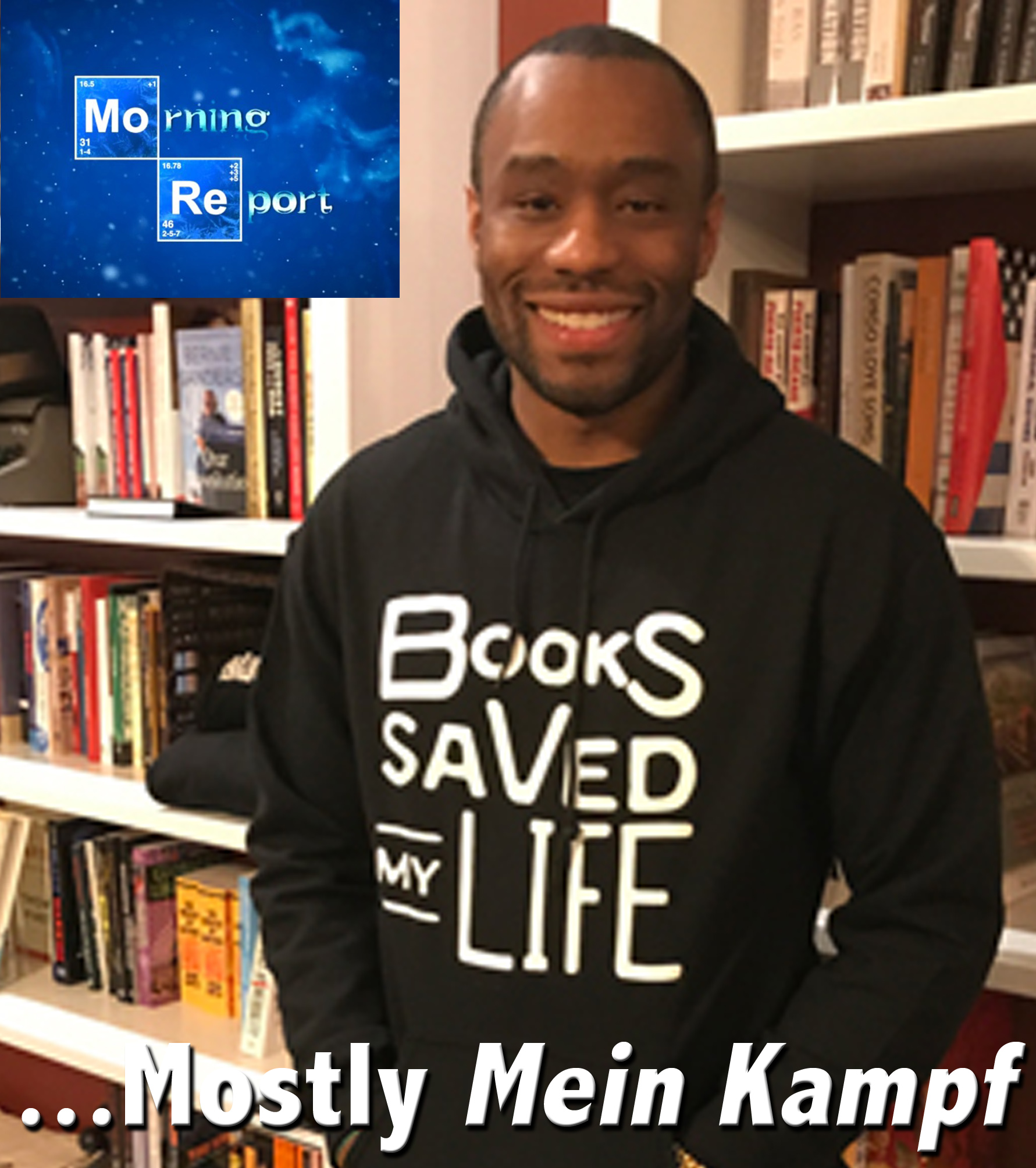 Good morning kids. Beyond the continuing invasion crisis at the southern border, this Thursday brings us a mixed assortment of Joo-Hate, media propaganda and media propaganda/Joo-Hate along with the all the other chazarei, so let's get to it.
True to his word, the President is standing firm on thwarting this premeditated invasion as well as demanding the full funding of the border wall that he promised as a candidate and which got him elected in the first place. In fact, he is signaling that he is more than willing to let the government "shut down" (such as it does, nudge-nudge wink-wink) to get what he wants. And as usual, the GOP-e is hemming, hawing and blubbering about it, but surprise surprise; of all people Marco Rubio has seemingly caught a touch of "Graham-inator" fever, firmly stating that funding for half a wall is essentially akin to funding no wall at all. Good for him. And of course, the GOP is all in on a whole new slew of H2-B visas that will put real Americans out of work, confirmation (as if we needed it) that the "caravan" is comprised of run-of-the-mill border jumpers and not victims of persecution with the added bonus of a confirmed MS-13 gang member from the Nancy Pelosi chapter was among the sweet innocent lambs, while one of his "homies" caught a life sentence for a double murder of 2 teens in Boston. We round off the topic with a couple of good pieces on the politics of all of this. Stand firm Mr. President. "For the people," to swipe a phrase.
To politics where we lead off with a shining example of grace, charm, congeniality and compromise; a slag in the Illinois state legislature stated - for the record - that she'd like to infect the water supply of a GOP colleague's loved ones with "a broth of Legionella." I don't know why they decided to strike her remarks from the record. They're a shining example of the vaunted tolerance, peace, love and understanding the Left is world famous for. On the national scene, Nancy Palsi has survived the nomination process within her party to run for Speaker but she is still evidently shy some 35 Democrat votes. Much as I yearn for her presence as I yearn for chronic projectile colitis, her presence both angers the neo-Shining Path Maoists in her party and energizes most regular folks to vote against that party, the past midterms notwithstanding. Other than that, the only other story is Barack Obama now loudly and publicly boasting that it is he that deserves all of the credit for the boom in fossil fuel production. The man who engaged in a half billion dollar taxpayer swindle with solar panel manufacturer Solyndra, who promised to wipe out the coal industry and mocked Sarah Palin for her position that oil and gas were plentiful and that we can't drill our way out of our energy problems is now boasting about the fossil fuel boom? I really and truly think that putting the purely political garbage aside, this guy has some very deep psychological illness(es).
In First Amendment and Fake News Fakery and propaganda, several stories highlight the troubling trend towards taqqiya and bust out Joo-Hate. I guess that when you think about it, it should come as no surprise given who and what are now the faces and positions of the Democrat Party. So like everything else, the media is just laying the groundwork for the normalization of anti-semitism and anti-Israel attitudes in the US of A. In the lead, CNN's own Mark Lamont Hill, a man (on paper) who has the intellectual agility of a used toothbrush was feted at some UN International Day of Solidarity with the fictitious "Palestinian" people for essentially calling for the destruction of Israel and the condoning of violence to achieve same, NPR (National Socialist Palestinian Radiation) assuring us with 100% confidence that there is no anti-semitism in Iran, the New York Times giving us the last word that Mohammed was a "paragon of compassion" and pay no regard to what it says in the Koran despite it being the literal words of Mohammed, and remember that lone-wolf (pfft) terror attack on Jews in LA? Well, neither does the media.
Beyond the Heeb-Hatred, Mollie Hemingway on the bullshit being pimped about the Manafort/Assange non-relationship, Twitter's Jack Dorsey lied under oath to Congress (consequences?) and a really good piece about the nature of Twitter and the other internet speech enforcers vis a vis anti-trust laws and trust-busting to cut them down to size. And speaking of Manafort, we have a couple of pieces about his continued persecution by the Mueller kangaroo court and that the former might actually be holding the cards over the latter. Meh, I can't see it given the fact that Mueller has unlimited funds and resources to destroy him.
At the foreign desk, yet more proof of the mostly peaceful riots in Gaza not being peaceful, how the elites are duped (willingly or not) on the nature of Khashoggi (Ace had an excellent post yesterday so check it out but do not comment lest ye get the unintentional ban-hammer), Daniel Greenfield weighs in on the aforementioned UN International Day of Tolerance, Canada and the Trudeaus, Trump is not the reason Europe hates us and the new carbon tax might be the nail in the coffin for France's Macron. Also, the Feds have charged 2 Farsis for hacking US hospitals and public institutions and the Administration and Congress slam AirBnB for its anti-Israel stance.
Domestically, gun rights groups are calling for a dialogue in the wake of a deadly Alabama police shooting, Mick Mulvaney sez if you like your Medicare and Social Security you can keep it (hopefully he's not pulling an Obama-ism), black conservatives are urging passage of the First Step Act, a big SCOTUS case could have huge ramifications regarding police seizure of property, Obama's weekend goes down the shitter as $1.3 million in blow was seized at JFK Airport, a further look at GM's plant closings, a warning about dollar scarcity and what it bodes for the economy, and a look at a man who may be America's most prolific serial killer.
Lots of Red-Green environmental fraud news, it turns out that much of that insane National Climate Assessment was written by an Obama underling, Brazil's top diplomat wields a truth-nuke, Indianans get taken for a renewable ride, and a cromulent question regarding the alleged panacea of electric cars.
In the wide wonderful world of feminazism and the transgender freak show, activist women bemoan no moans because Trump, Nancy Palsi is going to ram home the homo agenda good and hard with that gavel, and a look at medical ethics and the transgender disfigurement craze vis a vis a recent New York Times op-ed. Lastly, when it comes to the first amendment and freedom of religion, New Jersey becomes New Jizzya.

Anyway, links from around the world, across the nation and up your street. Have a better one and remain blessed.


MIGRANT INVASION AMNESTY, IMMIGRATION


posted by at
06:34 AM
|
Access Comments