« Hope For Alzheimers On The Horizon? Maybe!
|
Main
|
Gun Thread: All I Want for Christmas Pt. 1 [Weasel] »
December 02, 2018
Food Thread: Bacon Is Freedom Is Bacon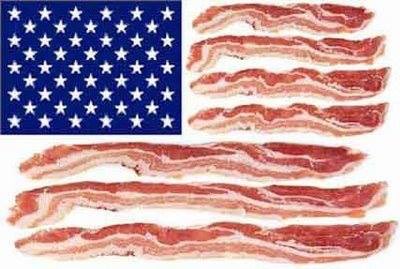 As a symbol of America, the Gadsden Flag is hard to beat, but this one is a pretty solid 2nd choice.
******
I stopped drinking Irish Whiskey several years ago, mostly because the bourbons at the same price point were more fun. And I had a run of mediocre Irish Whiskey that put me off a bit. In fact I ranted about one of them on this very blog! One that was almost cloyingly sweet. I now realize that they were probably trying to attract the casual (or young) bourbon drinker whose palate is accustomed to a slightly sweeter drink. But they went way overboard, and I ran screaming into the arms of bourbon and Scotch.
But this one impressed me for a few reasons. First: it is reasonably priced -- about $25. Second, it had a substantial mouth feel and some weight behind it, and that wasn't from sugar. It was a very pleasant drink, and one that I poured for my booze-snob nephew without telling him what it was. He liked it, and he assumed it was a Scotch Whiskey. Yes, I laughed at him.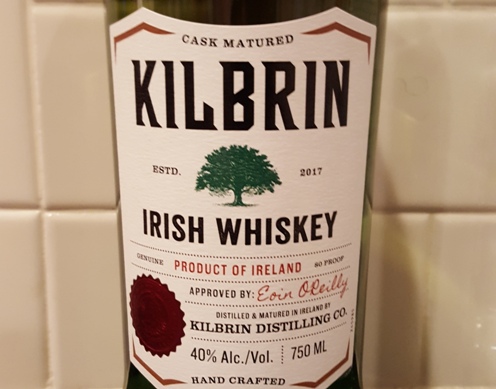 ******
People are strange.
LA's Notorious Dine-And-Dash Dater Sentenced to 120 Days in Jail
[Hat Tip: redc1c4]
******
******
Apparently this is a take on the classic "chess pie," a Southern dessert that until just now I had never heard of, and I'll bet that's the same for most of you. Anyway. it has cornmeal in it, and that makes me deeply suspicious, because Southerners eat some weird shit sometimes, and cornmeal in pie is dangerously close to "weird shit." But I'll bet many of you have some extra pie crust in the freezer (I do), so what the hell. Give this potential horror-show a shot.
Besides, it has salt AND maple syrup!

******
Christmas and New Years is fast approaching, and many of us are going to cook some large, fatty, yummy and expensive chunk of flesh. This is an excellent and accessible treatment on exactly how to do that; specifically how to cook a beef roast. Read it even if you aren't planning on mortgaging the house to buy that super-dooper-Wagyu-Kobe crossbreed rib roast for about the price of a used car. He has some solid advice that applies to more than just your yearly splurge.
The Science Of Cooking Prime Rib, Tenderloin, And Other Beef Roasts Recipe
Unfortunately the website is way too busy, so the article I am referring to may be gone from the front page by the time you read this, so just poke around and you'll eventually find it. Or not. But it's a worthwhile site anyway, so go for it!
******
The guy who writes this food blog is annoyingly gay. Dude. It's a food blog. Just write about food and don't wax poetic and often and loudly about your partner.
I DON'T CARE!
Anyway, this recipe sounds amusing, and I will probably try some variation of it. And the twist of using tortilla chips instead of bread crumbs on top sounds...um...sort of like he wrote it that way just to stick to the theme, and not because it would make much difference. Well...thinking about it I realize that part of the advantage of using bread crumbs is how much fat they absorb, and I don't think that tortillas will do quite the same job of it.
Green Chile Macaroni and Cheese
I think this is called, "damning with faint praise," or more accurately no praise at all.

******
I have posted this recipe before, and probably will again, because it is a really good change of pace for the winter. These are ingredients that can be found in decent shape even in the depths of a February snowstorm, and it really does hit the spot. The timing really does make a difference, which is irritating because it takes longer and is a bit more work, but it is worth it.
Ratatouille
Ingredients:


1/4 cup olive oil, plus more as needed

1 ½ cups small diced onion

1 teaspoon minced garlic

2 cups medium diced eggplant,

½ teaspoon fresh thyme leaves

1 cup diced yellow bell peppers

1 cup diced red bell peppers

1 ½ cup diced zucchini squash

1 ½ cup diced yellow squash

1 ½ cups peeled, seeded and chopped tomatoes, or one can of good chopped tomatoes

1 tablespoon thinly sliced fresh basil leaves

1 tablespoon chopped fresh parsley leaves

Salt and freshly ground black pepper
Directions:
Set a large 12-inch sauté pan over medium heat and add the olive oil. Once hot, add the onions and garlic to the pan. Cook the onions, stirring occasionally, until they are wilted and lightly caramelized, about 5 to 7 minutes.
Add the eggplant and thyme to the pan and continue to cook, stirring occasionally, until the eggplant is partially cooked, about 5-7 minutes. Add more oil as needed.
Add the yellow and red peppers, zucchini, and squash and continue to cook for an additional 5-7 minutes.
Add the tomatoes, basil, parsley, and salt and pepper, to taste, and cook for a final 5-7 minutes. Stir well to blend and serve either hot or at room temperature.

******
Food and cooking tips, Haggis, young wild pigs, Scotch Eggs, thick and fluffy pita and good tomatoes that aren't square, pale pink and covered with Mestizo E.coli:
cbd dot aoshq at gmail dot com
. Any advocacy of French Toast with syrup will result in disciplinary action up to and including being
nuked from orbit.
&topic=world_news">

posted by CBD at
04:00 PM
|
Access Comments