« Sunday Overnight Open Thread (11/25/18 )
|
Main
|
Mid-Morning Open Thread »
November 26, 2018
The Morning Report - 11/26/18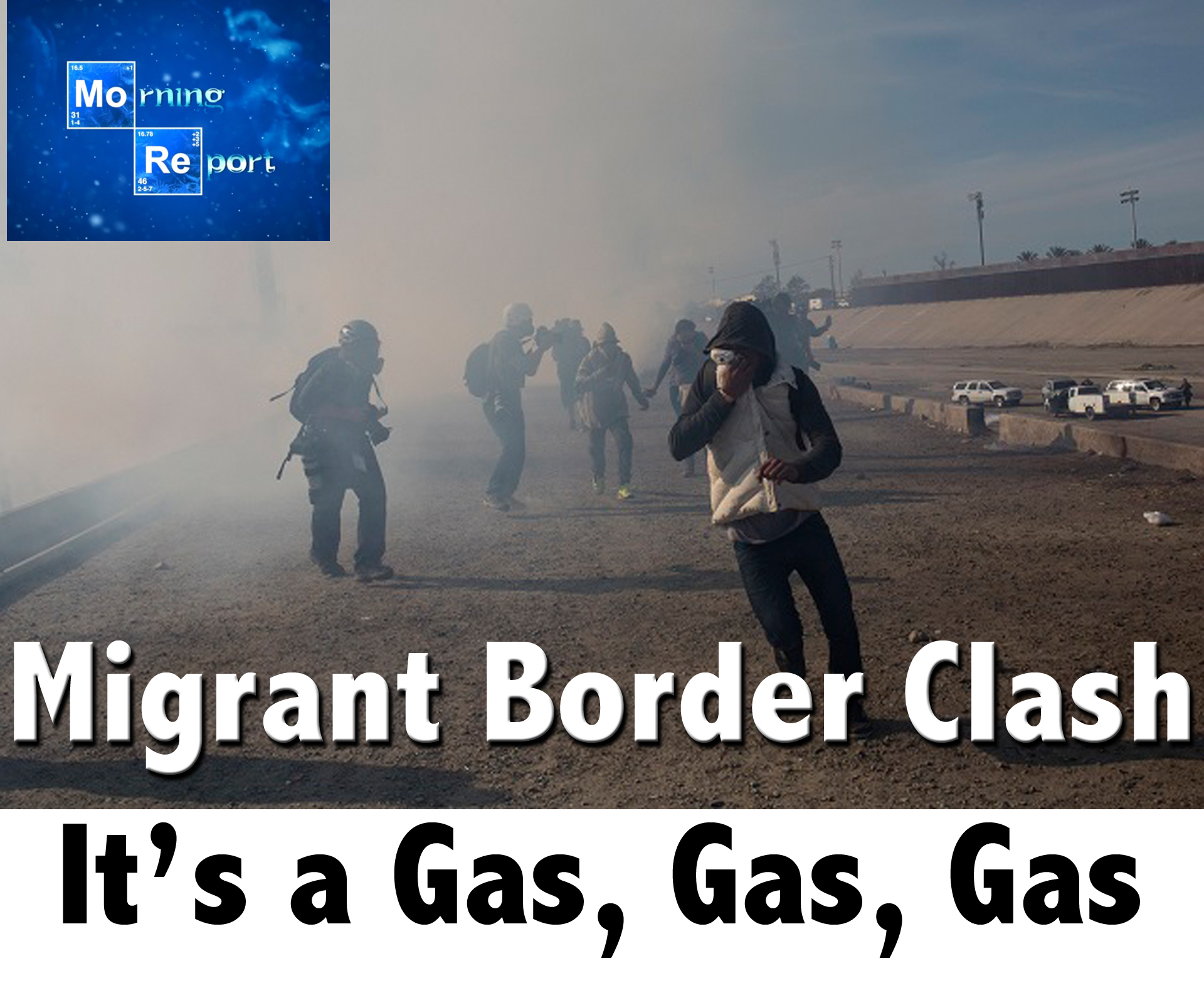 Good morning kids. Well, Thanksgiving is over and the Christmas season has officially kicked off as we move into the homestretch to close out 2018. Top stories include the continuing crisis at the US/Mexico border and a flare up of tensions between Russia and Ukraine in the Sea of Azov near the Kerch peninsula.
More on that in a moment but first to our southern border where, hundreds of invaders attempting to storm across at the San Ysidro/Tijuana crossing were met with teargas fired from our side and were repelled. Despite the President's threat to seal the entire border as well as the ramped up military presence from the Gulf to the Pacific, thousands of migrants continue to make their way north. The President is hoping to make some sort of deal with the new Mexican government to contain the invaders on their side of the border as we start to individually process claims of asylum. While I applaud the tough stance to prevent them from setting foot on US soil, not a single one of them deserves asylum here nor even meets the legal requirement to claim it. Let them go to Cuba where I understand everyone can not only get a job but gets free, world-class healthcare to boot. Naturally, America's great oracle of wisdom, bucktoothed bug-eyed Bolshevik Loopy Ocasio-Fiasco has weighed in, equating the migrants with Holocaust victims. Sheesh. Back on planet Earth, it's already chaos there with 500 people but very soon that number is going to swell to thousands. Oh boy.
Meanwhile, on the other side of the planet, the tensions between Russia and Ukraine flared up near the disputed Kerch Peninsula in the Sea of Azov where Ukrainian naval vessels were fired upon and then seized by Russian naval units. Putin's a two-ruble thug but that said, I do not think that this is a situation that warrants our involvement.
Over here in the world of politics, Mike Lee had a rather disappointing appearance with Cuck Todd and stated that the President's handling of the Khashoggi affair might be the cause for an investigation with the next session of Congress. Ugh. And along with that Adam Schiff-for-brains is bragging about ramping back up the Russia investigation despite there being no there there. And Mueller's report which is soon due although will no doubt include dozens of pages of insults and invective hurled at this President, it will be lacking in one minor detail - any implication in any crimes whatsoever dealing with "collusion" with Russia. And the Dems are looking to use the budget fight as a means to protect Mueller. Feh. Speaking of criminal enterprises, since November of 2016 donations to the Clinton Foundation have virtually dried up. Hmm, now why might that be? Aside from that, tomorrow is the Mississippi special election between Cindy Hyde-Smith and Mike Espy, and you'll he thrilled to know that back benching bint Amy Klobuchar, essentially a thinner non-blonde Kirsten Jello-Brain, is mulling going for the 2020 Democrat nomination and Daniel Sobieski at American Thinker asks a good question of Chief Justice "Julia" Roberts.
In First Amendment and Fake News news, Twitter silences two apostates for wrong-think - a feminist who dared question the Jame Gumb transgender madness and conservative combat veteran and columnist Jesse Kelly, more on AirBnB's anti-Israel hypocrisy, the NY Times is a sick joke, and the escalating assault on citizen journalism.
Circling back to international affairs, along with the crisis on the Black Sea, there was also a terror attack on the Chi-Com consulate in Karachi on Friday by Balochi separatists, Humberto Fontova on the UN reacting to PDT protecting American citizens from the mob on Turtle Bay, and 8 days of protests in France get ugly as the citizens react to a carbon tax. The subsuming of the nation by decades of creeping Islamization, not so much. But, mon dieu! A carbon tax was a Pont Neuf too far. And speaking of the religion of peace, Theresa May goes full dhimmi by refusing to grant asylum to Asia Bibi and the Netherlands puts the kibosh on a Geert Widlers dray Muhammed contest.
Domestically, the gun-grabbers are on the rise in Colorado, interesting story about an inventor's troubles with the US Patent Office, the government spends much-needed funding to research Jame Gumbs of color, Ken Cuccinelli looks at the new crime bill and the attempts to smear it, a lawsuit is in the works against Oregon's attempt to force/extort union dues from unwilling workers, interesting report on taxation, the future of malls and retail, Kokomo, Indiana on the rise, and how fracking kneecapped OPEC.
Meanwhile, real scientists and experts are ripping the latest US government alarmist propaganda/lie on "climate change," the health consequences of smoke inhalation from the California wildfires, the Women's March is dissolving in a vat of toxic Joo-Hate, and another essay on Molly DeVos' dismantling of the anti-male Tittle IX show-trial insanity on campus.
From hither and yon, Christian Toto on the warmed over Murphy Brown reboot, two excellent pieces from Michael Ledeen and Victor Davis Hanson and lastly, we salute and say goodbye to US Army Ranger Leandro Jasso killed in action in Afghanistan while we pause to remember the anniversary of the death of Johnny "Mike" Spann, who was among the first to die there 17 years ago in the wake of the 9/11 terror attacks. RIP to both.
Anyway, links from around the world, across the nation and up your street. Have a better one and remain blessed.
MIGRANT INVASION AMNESTY, IMMIGRATION

posted by at
06:53 AM
|
Access Comments