« Chess Thread 11-24-2018
|
Main
|
Saturday Overnight Open Thread (11/24/18) »
November 24, 2018
Saturday Evening Movie Thread 09-15-2018 [Hosted By: Moviegique]
The Last of the Unjust
Here's something to be thankful for this weekend: You're not a Jew in Europe in WWII. When we last heard from the late Claude Lanzmann, it was for his riveting 3:40 minute long interview of Benjamin Murmelstein, The Last of the Unjust. That movie came at a similar time, in cinematic terms: That is to say, there seems to be nothing worthwhile out, to the extent where a four-and-a-half hour documentary seems to be the best use of your movie-going time.
Now, don't run away: This is actually four separate hour-plus interviews that will presumably show up as a series on Netflix or Amazon soon. And while, as a whole, they aren't as riveting as Last of the Unjust, where we really were kind of on the edge of our seats, they are interesting, revealing and different. (They say it's Lanzmann's last film, as the director died in July at the age of 92, but with 350 hours of footage to cull from, I'd be surprised if more wasn't culled from those interviews.)
This particular documentary tells the story of four women (not literal sisters), a Pole, a Czech, a Romanian and a Hungarian, I believe, all of whom had different (but similar) experiences of the "Shoah" (which I believe means "catastrophe"). And by "tells the story", I mean Lanzmann asks occasional questions to get his subjects to talk.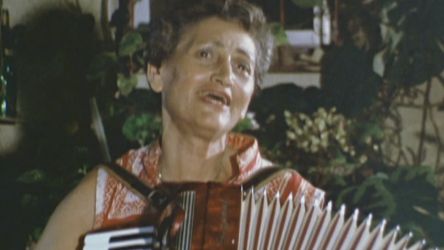 Ruth Elias
The Hippocratic Oath is the first story, told by Ruth Elias. This is one of those stories, were it a movie, you'd have a hard time believing it: Elias evaded death at every turn, in great measure due to luck, and you'd think "no one could be that lucky" except by definition, the only one to be around for an interview would be someone who was precisely that lucky. And "lucky" is a term that carries considerable ironic weight here.
She was a 19-year-old girl from a well-off family whose patriarch got them fake (non-Jewish) IDs to escape, but they were ratted out and sent to a camp. Her family was "selected" and shipped out to a death camp, but she was allowed to stay behind because she had managed to marry her boyfriend. She has three or four run-ins with this kind of near miss, including one where she manages to escape Auschwitz with a work crew by sandwiching herself between prettier girls (she was eight months pregnant).
She ends up back in Auschwitz receiving the personal attention of Josef Mengele, which is never a good thing. She survives, but at an incredible cost.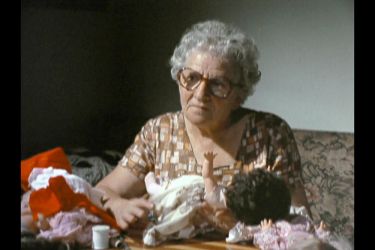 Ada Lichtman and her dolls.
The Merry Flea is the next story, and it is horror-movie creepy. (Actually, a common theme of these stories are the insanity, surreality and degradation that accompanied the Holocaust.) Ada Lichtman was sent to Sobibor as a young woman, singled out for laundry work—again, one of those situations where in a group of thousands, only three survived—and ends up cleaning, repairing and making clothes for dolls. (She's actually doing this kind of work during the interview.)
The Nazis would kill the Jewish children, but they would take their toys first (of course). They would then take the dolls home for their children to play with, and Lichtman was one who prepared those dolls for the children. This interview also features a man from the same camp, though he says very little. One of the effects (that now seems not only deliberate but calculated) of the various terrors visited on the Jews was to create a culture of shame that persists to a degree even to this day.
"The Merry Flea" was what the Germans called their quarters at Sobibor, hence the title of this segment.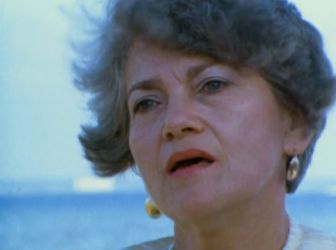 Paula Biren
The last interview is called Baluty, and the interview subject (Paula Biren, also apparently interviewed in Shoah) had been a girl who lived in the Ghetto of Lodz, after the Germans invaded and penned up all the Jews into the worst areas of town. The degree to which the Jews are shocked at their initial rough treatment gives an understanding of how they could be so ignorant of the Holocaust, with Biren being the only one who claims to understanding what was going on as early as '42. (I think Lichtman says she didn't believe until she smelled the smoke and ash.)
Biren is an interesting subject (who emigrated to America, where the others went to Israel) because of the tenor of her contempt for the Nazis and their "absurd" ghetto, and its stupid little programs, as well as her sense of betrayal by Poland after the war, when the Jews were not welcome back. (A theme echoed in Aftershock and 1945, among others.) She's more spirited than the rest of her family, which sometimes serves her and them well—and sometimes doesn't. Lanzmann digs (and it can sound like a challenge) when she discusses being on the Lodz ghetto "police force", but he does a good job of making it more about the mindset than trying to attack, which brings us to the penultimate episode.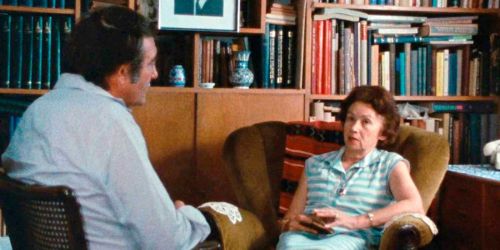 Lanzmann with Hanna Marton
Noah's Ark is an interview with Hannah Marton, who was saved from Auschwitz by Rudolf Kasztner, a man considered by some to be a war criminal. He was accused of collaboration in 1957, and cleared in 1958—posthumously—and with this interview we get into Last of the Unjust territory. These are difficult matters now with virtually nothing at stake: How impossible were the choices made at the time?
I mention this last because it's the only point where I felt like Lanzmann was getting at something: Something Marxist. I don't want to make too much of it, but when he talks about who Kasztner saved, he's stating outright that they were "privileged" people. Morton is kind of shocked by this: At first she takes it literally by pointing out that there were lots of poor people (like, everyone, since the Nazis had taken all their stuff), but when he switches to talking about the proletariat, she says there were a lot of tradesmen and the like. To say nothing of veterans (Jews were an unarmed part of the Hungarian army which was part of the routed German invasion of Russia)
His attempt to cast this as some kind of class struggle is brief, but I did discover later that Lanzmann had been quite the Marxist after his time in the French Resistance. As Marton points out: The bad guys here were the Nazis.
To sum up on the three point Moviegique documentary scale:



Topic. Obviously important, but also interesting.


Presentation. As close to "nil" as imaginable. Lanzmann provides no context, which can make this movie a little hard to get into, if you have no idea what they're talking about.


Slant.Apart from the momentary Marxist outburst, Lanzmann does have a slant (beyond "Nazis are bad"). He strictly interviews victims (though there's a lot of nuance in that word "victim", which all the interview subjects understand) and doesn't try to understand.


He's criticized for this (e.g. in this Jacobin article) but—as long as his aren't the only Holocaust documentaries in existence—there's nothing wrong with that. In fact, by not trying to understand, he probably spares the film from being terribly distorted. What we're left with are truly challenging situations that you can grasp, and which bring a human richness to things in danger of being just numbers and words, like 6,000,000 and Holocaust.
It was a good movie to see right before Thanksgiving, and it makes me grateful (as many things do these days) above all for the Second Amendment.,


posted by OregonMuse at
07:30 PM
|
Access Comments