« Food Thread: Subverting The Dominant Roasting Paradigm, One Microwaved Turkey At A Time
|
Main
|
Sunday Overnight Open Thread (11/18/18 ) »
November 18, 2018
Gun Thread: It Just Blowed Up! [Weasel]


No worries - That'll buff out!
When it comes to ruining your day, this is a pretty effective way to do it.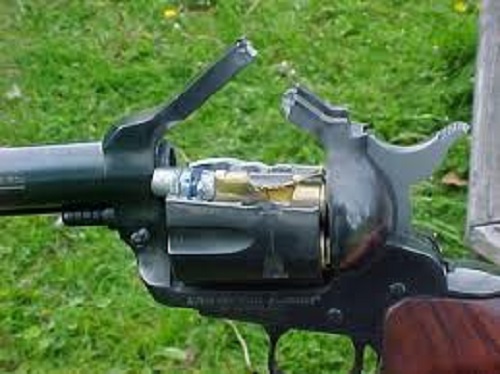 Just Some Honest Holster Wear

Today let's talk about getting a bigger bang than expected. Or a smaller bang than expected. Or pretty much any sort of bang other than expected.
Squib Loads and Barrel Blockages
Over the years, I have reloaded a lot of handgun and rifle ammunition, and have had a squib load block the barrel exactly once. When I pulled the trigger, I could tell the recoil and sound were completely wrong and fortunately didn't pull the trigger again. After making the gun safe I took a peek and could see the bullet resting peacefully about 1/4 inch from the end of the barrel just waiting to cause a disaster. Ruh Roh!
What had happened is this; I was load testing and measuring muzzle velocity in a series of cartridges with decreasing powder charges, and although still above the published minimum, this particular round didn't make it out of the barrel. Muzzle velocity = 0 feet per second. Test concluded.
And it can happen with commercial ammunition, too!
There are a couple of lessons here. First, pay attention to what the hell is going on while you're shooting. It is possible to become so focused on the target, and looking good for the range babes, that you lose sight of everything else. If something jams, or breaks, or sounds and feels different, stop pulling the trigger and investigate. If you're a new shooter and not quite sure what to do, put the gun down (pointed in a safe direction!!) and call over the RSO. Explain what you think is going on and let them help you. Second, be very careful when reloading. Things can go wrong even when you haven't done anything overtly retarded. I was trying to find a lower velocity accuracy node and while I was technically above the minimum published load, apparently the bullet didn't get the memo. If I hadn't realized what had happened, I could have turned an annoyance (tapping the bullet out later) into a big mess - ruining the barrel of a nice revolver, or worse.


How is This Even Possible?

Here's an extremely lucky cat who just used up eleven lives and is fortunate to have only ruined a barrel. Hands and fingers and eyeballs are much more difficult to replace. Did someone really pull the trigger that many times, even stopping to reload the gun, without realizing something was wrong?

And speaking of reloading...
Big Reloading No-No: Double Charge or Wrong Powder
Reloading can be fun and a rewarding part of shooting. For competitive shooters it can be a necessity, and for normal people it can be an economical way to shoot more and not be totally dependent on retail ammunition supply. It can also turn a fun day at the range into a complete nightmare if you are not absolutely focused on the job at hand while at the reloading bench. I'm pretty cautious by nature, and even more so while I'm reloading. Just as there are safety rules to follow while handling firearms, some must also be followed while reloading.
First, I allow zero distractions. Realizing my limited mental faculties do not permit me to do even two simple things at once, I don't watch TV or listen to the radio while I'm reloading. I don't even want anyone talking to me while I'm at the reloading bench, and will stop what I'm doing if a distraction presents itself. I pause at each step and check my work.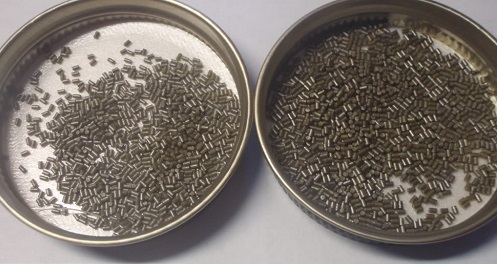 Can you Tell a Difference?

The biggest potential for excitement relates to powder. When I started reloading I was surprised to learn there are literally hundreds of types of gunpowder all burning at different rates. The unit of measure for gunpowder is the grain (gr) which is equal to 1/7000th of a pound. In some cases, a safe load can become unsafe when it varies by as little as a few tenths of one grain, so imagine the mayhem if you inadvertently doubled the amount of powder in a cartridge. One good way to avoid this is by selecting a powder in which the desired load cannot be doubled without overflowing the case (volumetrically greater than 50% of the case capacity). Hopefully the observant reloader will notice gunpowder spilling all over the place and make some adjustments. Another problem is forgetting the powder altogether - see squib, above - and I visually check the powder level in each case before seating the bullet.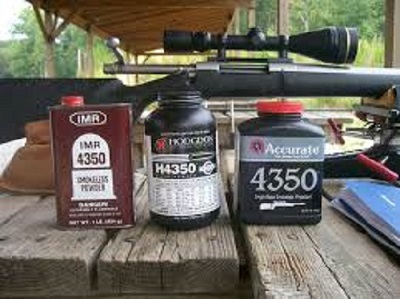 Confusing on Purpose?
A mistake with potentially disastrous consequences is simply using the wrong powder, and it's easy to do if you're not paying attention. Pressures developed in modern cartridges can easily exceed 50,000 psi and selecting the incorrect powder, for example using a fast burning powder in place of a slow one, can easily exceed the design pressures of the gun and result in a catastrophic failure. The only way I know to help prevent this is to never keep more than one powder on the reloading bench at a time and always check and recheck the powder you have selected before beginning a reloading session.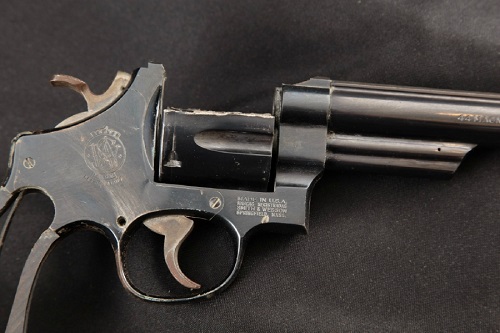 This Is Not Bueno

Have any of the reloaders among us had an accident (or a scare) related to reloading? What happened and how would you recommend preventing it from happening again?
*******
Link-O-Rama
Cool Video - .22LR Ammunition Manufacture
SAAMI - Sporting Arms and Manufacturer's Institute
Article: Chamber Pressure Measurement
Chart: Cartridge Pressures
***This Old Cartridge***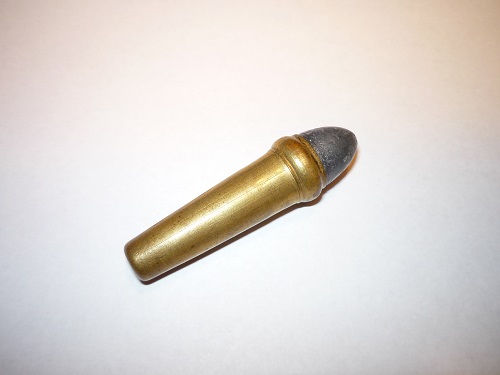 54 Burnside Cartridge

This week we have another submission from Neon Madman, who frankly at this point is just showing off!

This is the .54 Burnside cartridge, used in the Civil War carbine of the same name. Ambrose Burnside was a gunsmith and businessman who had resigned his military commission before the war to work full-time on his design for a breechloading carbine. This was not truly a self-contained cartridge, it still used an external percussion cap to ignite the black powder charge thru a small hole in the tapered end of the cartridge. The Burnside carbine was the third most popular in the war (after the Sharps carbine and the Spencer carbine). Reenactors can still shoot it today, using new cartridge cases sold by the good people at Dixie Gun Works.

After the war, Burnside went on to serve three terms as Governor of Rhode Island, a term as U.S. Senator, and was the first president of the National Rifle Association.
Thanks again for making all other entries inadequate, Neon Madman!
***This Old Cookbook***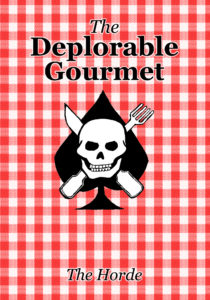 Greatest Cookbook Ever

OK you clowns - buy a copy of the cookbook. If you already have one for your own bad self, then give one as a gift this season. Remember; it's only pennies per day, all proceeds go to charity, and if you don't buy a copy then bluebell will be sad.
And you wouldn't like bluebell when she's sad.
Yes! I want to be a WeaselWarrior and prevent sadness in bluebell!!
*************
Please note the new and improved gmail account MoronGunThread for sending in stories and pictures. Thanks for your patience and please let me know if you have any more trouble (with the email). Again, that's morongunthread at gmail dot com. If you care to share the story of your favorite firearm, send a picture with your nic and tell us what you sadly lost in the tragic canoe accident. If you would like to remain completely anonymous, just say so. Lurkers are welcome!
That's it for this week - have you been to the range?

posted by Open Blogger at
07:05 PM
|
Access Comments