« An Unequivical Lesson On How Not To Deal With Terrorism
|
Main
|
Gun Thread: It Just Blowed Up! [Weasel] »
November 18, 2018
Food Thread: Subverting The Dominant Roasting Paradigm, One Microwaved Turkey At A Time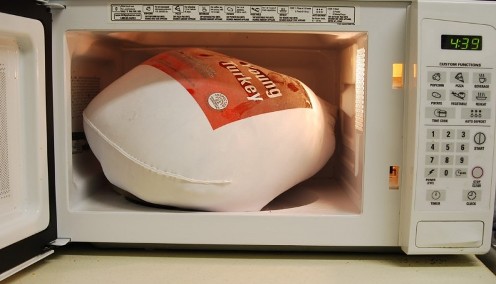 Somebody has done it. You know it's true.
In reality, I'm pretty sure that it can be done. If I were to try, I would microwave the thing for about five minutes at a time, checking the internal temperature and then rotating it after every dose of microwave. It will undoubtedly heat very unevenly, so this is an important step.
My guess is that it would also give off a huge amount of moisture, so putting it into a container with a lip of some kind and then draining it periodically might be smart. I would reserve the liquid and make some sort of gravy with it. And when the internal temperature (checked in several different spots) reached a reasonable point, I would take it out, dry it off, and use a blow torch on it to brown the skin. Maybe even put it on the grill to get some crispiness.
So...who is going to try it? I'll toss in a two year Platinum membership with Troll-B-GonTM and ampersand utility for anyone who can provide documentary evidence of the cooking of a microwaved Thanksgiving turkey and it being consumed by human Morons.
******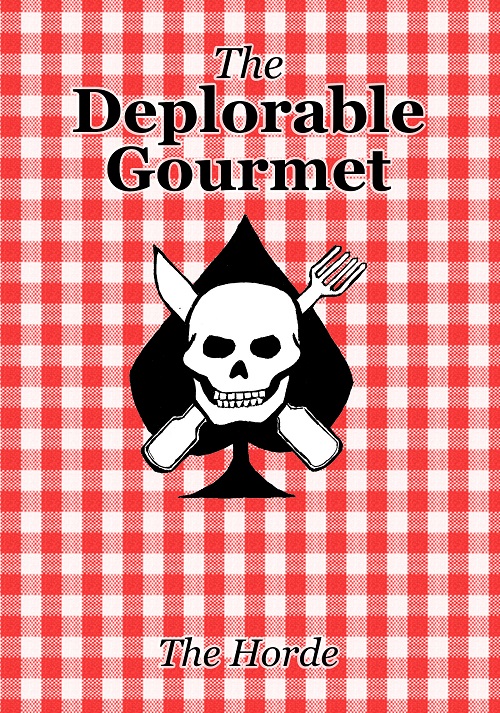 Hah! You thought you could get away with not buying another copy? Not a chance.
Seriously, the cookbook is loads of fun, is actually quite useful, and 100% of the profit goes to worthy causes.
Click on the cover art (or the link on the main page sidebar) to go to the Amazon page. It's easy! Buy two!

******
There is so much disinformation about food safety that sometimes people lose sight of the fact that lots of people have studied it for a very long time. One of my pet peeves is the constant drumbeat that declares ridiculous target temperatures for cooked food. For instance, The USDA dropped its recommended minimum for pork from an astoundingly awful 160 degrees to a still-overcooked 145 degrees. They are obviously assuming that American pork is riddled with trichinosis, but it really isn't. Sure, if you buy a pig from a local farmer who feeds table scraps to his pigs and lets them do what pigs do (be cannibalistic), then assuming trichinosis is reasonable. But commercial pork? Nope...it's pretty damned safe.
Oh...that 145 degrees? They want you to cook your steak to that temperature. What's the term for more than well-done?
Lets get the food safety science right at Thanksgiving
It is a well-accepted fact that 100 percent of poultry products are contaminated with salmonella. You read right, 100 percent of the Thanksgiving turkeys carry salmonella. It is only the cooking to proper temperatures and the avoidance of cross contamination that stands between health and sickness.


Not quite, FSIS actually does a great job in reporting contamination levels of Salmonella in poultry, and shows that in turkey contamination is much lower (like only 1.7% positive in turkey). And campy is around the same.
I'm all for talking about food safety and risk reduction and using the holidays as a hook - but lets get the numbers right, avoid the fake news, and give people real risk information.
******
Fermented foods are great! Yeah....it's not just beer and wine and booze; there are hundreds of other delicious things one can make using the power of yeast and bacteria.
Here's a company
[Hat Tip: redc1c4] that makes a nicely designed top for Mason jars in which you are making pickles or kimchi or whatever floats your boat. Obviously this can be done in a bunch of different ways, and the company itself is a bit too smug and hipsterish and touchy-feely for my taste, but the product is undeniably well designed.
How many of you do this stuff at home? I have made pickles, and a long time ago knew someone whose mother made the best kimchi in the world, but I almost always buy my fermented stuff (except for sourdough!).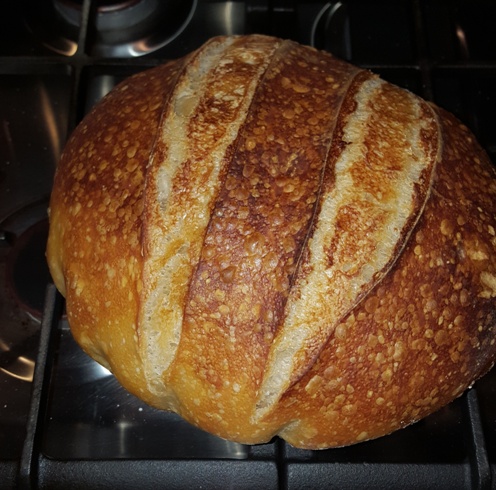 Yes, I am proud of that loaf, and will be boring you with my sourdough exploits until I move on to something different.

******
She wanted to serve her guests mushroom-smothered steak, but she had no mushrooms and no time to buy them.

Her husband suggested, "Why don't you go pick some of the mushrooms that are growing wild down by the stream?

"No, some wild mushrooms are poisonous."

"Well, I see squirrels eating them and they're OK."

So she picked a bunch and washed, sliced and sauted them for her dinner.

Then she went out on the back porch and gave Spot, their dog, a double handful.

Spot ate every bite.

All morning long, she watched the dog.

The wild mushrooms hadn't affected him after a few hours, so she decided to use them.

The meal was a great success.

After everyone had finished, her daughter came in and whispered in her ear,
"Mum, Spot is dead."

Trying to keep her head about her, she left the room as quickly as possible, called the doctor and told him what had happened.

The doctor said, "That's bad, but I think we can take care of it. I'll call for an ambulance and I'll be there as quickly as I can. We'll give everyone enemas and we'll pump out their stomachs and everything will be fine. Just keep them calm."

Before long they started to hear the sirens as the ambulance tore down the road. The Paramedics and the doctor had their suitcases, syringes, and a stomach pump. One by one, they took each person into the bathroom, gave them an enema, and pumped out their stomach.

Well after midnight, after the last one was done the doctor came out and said, "Everything will be okay now," and with that he left.

The hosts and the guests were all weak and knackered sitting around the living room when the daughter came in and said to her mum.....

"I can't believe that guy!"

"What guy?"

"You know, that bastard who ran over Spot; He never even slowed down."
[Hat Tip: Blake]
******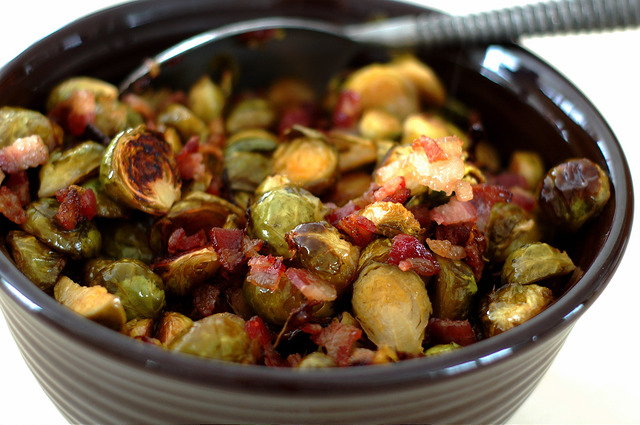 Brussels Sprouts are good...with bacon. Actually, they are great with bacon (as are all other foods), and reasonably good prepared in other ways. I think. I don't really know because bacon seems like the perfect ingredient to make them tasty, so why bother with anything else.
High heat, salt and pepper, some olive oil to get the browning started, lots of cut-up bacon, and you are good to go. This one of those foods that does not need multiple layers of flavor and lots of ingredients (in a pinch you can leave out the Brussels sprouts, the salt, the pepper and the olive oil).

******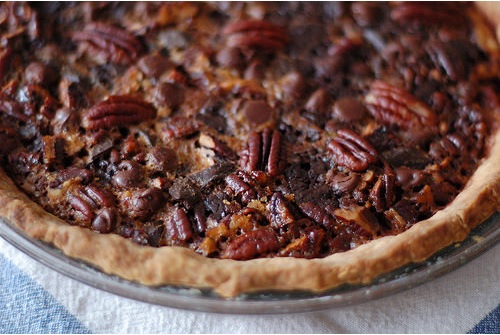 Pecan pie is something that I very rarely eat, but when I do it is a real pleasure. yes, they can be quite sweet, and sometimes they are too gloppy for their own good, but a well-executed pecan pie is a real treat. This year I will be adding chocolate, for no particular reason other than I have free will and a lot of chocolate, but mostly a lot of chocolate.
I looked at a fair number of recipes, and there is nothing out of the ordinary about chocolate in pecan pie, so I'm going to wing it. I did find this recipe for Maple Chocolate Pecan Pie, which seems a bit busy, but as long as you aren't using maple syrup on your French Toast, I'll allow it.

******
Food and cooking tips, Haggis, young wild pigs, Scotch Eggs, thick and fluffy pita and good tomatoes that aren't square, pale pink and covered with Mestizo E.coli:
cbd dot aoshq at gmail dot com
. Any advocacy of French Toast with syrup will result in disciplinary action up to and including being
nuked from orbit.

posted by CBD at
04:05 PM
|
Access Comments