« Tuesday Overnight Open Thread (11/13/18 )
|
Main
|
Mid-Morning Open Thread »
November 14, 2018
The Morning Report - 11/14/18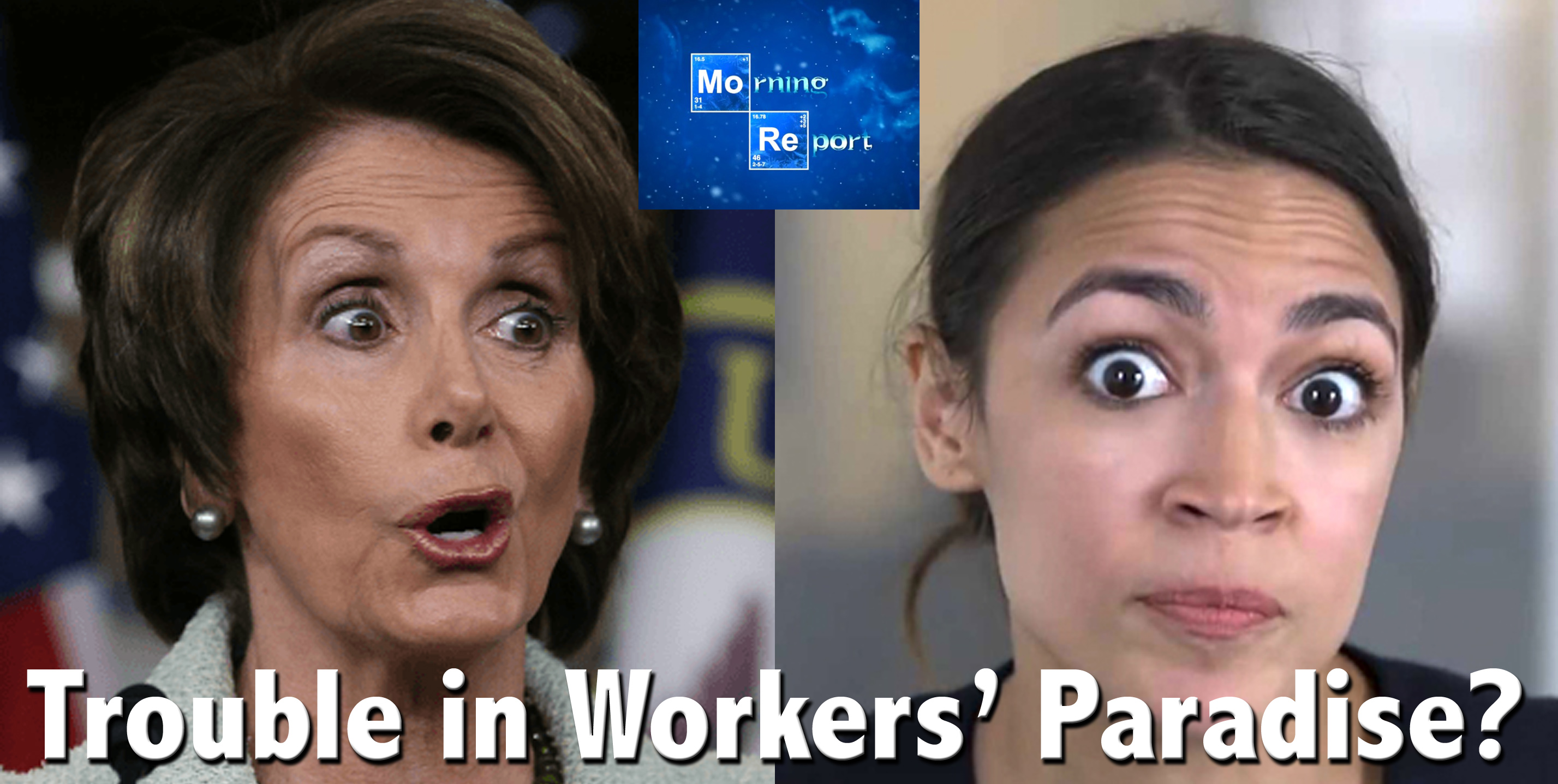 Good morning kids. Midweek and the big story continues to be the hostage situation in Florida (and perhaps Georgia as well) with the attempted theft of another Senate seat and governorship. And yes, I do mean to imply that, however piss-poor a campaign and candidate Martha McSally was, the evidence strongly suggests the Democrats stole that election as well (and there's also the last minute shit-ton of ballots up in Milwaukee that torpedoed Scott Walker and Leah Vukmir,, shenanigans out in LA and quite a number of other races all over that are ripe for the swiping but if I keep going with more examples, we'll be here all day).
As I have mentioned both here and various threads ever since last week, and even before all this, after 2016 and what has so far been an incredibly successful first two years of the first Trump administration, the Democrats are going to go all out and attempt to steal not only Florida but every single swing state and district they can come 2020. Matt Gaetz echoes my sentiments openly in a link below, and of that I have absolutely no doubt. Aside from the filthy, banana republic nature of this, the Democrat-Left-Media complex is continuing the mass propaganda/big lie that started with George W. Bush in 2000, to wit, that whenever Democrats win elections it's the will of the people, but whenever Republicans win, they did it be disenfranchising the typical "victims," subverted Democracy and stole it. Of all the projections the Left smears us with, this one is particularly disgusting. It also prepares the battle-space, if you will, of the next Democrat propaganda meme; that since the electoral college is a sham meant that enables the white male conservative patriarchy to maintain overlord status over people of color, women etc. etc. (translation: it prevents the Upper West Side and Santa Monica from determining who wins the Presidency), not only must it be abolished but in point of fact, elections themselves must be abolished if we are to achieve true social justice. For the people. We laugh at idiots like Loopy-Ocasio Fiasco at our peril. More on her in a moment. In any case, all the latest links from Palm Beach, Broward and elsewhere dealing with this crap. One in particular shows a very interesting/alarming link about the attempt to steal the election and the hidden gun control agenda. Meh, with Gillum-'n-chill 'em, it's out in the open.
And that brings us to politics where the internecine struggle within the Democrat party is more and more visible. The aforementioned buck-toothed-Bolshevik came down to DC to join in some sort of youth protest outside of Nancy Palsi's office about global warming or something. The salient point is freshmen congressmen are not supposed to do this, especially to a party leader who has been in office for decades. You go where you're kicked or you get buried for two years and then dumped. Evidently Loopy and the other Young Turks Jerks didn't get the message. Despite the destruction the Democrats have wrought since the founding of the nation, and especially over the past 50 years - including the creation of a massive propaganda/brainwashing machine that created these little monsters in the first place - evidently it's neither fast nor thorough enough and so it's time for a purge. If Palsi and company survive this, no doubt the new generation will be seething and embittered, as they were after Hillary and the DNC stole the nomination from that other paragon of youth and vigor Bernie Sanders. And, as an aside, our two-tiered justice system has cleared his wife Jane of all corruption and fraud charges related to her fraud and corruption as a dean of some defunct propaganda mill up in Vermont. Thank goodness, as I was worried that our criminal justice system wouldn't work as it should (*pukes*). Backtracking, if the Young Pioneers manage to wrest control of the Democrat Party in toto, then it will be bust-out in-your-face anti-American socialism 25/8/366 in all 57 states thus guaranteeing their relegation to the political wilderness for the next 40 years. Or will it? Despite the coming of Trump and all the incredible things that came with it, the one thing that we do not control is the brainwashing complex that is academia. Along with the attempt to replace the American population with a permanent underclass of third world, non-English speaking peasantry who know nothing and perhaps care to know nothing of the nation to which they have been allowed to enter (other than where to go to claim their birthright to your money), we have at least two if not three generations of young people who have been lied to about this nation and what it stands for and have been taught to hate it with every fiber of their being. When you see Kyrsten Cinema, Andrew Gillum, Loopy Ocasio-Fiasco, and far too many others, you are staring into the face of America's future. I'm pushing 59 and my time on this rock is ticking away faster and faster. When to even attempt to communicate with young people gets you tagged as a racist, sexist, bigoted, Islamophobic homophobe whose opinions are hate speech, then the outlook is seriously in doubt. Still, here we are, and yet we persist. There's no way to predict the future and I don't believe in inevitability. And for Trump to have been elected defies the odds and perhaps indicates some sort of sea change going on that we just are not aware of, mostly because of who controls the media and the messages. With that, keep hope alive and to be sure take back the damn schools. Anyway, lots of links about the potential Democrat civil war and some negative portents about the GOP going forward.
Moving on to first amendment and fake news news, little Ben Shapiro got protested at Ohio State, even Bob Woodward calls the CNN/JmJ Acosta suit a farce, a man is kicked out of a Disney World ride for the unspeakable crime of having a Trump 2020 sign and Daniel Greenfield on the nature of why the press hates PDT.
On the Amnesty/Invasion front, the first waves of the invaders are evidently at or very near the border now, and as that catastrophe develops, the triple murderer in Missouri who had "sanctuary" in Jersey got here under DACA, even a CNN exit poll shows overwhelming support for Trump's border policies and how the invasion presents an opportunity for the President.
In gun news, a massive spike in permit applications in DC since the laws have been relaxed and a piece cautioning about how junk science can be used to quash your gun rights.
Internationally, as war seems to be brewing in the Middle East, Democrat leader Sarsour the Hamas Louse blasts Israel for not just dying already, a potential showdown between PDT and Xi at the G-20, Macron's threat to form an army is a joke, Austria not too thrilled with the EU and PDT rejects the news about NorK deception on its nuke sites as fake news. Meanwhile, as if we didn't know that the UK now means "unmistakably Koranic," Italy has stepped up to the plate to offer Asia Bibi asylum from the medieval animals in Pakistain.
Domestically, more on the First Lady's open call for the ouster of a top NSC official, the President has tapped Neomi Rao to fill Brett Kavanaugh's seat on the DC Circuit (perhaps a dark horse [no pun] for the next SCOTUS vacancy?), thoughts on the national debt and paying it down, a custody dispute could be a motive in the slaying of 8 Ohioans, Congress is about to push this crime bill that looks to be a disaster as well as - yay bipartisanship! - yet another Obamacare "fix" which no doubt fixes nothing but high costs and other assorted tyranny in stone.
In Lysenkoism, Moonbeam is taking heat for vetoing a bill that could have helped mitigate the deadly destruction of this Camp wildfire, Obama was spectacularly wrong about energy policy (if he was right, it would've ruined his streak), and a cautionary tale of hijacking science for political ends. You know who else did that?
From hither and yon, Stan, Spike, Barbara, Shelia who can tell the difference? An excellent piece about Democrat-Socialist Jim Jones, a Dutch man uses transgender logic to identify as a 29-year-old and lastly Orson Welles' lost masterpiece makes its debut.
Anyway, links from around the world, across the nation and up your street. Have a better one and remain blessed.


posted by at
07:44 AM
|
Access Comments