« Day-After-Halloween ONT
|
Main
|
Mid-Morning Open Thread »
November 02, 2018
The Morning Report - 11/2/18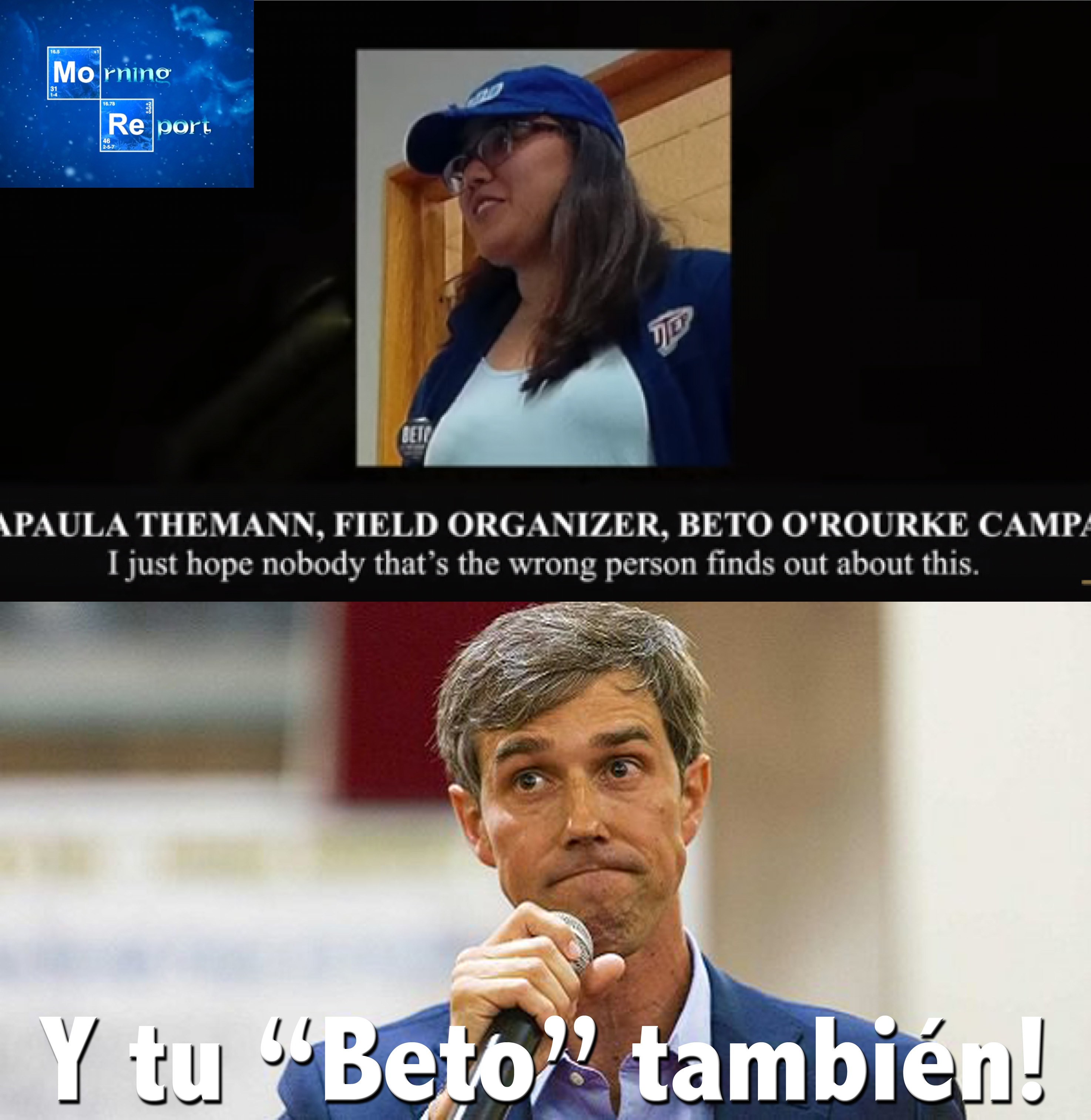 Good morning kids. Friday. The weekend is here and the Midterms are in sight. I think it's fair to say that as crucial as the 2016 Presidential election was, this one is perhaps that much more so. We did not have to experience a Hillary Clinton administration to know what that would have wrought, mostly because of the previous 8 year nightmare inflicted on the nation by Barack Obama. But what draws things into even sharper focus more than that are the 2 incredible years on every level that we perhaps never thought we'd live to see the day under President Trump. There is the economic miracle at home, the reassertion of a generally sane American-interests-centric foreign policy abroad and the incalculable salutary effect that this man by himself has had in exposing the utter corruption of the Democrat-Leftist political enterprise and its arms in an entrenched, feral bureaucracy and a dangerous media-propaganda machine to a heretofore disinterested, apathetic and/or ignorant citizenry. In doing so, he has also at minimum started the process of reshaping the GOP into something at least minimally aligned with the interests of real Americans and not the Chamber of Commerce and New Deal "progressive" elitist sell-outs. And crucially, he has shown what it means to actually fight back in a rhetorical sense. And in doing so, he has forced the Left to step on one big ass rake after another.
Underscoring all of that has not only been the now all-but impotent and generally irrelevant Mueller witch hunt collusion investigation, but the past 3-6 months with the Kavanaugh persecution, the overt attacks and calls for violent direct confrontation by Democrat leadership on its political opponents, this bought and paid for migrant caravan invasion and attempt to sow discord and chaos internally, and the mail bomb hoaxer and anti-semite Trump-hating Pittsburgh mass murderer. All of the aforementioned draws a sharp red underscore as to who and what the Democrat-Left are and what they will bring should they take control of Congress let alone all the branches of government. You all know what's at stake. I pray to G-d a helluva lot more people who do not come here or elsewhere for honest straight talk and opinion - and the facts IMHO - will see the light as well. Michael Ledeen, Jeffrey Lord, Lloyd Marcus and Rachel Stolzfoos have some fine essays that put it all together.
And as Tuesday approaches and the polls tighten (for whatever that's worth), James O'Keefe and Project Veritas strike again. This time exposing "Agarn" O'Rourke's staffers boasting about using campaign funds to essentially smuggle Honduran migrants from the invasion force into the country. Also, psycho Marxist Joo-Hater Andrew Gillum is packed with even more Joo-Hate than previously thought, the phony jooz of J-Street are in trouble for campaign finance violations, Joe Bidet says a GOP candidate should get beat up, Daniel Greenfield on the open anti-semitism of the Democrats and a shining example in the form of some psycho Presbyterian minister shrieking obscenities at the President in Pittsburgh, and Sherrod Brown is still beating his wife. Hey-ho, the way to go, O-Hi-0...
Speaking of the illegal alien invasion force, the President is not only speaking plainly and honestly about the nature of what is going on, but his actions are speaking loudly and clearly; the first active duty regular army troops have arrived at our southern border and are taking up positions along the invasion route. And the commander-in-chief has clearly stated that they are cleared to use deadly force to repel any attacks of any nature on them. Good. Frankly, there are some "concerned" commenters here and elsewhere that are afraid the optics of innocent women and children being shot or shot at by US soldiers would be horrendous. Considering the President's brilliance at exposing and then dismantling media narratives, and the self-inflicted exposure of the true nature of the media these past two years, the concern is [X] noted. Unchecked immigration and the national identity-killing nature of same is the issue that got him elected and will keep him and like-minded politicians in office. And amnesty, immigration and the invasion caravan are political kryptonite to Dems right now.
To politics in general where Ron DeSantis correctly predicts the consequences to the state of Florida should Andrew Gillum, a crooked, Joo-hating Hugo Chavez without the parrot, win the governorship. He was on for a full half hour on Limbaugh's EIB yesterday so click here for the transcript. Meanwhile, PDT ripped Nancy Palsi over her threats to subpoena the crap out of the administration should G-d-forbid she get her bony digits on the Speaker's gavel, John James is a superstar in Michigan and even if he doesn't beat Debbie Shabbycow, he is someone to watch IMHO, Joe's Man-Chin gets a beating from Morrisey in a debate, Hinderaker on a possible House pickup for the GOP, Pennsylvania's congressional races could hold the key to who controls the House after next Tuesday, VP Pence rallies in Ohio Amish country, and along with the aforementioned essays, are you better off now than you were two years ago is the question to answer for all voters.
At the foreign desk, Brazil's President-Elect Bolsonaro has announced that they are moving their Israeli embassy from Tel Aviv to Jerusalem, NSA Adviser Bolton is putting the screws to Cuba, Nicaragua and Venezuela, Nikki Haley bemoans the UN, Heather Nauert is on tap to replace the Dusky Destroyer as our ambassador there, and the Administration is going to unfortunately cave on some Iran banking sanctions. Foggy Bottom is still a friggin' sewer. Meanwhile, Canada buckles to more Islamic dhimmitude with sharia adoption laws, and comedy gold as ham-fisted Hamas-hole has a workplace whoopsie with the quick fuse. Say hello to the barbed piss-flaps of Helen Thomas in Hell for me.
Closer to home, Obama's Deep Staters at CIA were spying hard... mostly on whistleblowers, the unintended (or intended, frankly) consequences of mandating free range animals means poor people go hungry, another IBD analysis of the Trumponomic miracle, a mysterious polio-like disease is puzzling doctors (let me guess where the origin will be and hence covered up), the Trump administration is coming down hard on campus anti-male kangaroo rape courts and is it the twilight of the Red-Green follies?
From hither and yon, Kanye West re-enslaves himself, how Hollywood insinuates itself into red state lawmaking and a whopping 47% of Americans feel like aliens in their own country. Does that mean us normal people reacting to what the Left has done to us lo these many decades or are the respondents Lefty NPC drones spouting Orange-man-bad? The world wonders... Have a great weekend.
Anyway, links from around the world, across the nation and up your street. Have a better one and remain blessed.
CIVIL WAR 2.0, PITTSBURGH MASSACRE, BOMB HOAX/SCARE