« Sunday Overnight Open Thread (10/21/18 )
|
Main
|
Mid-Morning Open Thread »
October 22, 2018
The Morning Report - 10/22/18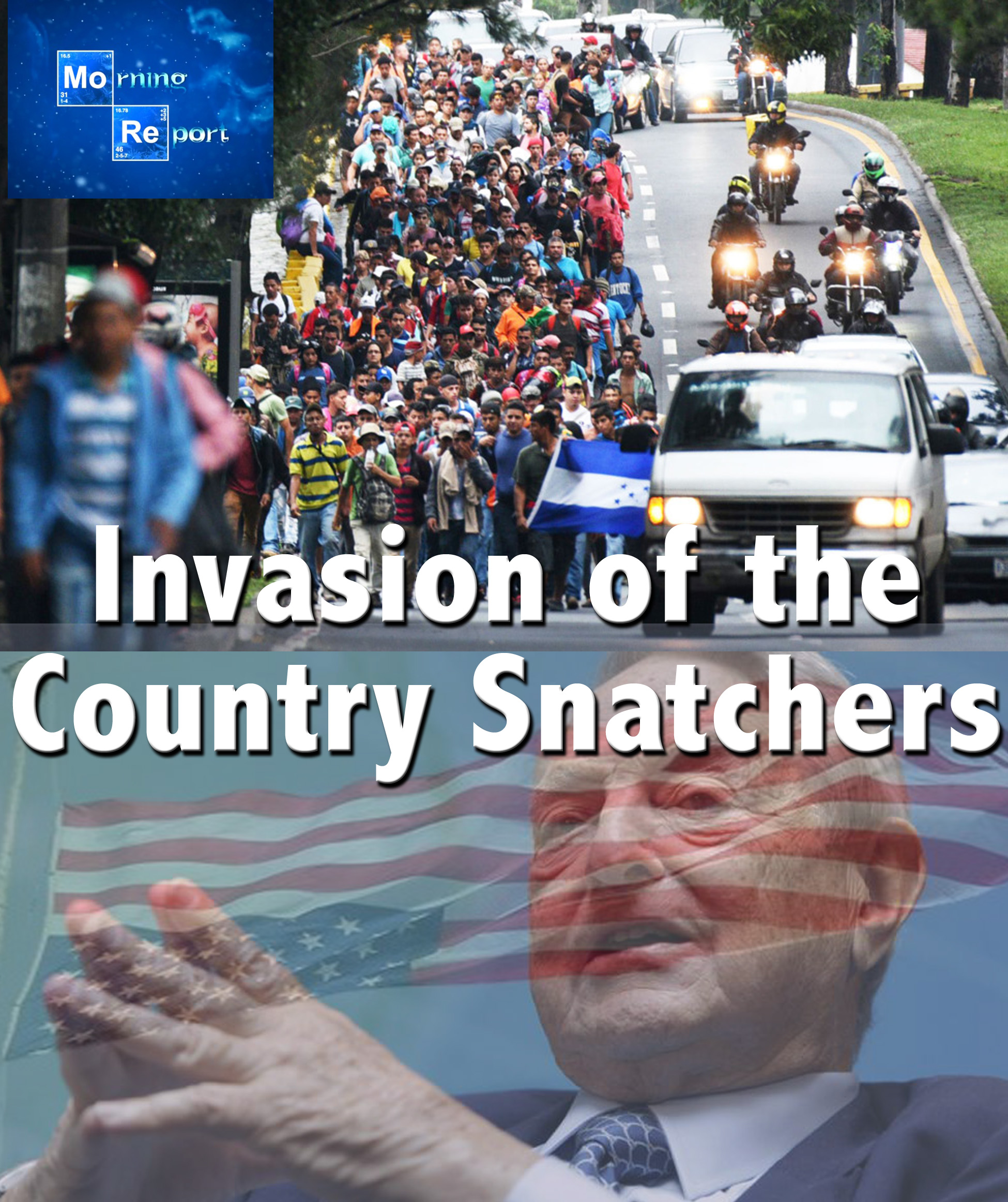 Good morning kids. A new week begins and the top story is this insane, premeditated invasion of Honduran and Guatemalan migrants. The latest estimates are upwards of 10,000 people (mostly men with women and children up front for the benefit of the television cameras). That's roughly a World War 2-sized infantry division that is marching inexorably on unimpeded through Mexico and hell bent on crossing our border and taking up permanent residence here. If that is allowed to happen, no doubt one of the first things they will do after demanding political asylum and/or citizenship will be to register each and every one of them as Democrats, but I digress.
There is no crisis in Guatemala or Honduras (other than that both are chronically corrupt, third world shit-holes) that would suddenly cause a mass exodus not seen since... the last concocted mass exodus of women and children (disguised mostly as males between the ages of 12 and 49) a few years ago during the Obama years.
It is obvious that, along with that sham, this is a premeditated, well coordinated and orchestrated "crisis" intended to somehow shame the Trump administration and Republicans just before the Midterms, aside from overwhelming the system should a significant number if not all of these people make it onto US soil.
The Democrat-Left-Media complex is salivating at the notion of violence, rapes and death that they can capture on video (or stage for the cameras if nothing spontaneous happens [see West Bank and Gaza vs IDF]) to be used for political advantage. In theory, the site of this mass of humanity heading north is going to somehow miraculously reverse the Dems' evaporating fortunes at the polls. In fact, if anything, it's going to have just the opposite effect since this is the issue more than anything else that got Donald Trump elected in the first place.
The one thing I can credit AG Sessionszzzz with is his rewriting of asylum laws to eliminate poverty as a reason to allow refugees in. Still, if any of these people makes it across the border it becomes very difficult from a legal standpoint to get rid of them. And with Judge Molokai Leper Colony observing from his Super Executive outpost on the Aloha Tower ready to kneecap the Constitution, that just adds an extra level of insanity to the situation.
That said, the first thing I think the President needs to do is to right now announce an emergency national security situation and preemptively shut down the border (as President Reagan did in response to the murder of DEA agent Enrique Camarena), publicly suspend the granting of asylum to anyone attempting to cross the border illegally and put the screws to Honduras, Guatemala and especially Mexico for allowing this insanity to occur unimpeded on its territory. He should probably move military assets to the border to assist the Border Patrol, and if need be to deputize them so they are authorized to arrest and detain anyone coming across illegally.
As I had said, 10,000 people don't just all at once decide to start walking hundreds of miles. Someone is providing them food and water, sanitary facilities (to the extent that that is possible) and incentivizing them with money to make the journey. The individuals or groups in question doing this must be identified and dismantled by any and every means necessary. It may not be infantry and armor, but it sure as hell is an invasion with the purpose of crossing our borders with the explicit intent of destabilizing the nation.
This must be stopped, and those who are perpetrating this incident need to be crushed. The time to act is now, Mr. President.
The other main story continues to be the fallout over the liquidation of Muslim Brotherhood-operative-posing-as-journalist Jamal Khashoggi by Saudi Arabian security services. Several links examine both the political fallout over this incident as well as the rank hypocrisy of the Dem-Left-Media complex when it comes to murdered journalists. I said all there is to say on this last week but suffice it to say that, for better or worse, our relationship with MBS and Saudi Arabia must be maintained vis a vis the containment and ultimate dismantling of the Iranian regime. Unfortunately, the Saudis do themselves no good by not just being forthright about why Khashoggi had to go as opposed to how he was offed.
To politics, where with just 15 days before the Midterms, things are starting to get interesting in a good way. Polls, for what they are worth, continue to indicate a distinct lack of enthusiasm for Democrats and their policies let alone a blue wave that is going to sweep them to victory in the House and Senate. President Trump's approval rating is way up and he himself is predicting big wins for the GOP. On the downside, the Libertarian presence on the ballot could act as a spoiler in a number of crucial races, in the debates Andrew Gillum dodges the question of single-payer, Lou Barletta sticks it to Bob Casey, Andrew "Cummo" Cuomo finally agrees to debate Marc Molinaro (not that he and we in NY have much of a shot, sadly), and an Eric "Kicks" Holder's attempt to screw up Louisiana with gerrymandering hits a snag. For now. Lastly, Cory "Spartacus" Booker has been accused of grabbing a gay guy's package and Keith "X" Ellison defends being a wife beater by blaming Trump.
In Democrat Mob news, a Clinton aide justifies harassing Mitch McConnell in a restaurant, a warning to Dems about being careful what they wish for, April Ryan is a bloated, arrogant schmuck, and Jim VandeHei at Axios has a solution for Leftist media bias: they all should shut about it and pretend it doesn't exist. Lastly, the Free Beacon has a look at how Obama used the FDIC as well as other bureaucratic institutions to go after not just political opponents but disfavored businesses and industry (think coal and guns).
On the international scene, along with l'affaire Khashoggi, citing Russky noncompliance, the President has pulled out of a nuclear deal with Moscow, Swedish hypocrisy on human rights, the Trump of Brazil has high hopes for winning the presidency there, and Tommy Robinson continues to be persecuted in Britain and may wind up back in prison. England is lost.
Domestically, on the plus side, incredible job numbers for Florida, Texas and Ohio, the President is set to unveil yet another big middle-class tax cut, Alan "Mr. Andrea Mitchell" Greenspan burps up a defense of the Fed vis a vis sabotaging the booming Trump economy, and on the down side we have the ticking pension time bomb, the disaster of Democrat guaranteed income and the GOP screwing the pooch on really getting rid of Obamacare, because they now own it.
Lastly, several good links about the disaster of modern day edjumakayshin, Laura Loomer gets booted from an event but not before owning "Cookie" Milano on her insane hypocritical alliance with Sarsour the Hamas Louse and lastly will the advancing decrepitude and extinction of the Baby Boom generation finally shut their collective cake hole? Probably not.
Anyway, links from around the world, across the nation and up your street. Have a better one and remain blessed.


IN THE LEAD: MIGRANT INVASION


posted by at
07:14 AM
|
Access Comments