« No, "Soros" Is Not Shorthand For "Jew."
|
Main
|
Gun Thread: It was Only a Matter of Time [Weasel] »
October 28, 2018
Food Thread: Texas Roast Pig: And You Thought Spatchcocking Was Just For Chicken?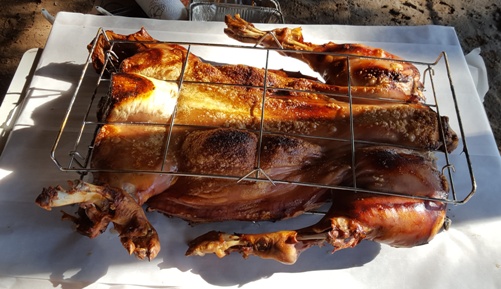 That's the main course served at the recent Texas Moron Meet-up, and it was the best roast pig I have ever eaten. I helped cut it up, and every single piece was wonderfully juicy and tender. What was really amazing is that the skin was cracklingly crisp...it literally snapped!
It is a perfect example of the glories of simple food. That is not to say it was easy. This is careful, well-thought-out cooking at its best. Excellent technique, attention to detail, And pretty damned good ingredients. The pig was fatty enough that I wouldn't be surprised if it was from a reasonably small hog farmer, although maybe it was just so perfectly cooked that anything would have tasted good. Only Ben Had knows for sure!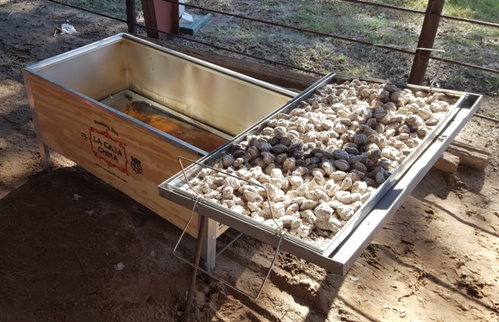 It looks deceptively simple, and the simple instructions are helpfully printed on the side of the oven. Amazing, isn't it? How it works is beyond me though. I guess the direct heat from the coals radiates to the skin and crisps it, but doesn't overheat the box enough to overcook and dry out the meat. Or maybe it was magic. Hell, I don't know, but it worked really, really well, and I am contemplating getting one of these things.

******
Our lovely and gracious hostess arranged a wonderful pre-meet-up meal of absolutely fantastic chile rellenos, courtesy of
The Taco Station
in Corsicana Texas. This was not smashed beans and rice..this was excellent and inventive cooking. I don't have any photos because I was too busy stuffing the food in my mouth as fast as I could manage without requiring a Heimlich, but suffice it to say that the fresh tortillas were just as good as the chiles, and the cheese sauce was nothing like the gloppy crap I have had on too many occasions. The owner, Yebel Shlimovitch, spent some time at Rick Bayless' Frontera Grill, which is one of the best Mexican restaurants in the country.
If you are anywhere near Corsicana, find this guy's food truck and enjoy! He is on Twitter and FaceBook

******
This is exactly the kind of drink that I shy away from, because all too often they are cloyingly sweet and faintly nauseating. But this was excellent! I was surprised how well balanced it was. There was enough of an alcohol bite to remind me that it had booze in it, and while it was thick and creamy it was not too sugary. There were other things going on besides sweet and fat, and that made it a pleasure to drink.
creeper's Irish Cream


1 cup whipping cream

14 oz. sweetened condensed milk

2 1/2 cups Irish whisky

1 tsp instant coffee

2 tblsp chocolate syrup or melt 25 chocolate chips

1 tsp vanilla

1/4 tsp almond extract
Combine all ingredients in a blender and set on high speed for 30 seconds.
Bottle in a tightly sealed container and refrigerate. Shake while cooling and before using.
Will keep for up to two months.

******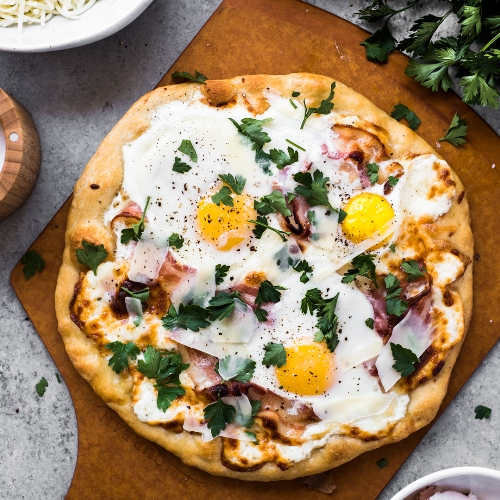 Pizza Margherita with Prosciutto di Parma and Poached Egg
I posted this not for the specific recipe...I don't think it is particularly interesting...but for the idea of what is essentially Pizza Carbonara. Play around a bit with how to cook the egg, and what kind of pork to use. I have used bacon, pancetta, lardo and others, raw egg cracked onto the pizza then stuck under the broiler for a few seconds, and a few other variations. It's a great idea, and worth the effort. But don't use tomato sauce. That's just wrong.

******
This makes me suspicious. The smoke in Scotch makes it a very difficult ingredient, even in cocktails. I have had many Scotch-based cocktails and every single one was a disappointment. I am sure that some people like them, but if I want smoke, I'll drink Scotch straight or have a good cigar!
Scotch whiskey caramel milkshake
I would just leave the whiskey out of it and enjoy the salty caramel milkshake.

******
Food and cooking tips, Haggis, young wild pigs, Scotch Eggs, thick and fluffy pita and good tomatoes that aren't square, pale pink and covered with Mestizo E.coli:
cbd dot aoshq at gmail dot com
. Any advocacy of French Toast with syrup will result in disciplinary action up to and including being
nuked from orbit.
&topic=world_news">

posted by CBD at
04:00 PM
|
Access Comments