« Tuesday Overnight Open Thread (10/16/18 )
|
Main
|
Mid-Morning Open Thread »
October 17, 2018
The Morning Report - 10/17/18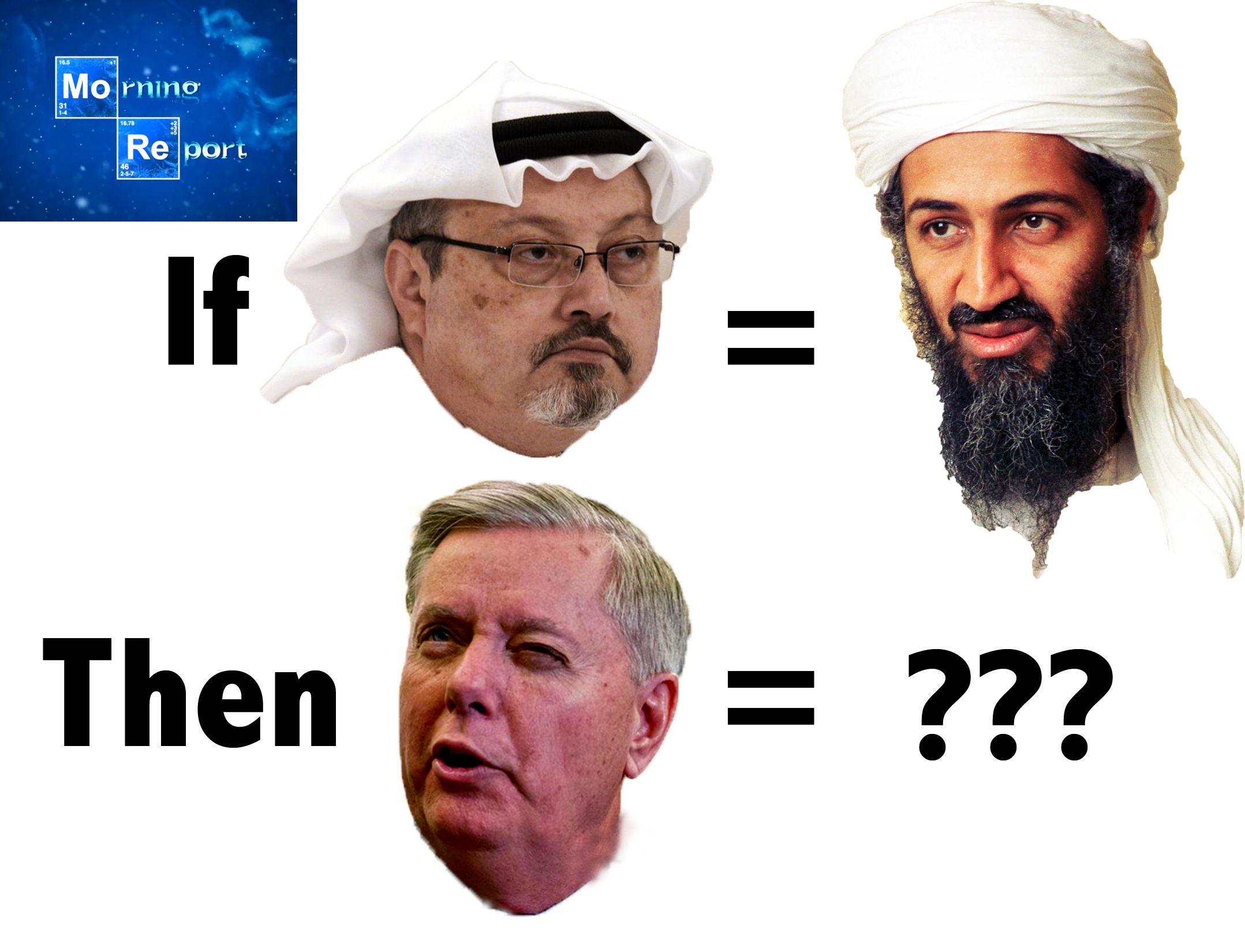 Good morning kids. Midweek and we'll get to the Democrats continued self-immolation with Fauxcahontas, McAssKill, Heitkamp and Clinton at just under 3 weeks from the Midterms in a moment.
But the top story is the disappearance and and most likely liquidation of "journalist" Jamal Khashoggi at the hands of the Saudis. The meme that is being pimped by the propaganda machine is that Khashoggi was some sort of fearless investigative reporter who, because of his exposing the corruption and tyranny of Saudi Arabia's new putative reformer Prince Mohammed bin Salman, became an embarrassment and was therefore targeted for termination.
As is always the case, there's a lot more to the story than what's being reported. It turns out that Khashoggi, who is a relative of the infamous arms dealer Adnan Khashoggi, was part of the old-line faction of Saudi royalty who pimped extremist Wahabbism, and was himself a member of the Muslim Brotherhood that has as its central tenet rabid anti-western and anti-modernity worldview. As, for lack of a better word, "progressive" as the KSA can be for a medieval society, the new prince (who is a millennial and a big fan of Silicon Valley high tech [that region's Leftist bent notwithstanding]) represents a direct threat to that. Khashoggi used his position as a Washington Post writer to go after him, ostensibly as a muck-raker but in reality as a poo-flinger. And the western press ate it up since by extension Khashoggi was also attacking President Trump, Israel and the anti-Iran alliance that has been building since the former took office. John Hinderaker at Powerline has a good take on it:
It's understandable that the U.S. and the Europeans are reluctant to damage their economies over the fate of one man in a bloody region of the world. But for the U.S. in particular, it's not just a question of economics. Saudi Arabia is a key strategic ally in the quest to thwart Iranian ambitions.

Rather than remaining neutral in the struggle between Iran and Saudi Arabia, the Trump administration picked a side. As between the two unsavory powers, it picked the Saudis.

Both decisions were reasonable and, in my view, correct. The strategic thinking behind the decisions applies in full force even if, as seems very possible, the Saudis were responsible for killing Khashoggi.
THIS. Considering our very troubled, to be charitable, relationship with Saudi Arabia, I'm not exactly taking a Pollyanna-ish attitude about this new prince. That said, he has taken some positive steps internally and externally and said some very positive things vis a vis the future of his nation in relation to its past. As time passes, it certainly is looking more and more that Jamal Khashoggi was an enemy to progress (at whatever form and speed it takes in that nation) and he had to go. The fact that his death resembles a scene from Fargo rather than Munich is another issue entirely.
But to me, the most disappointing and disturbing reaction comes from Lindsey Graham who has stated in no uncertain terms that Prince Mohammed bin Salman "has got to go." Considering all of the above as well as the fact that the Kingdom of Saudi Arabia is not a Jeffersonian Democracy but an autocratic theocracy, Graham's ignorance on this is absolutely radiant (stay tuned to the Amnesty/Immigration headlines). He ain't going nowhere, Lindsey. The issue of political assassinations is a touchy one, and has been for well over 50 years now. Considering Vladimir Putin's polonium proclivities, and the Left's perpetual shrieking of "collusion," the Saudis have put themselves and by extension us into a bit of a PR situation. There's no easy way out, since the pro-Iran/pro-caliphate dhimmis in the media are not going to let go of this. No doubt Jm J Acosta will claim the President has blood on his hands and Steve Cohen will push for a posthumous Purple Heart for Khashoggi. Hopefully, more revelations about the latter's past and activities will come to light and help defuse this situation.
Speaking of political assassination, the Democrat-Left continues to ramp up the rhetoric and incitement in the wake of the Kavanaugh confirmation and in the run up to the 2018 Midterms. Maoist and dullard Tim Kaine is not quoting the Rolling Stones but actually calling for fighting in the streets, something his convicted Antifa thug son knows all about, some psycho at the psycho Minnesota Democrat Farm Labor Party called for Republicans to be "beheaded" (they say it was "an inside joke"), along with packing the SCOTUS and abolishing Senate, the Dems now want to expand the House (presumably by gerrymandering Mexico City and Tegucigalpa) and J.T. Young and Daniel Greenfield about what the Kavanaugh confirmation was really all about vis a vis waning Democrat political/policy power.
Moving down the list to the scandal sheet, the FBI has raided the offices of corruptocrat San Juan PR Mayor, and vicious Trump-hater, Carmen Yulin Cruz and the Democrat Awan IT scandal still reeks to high heaven and there is still much more to be revealed. And in First Amendment Fake News and Fakery, Joe Arpaio slams Slim's Slimes with a defamation suit, Facebook deletes a disabled vet's page after ripping him off to the tune of $300,000 in ad revenue, and some college ham radio host warns that President Pence would be worse than Trump if he gets impeached (meh, been hearing that since forever already). Lastly, a frightening report about Scotland's backhand official persecution of Christians if they utter "hate speech."
On to politics with a soupcon of Amnesty since the two are bigly and inextricably entwined. Along with his cluelessness on what's going on with Saudi Arabia, Lindsey Graham is set to shoot himself in the other foot by pushing for a hideous new DACA "fix" which in fact fixes nothing. Just when I was thinking he was coming around, he steps on his pee-pee. Maybe he hasn't seen that a new poll is out showing voters are overwhelmingly high on limiting immigration. Also, Nancy Palsi's dentures are clattering something about no compromise on the "immoral" border wall and something about the President's manhood. Meanwhile, sanity rules as PDT has threatened all countries south of the border who allow their citizens to flow north are going to have their foreign aid cut, and that immediately caused Honduras to send out a plea for the 3,000-strong caravan of would-be border jumpers to turn around and come home. Senator Graham, please take note; this is what is known in the trade as "motivation."
And segueing into politics, Claire McAssKill has accused opponent Josh Hawley of setting her up in that Project Veritas sting (did he make your lips move, sweetie?), new Kirsten Sinema soundbites emerge wherein she rips the state she wants to be Senator of, Brian Kemp is in a bit of a nail-biter with that rotund schmuck Stacy Abrams for the Georgia governorship, Julian Castro is the latest Maoist-du-jour to throw his kepi into the Dem 2020 prexy derby, the Bredesen campaign treasurer has been accused of a Hatch Act violation (he's Democrat so nothing will happen), Rabbi Dov Fischer on the Dem whine-fest, and a rather disturbing report about voter registration info being stolen and available on the dark-net.
The great news, all but embargoed by the propagandists, is the economy. The US has recaptured the title of world's most competitive economy for the first time in 10 years (remind me who was president during those years?), the Fed has collected an all time high in tax revenues thanks to the Trump tax cuts and bookending that, the number of jobs available is also at an all time high at 7.14 million for the month of August. July was at 7.1 million which was also a record. But, "Blue Wave!!!" Meanwhile, Mitch McConnell says his biggest disappointment in Congress was not dealing with entitlements. After picking myself off the floor when the laughter died off, a part of me thought, is he just saying this as a tease in the run up to the Midterms or is he perhaps promising something if the GOP retains Congress? The cynic in me says it's the typical ploy, but since Kavanaugh maybe PDT put a few nice words in his ear about winning (he did get a standing ovation at a Kentucky rally the other day which Rush noted). I hope he doesn't backslide like Graham evidently has.
Moving along, we have warnings about another potential ebola outbreak, a Maryland cop is arrested for raping a woman during a traffic stop (the ethnicity of the officer may memory-hole this story), SCOTUS wrestles with the redefinition of the term "violent crime," Asians sound off on leftist school admission policy, and the latest in the disastrous Catholic church sex abuse scandal.
From hither and yon, the Rosanne-less Roseanne sequel aired (big fat meh), Sarah Silverman is a phony slag, and a thoughtful piece about Kanye West and what it means for the scales to be falling away from his eyes - disaster for the Dem-Left if he can convince fellow blacks to burn down the plantation. Please G-d.
Anyway, links from around the world, across the nation and up your street. Have a better one and remain blessed.


posted by J.J. Sefton at
07:25 AM
|
Access Comments