« White Privilege Means Having Your Reputation and Career Destroyed for Asking a Black Guy for I.D. [Warden]
|
Main
|
The Morning Report - 10/18/18 »
October 17, 2018
Wednesday Overnight Open Thread (10/17/18 )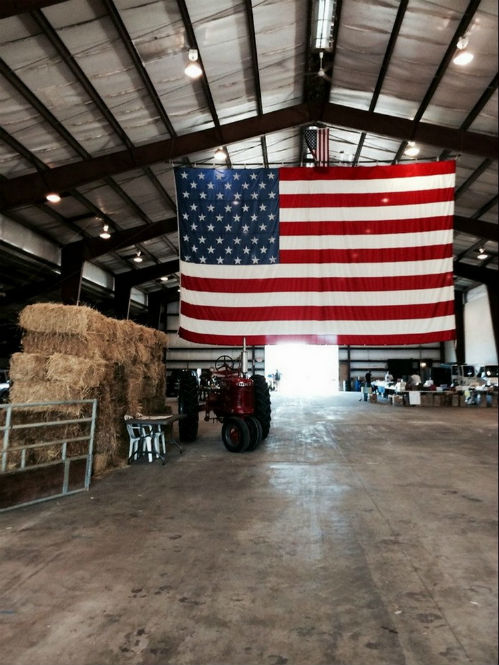 ***
The Quotes of The Day
Quote I

"With respect to Mr. Kaepernick, he nationally exercised his First Amendment right to kneel. I exercised mine. I regret that at the time I didn't better clarify my feelings. That one tweet has been made the litmus test of my reputation over almost two decades of public service." Mary Bono

Quote II

"Clearly, many people around the world value their beer. It's important to understand how climate change will impact our daily lives and things we care most about – whether that happens to be a favorite national park, coastal beaches or a pint of beer." Nathan Mueller

Quote III

We must never remain silent in the face of bigotry. We must condemn those who seek to divide us. In all quarters and at all times, we must teach tolerance and denounce racism, anti-Semitism and all ethnic or religious bigotry wherever they exist as unacceptable evils. We have no place for haters in America -- none, whatsoever. Ronald Reagan
***
A French woman has received a jail sentence after passing herself off as one of the victims of the 2015 Paris terror attacks for financial gain.

Alexandra Damien, 33, is to serve six months in prison for fraud and perjury.

She was found to have pocketed up to 20,000 euros ($23,180; £17,552) from funds set up for victims in the aftermath of the attacks.

Damien also claimed therapy sessions at a hotel in Normandy paid for by the French Association of Terror Victims.
***

Tree rats Squirrel meat may have been the cause of a man's death.

According to the report, the 61-year-old man had been admitted to a hospital at Rochester Regional with cognitive impairment, schizophrenia, and psychosis in 2015; he was also unable to walk under his own power. But there was nothing to be done. Five months after his symptoms began, he died. Judging by his brain scans and other tests, the man had likely come down with variant Creutzfeldt-Jakob disease (vCJD), a form of the rare and universally fatal neurodegenerative ailment.
***

Voter disenfranchisement? It looks like there are more voters registered than there are eligible voters.
Riddle me this: Why does the United States have has 3.5 million more registered voters than it has living adult citizens? That's impossible after all the Democrats say there is no reason for Voter ID laws or purging the voter rolls. They anyone who wants to ensure only people who are supposed to vote are allowed to vote are trying to suppress voter turnout. And in a way they are correct, we want to make sure that none of those 3.5 million extra voters get to cast ballots, that would be voter fraud.
***
If you are going to have a Christmas concert, do you know that Christ is part of the term Christmas? No Jesus songs for you intolerant non-inclusive Christmas celebrators.

A middle school in Virginia has come under fire for an overly-politically correct decision regarding their annual Christmas choir concert.

Robious Middle School in Chesterfield notified parents that the upcoming event would do away with Christmas songs containing the word 'Jesus' as a means to promote diversity.


A letter explained that the decision was made as part of an effort to be "more sensitive" toward an increasingly "diverse population" within the school's student body.
***

A staple for many of us over the years is disappearing. Say goodbye to American Cheese and hello to fancy cheese.

One by one, America's food outlets are abandoning the century-old American staple. In many cases, they're replacing it with fancier cheeses.


Wendy's is offering asiago. A&W's Canada locations switched to real cheddar. McDonald's is selling the Big Mac's soft, orange square of American cheese with a version that doesn't contain artificial preservatives. Cracker Barrel ditched its old-fashioned grilled cheese. So did Panera Bread, replacing American with a four-cheese combo of fontina, cheddar, monteau and smoked gouda. The result: higher sales.
***
Not quite Muldoon quality, Silly puns and their opposites.
***
My guess? Sooner or later the 'Left' will face a serious push back. A U of MS faculty member calls for open hostility against conservatives.

Ole Miss Chancellor Jeffrey Vitter condemned a "recent social media post by a UM faculty member" in a statement on Vitter's personal Facebook page Sunday night.

"A recent social media post by a UM faculty member did not reflect the values articulated by the university, such as respect for the dignity of each individual and civility and fairness. While I passionately support free speech, I condemn statements that encourage acts of aggression. I urge all members of the Ole Miss community to demonstrate civility and respect for others and to honor the ideal of diversity of thought that is a foundational element of the academy," Vitter's post read.
You know what Chancellor Vitter, if that jackass doesn't fit the values articulated by the university. Fire his sorry ass.
Worked for ABC and Roseann.
***

Speaking of getting up into ones face, A MN candidate running for a local race claims he was attacked because of his party affiliation.

A Republican candidate for the Minnesota House said Monday that he is recovering after suffering a concussion from an attack at a restaurant in St. George Township a few days earlier.

Shane Mekeland is running for the House in District 15B, an open seat that includes parts of Benton and Sherburne County. He said that last Friday night, he was "blindsided" by an assailant as he spoke to patrons at a bar and restaurant he wouldn't identify.

Benton County Sheriff Troy Heck confirmed Monday that his office is investigating the alleged assault, which Mekeland reported took place between 9 p.m. and 10 p.m. on Friday. Heck said his office interviewed the suspect, whose identity is not being released because he has not been arrested or charged with a crime
***
The ONT Musical Interlude
October 17,1958, Born on this day, Alan Jackson, country music singer, who has recorded over a dozen studio albums. More than 50 of his singles have appeared on Billboard's list of the Top 30 Country Songs, for which of Jackson's entries, 35 were No.1 hits. He is the recipient of two Grammys, 16 CMA Awards, 17 ACM Awards and is also a member of the Grand Ole Opry. via thisdayinmusic.com
**
October 17, 1995, Sting's former accountant Keith Moore was sentenced to six years in jail after being found guilty of embezzling £6 million from the singer's 108 bank accounts. via thisdayinmusic.com
***
Longbow vs. Crossbow, Mary Ann vs. Ginger, The Bed vs. Carelessness.

A woman who was left paralyzed after being "catapulted" from her super-king bed during sex is suing the bed suppliers for $1.3 million.

Claire Busby suffered a serious spinal injury after she fell from the super king-size double divan while changing positions.

The 46-year-old was kneeling in the middle of the bed performing a sex act on her partner when she decided to change positions.......
***
Paul Joseph Watson takes a look at the NPC issue.
***
The United Kingdom is far more politically correct than the good old U.S.A. However, sanity reared its ugly head recently. The gay wedding cake Nazis take it in the pie hole or in this case cake hole.

Case in point is the example of a bakery, Ashers Bakery, in Northern Ireland who was charged with illegal discrimination for refusing to bake a cake with an explicit message of support for same-sex marriage. The Orwellian names "Equality Commission" ruled against the baker, and most would have thought this would have been the end of it.

However, this case went all the way to the U.K. Supreme Court which surprisingly ruled unanimously in their favor by recognizing the obvious: "They would have refused to make such a cake for any customer, irrespective of their sexual orientation". In other words, that "artists and other professionals don't discriminate when they object 'to the message, not the messenger,'" while concomitantly affirmed "the fundamental freedom of Ashers Bakery's owners to decline to express through one of their cakes 'a message with which they deeply disagreed'"
***
Leave no trace, no fingerprints, no DNA. All of these rules broken by our Genius Award Winner.

A north Alabama burglary suspect was taken into custody after bathing, washing clothes, clipping his toenails and cooking in a stranger's house, authorities said.

Limestone County investigators said Tyler Keefe Love "made himself at home" in a woman's house on the 25000 block of Davis Avenue on Tuesday. The woman wasn't home at the time but returned to find Love in her house, said sheriff's spokesman Stephen Young.

"What are you doing in my home?" the woman shouted at Love, according to the sheriff's office.

Love replied, "Washing clothes, Grandmama," according to investigators.
***
Sounds like Mom is a loser. Mom's boyfriend is a loser. Mom's four year old son is Tonight's Feel Good Story of The Day.

A fugitive in western Pennsylvania was no match for a 4-year-old.

Sheriff's deputies in Westmoreland County were searching for 24-year-old Jesse Vaughn Lawson last week on an arrest warrant for burglary and receiving stolen property.
***
Tonight's ONT has been brought to you by The Handyman.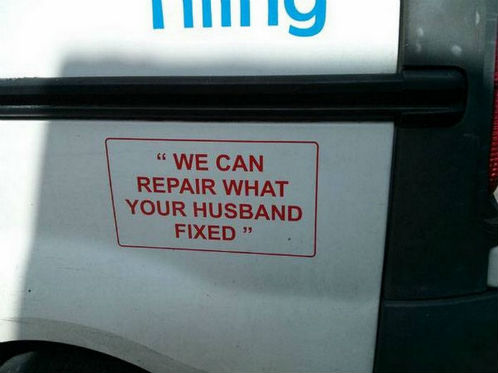 Notice: Posted with permission by The Ace Media Empire and AceCorp, LLC. Of course they care.

Normally, The ONT doesn't promote causes (Mocking liberals excluded). However, we probably know someone who has been stricken with cancer. Our very own Moron ibguy is no exception.
He asked for help from The ONT and the Horde.
Once again, ibguy is raising money to help in the fight against breast cancer with his team: Love, Hope and Faith. The walk is this coming Saturday (the 20th) in Dayton, Ohio.
Will you please help out by making a donation - any amount helps:
Thank you!!
ibguy

posted by Misanthropic Humanitarian at
10:09 PM
|
Access Comments