« Wednesday Overnight Open Thread (10/17/18 )
|
Main
|
Mid-Morning Open Thread »
October 18, 2018
The Morning Report - 10/18/18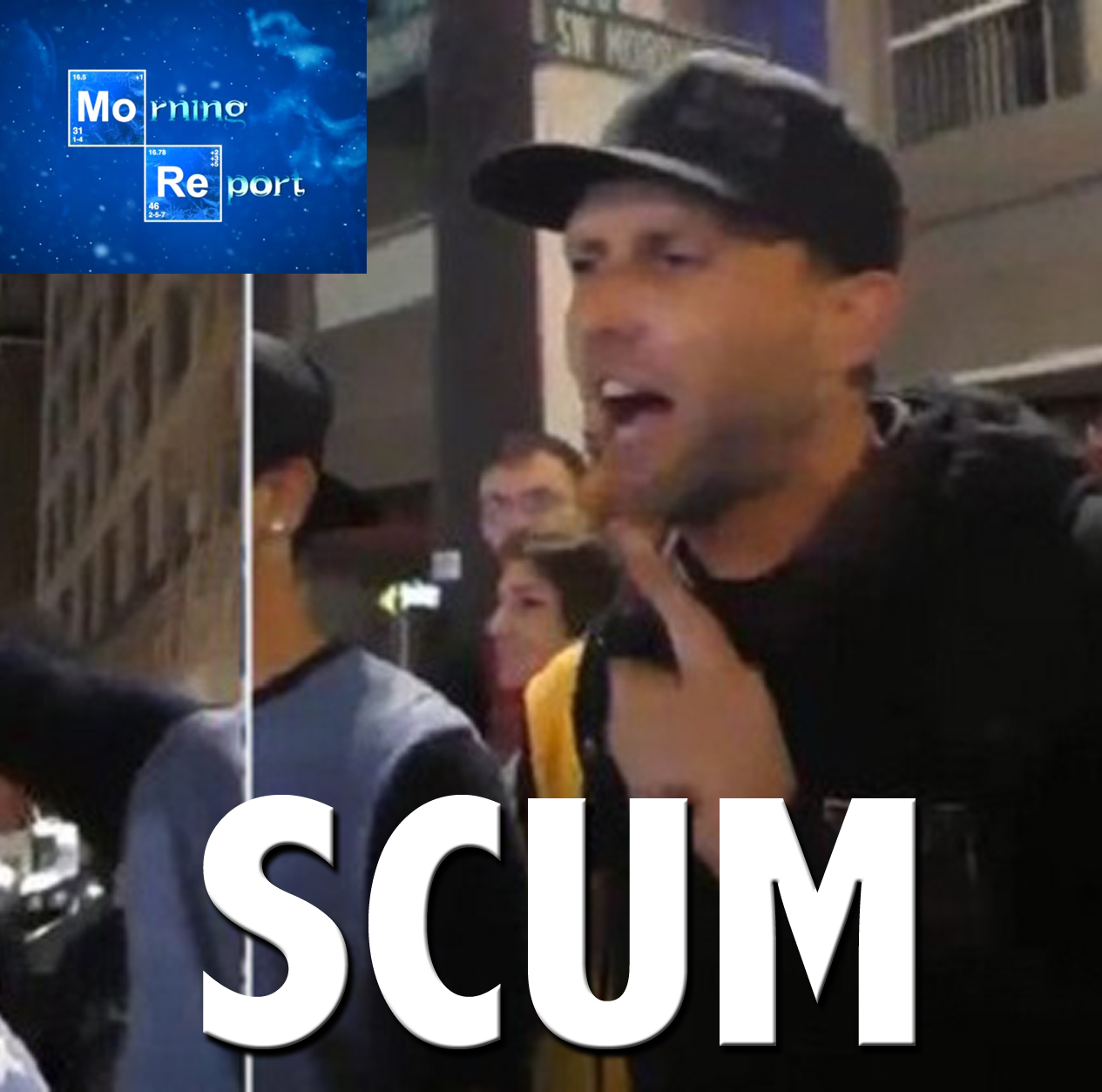 Good morning kids. Thursday and as the Midterms approach, the Democrat-Left violence and intimidation is ramping up. You'd think that with a massive victory all but in the bag, or so the press has been telling us all year long, violence and intimidation would be the last thing they'd be fomenting/participating in. Snark-asm aside, this situation is intolerable and is only going to get worse - a lot worse - especially if the promised massive victory fails to materialize, which day by day is becoming a very distinct possibility.
The most recent examples include a Soros-paid goon being arrested and charged with assault after attacking the campaign manager for Nevada GOP gubernatorial candidate Adam Laxalt, two Minnesota GOP state candidates have been under near constant verbal and physical assault, a propagandist professor in Mississippi is openly calling for Republicans to be confronted and harassed by "sticking fingers in their salads" (literally or is that a euphemism?) and most disgusting and disturbing is an incident in Portland, Oregon, which has now devolved into Gaza on the Willamette. During the protests a woman evidently ran afoul of a brave, Antifa "freedom fighter" who upon learning that the woman was a 9/11 widow was told...
"...your husband should fucking rot in the grave."
As revolting as this is, I think I am even more disgusted by the fact that not only did he not cover his face as the incident was being recorded, but everyone around him all had a good laugh as this woman had the memory of her husband defecated upon by this slug and everyone around him. Certainly, all things considered, I imagine if there was anyone nearby who felt compelled to come to her defense quickly disabused themselves of that notion since Portland is now officially a no-go zone for any and all Americans and other law-abiding citizens. On a personal level, I hope that this vile entity is identified and, shall we say, gets his comeuppance.
More broadly, there is no longer even the tiniest scintilla of common ground. The mentality of the thug in question is not an outlier. It is the mindset of the leadership and members of the Democrat Party, its media/propaganda arm and virtually all of academia, from pre-school through post-graduate. There can be no longer any question that the nation is in a state of dissolution, even as the seemingly routine events of regular elections take place in the midst of it. It's all so damned bizarre, really. It's not mere rhetoric to say, as Lindsey Graham did at that travesty of a confirmation hearing, that I hope to G-d the Democrats never get back into power. After everything we have seen and are continuing to live through, it would not be wholly inaccurate for me to say that I think the Democrats should be prevented from ever attaining power again - and I do not mean merely via the ballot box. You know, for a while now, Augusto Pinochet has been a recurring theme in the comments but as time goes on, it's becoming less snark and more wishful thinking on my part. G-d help us. Let's move on before I write something I might regret.
The other big story is the phony migrant "caravan" slithering its way through Central America and towards our southern border. Evidently it has grown to approximately 4,000 people, mostly from Honduras as well as most likely funded by your favorite Nazi collaborator and mine George Soros (4,000 people don't just appear out of nowhere). The President has warned that nation and others that they are risking being cut off from foreign aid if they allow this to continue. That said, he is fully within his authority as chief executive to stop this on his own, an Hawaiian hack-in-black notwithstanding. In any case, Nancy Palsi has assured us that there will be no border wall if, G-d forbid, she ever gets her bony digits on the Speaker's gavel. Any GOP candidate running should be hitting this note and hard for the next 20 days. And lastly, an illegal alien has been arrested and charged with practicing dentistry without a license. He was quoted as saying "Hey NGU, you're doing it wrong!"
And speaking of politics, the seemingly ignominious end (if that is possible for Democrats these days) of Fauxcahontas' political aspirations tops the category as a real descendant of the real Pocahontas demands an apology, Andrew Cuomo refuses to debate his GOP challenger Marc Molinaro, Krysten Sinema is a freak, Malkin on "puta-chica-Domincana" Bob Menendez electoral woes, Scott Wallace uses a gun felon as a character witness, several links about the all but evaporated "blue wave," Chelsea Hubbel denounces Calypso Louie but not Sarsour the Hamas Louse, Cuck Schemer is silent about his party's open Joo- and Israel-hate, the gun-grabbers are quietly shifting focus and bucks to other Dem issues this cycle, and yet Ben Jealous persists with an insane gun-grabbing scheme for Maryland, Keith X's Muslim protege denies she married her brother and guess what country is going to observe our elections.
On the international front, the President and SoS Pompeo are sounding the right chords on this Khashoggi affair, the Trump of Brazil is sounding the alarm bells on Farsi electoral interference there, Nikki Haley still shines at the UN despite that filthy sewer's attitude on the fictional nation and people of Palestine so-called, Billy Ayers must have a hard-on for the Chi-Com re-education camps, and war is brewing along the Gaza border (Gaza-Gaza, not just Portland-Gaza).
In Mueller witch hunt news, Go-Go Gohmert says that the announcement of an impending conclusion of the investigation is only to keep the Dems from being depressed when he announces that there was no collusion, if the Dems take the House, Adam Schiff-for-brains is going to bury everything that can implicate his party and Byron York on the intractable Rod Rosenpenis.
Domestically, some sort of weird polio-like disease is busting out all over (mostly near the border), PDT signs into law a measure to clean up our oceans, the EPA is praising his efforts on lowered greenhouse gas emissions (I smell a rat there) and e-mails reveal even more of the plot to sue oil companies out of existence.
From hither and yon, thanks to Kavanaugh the #MeToo movement is drawing more skepticism than ever, American academia is a vast nest of propagandists and hacks, Democratic Socialism is neither (and worse), and Carroll Spinney is hanging up the Big Bird costume after playing the character on Sesame Street for 49 years.
Lastly, the President has awarded the Medal of Honor to Marine Sgt. Major John L. Canley for his heroism in Vietnam. He ain't no Danang Dick Blumenthal, but still. Oo-rah! and thank you.
Anyway, links from around the world, across the nation and up your street. Have a better one and remain blessed.

CIVIL WAR 2.0