« Food Thread: "I said it in Hebrew--I said it in Dutch-- I said it in German and Greek: But I wholly forgot (and it vexes me much) That English is what you speak!"
|
Main
|
Sunday Overnight Open Thread (10/14/18 ) »
October 14, 2018
Gun Thread: Commie Bastards! [Weasel]
Last week we spent some time discussing the AR-15, and it's a topic and a subject I suspect we'll see again over time as I begin to run out of other ideas. This week, however, I think it only fair to give the commies a nod and take a quick look at their masterpiece of reliability, functionality, and the favorite of rogue guerilla movements everywhere.
Avtomat Kalashnikova
Mikhail Timofeyevich Kalashnikov is to the Rooskies what John Garand or Eugene Stoner is to us non-Commies. Born in 1919 as the seventeenth of nineteen children (with eight surviving to adulthood), he was conscripted into the Red Army in 1938, eventually rising to the rank of Lieutenant General. To say he was a prolific designer is an understatement, and his life - from humble beginnings as a peasant to Hero of the Fatherland - was remarkable. Probably his most enduring achievement was the design of the Avtomát Kaláshnikova, or Automatic Rifle, the AK-47.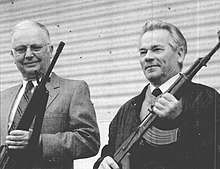 Stoner and Kalashnikov in 1990 with their respective designs
Designed in 1945 by Kalashnikov and introduced to the Soviet Army in 1948, the AK-47 is a gas-operated "assault" rifle, chambered in 7.62x39mm, firing a 120gr bullet at muzzle velocity of around 2350 fps. It has been estimated that as many as 70 million of these weapons have been produced by more than 30 countries worldwide, and have seen use by the militaries of countless nations as well as nut-job radicals, insurgencies and revolutionaries the world over. By any measure, this has been a wildly successful product and it's popularity as an inexpensive, easy to produce and highly reliable combat weapon cannot be overemphasized. The accuracy and quality of the AK-47 is often debated, but in the hands of a competent shooter they're good enough to ruin your day to a distance of several hundred yards and often beyond.

Welcome to the PLA, the Fu Jian Province and State Factory 386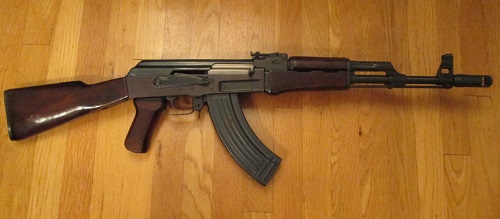 Poly Technologies (PolyTech) Legend AK-47/S
Although the AK-47 is produced at factories around mainland China (and the world) with varying standards of quality, some of the most sought after examples were made by Poly Technologies at State Factory 386 in Fu Jian Province, PRC. These rifles were exported to the United States for two years only; 1988 and concluding with the implementation of the import ban in 1989. Established in 1984, Poly Tech is essentially the export division for the People's Liberation Army, or PLA, and the Legend Series represents their deluxe model with a milled (rather than stamped) receiver and a number of other upgraded features. They are actually very nicely made, very collectible and command premium prices. They are also a lot of fun to shoot and parts are abundant and relatively inexpensive should something break.
So are there any strong opinions, for or against, the AK-47? Does the origin of this particular firearm influence your answer?
Link-O-Rama
Guns & Ammo Article
Home Sweet Home - State Factory 389
***This Old Gun***
This week's Old Gun comes from our pal Blake. It's a Swiss made K31 purchased from the now defunct SAMCO Global. Blake tells us three things make this rifle interesting: the straight-pull bolt, the legendary accuracy, and the very consistent 7.5x55 Swiss military ammunition. It also sounds like Blake has shot the rifle competitively and has scored well with it. However, like many of us, he's convinced the rifle shoots better than he can.

Swiss K31 courtesy Blake

Blake mentioned one other thing I'd never heard of. Apparently, a lot of these rifles have a tag under the butt plate with the name of the last person the rifle was issued to. Looks like Karl Bannier had this one... how very cool is this?!!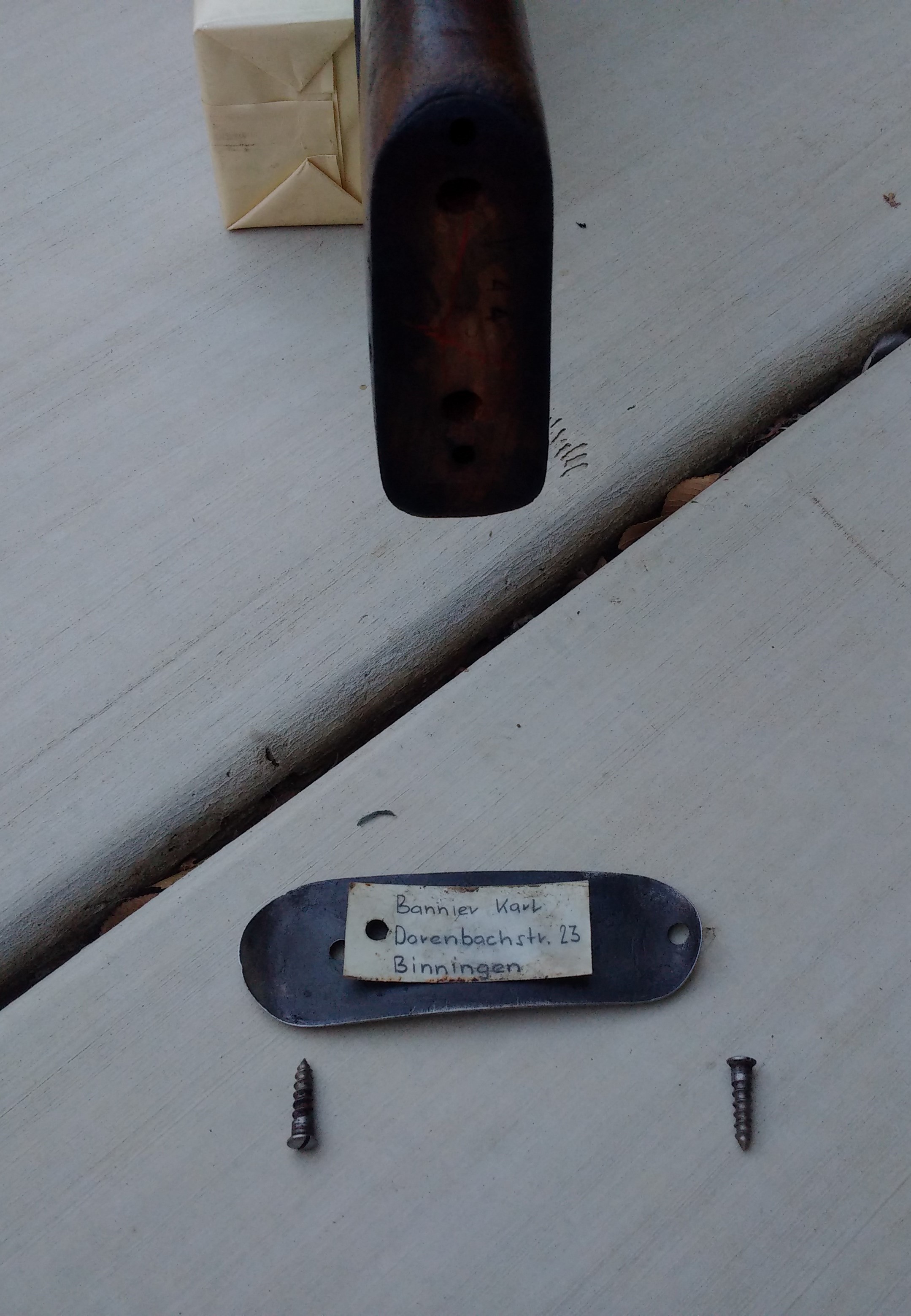 ***Housekeeping Alert!!***
Please note we have a new and improved
gmail
account
MoronGunThread
for sending in pics. Hopefully this will work going forward!! Thanks for your patience and please let me know if you have any more trouble (with the email, not your personal weirdness). Again, that's morongunthread at gmail dot com.
*************
If you care to share the story of your favorite firearm, send a picture with your nic and tell us what you sadly lost in the tragic canoe accident. If you would like to remain completely anonymous, just say so. Lurkers are welcome! Email: MoronGunThread at gmail
That's it for this week - have you been to the range?


posted by Open Blogger at
07:09 PM
|
Access Comments