ę Jackson Cosko, 27, Arrested by Capitol Police for Doxing Three Senators
|
Main
|
The Morning Report - 10/4/18 Ľ
October 03, 2018
Wednesday Overnight Open Thread (10/3/18 )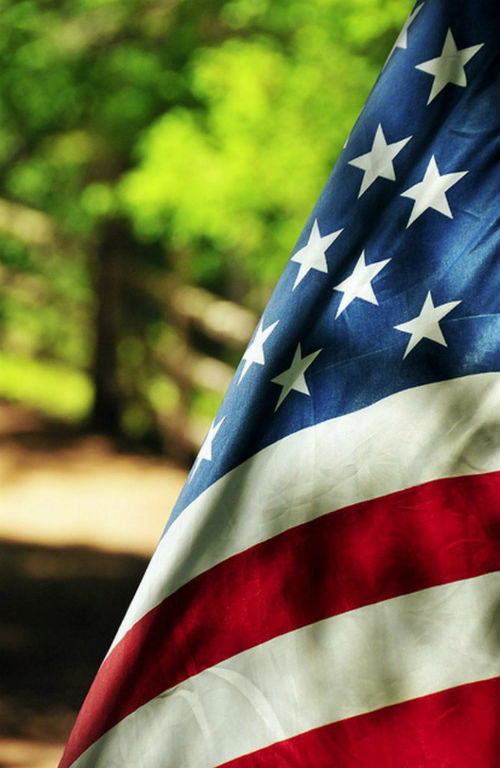 ***
The Quotes of The Day
Quote I

"Our lives aren't defined by our challenges. Instead, we get to define our lives by how we respond to those challenges," Gov. Greg Abbott (R-TX)

Quote II

Of all tyrannies, a tyranny sincerely exercised for the good of its victims may be the most oppressive. It would be better to live under robber barons than under omnipotent moral busybodies. The robber baron's cruelty may sometimes sleep, his cupidity may at some point be satiated; but those who torment us for our own good will torment us without end for they do so with the approval of their own conscience. They may be more likely to go to Heaven yet at the same time likelier to make a Hell of earth. This very kindness stings with intolerable insult. To be "cured" against one's will and cured of states which we may not regard as disease is to be put on a level of those who have not yet reached the age of reason or those who never will; to be classed with infants, imbeciles, and domestic animals. C.S. Lewis
It never hurts to rerun this quote.

Quote III

The spirit of the kangaroo court has since graduated into business and politics where it has proven especially useful for settling scores and advancing careers and agendas dishonestly. Coercion has replaced persuasion. Coercion is at the heart of totalitarian politics. Do what you're told, or else. Believe what we say, or else. (Or else lose your reputation, your livelihood, your friends….) This plays neatly into the dynamics of human mob psychology. When the totalitarians set up for business, few individuals dare to depart from the party line. It's the perfect medium for cultivating mendacious ideologies. James H. Kunstler

Quote IV

An appeaser is one who feeds a crocodile, hoping it will eat him last. Winston S. Churchill

Quote V

"For more than six hours, Ron bravely faced down the enemy," Trump said during remarks at the ceremony.

"Not a single American died in that brutal battle, thanks in great measure to Ron's heroic actions." President Donald J. Trump
***

Football season!!!! And a giggle or two.
***
I try to keep up with the news and current events. I didn't know that Mark Judge was nominated to be a SCOTUS Justice.

Supreme Court nominee Brett Kavanaugh's friend Mark Judge, the witness who Christine Blasey Ford claims was present when Kavanaugh allegedly tried to sexually assault her at a party in 1982, was a Gamergate supporter.

Judge wrote a now-archived article in 2015 called "Why Gamergate is Really About Political Correctness" that resurfaced via Twitter on Monday. In the article, the self-described journalist blasted Feminist Frequency host Anita Sarkeesian as a "bully" and ranted about the influence of "social justice warriors" in the gaming industry.

Ya know what? Big Fucking Deal
It is my understanding that there were a number of sexual assaults which took place in Arkansas between 1979 to 1981, and again from 1983 to 1992. Funny thing, Bill Clinton resided in Arkansas during this time. Coincidence?
***
***

Fix it again Tony. Alfa Romeo.

Our Alfa Romeo Giulia Quadrifoglio at 10,000 Miles Has Spent a Month in the Shop. When we have it, we love driving it. We just wish we had it more
***

Cops can use your smart phone's facial recognition.

"The next question is whether a person has a right against self-incrimination in providing the tool that law enforcement would use to search the device—a password or a fingerprint or a face," Nojeim says. "For the issue about whether you can be compelled to provide your fingerprint or your face, so far the courts are ruling that fingerprints and faces are not testimonial, and therefore there isn't a Fifth Amendment violation. In terms of whether compelled disclosure of a password is a violation of the Fifth Amendment, the majority of courts are saying it is."
***

Good Grief!!!! Recess might never be the same.


If you could go back 50 years, you'd see almost no kids wearing helmets as they zoomed around on bikes. So who knows if, 50 years from now, bareheaded kids on the playground circa 2018 might look crazily unprotected. If so, we may have one particular daycare in Canada to thank for igniting the trend. Global News reports:

An Edmonton daycare is defending a policy that may raise a few eyebrows. It has asked parents to bring a helmet to protect children in its playground.

The policy also states it is the parents' responsibility to provide a helmet and to upgrade it in order to fit their children's growing needs. "You feel like you protect the child," daycare owner Mircea Bailesteanu said.
***
Autumn, a lovely time of year. Some places to check out if you have time for an autumn sightseeing vacation.
***

I was recently given a "Time-out" by Twitter. I probably could have avoided the time out if I had called upon certain people to die horrible deaths and feeding them to swine.

Georgetown University Distinguished Associate Professor Christine Fair tweeted that white Republican senators in the Brett Kavanaugh hearing deserve to die.

"Look at thus [sic] chorus of entitled white men justifying a serial rapist's arrogated entitlement," Fair tweeted on Thursday. Referencing a video of "Lindsey Graham's tirade," Fair, who is a victim of sexual assault, added, "all of them deserve miserable deaths while feminists laugh as they take their last gasps."

"[A]ny of her students that see this rant are going to feel threatened if they have opinions that differ from hers."

"Bonus: we castrate their corpses and feed them to swine? Yes," she concluded the tweet.


Hi Mis. Hum.,
Your account, @MisanthropicWi has been locked for violating the Twitter Rules.
Specifically for:
Violating our rules against hateful conduct.
You may not promote violence against, threaten, or harass other people on the basis of race, ethnicity, national origin, sexual orientation, gender, gender identity, religious affiliation, age, disability, or serious disease.

Good to know what I can do from now on. Guess I'll be careful on calling out cucks being f*cking retarded.
***
Speaking of retarded shit, One needs a score card to keep track of who has been practicing "trans-exclusionary" politics.
Controversy has been brewing among feminist over the use and significance of the term "TERF." The acronym stands for "Trans-Exclusionary Radical Feminist" and the term, as well as the ideology it represents, have become points of contention in the new age of "intersectional feminism." Campus feminist groups reached out to by The College Fix, meanwhile, are largely lining up on one side of the issue.

Transgender ideology holds that men who "identify" as women are actually women and should be treated as such, and vice-versa. So-called "trans-exclusionary" feminists, on the other hand, believe, according to a report from Inside Higher Ed, that "the interests of cisgender women (those who are born with vaginas) don't necessarily intersect with those of transgender women (primarily those born with penises)."
***
The ONT Musical Interlude
October 3, 1949, Born on this day, American musician, singer, songwriter Lindsey Buckingham from Fleetwood Mac who had the 1977 US No.1 single 'Dreams' from the world wide No.1 album Rumours. Buckingham was one half of the duo, Buckingham Nicks and aside from his tenure with Fleetwood Mac, Buckingham has also released six solo albums and three live albums. via thisdayinmusic.com
October 3, 1954, Born on this day, Stevie Ray Vaughan, guitarist. He was killed in a helicopter crash on August 27th 1990. His family successfully sued the operators of the company for allowing an unqualified pilot to fly in fog and were awarded $2 million (£1.2 million). Vaughan played guitar on David Bowie's Let's Dance album. via thisdayinmusic.com
October 3, 2000, The Cars singer and bass player Benjamin Orr died of cancer at home in Atlanta at the age of 53. Sang lead vocals on the bands hits 'Just What I Needed', 'Let's Go' and 'Drive'. via thisdayinmusic.com
***
Attempting to be relevant, it appears that Baldy McMuffin has gone down on Skipper Biff Kristol one too many times.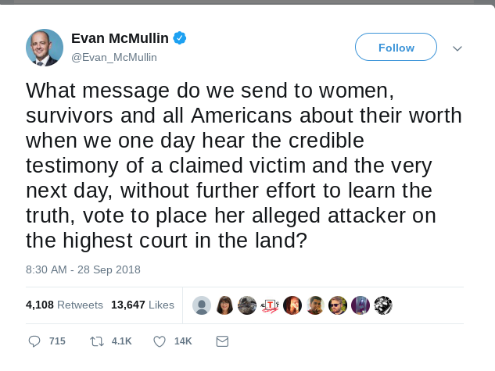 Hey Never-Trumpers, Once upon a time, Crystal Mangum was a credible woman as well.
***
Part of me says, Maybe your kid had it coming. The other part of me says, there goes my chance of being a SCOTUS justice nominee.

"If I canít trust the school system, you know, who can I trust?"
If you trust government education, you are a fool.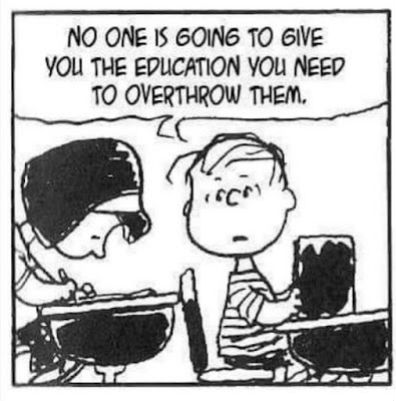 h/t Hank Curmudgeon
***

Big wheel crossed with a go-cart.
***

The world isn't perfect, never has been, never will. Although Capitalism isn't perfect, it is the best economic system the world has ever known. "If the Point of Capitalism is to Escape Capitalism, Then What's the Point of Capitalism?
What Would Happen if We Gave Each Other the Things Capitalism Tells Us to Keep From Each Other?"
***
Love means never having to say you're sorry or asking for directions. Genius Award Winner.

BOULDER, Colo. (AP) — A Texas man found a scenic location in the Colorado mountains to propose to his girlfriend, but the couple ran into trouble on the way down.

The Boulder County sheriff's office says 27-year-old Joshua Mason of Denton, Texas, took 28-year-old Katie Davis on a hike Saturday to Jasper Peak at an elevation of nearly 13,000 feet (4,000 meters).

They got lost as darkness fell.
***

A son gets to be reunited with his father. Tonight's Feel Good Story of The Day.
***

Tonight's ONT has been brought to you by Caring Co-Workers.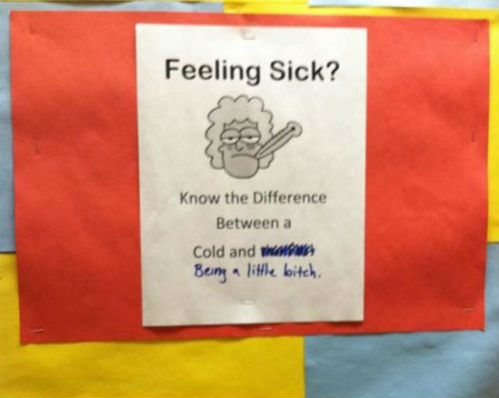 Notice: Posted with permission by The AceMedia Empire and AceCorp, LLC. Toll free reservations and cardboard subscriptions are available upon request.


posted by Misanthropic Humanitarian at
10:00 PM
|
Access Comments