« Food Thread: It's The Rice, Stupid!
|
Main
|
Sunday Overnight Open Thread (9/30/18 ) »
September 30, 2018
Gun Thread: So You Want to Buy a Gun [Weasel]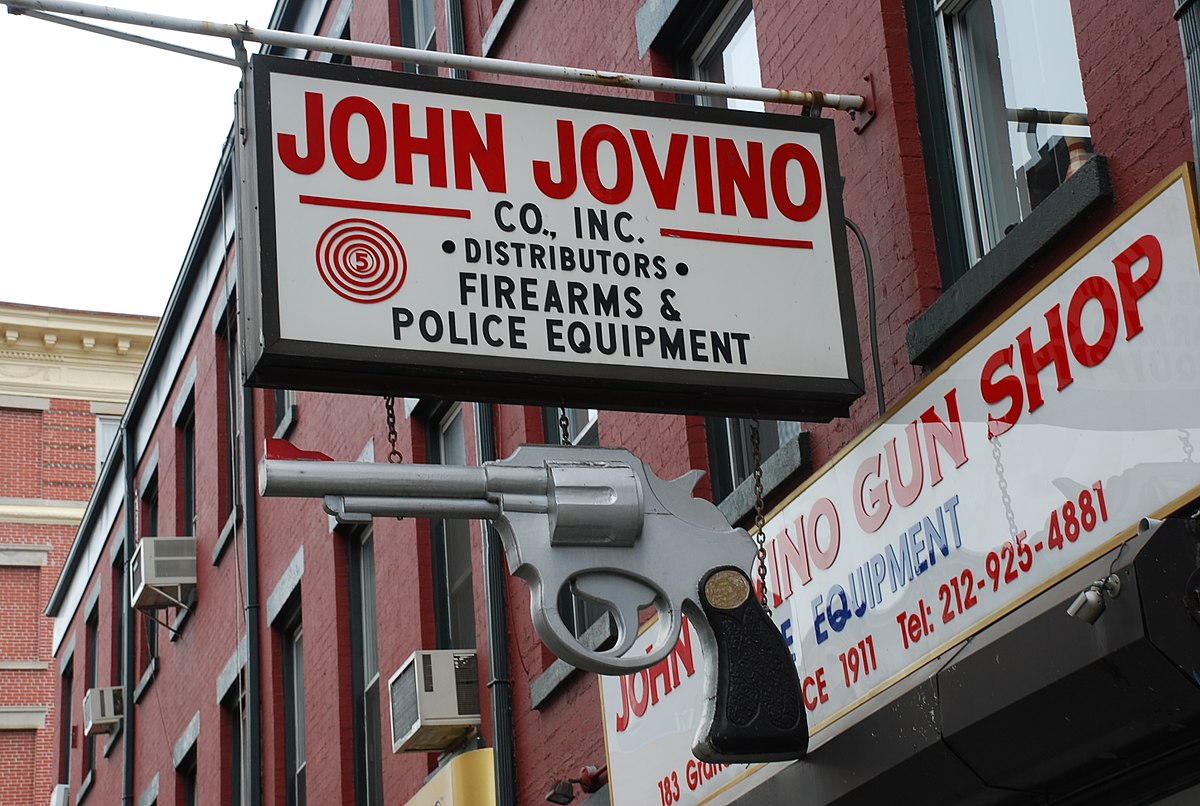 John Jovino Gun Shop, New York, NY
So you have decided, for any one of a number of great reasons, to buy a gun.
Now what do you do?
Gun ownership is a big responsibility. Used and cared for responsibly, firearms can be a great deal of fun and incredibly useful tools. However, if handled carelessly, let's just say that guns can be very unforgiving.
Well, that's scary! Now what do you do? Of course you still buy the gun, you just mitigate the risk by following some pretty simple, tried and true safety rules which are, in a nutshell: don't be stupid or careless. And whatever you do, don't be stupid and careless at the same time. Contrary to what the anti-gun zealots would have you believe, only very rarely do guns just jump up and start shooting all by themselves without at least a little help from people. A healthy dose of common sense and respect will go a long way in making your gun ownership experience pleasant and uneventful.
So what are these rules? Essentially, don't point a loaded gun and then pull the trigger, at anything you do not intend to kill. See? Easy peasy!
On more than one occasion someone has mentioned here they're interested in joining the extremist right-wing gun culture, or are at least extremist gun-culture curious, but are unsure how to transition from being a normal person into a dangerous homicidal maniac. What to do? How does one enter this dark and seedy underworld?
Get Some Actual Help
My very first handgun purchase was a four step process:
1) walked into the gun store
2) peeked inside the display case
3) pointed to a handgun
4) said "I'll take that one"
Prior to this I'd had very little experience with firearms, having only been to a range a few times, but that's pretty much what I did. Looking back, steps 1 thru 3 were OK, but there should have been a little more to the process before getting to number 4. Whether you are completely new to firearms or have some experience, if at all possible, take an introductory or a refresher class. Virtually all gun shops offer classes and they are geared towards the fundamentals with an emphasis on safety. After you know the routine at the range, you can go back and rent different guns before you decide what to buy, if you decide to buy anything at all. Find out which days and times are the least busy at the shop, and plan your visits for when the staff has more time to spend answering your questions. If you don't like the attitude you get at a particular shop, then go talk to their competitor. Another option is to become bestest buddies with someone who is a gun owner and go shooting as their guest. Both of these options will serve you well, and your personal circumstances will dictate which one you are most comfortable with. You can even do both! Ultimately, you will be better equipped to make an informed decision, and possibly avoid an expensive mistake by learning if guns and shooting aren't your thing (weirdo).
So Shut Up and Tell Me Which Gun to Buy
Sorry, no can do. And if someone tells you Model X is absolutely the one for you, then they're probably full of shit. Think of it as learning to drive and then buying a car. Only you can decide which one feels right, and that you enjoy using, and which falls within your budget. Also, do yourself a favor and start small, caliber-wise, as you begin your shooting career. You can always go bigly later. I'd suggest at the most a 9mm pistol or .38 Special revolver. The .22 remains a popular choice for learning the fundamentals and without worrying about recoil, and that's where I almost always begin when helping a new shooter. Finally, listen to recommendations but try as many guns as possible before you decide which one is right for you. Depending on a number of factors, two firearms in the same caliber might have a completely different feel.

Go to the Range!!
Here's a great website by the National Shooting Sports Foundation (NSSF) which is the primary trade association for the shooting industry: Welcome New Shooters
It has a number of introductory videos tailored for new shooters, and is well worth your time if you're considering a trip to the range for the first time.

For Discussion
There are many compelling reasons to own a firearm, and they generally fall into two broad categories; self-defense and sporting purposes. Some firearms can do a good job at both, while others are designed for a specific purpose. If you could only have one firearm, which one would it be, and why?
*************
- This Old Metallic Cartridge -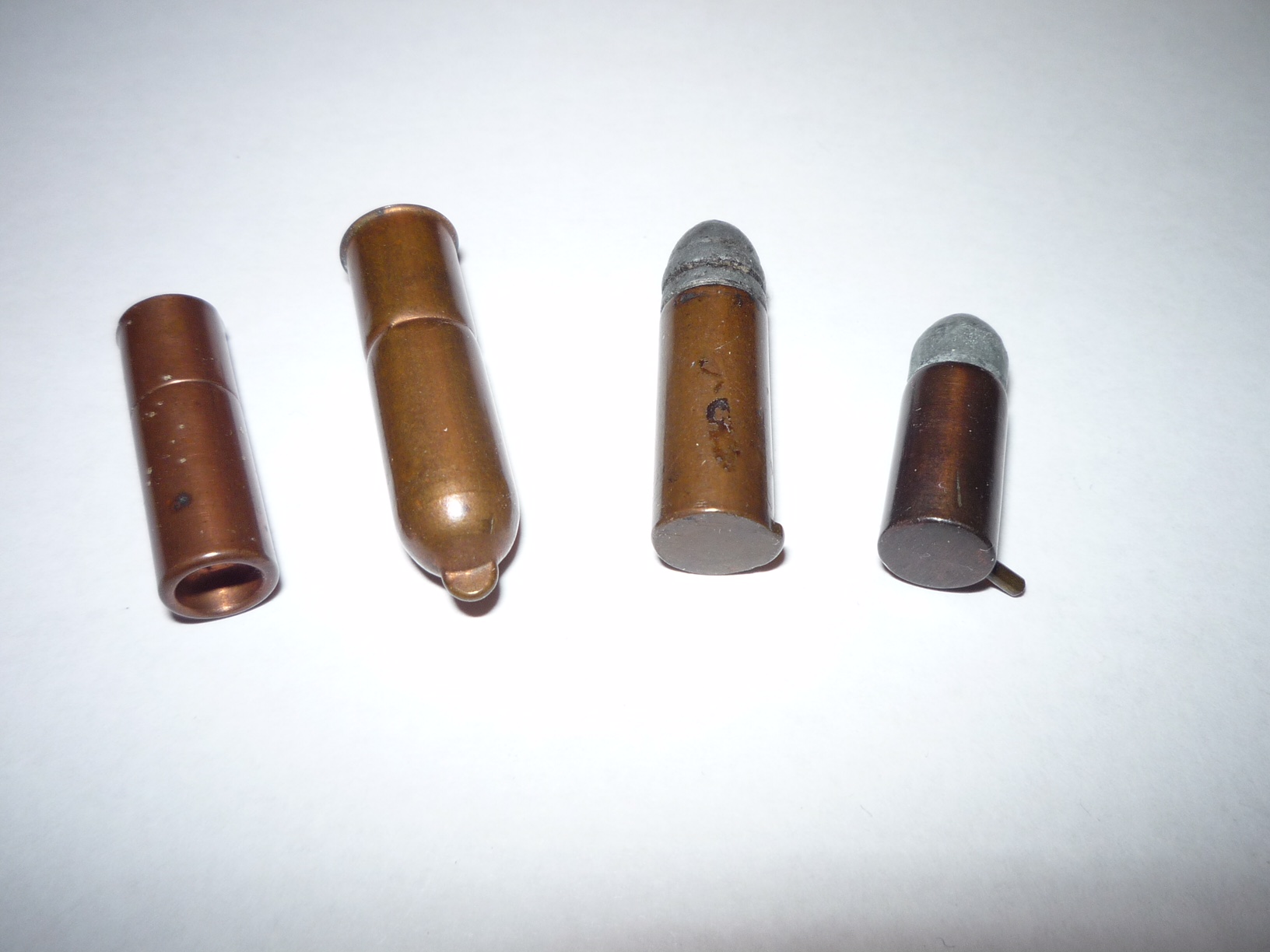 Metallic Cartridges
This week brings us something very cool and very different from commenter neon madman who has a collection of cartridges containing several hundred individual specimens. Pictured above are 4 early forms of self-contained metallic cartridges, from left to right; .30 cup-fire, .32 teat-fire, .32 lip-fire, and a 7mm pinfire. (heh heh heh he said teat!)
Thanks neon madman! They were all new to me!!
*******
If you care to share the story of your favorite firearm, send a picture with your nic and tell us what you sadly lost in the tragic canoe accident. If you would like to remain completely anonymous, just say so. Lurkers are welcome! Email: guns at happyplacearsenal dot com
That's it for this week - have you been to the range?

posted by Open Blogger at
07:20 PM
|
Access Comments