« STOP THE PRESSES!
|
Main
|
Gun Thread: So You Want to Buy a Gun [Weasel] »
September 30, 2018
Food Thread: It's The Rice, Stupid!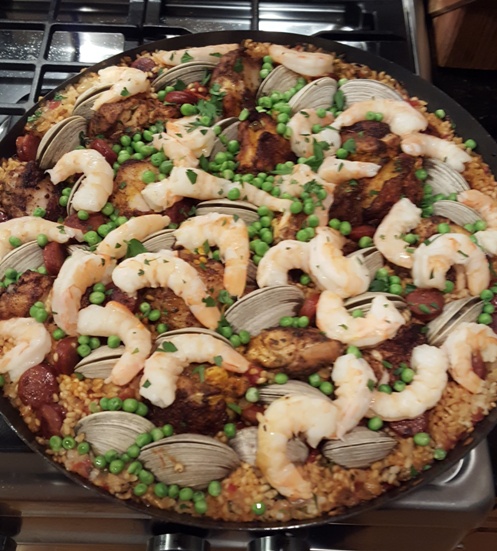 Paella is really just rice with...stuff. And while most paella is damned good -- because that stuff is usually yummy foods like chicken thighs and shrimp and clams and rabbit and snails (yup!) and sausage and...well, you get the picture -- the rice has to be good too. And that's the challenge of paella! Because it's not cooked in a closed and easily controllable environment like a pot with a lid or, for you cheaters out there, a rice cooker.
No, it's cooked on a stove or a grill or an open flame, and the rice cooks in a combination of water (or stock) and the juices from the other ingredients. So recipes are useful, but there is still some observation and improvisation necessary to make a great paella. The bad news is that it's sort of tough to do, but the good news is that as long as the rice isn't underdone, it's going to taste just fine. Maybe not perfect, and redolent of a summer night in Valencia with nubile young Spaniards dancing around the fire, but still...pretty flavorful.
One other thing about paella that many people don't realize because it is primarily a restaurant dish, is that it doesn't have to be filled with expensive ingredients. Sure, shrimp and clams and lobster and other treats are great, but chicken thighs and some sausage work damned well too. So don't be intimidated by fancy ingredients. Just put in what you like, have on hand, can afford, or can get your dinner companions to bring!

******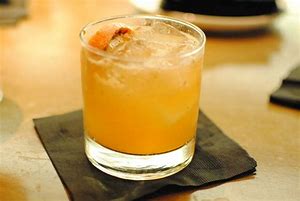 I had this cocktail a few weeks ago, and then again a few days ago. I really enjoyed it as an interesting alternative to a Margarita, in part because Mescal has an interesting flavor, and because most restaurants don't make Margaritas particularly well. The original recipe called for club soda, but I think simply shaking in ice is a better idea. And of course I will play with the proportions. It looks like it needs more Mescal!
The Paloma


2 ounces Mescal

2 ounces grapefruit juice

1 tablespoon lime juice

1 teaspoon sugar

Grapefruit wedge
Combine the Mescal, the grapefruit juice, the lime juice and the sugar and stir until sugar is dissolved.
Shake with ice, pour into lowball glass and garnish with wedge of grapefruit.
******
At first glance I wasn't thrilled by this recipe, because what the hell are sesame seeds and, even worse, poppy seeds doing on pork tenderloin?
Everything-Crusted Pork Tenderloin
But then I read on and saw that the recipe was spot-on for temperature, so I figured they weren't complete idiots. And, after all, pork tenderloin is a pretty mildly flavored cut, so why not jazz it up with some interesting flavors. The recipe is solid, so even if you leave out the poppy seeds (shudder), it should be good.
******
One of the things that has made cooking more pleasant for me has been the evolution of my basic technique. Knowing how to do a bunch of simple tasks in the kitchen really smooths out most recipes, and makes cooking more fun and satisfying. But sometimes chefs and food writers get too wrapped up in those techniques and lose sight of the reality, and that is that most people do not have an unlimited amount of time to spend in the kitchen.
Here is a great example of the problem: How to Slice and Dice an Onion. This calls for three different cutting planes, bizarrely ignoring the fact that an onion is finely layered and will provide the division along one plane. I really don't get it, but then, I'm a Moron, not a food writer.

******
Why yes, this recipe calls for chicken thighs, which is the best part of the chicken (and pretty much the cheapest too!), and something that I am cooking more and more these days. And this recipe has a really interesting technique, so that combination caught my eye. I'm not a huge fan of coconut, especially in sweets, but it goes so well with curries that I will allow it in my kitchen for this dish.
Coconut-Curry Braised Chicken Thighs
I apologize for that really irritating website. I do not understand why reasonably sane people listen to web designers instead of just cuffing them on the head and saying in a stern voice, "Do not irritate our readers!"
******
Food and cooking tips, Haggis, Henry Big Boys in .357, Scotch Eggs, thick and fluffy pita and good tomatoes that aren't square, pale pink and covered with Mestizo E.coli:
cbd dot aoshq at gmail dot com
. Any advocacy of French Toast with syrup will result in disciplinary action up to and including being
nuked from orbit.
&topic=world_news">

posted by CBD at
04:00 PM
|
Access Comments