« Breaking: Kavanaugh's Accuser Says She Won't Testify Until The FBI, Which Has Already Declined to Investigate Her Non-Federal-Jurisdiction 37 Year Old Allegations, Completes Its Investigation, Sometime After a Democrat is President
|
Main
|
The Morning Report 9/19/18 »
September 18, 2018
Tuesday Overnight Open Thread (9/18/18 )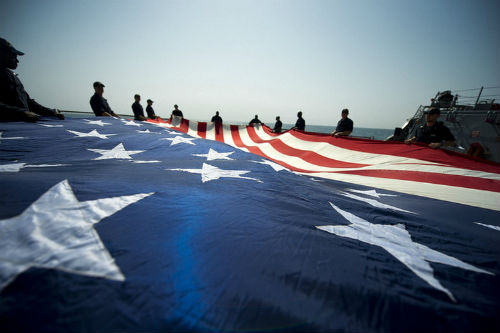 ***
The Quotes of The Day

Quote I

We just starve little children, we go bomb houses.Sen. Bernie Sanders, Politburo (I-VT)

Quote II

"The government's abject failure – and the huge risk we face of a bad deal or a no-deal Brexit – means that giving people a fresh say is now the right – and only – approach left for our country." London mayor Sadiq Khan

Quote III

"Irony is just honesty with the volume cranked up." George Saunders
***
Bad behavior. Very bad behavior has cost a scientist big time.

The Me Too movement has toppled Hollywood executives, pundits, and bureaucrats since it burst onto the scene last year. Prompting a government agency to rename a geologic landform, however, may be a first.

Last week, the United States' Board on Geographic Names quietly decided that Antarctica's Marchant Glacier would now be called Matataua. A 7 mile-long ice stream located in eastern Antarctica's Victoria Land, the glacier was originally named after Boston University geologist David Marchant in 1994. The change comes nearly a year after a BU-led investigation concluded that Marchant sexually harassed former graduate student Jane Willenbring in 1999 and 2000 while the two were doing fieldwork in Antarctica.
***

Perhaps the United States should emulate the EU in this matter. The EU to stop time changes. No more Spring ahead and Fall behind.

The EU is doing away with the twice-yearly clock changes and has given member states until April to decide if they will remain on summer or winter time. But there are fears Europe is heading for time-zone chaos.
***

Just when you think the Europeans have gained some common sense, they go full Snowflake.

Police in a United Kingdom precinct are urging residents to call for help when they feel insulted.

Or hurt.

Or slighted.

In a world where "snowflakes" regularly complain of "microaggressions" such as addressing an audience "ladies and gentlemen," the South Yorkshire Police are encouraging people to "put a stop" to hate and report what they have loosely defined as "non-crime hate incidents."
Piss off bloody wankers.
***

Follicly challenged? Bizarre cures for baldness.

Since the dawn of time, a problem has haunted a section of mankind. They just can't stop their hair from falling out. With the hair loss industry estimated to be worth almost $3 billion, it is little wonder that many people have invented weird and wonderful treatments for this perpetual problem.From the ancient Egyptians to modern man, many have tried and failed to stem the ravages of time and keep the hair on their heads. Maybe these bizarre cures didn't work, but you have to admit they were creative.
***

Kiddie porn, bestiality. One sick individual.
***

You can't fool Mother Nature, But, boys can't be boys to the left.

A new University of Michigan study urges preschool teachers to avoid saying "they're just boys being boys" or to remind girls to have "good manners," lest those teachers accidentally "contribute to gender inequality in early childhood."

Heidi Gansen — who previously was awarded by the American Sociological Association for her research on "heteronormativity" in preschools — published her latest study in the new issue of the journal Sex Roles.
***

Remember when cars were cool? Why be cool when you can be Uncle Sam's spoiled nephew?


Cars are supposed to transport us – not parent us.

The government disagrees, of course. That's not new. Uncle has been working hard to parent grown adults since at least the 1960s, when it first got into the saaaaaaaaaaaaaaaaaafety business.

Which of course is really the control business – and that business is as old as government itself.

Saaaaaaaaaaaaaaaaaaafety is just the excuse, the window dressing – the curtain behind which lies Oz.
***
Are you a blade man? Do you have an extra $150 burning a hole in your pocket? Gillette has the razor for you.

It achieves that through some clever—and yes, safe—engineering. In fact, the most surprising thing about the Heated Razor may be how closely it resembles a more traditional model. At a glance, the cartridge looks quite a bit like other top-end Gillette options, and while the handle appears to add a little bit of bulk to accommodate the heating element, it's still in line with what you're used to.
***

Do as I say, not as I do. The Left and their global warming bullshit continues.

PRIVATE JET TRAFFIC BUMPED UP 30 PERCENT DURING CALIFORNIA CLIMATE CONFERENCE

San Francisco International Airport's corporate jet traffic rose roughly 30 percent during an international climate change conference in California, the San Francisco Chronicle reports.
***
The ONT Musical Interlude
September 18, 1970, Jimi Hendrix was pronounced dead on arrival at St. Mary Abbot's Hospital in London at the age of 27 after choking on his own vomit. Hendrix left the message 'I need help bad man', on his managers answer phone earlier that night. Rumors and conspiracy theories grew up around Hendrix's death. Eric Burdon claimed Jimi had committed suicide, but that's contradicted by reports that he was in a good frame of mind. In 2009, a former Animals roadie published a book claiming that Jimi's manager had admitted to him that he arranged the murder of Hendrix, since the guitarist wanted out of his contract. via thisdayinmusic.com
**
September 18, 2006, 73 year old country singer Willie Nelson and four members from his band were charged with drug possession after marijuana and magic mushrooms were found by police on his tour bus. Police had stopped the tour bus near Lafayette, Louisiana. via thisdayinmusic.com
**
***

Part Midas, part shit. Genius Award Winner.

A man has been arrested by the Customs department at the Indira Gandhi International (IGI) airport here for allegedly trying to smuggle in one kg gold by hiding it in his rectum, an official statement said Wednesday.

The 24-year-old passenger was intercepted upon his arrival from Dubai on Monday, it said.

On detailed baggage examination and personal search, it was discovered that the accused had hidden nine gold bars, weighing 1.04 kg, inside his rectum, the release said.
***

Normally closed on Sunday, not when it really mattered the most. Tonight's Feel Good Story of The Day.
***

Tonight's ONT has been brought to you by Plumbing Advice.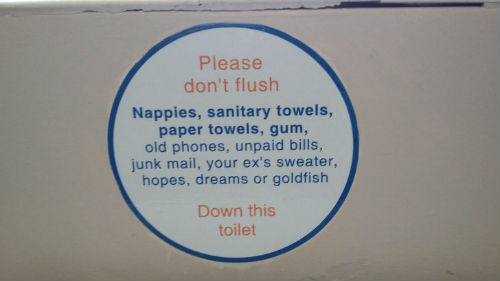 Notice: Posted with permission by The Ace Media Empire and its subsidiary AceCorp, LLC. The ONT may or may not be hazardous to your health.


posted by Misanthropic Humanitarian at
09:58 PM
|
Access Comments