« Tuesday Overnight Open Thread (9/18/18 )
|
Main
|
Mid-Morning Open Thread »
September 19, 2018
The Morning Report 9/19/18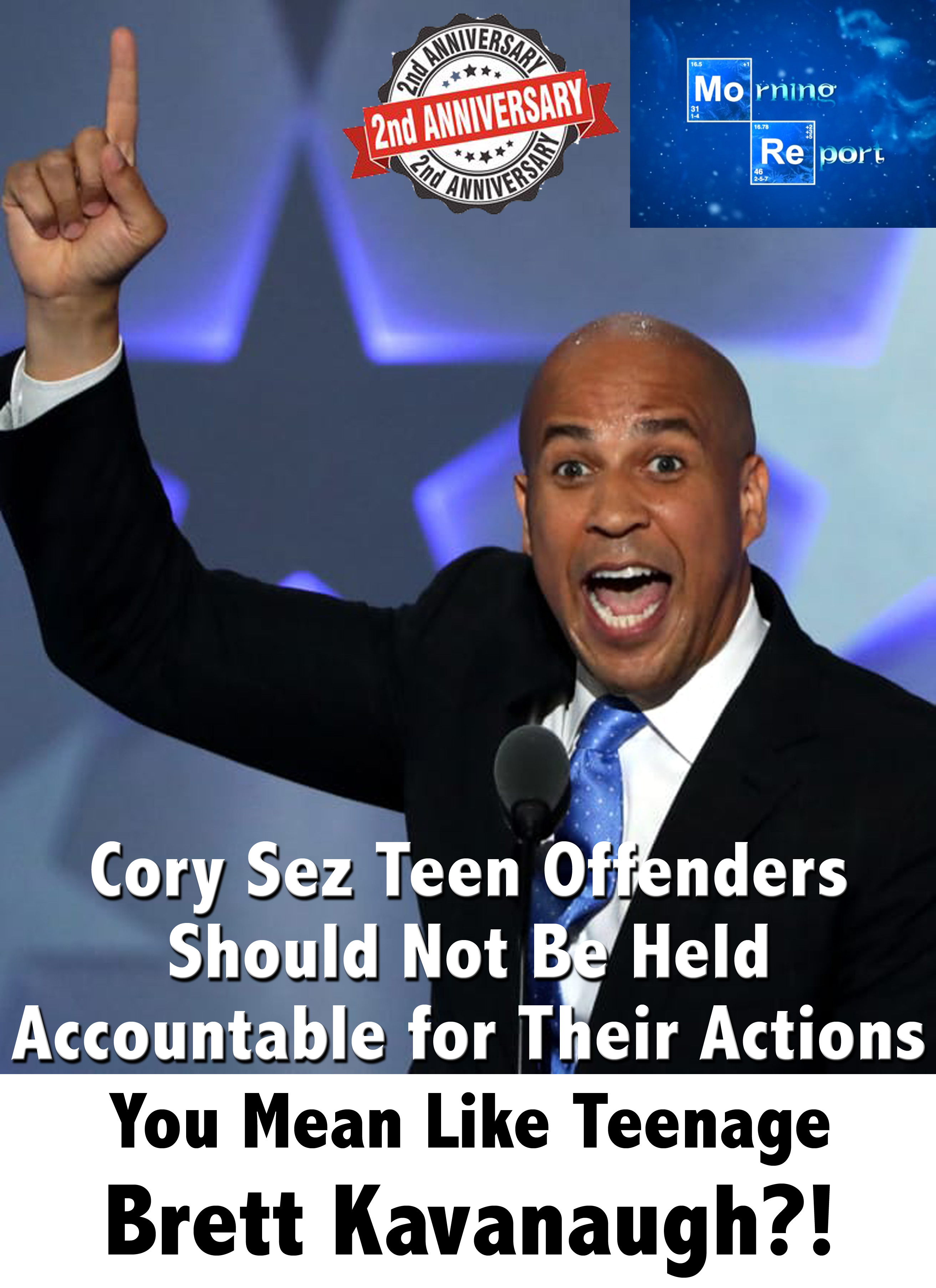 Good morning kids. Mid week and before we delve into the Kavanaugh sabotage disgrace, the other big story that is flying somewhat under the radar is the reaction to the the President's announcement that he is going to declassify documents relating to the FBI/DoJ manufactured witch hunt against his campaign and his nascent presidency (and still going strong in virtually all quarters of the bureaucracy per Project Veritas' latest revelations). The usual suspects - both figuratively and literally - are blasting the President's move as an abuse of power, threat to national security, obstruction of justice, blah blah blah, etc. That can only mean one thing; he's directly over the target and the documents will prove to all who have eyes to see and even the tiniest scintilla of a brain cell to reason that all the charges against him are a lie and that those who are screaming the aforementioned the loudest are themselves the guilty parties. Lee Smith at The Federalist lays out a fascinating unraveling of how in the waning days of the Obama Tyranny the strategy went from offense to defense, vis a vis preserving the Iran sellout and then sabotaging preventing President Trump's scrapping of it. Meanwhile, Robert Mueller is yet again trying to usurp executive branch authority by undercutting his boss' - that is, President Trump's - ability to issue a pardon to Paul Manafort. I'd say, who the hell does he think he is when, in point of fact, he has built his entire career and lived his life believing that of the American people 24/7/365. If there is a G-d in Heaven, I pray he sees fit to have Mueller thrown into the general population of a Federal prison, preferably the same one he tossed innocent people into to protect Whitey Bulger.
Now, on to the more or less main event. I am not going to go into any more details about this Accuser/Liar Ford's charges although in the RUFKM Dept., I find it interesting (read "disgusting") that the strident Leftist hack shyster who is representing her represented both Al Franken and Bill Clinton. And you'll be surprised, I'm sure, to learn of Accuser/Liar's interesting connections to Nazi collaborator George Soros and that the latter's minions are preemptively handing out bail money to rent-a-mob protestors in the event they get pinched.
It is now obvious that this woman is a paid liar in service of the Democrat-Left-Media complex. The parallel strategic goals are to sabotage Trump, fire up the base in order to protect the political hides of the old guard (Feinswine, Schemer, etc.) from the Maoists on the rise, pressure Trump into replacing Kavanaugh with a Bader-Meinhoff clone, and if successful hold onto their most powerful instrument of illegitimate policy implementation as well as in their mind fire up their base for the "Blue Wave."
From our perspective, the GOP leadership and key players including Jeff Flake of all people have apparently had it up to here (I'm pointing at my receding hairline [scalp, not crotch]) with this crap. Look, Feinswine herself is backtracking faster than a tobacco auctioneer on whether Accuser/Liar Ford is truthful or not, despite the Dems insistence on no vote until the FBI finds Kavanaugh guilty, the FBI - which has no jurisdiction on this whatsoever - has declined to investigate this, and Accuser/Liar Ford is not going to testify on Monday. Bearing all of this mind, then for the love of all that is good, Senators Grassley and McConnell should announce that the Monday additional hearing and flea circus is cancelled and that a vote in front of the full Senate will take place on Thursday.
If they do not do this, and if they allow Monday to happen (despite the optics being even worse for the Dems than they were the first time around) and if Kavanaugh is either stonewalled until after November or even until after 2020, the GOP is going to get wiped out in November. Worse than that, the Dems will now have a free pass to do this and get away with it from now on. Again, I call on Grassley and McConnell to end this garbage here and now. If you do that, I can almost guarantee a Red Wave come November. Assuming that that really is what they want, and the jury is out on that.
Last, but not least, in the REALLY R-U-F-K-M Dept., when I saw the link by Jeffrey Lord over at American Spectator my jaw just hit the floor. Cory "Blucher" Booker, the closet(ed) organizer is either utterly clueless or is a chutzpadik of such titanic radiance that it staggers the imagination, even for a Democrat (I know; embrace the power of "and"). On the verge of proclaiming himself "Spartacus" in his opposition to Brett Kavanaugh, and then as everyone in his party is seeking to destroy this good man over something that he allegedly did as a teenager, what does Booker go and do? Announce that he is sponsoring legislation to mandate leniency for teen offenders.
...If one assumes that Christine Ford's account is accurate, it happened for one reason -- the reason that no less than Cory Booker himself has -- truthfully -- asserted. Again, that is this:

Studies of youth brain development have found that the decision-making functions of the brain do not fully develop until much later than was previously believed to be the case. Despite this, some states still try 17-, and even 16,-year-olds as adults by default.

In other words? The activities of a 17-year-old Brett Kavanaugh, not to mention 15-year-old Christine Blasey, were the result of immature teenagers whose "decision-making functions" were impaired to begin with because they had brains that were not "fully" developed. Not to mention that if Booker is literally sponsoring legislation that would make it the law of the land to seal youthful criminal records, there is no way that Ford's 36-years later allegation -- when no charges were even filed in the day -- should be relevant in the first place..."
Well done, Senator Booker. You're not only a despicable egomaniac but you have just confirmed yourself to be dumb as a stump. Possibly lower than a Joe Biden-level functioning imbecile. Would be nice if the GOP made some hay out of this.
Moving along to the political scene, looks like Doomberg and possibly Hickenpooper and even the Wookie with the killer triceps are eyeing a 2020 run (the latter two are not in the links), the RNC is worried that GOP voters may not turn out because they think the midterms are in the bag, Virginia students evidently never heard of Kasich's father and a big "OK" for Loopy Ocasio-Fiasco.
On the Amnesty scene, the Feds are being forced to release illegal kiddie border jumpers to illegal alien felons (why?), chain migration is a freaking disaster of a time bomb and that ultimately leads to fundamentally transforming our nation. Which is a big Leftist wet dream.
Internationally, Whoa, Fat! is once again singing PDT's praises, crisis possibly averted in Syria, the Chi-Coms retaliate with $60 billion in tariffs, IBD analysis of China vs US in a trade/tariff war, Putin doesn't blame the Jooz for controlling the weather and Syrian SAMs (but mostly Syrian SAMs), a shocking yet unsurprising video from a UK sharia law no-go zone (y'know, the ones that don't exist), and PDT putting the screws to Iran is already paying big dividends.
In First Amendment, AgitProp and Censorship, interesting take on Google becoming the Chi-Com Stasi, Daniel Greenfield shreds the Trump killed 3,000 in Puerto Rico bromide, NPR attempts to sabotage promo efforts for the "Gosnell" movie (why have we NOT defunded NPR yet?), Vanderbilt Poofter is all wet, Brett Kavanaugh's wife is a class act, and more on the Wa-Po's border passport fiction.
Domestically, as the GOP dithers on Brett Kavanaugh, they manage to pass a titanic spending bill so fast that if you blinked, you missed it, Planned Parenthood's new prexy spews lies on The Yenta Patrol, aka The View, and Hurricane Florence defies the Global Warming fraudsters' "science."
From hither and yon, Rozelle, Cosell and Dandy Don are rolling in their graves as Monday Night Football craters to a new low for week 2, an essay on Feminazi male-blaming for doing the Fluke, and the insane corporate culture at Google.
On a point of personal privilege, today marks the 2nd Anniversary of The Morning Report. Thank you to Ace for affording me the privilege to be here, the Cobs for all their support and to all of you who come here, comment and make it all worthwhile.
Anyway, links from around the world, across the nation and up your street. Have a better one and remain blessed.
SPYGATE, MUELLER WITCH HUNT, DEEP STATE, COUP

posted by at
07:38 AM
|
Access Comments