« An American's Reading List: What Should Everyone Read?
|
Main
|
Gun Thread: 357 Magnum - Bigger is Better! [Weasel] »
September 16, 2018
Food Thread: I Will Never Sour On Sourdough, And Other Stories From My Kitchen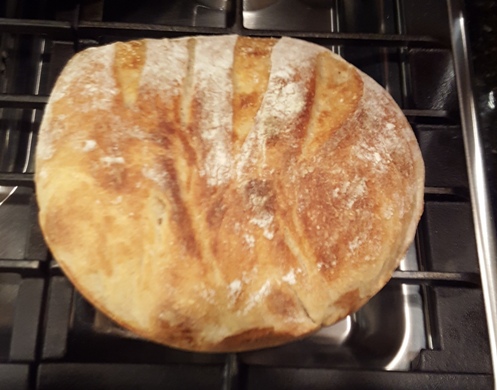 I lived in the San Francisco Bay Area for a long time, so I have a soft spot in my heart (and palate) for its finest product; sourdough bread. Even the mass-produced stuff from the big bakeries was spectacularly good, and the local bakeries would occasionally produce ethereal loaves that were difficult not to eat in one sitting...or on the way back from the shopping trip.
Making sourdough is not quite as easy as the bakers writing cookbooks would have us think. The suggestion that the perfect ratio of yeast and bacteria can magically appear in a homemade sourdough starter is a bit silly. Sure, if you are lucky it will work, but sometimes it just doesn't work out. And even if you do get the right ratio of lactobacillus bacteria (they eat sugar and shit acid) and yeast (they eat sugar and shit CO2), you still have to keep it going, and that takes work.
So my years-old sourdough starter was a bit long in the tooth, and my attempts to revive it didn't work as well as I had hoped. The dough I made a few days ago simply did not rise. At all! Luckily it was a wet dough, so I figured I could make a slurry of yeast and water and mix it again. It worked, and I got a very nice dense loaf of sort-of-sour bread. I am pleased with the results, but it certainly isn't going to make those glorious San Francisco bakers worry about East-Coast competition.
******
Rotisserie chicken is one of the glories of cooking; simple, delicious, and wonderful to look at! I made it several days ago, but neglected to photograph the finished product. However our resident kitchen genius artisanal'ette sent me a photo of her efforts, and damn! They look great!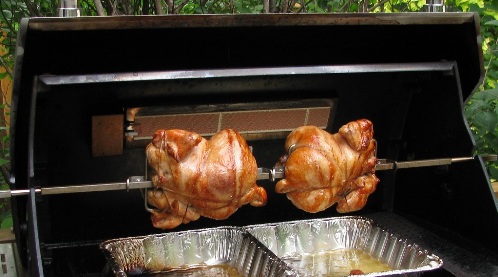 All I did was heavily salt a good quality chicken (Kosher salt of course) and then let it sit for a day. Then a few hours before cooking I dried it off and placed it on a rack in the refrigerator to dry a bit so that the skin would have a chance to get crispy. I stuffed the cavity with a handful of fresh thyme and a scrap of onion, and then I trussed it using Jacques Pepin's wonderfully simple technique. As for cooking temperature? Probably about 375 degrees, because the chicken took more than one hour to cook.
If you have a rotisserie by all means play around with it. Chicken is the obvious dish, but a bone-in pork roast is a revelation...crispy on the outside and wonderfully juicy and tender on the inside.

******
******
We can feed the world, if only the lunatic murdering Leftists would let us.
Europe's Anti-GMO Stance Is Killing Africans
They are watermelons...green on the outside and red on the inside.
******
This is a fancy way of telling you how long and at what temperature you must heat the chicken to kill what wants to kill you, or at least make you feel like you want to die.
USDA Times and Temperatures to Obtain 7-log10 Lethality of Salmonella
Temperature Holding Time
136°F (58°C) 81.4 minutes
140°F (60°C) 35 minutes
145°F (63°C) 13 minutes
150°F (66°C) 4.2 minutes
152°F (67°C) 2.3 minutes
155°F (68°C) 54.4 seconds
157°F (69°C) 34 seconds
160°F (71°C) 16.9 seconds
162°F (72°C) 10.5 seconds
165°F (74°C) <10 seconds
What this means is that you can cook poultry so that it is perfectly done and not tough and dry. It just takes a bit of work and attention. But mostly a thermometer, which you have because you pay attention around here.
Right?
Try it with this: Baked Chicken with Roasted Tomatillo Cream Sauce

******
Food and cooking tips, Haggis, Henry Big Boys in .357, Scotch Eggs, thick and fluffy pita and good tomatoes that aren't square, pale pink and covered with Mestizo E.coli:
cbd dot aoshq at gmail dot com
. Any advocacy of French Toast with syrup will result in disciplinary action up to and including being
nuked from orbit.
&topic=world_news">

posted by CBD at
04:00 PM
|
Access Comments