« Late Summer Saturday Open Thread August 18 [KT]
|
Main
|
AoSHQ Pet Thread [KT] »
August 18, 2018
Saturday Gardening Thread: Impatient for a change in the weather? [KT]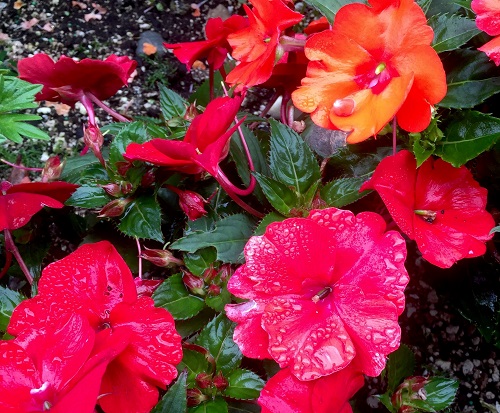 Aug 10 after an early morning rain at Salishan resort on the Oregon coast

Please list me as a dedicated lurker on your marvelous site.
Wish I were there, Dedicated Lurker. It's been a long time since we've seen rain in the San Joaquin Valley. That photo is a beautiful reminder of what we're missing. It's been hot for too long, too. I'm ready for a change. You happy with your current weather?
To increase my envy, here's another lovely photo of Impatiens after the rain. The bicolor ones above are interesting, but the flower form of the one below makes me think that maybe it is a New Guinea type, or a New Guinea hybrid. They have substance. Especially nice in the rain.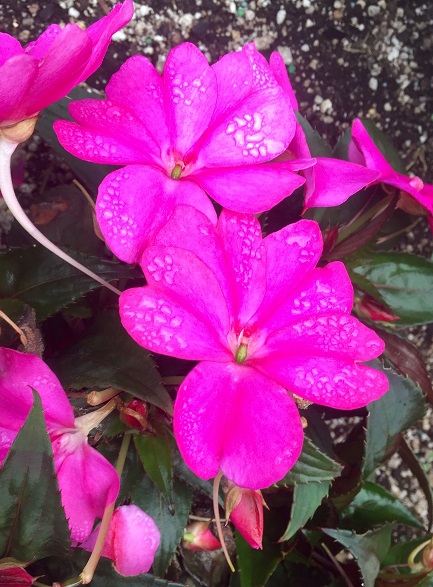 Birds, Butterflies and Moths in the Yard and Garden
Seamus Muldoon has sent in a great update on the Elephant Hat (nest):
The hummingbird babies are now a tad over two weeks old. Much bigger, the nest is nearly overflowing. Feathers much better developed. Beaks elongating nicely. Will probably be out of the nest within a few days.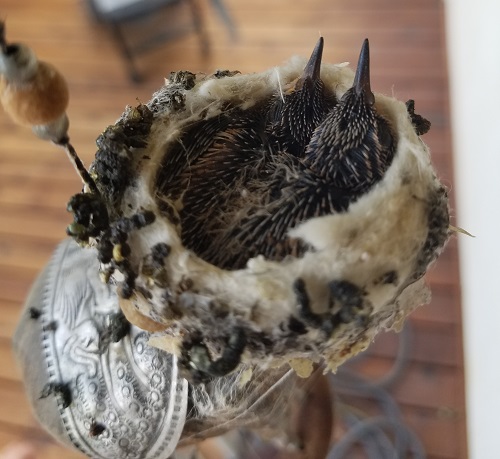 Those little hummers are starting to look like birds now! Saw a photo of a hummingbird nest built on a peach this week. Muldoon's elephant looks like a much more secure location.
Illiniwek has lots of bird visitors. This is from earlier in the season.
I've observed a lot of robin nests, and some bluebirds, but this is the first time I've seen cardinal eggs ... they are right in the garden, though in a thick bush.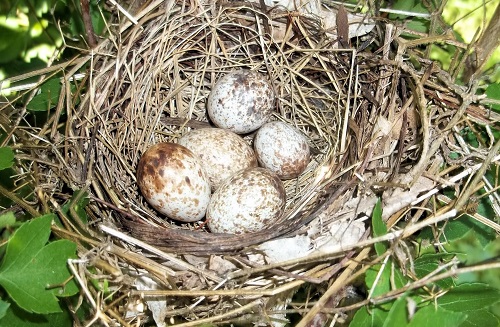 And this young robin was caught on a security camera early this month.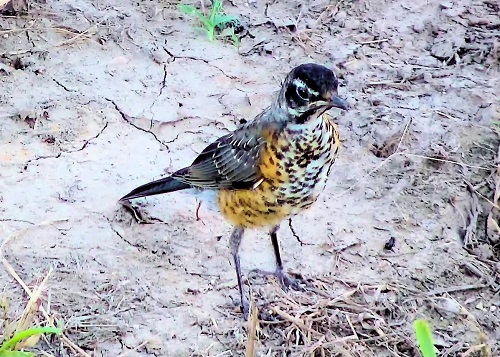 One reason Illiniwek gets lots of bird visitors is that he has things for them to eat.
I encourage the chicory in a few places.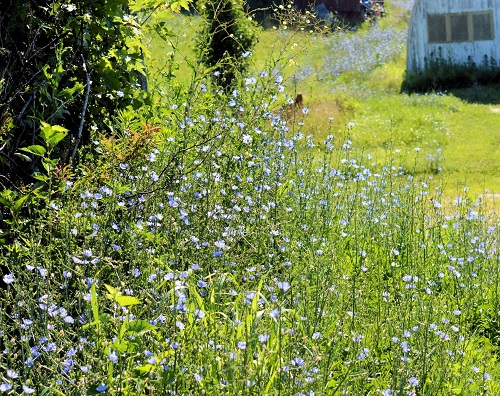 Chicory is often used in forage mixtures for wildlife plots intended to attract deer, quail or turkeys. I like the look of the individual flowers, too. Reminds me of childhood walks through the hills.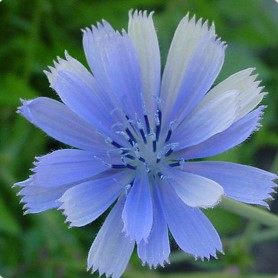 As penance for missing National Moth Week recently, here is a photo of the Ceanothus Silkmoth. The photo is from British Columbia. There are some other nice photos you can enlarge at the preceding link. These big moths are as showy as any of our big butterflies. It is a Western moth, and some of its larval host plants include Ceanothus species, commonly knowns as California Lilac, Wild Lilac or Buckbrush.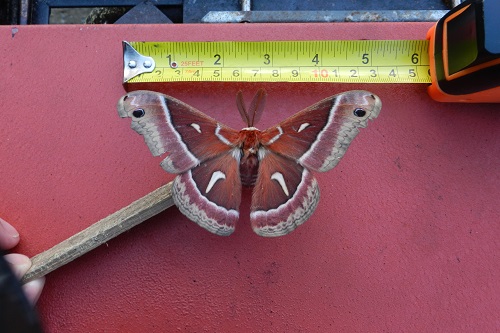 Western species of Ceanothus are also host to the caterpillars of a number of butterflies, including Hairstreaks, Blues, Spring Azure, a Duskywing, California Tortoiseshell and the Pale Swallowtail. This is the Pale Swallowtail, a "devout puddler".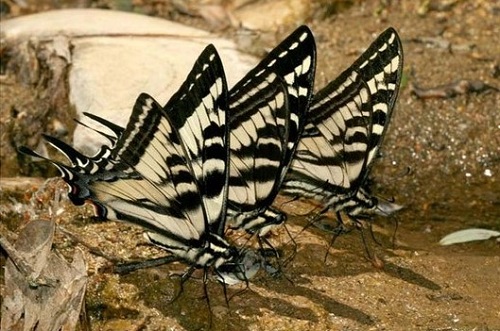 Ceanothus is from the Buckthorn family (Rhamnaceae). Its close relatives in the West used to mostly be called Rhamnus, but I don't know what they are now. The name of the California Coffeeberry has been changed to Frangula californica. There are other buckthorns with holly-shaped leaves and such. Most of them are grown for their toughness, sometimes for their showy berries. And as thorny barrier planst. Flowers of the ones called "buckthorn" tend not to be too showy. Another relative is the Jujube. I have a Jujube tree. It isn't native, of course. Mine is thornless, but the suckers from the root stock are wickedly thorny.
Western Ceanothus species and cultivars are grown both for their flowers and foliage. Some have flowers that smell like fresh popcorn. If you live in the West, I suggest consulting with a good nursery, buying from a specialist or at least looking your cultivar up in the Sunset Western Garden Book. These plants vary from one another wildly. Some are creepers that need no water in the fog belt, others are 15-foot shrubs. Some need no water (and languish with water) in summer. Others accept summer water. Most are evergreen, a few are cold-hardy and lose their leaves in winter. As a group, they don't live very long, generally about 5 - 10 years.
The low-growing ones provide nesting spots for quail. All of them provide seeds for quail and smaller birds. In addition to being hosts to butterflies and moths, and providing nectar to many insects and to hummingbirds. This one is a hybrid called 'Dark Star'.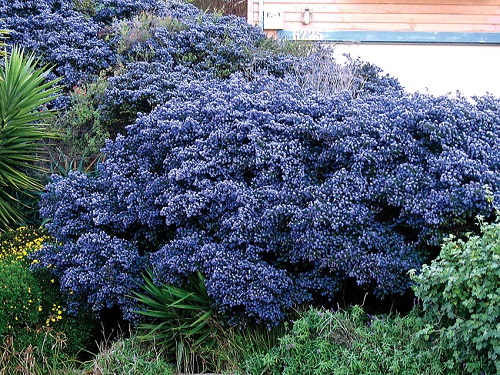 The most well-known Ceanothus in the East is New Jersey Tea, AKA 'Redroot'.
New Jersey-tea is a low, upright, deciduous shrub that grows to only 3 ft. tall. Pubescent leaves give the entire plant a grayish cast. Small white flowers occur in 2 in., branch-tip clusters. A low shrub with tiny white flowers in oval clusters rising from the leaf axils on the new shoots. The base is woody, while the upper portion of the plant is made up of herbaceous, spreading branches. Fall color is insignificant.

The dried leaves of this nitrogen-fixing shrub make an excellent tea that was very popular during the Revolutionary War period.
After the Boston Tea Party . . . .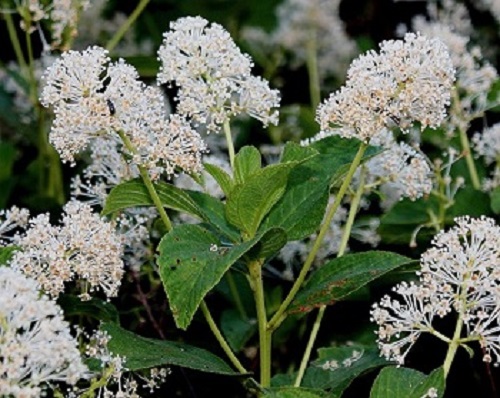 New Jersey Tea and its Eastern relatives are tough and adaptable. They recover quickly after fire. Wild turkeys and quail like the seeds.
The Eastern Ceanothus species host the caterpillars of the delightful little Spring Azure and Summer Azure butterflies, and the Mottled Duskywing, which you might mistake for a moth because it perches with its wings open. Here's a Summer Azure. Photo taken in Massachusetts. I love the facial profiles of the little Azure, Blue, Copper and Hairstreak butterflies. And check out the striped antennae and legs on this one.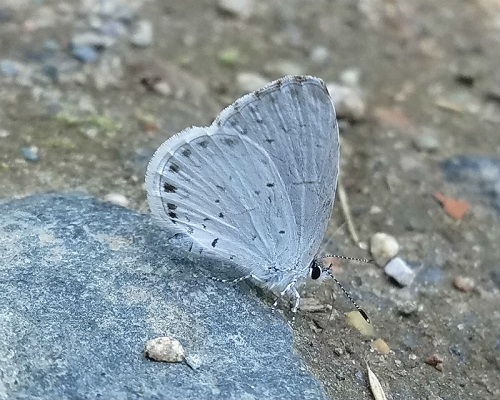 Gardens of The Horde
Got some Flavor King Pluots this week from a friend. There are few fruits in the world more flavorful than a fully ripe Flavor King. I bought the tree for them. Glad I did now. They had a plum tree which could serve as a pollinator. I recommend giving fruit trees to friends and family if you know that the recipient wants the tree, and if the tree would go in a good location.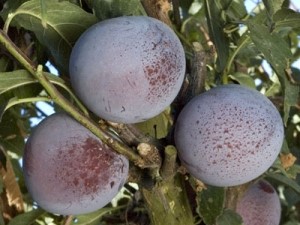 Our own Flavor King Pluot died some years ago, along with our beloved Emerald Beaut Plum and some other stone fruits on the north side of the house. We suspect a soil fungus.
Anything going on in your garden?
If you would like to send information and/or photos for the Saturday Gardening Thread, the address is:
ktinthegarden
at g mail dot com

posted by Open Blogger at
12:48 PM
|
Access Comments