« AoSHQ Pet Thread: The Pet/Garden Interface [KT]
|
Main
|
Saturday Evening Movie Thread 08-11-2018 [Hosted By: TheJamesMadison] »
August 11, 2018
Chess Thread 08-11-2018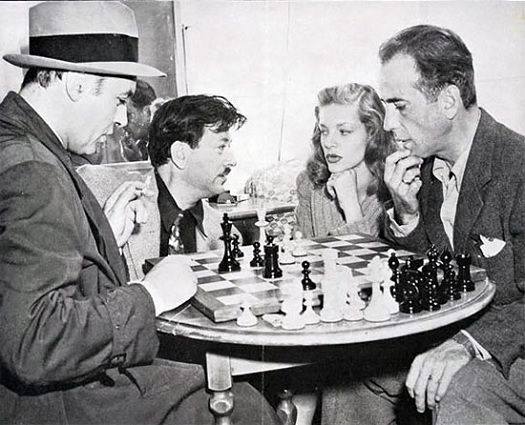 Pic Note
Found this pic on a Bulgarian site, no English version available, so I had to run it through Google's translator:
"Lauren Bacoll (sic) glanced at chess coach Hermann Steiner, while Charles Boyer and Humphrey Bogart played chess among the "Secret Agent" (1945). The party is played in Warner Bros Studio's dressing room."
That chess set and board they're using looks yuuge, classy, and luxurious.
Herman Steiner was one of the strongest American players back in those days. My question is, who was he coaching, Bogart or Boyer?

As always, the chess/dress pr0n thread is an open thread, so there is no such thing as an off-topic comment.

Easier Problem - White To Play (681)
Hint: Prevent Black's king from defending the queen.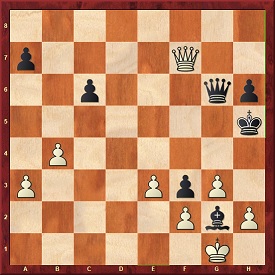 8/p4Q2/2p3qp/7k/1P6/P3PpP1/5PbP/6K1 w - - 0 1


FIDE: No Jooos, No Problem
Somebody call the FIDE, stat. I'm sure they'll get right on it...


More Challenging Problem - White To Play (740)
Hint: Offer the queen as bait on the 2nd move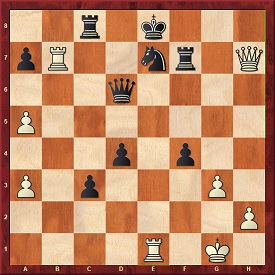 2r1k3/pR2nr1Q/3q4/P7/3p1p2/P1p3P1/7P/4R1K1 w - - 0 1



Dress Pr0n For The 'Ettes: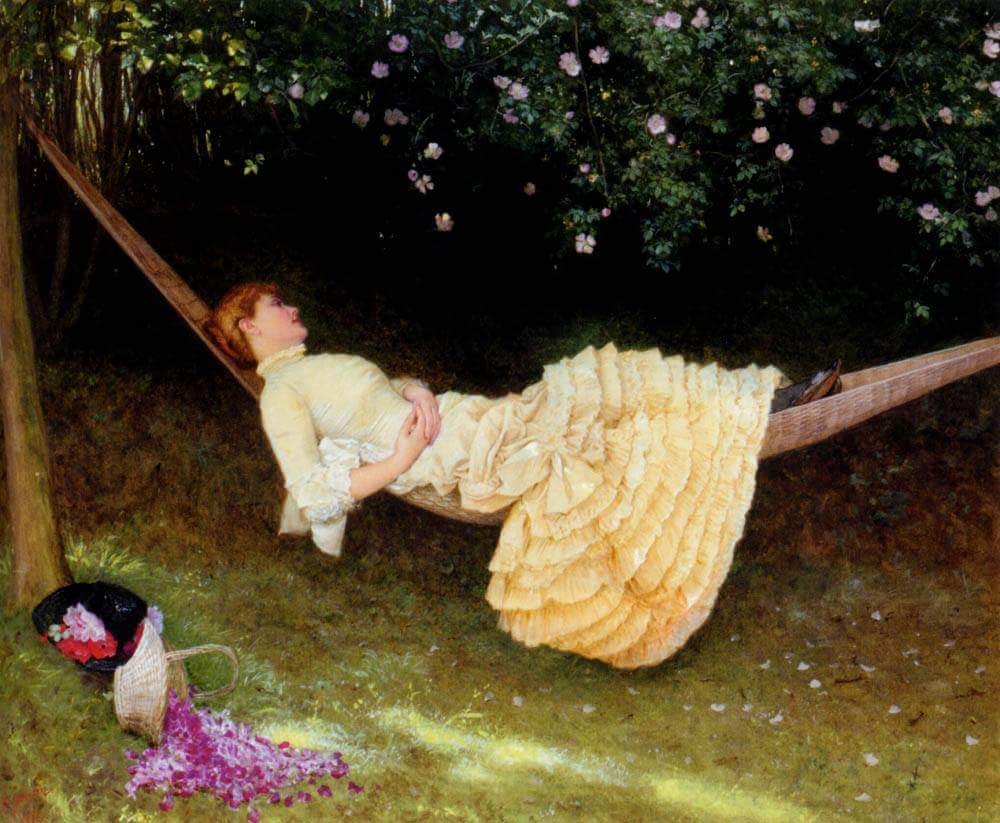 (click for larger version)
The Hammock
Edward Killingworth Johnson (1881)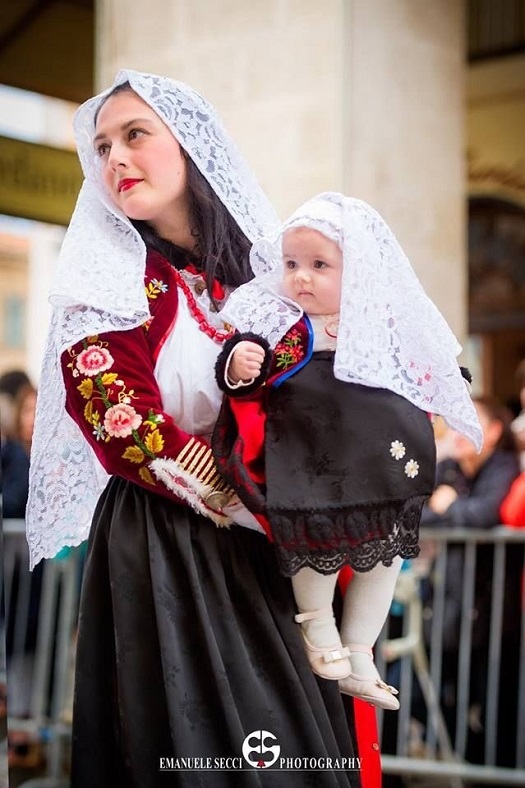 Greetings From Sardinia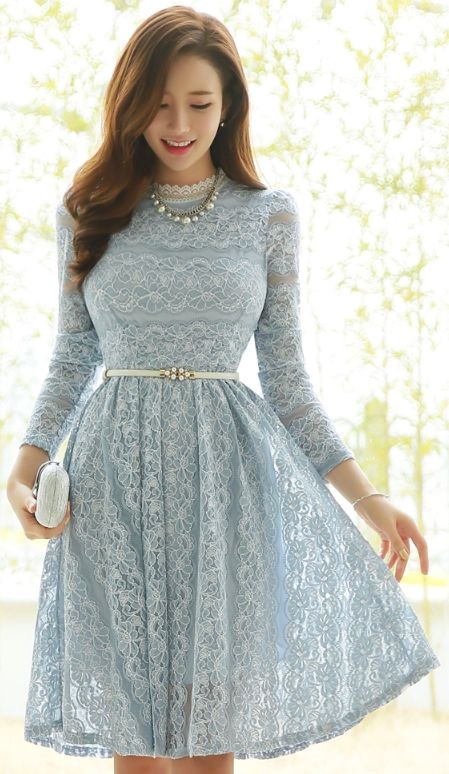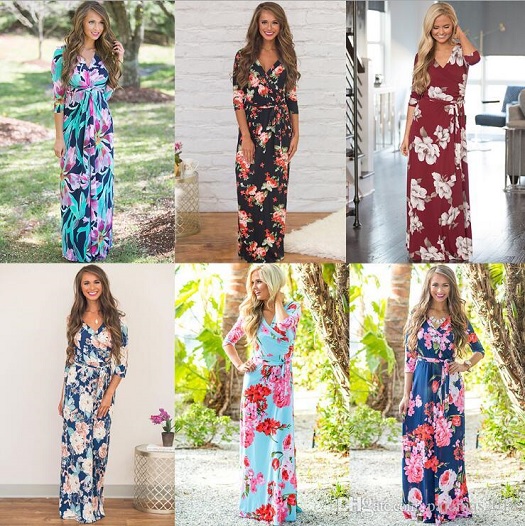 Pick 6!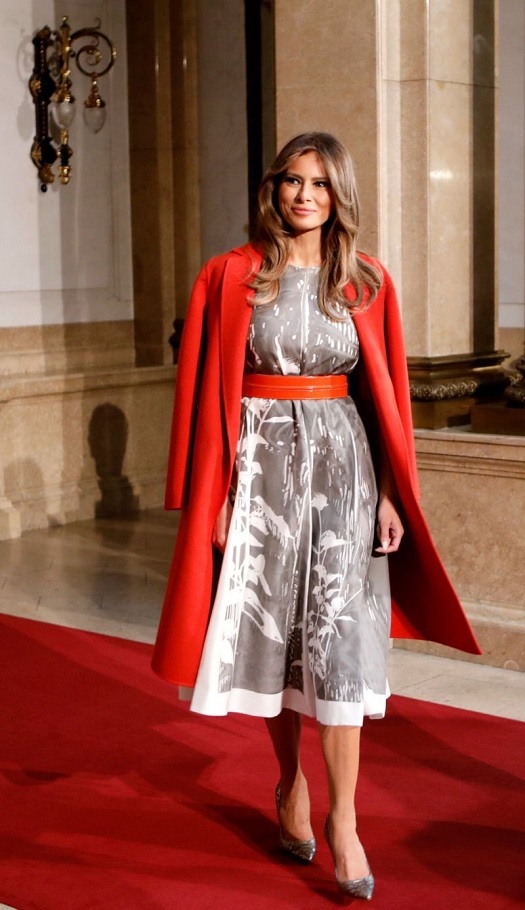 ___________
Solutions Update
Easier Problem - White To Play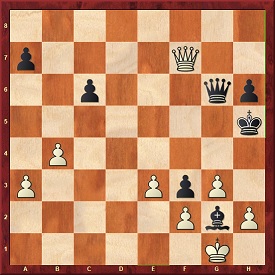 8/p4Q2/2p3qp/7k/1P6/P3PpP1/5PbP/6K1 w - - 0 1


1.g4+ Kg5
2.h4+ Kxg4
3.Qxg6+ winning the queen and eventually the game.
More Challenging Problem - White To Play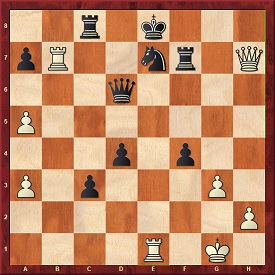 2r1k3/pR2nr1Q/3q4/P7/3p1p2/P1p3P1/7P/4R1K1 w - - 0 1


1.Qg8+ Rf8
Most of you probably saw that. But here's what I didn't see:
2.Qg6+!
Well, to be more precisely I saw this move, but then I thought 2...Qxg6 would put an end to it. I would have just thrown my queen away for nothing. Because I got lazy and stopped my analysis there, I spent the rest of the time wandering in the wilderness. But if I would have bestirred myself to spend 10 more seconds looking at it, I might have seen that Black can't take the queen: 2...Qxg6 3. Rexe7+ Kd8 4. Rbd7#.
2...Rf7
If 2...Kd8 then 3.Qxd6+ Ke8 4.Qxe7#
3.Qxd6 Kf8
At this point, it doesn't matter what Black does as he can't prevent the loss of his knight, and shortly thereafter, the game. For example, another line could be 3.. c2 4.Rexe7+ Kf8 5.Rxf7+ Kg8 6.Qg6+ Kh8 7.Qh7#
4.Rexe7 Kg8
5.Qg6+ Kh8
6.Rxf7 fxg3
7.Rh7#
Conclusion: White can force a mate in 7.
Hope to see you all next week!

___________
Note: that cryptic line of letters and numbers you see underneath each board diagram is a representation of the position in what is known as "Forsyth-Edwards Notation", or F.E.N. It's actually readable by humans. Most computer applications nowadays can read FEN, so those of you who may want to study the position, you can copy the line of FEN and paste into your chess app and it should automatically recreate the position on its display board. Or, Windows users can just "triple click" on it and the entire line will be highlighted so you can copy and past it into your chess app.
___________
So that about wraps it up for this week. Chess thread tips, suggestions, bribes, rumors, threats, and insults may be sent to my yahoo address: OregonMuse little-a-in-a-circle yahoo dott com.


posted by OregonMuse at
05:15 PM
|
Access Comments