« Monday Overnight Open Thread (7/30/18 )
|
Main
|
Mid-Morning Open Thread »
July 31, 2018
The Morning Report 7/31/18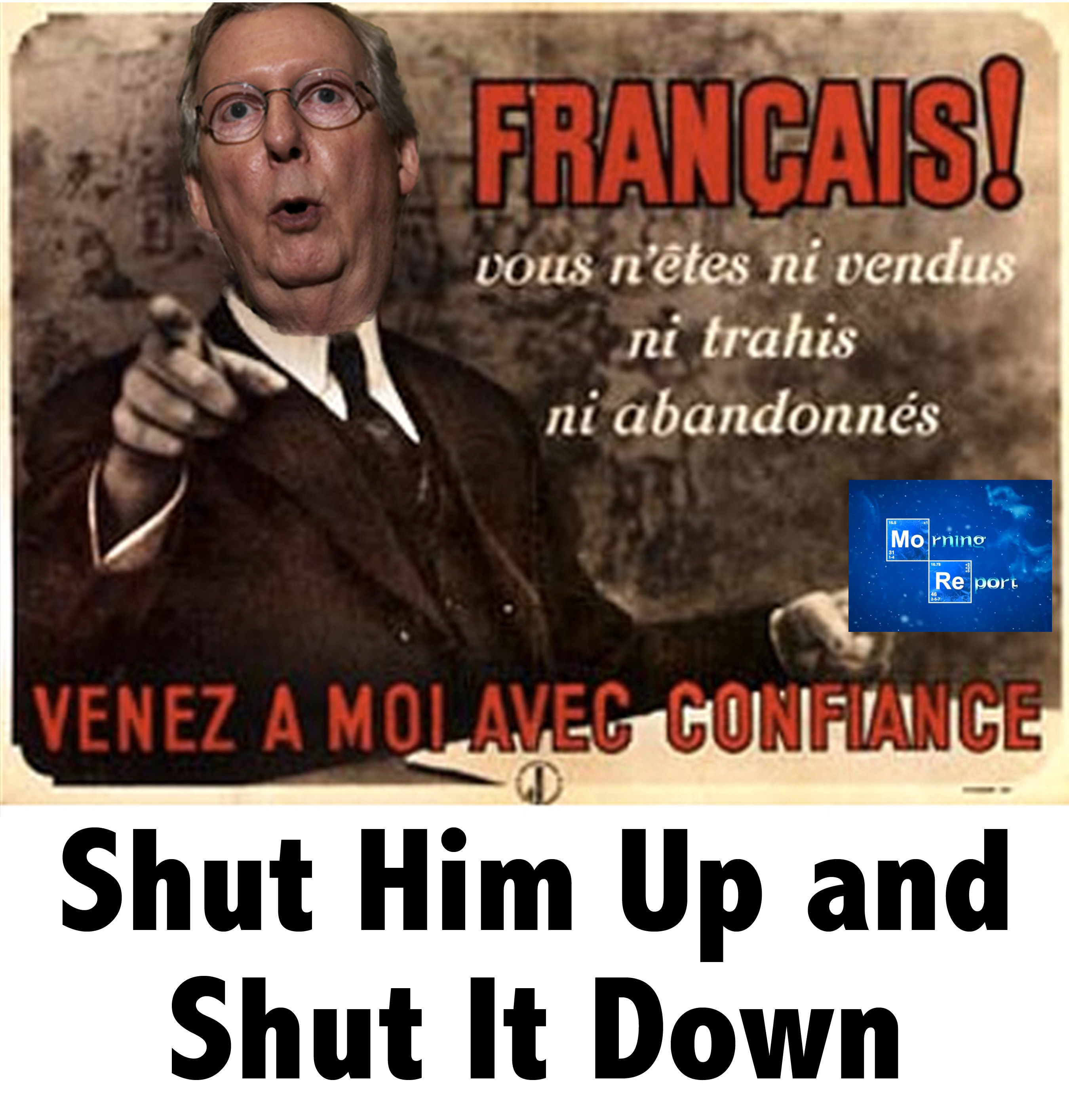 Good morning kids. Lots of ground to cover this Tuesday so let's get with it. And this last day of July marks the anniversary of the start of the investigation of the Russia "dossier," the greatest political scandal in American history in which the upper echelons of our national intel and law enforcement agencies, at the behest of a sitting president and the political campaign of the Democrat Party candidate for president, conspired to sabotage the candidacy of then GOP candidate Donald Trump and then failing that President Donald Trump, in order to simultaneously overthrow the 2016 election and also protect themselves from recriminations in the failed plot.
All of this has been an abject farce and fiasco; they have been exposed, damaged as it already was, whatever reputation the media and the field of journalism may have had has been destroyed and the President, despite the continuing efforts of the Democrat-Left-Media Complex and an alarmingly large percentage of his own (putative) party, has had one of the most wildly successful first 18 months in office of any president I can think of. And, ironically and sadly, today also marks the start of Paul Manafort's trial for, what exactly? Considering all of the above, Paul Manafort is a political prisoner; a sacrificial lamb that the Deep State is going to destroy, conviction or not, so as to save face, further some sort of media meme connecting him to the President, and as a warning to anyone who ever takes sides with this President and, please G-d, future candidates who seek elective office as reformers. What a fucking titanic travesty this all is. At least Jeff Sessionszzzz has formed a Religious Liberty Task Force to hide a file in Manafort's prison Bible. And yet, here we are and Hillary Clinton will never be President of the United States of America.
Moving on to Immigration, we note with sadness that Fort Myers Police Officer Adam Jobbers-Miller has passed away after being shot a few days ago by an illegal alien. From this hero to Kate Steinle to the teenage girls butchered on Long Island by MS-13 to scores of other victims of murder, rape, robbery and every other crime that as much as anything tears at the fabric of our society, illegal aliens far and away commit a very large percentage of the crime in the nation. And yet the Democrat Party as well as the GOP-e in the form of corporate interests like the Koch Brothers and Chamber of Commerce seek to supplant the citizenry with hordes of foreign aliens to be used to gain political power and profits. I don't know who's crazier; the schmuck from Kentucky who's making a promise of not just abolishing ICE or dealing with the DACAns but full on Amnesty and instant citizenship for the upwards of 25 million illegal aliens already here or cheap labor pimp Charles Koch who's bemoaning the President's tough trade stance is cruel to foreign workers.
And, as if I'm some great prognosticator about Islamic terrorism jumping the Rio Grande along with Guatemalan asylum seekers, Chris Kobach is sounding the alarm bells about female suicide bombers sneaking in and news that a Jordanian national was smuggling in Yemenis. Along with the subsuming of our national culture and identity, an open, porous and unguarded border is a direct security threat in the here and now. Sealing the border with an actual wall, guards and troops as well as strict enforcement of laws already on the books (if not a 20-year moratorium on legal immigration as well) is now a matter of national security.
And if Mitch McCocksucker and the GOP will not fund the wall nor the efforts to finally and fully protect the American citizenry, then shut down the government (which doesn't shut down despite the Democrat-Media theatrics). In fact, all things considered, really shutting down the Federal government is the best single solution to restoring liberty, the rule of law and our Constitution and ensuring a free and prosperous America.
On the related political front, it's definitely a race to the bottom for November. While the GOP leadership is doing everything it can to sabotage its majority, I don't think they'll overtake the Democrats' political death wish. Along with the above example, Loopy Ocasio-Fiasco is teaming up with noted Joo-hater Sarsour and doubling down on the Joo-hate, she's also blathering on about Medicare for All which would cost $32 Trillion, Tom Perez, the man of the people, show's his roots with a sweet $1,800 tote bag, Bill(not Billy) Kristol is a laugh riot and perhaps almost as much as the Dems love of Fauxcahontas. At least Rand Paul got his ego stroked and is now totes cool with Brett Kavanaugh although Leftists are offering to donate organs to keep Ruth Bader-Meinhoff alive.
On to foreign affairs where the Italian PM and PDT are in synch on trade, economics, NATO and other issues. Italy is on the front lines of Islamic invasions from Africa, and Giuseppe Conte is thankfully no Angela Merkwurdige-Lieber. Despite PDT offering to "negotiate" with the Farsis, he's been rebuffed, the Chi-Coms are sending a message about Taiwan and another interesting piece on Macron's own brewing scandal.
In Red/Green news, a trio of stories where the watermelons took a beating, most noteworthy is the news that the iconic shot of a polar bear dying from "global warming" was faked. Can you see my Claude Rains shocked face? From hither and yon, it's the Left that is full on racist, looks like Loopy Ocasio-Fiasco is writing press releases for the Chicago Socialists and if you want to talk about colluding with Russia in a national election, Spectator has the goods... on Henry Wallace.
Anyway, links from around the world, across the nation and up your street. Have a better one and remain blessed.
SPYGATE, MUELLER WITCH HUNT, DEEP STATE