The entrepreneurial spirit is alive and well. Did I mention it was criminal entrepreneurial spirit? Do not cross go, do not collect $200.00.

On August 3, 2001, a McDonald's film crew arrived in the bustling beach town of Westerly, Rhode Island. They carried their cameras and a giant cashier's check to a row of townhouses, and knocked on the door of Michael Hoover. The 56-year-old bachelor had called a McDonald's hotline to say he'd won their Monopoly competition. Since 1987, McDonald's customers had feverishly collected Monopoly game pieces attached to drink cups, french fry packets and advertising inserts in magazines. By completing groups of properties like Baltic and Mediterranean Avenues, players won cash or a Sega Game Gear, while "Instant Win" game pieces scored a free Filet-O-Fish or a Jamaican vacation. But Hoover, a casino pit boss who had recently filed for bankruptcy, claimed he'd won the grand prize–$1 million dollars.
***

Books, covers, judgments. Don't. Dad bods and dogs calendar. Sorry it's a Huffpo link.

Rescue dogs, rejoice!

A new calendar for 2019 titled "Dad Bods and Dogs Calendar" by photographer Ricki Beason is just the uplifting help our furry friends need. The calendar features guys with so-called "dad bods" posed alongside pooches from three different animal rescue organizations in the the Dallas, Texas area: The Love Pit, Rescue Row and Astasia's Angels Animal Rescue.
***

The ONT doesn't run many political cartoons. This struck a chord.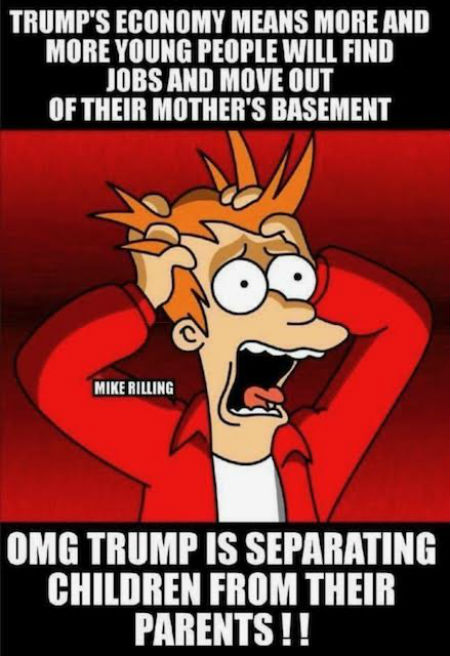 ***

The ONT always looking out for you. If you're concerned about what you eat, you may want to leave these items alone.

If you've ever wondered what four days' worth of fat content in one meal looks like, you finally have your answer.

The Center for Science in the Public Interest has put together a list of the most unhealthy meals in America, known as the "Xtreme Eating" list. These highly calorific, artery-clogging meals make a KFC family bucket look like child's play
***
The ONT Musical Interlude
July 30, 1941, Born on this day, Paul Anka, singer, (1957 UK & US No.1 single 'Diana'. The single sold over 9 million copies world- wide). Wrote many classic songs including: 'It Doesn't Matter Anymore', 'Puppy Love' and the lyrics to 'My Way. via thisdayinmusic.com
*
***

What is better, a guaranteed job or guaranteed basic income?
Maybe a review of basic economic history would answer this question.
***
Who is the most despicable American who has ever lived? One man says John Kerry.

The once reasonably unbiased American media has evolved into a hysterical left wing mob. How could the stable and reasonably cohesive America of the 1950s have reached this point in just one lifetime? Who are the main culprits? Here's my list of the 10 most destructive Americans of the last 80 years.
***
Something tells me they have had this argument before. Only there won't be anymore arguments.

An Arkansas woman was arrested Saturday after telling police she shot and killed her husband because he bought pornography, officials said.

The Jefferson County Sheriff's Office said in a news release it received a call around 2:30 p.m. from 69-year-old Patricia Hill, who told dispatchers she just shot her 65-year-old husband, Frank.
***
The ONT caters to a multitude of people and professions. In some professions it only takes a few to ruin the reputation of the entire profession. In this case, how fvcking stupid do you have to be to teach?

An art education professor at the University of North Texas is urging his fellow educators to use social justice-themed art classes to fight "geometries of whiteness."

Tyson E. Lewis, who teaches classes on critical pedagogy and aesthetic theory, contributed a chapter on "Art Education and Whiteness as Style" for a new guide aimed at other educators, The Palgrave Handbook of Race and Arts in Education.

"Art education needs to draw upon critical whiteness studies to further its social justice agenda while at the same time recognizing the resources that art education brings to questions of whiteness," Lewis writes in the preface of his chapter.
***

Instead of worrying about a photograph, I would be worried about being a Genius Award Winner.
***

A homeowner has quite the experience with firefighters in our Tonight's Feel Good Story of The Day.
***

Tonight's ONT has been brought to you by Protective Eye Wear.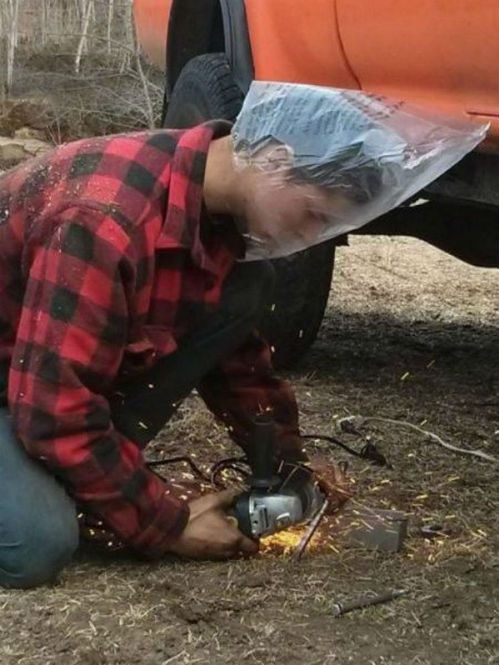 Notice: Posted with permission by AceCorp, LLC. Problems, gripes, complaints, you know where you can send them: petmorons at gmail dot com. No, Dorothy this isn't Kansas.

posted by Misanthropic Humanitarian at
09:59 PM
|
Access Comments