« Food Thread: Bacon-Lettuce-Tomato: A Match Made In Heaven
|
Main
|
Sunday Overnight Open Thread (7/29/18 ) »
July 29, 2018
Weekend Gun Thread
(Happy now bluebell?)
***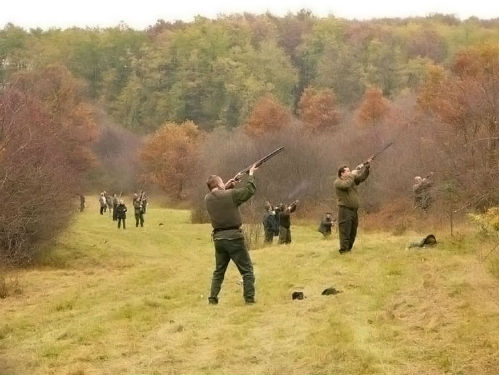 My interest in guns was secondary to my interest in hunting. How many of you hunt? How many of you don't? There is no wrong answer. But, I would suspect there is extra hate for you from the SJW crowd if you both own guns and hunt animals.

Hunting and the 2nd Amendment. They should go hand in hand.

My take? Siler is one of those who likes guns well enough but doesn't care enough about the Second Amendment to want to defend it. If he did, he'd understand that while the talk is round capacity today, it'll be something else tomorrow.

In countries with strict gun control but still some civilian access, we're already seeing their brand of gun grabbers calling for more. Just look at Toronto right now. This is what happens. It's never enough
Reliving some of our first deer hunts.
***

I just found this in the "Inbox" from Moron Bert. G. He thought I should pass along to the Horde.
I got an email just a few minutes ago from the USMC Scout Sniper Association. They are having a raffle for a rifle, but with a week to go are not close to reaching their goal for $10,000 so I thought it might be worth mentioning in the gun thread.

Here's a link to the raffle: https://go.rallyup.com/usmcssarifle

Here's the text of the email:


You received a message about this fundraiser:

USMC Scout Sniper Benefit Event

Here's what the organizer had to say:

Hello everyone!

We're nearing the end of the USMC Scout Sniper Association Benefit raffle. Thanks to everyone who's bought into it.

There is one admin thing we need to take care of, and after talking with the CEO of the Association, Jessie Fletcher, we've decided that it's best to ask for everyone's opinion so that we all have an equal say in how to proceed.

Obviously, we're only 38% of the way to our goal of $10,000.00 right now (that's $3875 for the knuckle draggers). The total cost of the entire package is $8700.00 If we reach that goal, the package will stay complete and the balance will go to the Association for their needs. However, it doesn't look like we're going to reach that. Jessie and I have decided that, if the majority of you guys agree, the package will be pro-rated accordingly. If the dollar amount stays the same as it is right now, we propose taking $2700 of that and letting the winner choose what he/she wants from the package that best meets that dollar amount. The rest (approximately $1000) will be sent to the Association for their use.


We're asking that you guys respond to this email (drop dead date for responses is Wednesday, 1 August, 1800 CDT) and let us know if you're ok with that. To give the situation a little more reference, the other raffle the Association had going (and that just ended) raised about the same amount of money as we currently have. Though I don't believe their package was as big as ours. So it seems that the industry is seeing a down-trend. Nevertheless, we want to make sure everyone has an equal say in how it's handled and that the winner enjoys their winnings. If you have any questions, please respond to this email or send one directly to us (sales@kiotecorp.com, ceo@scoutsniper.org) and we'll help you as much as possible.


Thanks again & STA Violent!


Respectfully,


John Stewart (former 0351, 3/7 L Co. Wpns Plt)

Owner/Engineer

Kiote Rifles
***
Educational and fun, Practical urban carbine.

PUC is a mid-level course. Students are expected to have good fundamentals and familiarity with their gear. The purpose of the course is not a precision course, but to better understand the capabilities and grouping of your chosen zero at various distances. Good fundamentals allow students to best utilize and benefit from the content of this course.
***

Thank God I have small hands or; I might be purchasing this revolver.

Alaska is a place that many of us dream of going. I've wanted to see the state ever since I can remember. The mountains and the wilderness call to me, but alas I'm not in a place in life to make such a journey. Instead, I decided to live vicariously and review the simply awesome Ruger Super Redhawk Alaskan double action revolver chambered in .454 Casull/.45 Colt to get me through until I can make it up there.
***

Home defense? Granny stops bad guy with a .22. He will live to tell about it.

Around 6:40 p.m. in St. Pauls, N.C., a woman came home to some unexplained noises in her storage building. While armed, she walked into the building and saw James Dority, age 39, standing in the corner. The next thing she knew, he was "lunging at her" in "an aggressive manner."

She shot him five times with, according to the one report, a .22-caliber gun. When deputies arrived, they found Dority lying on the ground with non-life-threatening wounds. He's now recovering in a hospital.
***

Quite the find. Large find of historical firearms.
***

300 yards? WOW, just WOW.
***

Hoppes #9, spare .38 Special ammo, clay pigeons, tips and stories to petmorons at gmail dot com. Not interested in canoe ride shares.


posted by Misanthropic Humanitarian at
07:33 PM
|
Access Comments