« Garbage On The Beach? Blame Israel And The Jooos!
|
Main
|
Weekend Gun Thread »
July 29, 2018
Food Thread: Bacon-Lettuce-Tomato: A Match Made In Heaven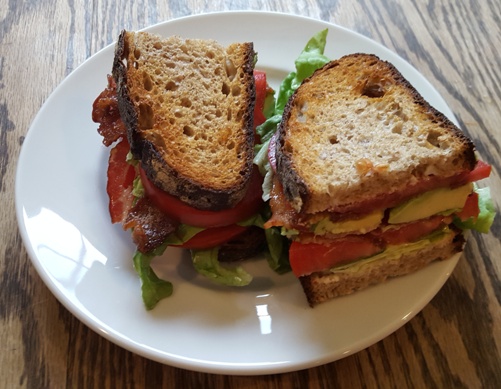 Well, there's some avocado in there too, but I think most people would approve of that modification. Certainly there are strict guidelines that must be observed if the sandwich is to be of sufficient quality for the lunch table at Chez Dildo, but within those rules one can create a marvelous dining experience.
For instance, it is axiomatic that the bread be toasted. But what kind of bread? I think that the bread must be fairly dense to handle the liquid from the tomatoes and the oozy, yummy fat from the bacon, so plain old white sandwich bread is right out, and don't make me stop this car! A dense sourdough (not too many holes) or a malty rye bread (that's what's in the picture) works really nicely.
Hellmans. That is all.
I like Boston lettuce because it is nice and firm and has a bit of crunch, but romaine might work well, or even iceberg, though I find that too bland. The bacon should be cooked but not too crisp, otherwise it will crumble and fall out...I hate it when bacon falls out of a sandwich...any sandwich. I have tried thick-cut bacon, but prefer the thinner variety because it is more supple (it fits inside the sandwich better) and cooks quicker.
Now we come to the structure of this masterpiece. The blogging system won't let me upload the architectural drawings I had done a few years ago, so you will have to trust me that there is a preferred way of building this sandwich.
Seriously, I think that the lettuce is perfect on the top and bottom (although I played around with this sandwich and it worked out just fine), then layered tomato, bacon and avocado. Obviously the mayo goes on the bread, and don't be parsimonious! Slather that stuff on nice and thick! If you have an avocado that is ripe, then by all means nestle a few slices next to the bacon. Which layer of bacon? That's your call, but make sure that you have multiple layers, because baconness is next to Godliness!
I like tomato slices on the thick side, because too thin and they fall apart and make a mess, or more of a mess. Yes, this is a messy sandwich, but any good sandwich should threaten an embarrassing moment or two, and if you are bearded it should require a thorough face-washing.
******
Yeah...he's a Moron!
******
Actually, I would suggest that men prefer men who eat meat. If I were to select for friends based on diet, I would certainly avoid mincing vegan soi-boys and their slightly more masculine analogues, the empathetic vegetarian.
STUDY: Women Prefer Men Who Eat Meat
The study titled "Eating Meat Makes You Sexy: Conformity to Dietary Gender Norms and Practices" found that when women were presented with fake bios of men that either showed food preferences that included meat or yogurt, they preferred the men who ate meat.
Yeah...chicks prefer muscles and masculinity and testosterone. Who knew?
******
Okay...smoked meatloaf sounds strangely good. And familiar, but I can't recall where I have heard of it before this dedicated Moron gave it a shot.
Longtime lurker, sometime commenter. I was reading your food thread this go-around and saw you were discussing smoking. I have been smoking different meats for the last few years. A friend had tried smoking a meatloaf and swore he would never eat it any other way. Always looking for a new recipe, I decided to look up some ways that others have done it and have a recommendation: Jack'd Up Smoked Meatloaf

I made a few changes since some members of my family are not big on spicy food. I changed the pepper jack to Monterey jack and left out the red pepper. It turned out great and I was requested to make it again in short order.
-Evilleramsfan
(southern tip of Peoples Republic of Chicago)
******
Let's face it, this isn't really a recipe. It's just flavored pasta, and most halfway competent cooks can do this in their sleep. But it does provide a template for an infinite variety of flavors. For instance, I would try pistachios instead of pine nuts (which often come from China and are probably soaked in human feces and heavy metals), and maybe change the cheese to something pungent.
Garlicky Spaghetti with Lemon and Pine Nuts for Two
The starch-rich water is a good technique, but I prefer minced garlic to pressed garlic. I get the impression that the pressed stuff is a bit harsher, but I haven't tested this, so I may very well be completely full of shit.
******
Serious Eats is often interesting, and here they have some fun with knives.
How Japanese Knives Are Made: Behind the Scenes With Master Forgers
is interesting, but let's face it, any good quality knife that is sharp is going to be just fine, whether it was made in Japan or Germany or Kansas.
******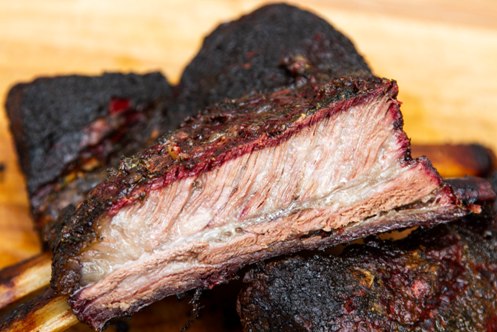 Smoked Beef Short Ribs: Temperature Is the Recipe for Success
. Well yeah, because you sell thermometers. But the recipe looks pretty good, and I absolutely love short ribs in any form, so what the hell, why not give it a shot.
******
Food and cooking tips, tender meatballs, Henry Big Boys in .357, gefilte fish replacements, thick and fluffy pita and good tomatoes that aren't square, pale pink and covered with Mestizo E.coli:
cbd dot aoshq at gmail dot com
. Any advocacy of French Toast with syrup will result in disciplinary action up to and including being
nuked from orbit.
&topic=world_news">

posted by CBD at
04:00 PM
|
Access Comments