« Media Shitbird to Facebook Exec: Say, How Come You Guys Don't Censor Fox News For Being Such Big, Fat Liars? [Warden]
|
Main
|
The Morning Report 7/26/18 »
July 25, 2018
Wednesday Overnight Open Thread (7/25/18 ) Customer Appreciation Night Errrr Edition
(Welcome to The ONT. Glad you stopped by.)
***
The Quotes of The Day
Quote I

"The goal of the DATA Act was to empower the American public and policymakers with timely and accurate information on how taxpayer money is spent in order to improve transparency and help identify and eliminate government waste. It is troubling that most federal agencies failed to comply with this law, and more than half of all the spending data federal agencies submitted was inaccurate." Sen. Rob Portman (R-OH)
Quote II

"There is only one boss. The customer. And he can fire everybody in the company from the chairman on down, simply by spending his money somewhere else." Sam Walton
Quote III

"People will forget what you said. They will forget what you did. But they will never forget how you made them feel." Maya Angelou
***
Splashed across the headlines earlier in the week was the story of a server being left a rude receipt with "We don't tip terrorist" written on it.

This story didn't smell right and of course it was afabricated story by a self-serving dick.

The restaurant was not very appreciative of its customers.
***

No, the customer is not always right. Sometimes they need to be arrested.
***
Sometimes customers are prevented from even using an establishment. The perpetually offended hurt those who need help.
***

The Swedish government is looking out for its new "customers".
***

Nothing like virtue signaling and and hurting people with disabilities. customers with disabilities don't count.
***
***

If you want it done right or done frugally, you may be the best employee. Do it yourself casket.
***

Moonlighting can be dangerous.

A school teacher by day and a Nazi-themed wrestler by night, Kevin Bean's life sounds like a dark Netflix show.

Described as a "good guy" who was "very religious," Bean had spent the last 14 years teaching fifth and sixth grade at a local school in Boyertown, Pennsylvania, Vice reports.

Bean's small community was sent into shock after it found out that his extracurricular activities involved dressing up as "Blitzkrieg the German Juggernaut," an amateur wrestler whose act included waving a flag with the German Iron Cross and throwing Nazi salutes at the audience.
***

Owning a chain saw doesn't make you a lumberjack, duh!
***
The ONT Musical Interlude
July 25, 2014, The pop star parodist, Weird Al Yankovic became the first comedy act to hit the top spot for more than 50 years. Mandatory Fun, Yankovic's 14th album, and his best-selling since Straight Outta Lynwood, which was released in 1991 went to No.1 on the US album chart. The last comedy album to reach No 1 in the US was Allan Sherman's My Son, the Nut in 1963. via thisdayinmusic.com
***
This band? This video? No particular reason, just because..........
***
Who knew there was such a thing as Mad Snake 20/20. Snake venom mixed with Ripple and you have Snipple. Genius Award Winner.
***

A town whose mayor has 9 lives is Tonight's Feel Good Story of The Day.
***

Tonight's ONT has been brought to you by Customer Reviews.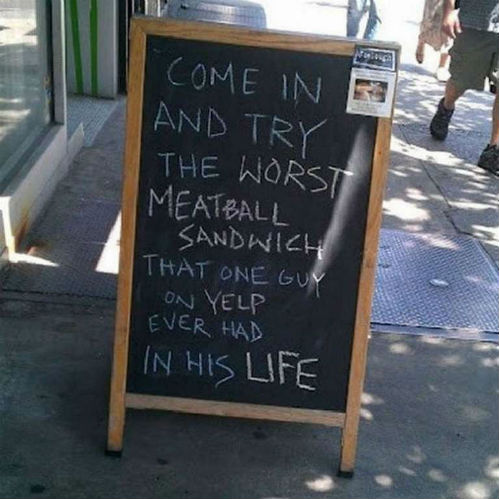 Notice: Posted with permission by AceCorp, LLC. Always looking out for our customers. You know, the blind leading the blind.

posted by Misanthropic Humanitarian at
10:12 PM
|
Access Comments