« Wednesday Overnight Open Thread (7/25/18 ) Customer Appreciation Night Errrr Edition
|
Main
|
Mid-Morning Open Thread »
July 26, 2018
The Morning Report 7/26/18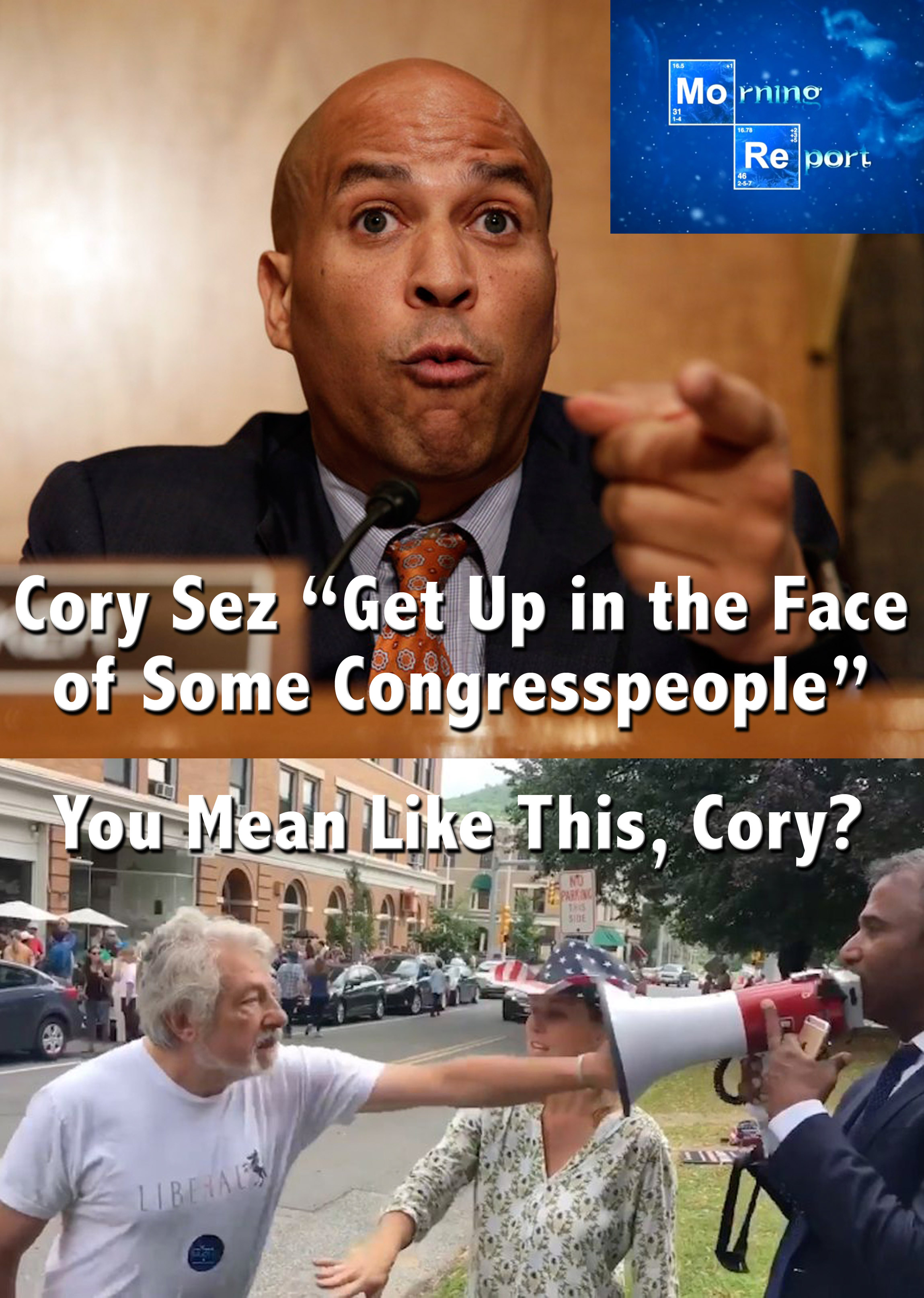 Good morning kids. Top story which broke late in the afternoon yesterday is that Mark Meadows, Jim Jordan and others have introduced articles of impeachment against the de facto Attorney General Rod Rosensteinpenis. Ever since Super Secret Sleeper AG Jeff Sessionszzzz recused and handed over the DoJ to this momzer, he's done nothing but blockade and stonewall Congressional investigators looking into the Hillary Clinton e-mail scandal, essentially obstructing the justice he is putatively there to insure is meted out. Meh. The guy is a Deep State stooge and crony to all the players involved. At the end of the day, like everything else in this incredible travesty of a sham of a mockery of two travesties of a sham, the real punishment to all the traitors involved that is justly deserved may never ever be meted out. But the revelation of all of this because Donald Trump was elected is on full display and as a result a lot of heretofore uncaring or unseeing eyes have been opened. So, moral victory and I think a big one which will play out in a positive way in the months and years ahead. Meanwhile, Tu-Ca and Tray of Gouda ripped into Schiff-for-brains while a hack judge in Maryland is allowing a suit against PDT for allegedly violating the emoluments clause to go forward. They've got nothing. They know they've got nothing and now we know that they know that we know they've got nothing. Morning Report favorite Daniel Greenfield puts an exclamation point on it all:
No matter how much money Mueller spends or how many prosecutors he hires, he can't save Hillary... The longer the Mueller investigation drags on, the higher the expectations for its outcome grow. Like Madoff, Mueller is trapped in an investigative pyramid scheme that he can never deliver on. And so all he can do is keep growing the pyramid, branch it out and drag it on for as long as humanly possible. That's the Washington D.C. way.

Hillary Clinton's reverse Midas Touch cost the Democrats the election. Their obsession with Hillary's election conspiracy theories is likely to cost them the midterm elections... And when the Mueller investigation runs out of every trick and gimmick, it will also be Hillary's fault. And by the time that's done, the Democrats will have wasted three elections chasing Hillary's lies.
Moving along, in politics, and because the Democrats are morally, intellectually and politically bereft of any legitimate criticism of the President and those who support him, Cory "Closet Organizer" Booker is pulling the Obama get-in-their-faces schtick. Obviously the rules don't apply in reverse. Socialism, or talk of Socialism, is also the order of the day and as the Democrat Party desperately tries to maintain the rapidly fading mirage of faux-normalcy, fueled by the aforementioned propaganda of Russia rigging the national election, as well as the reality of Hillary and the DNC rigging the Democrat primary, whack-a-doodles like Loopy Ocasio-Fiasco and now some putz in Maine named Zak Ringelstein are moving into the limelight. Meanwhile Fauxcahontas attempts to burnish her image as merely a liar by suddenly embracing capitalism (I read it the other day, but forgot to link it), and Nancy Palsi and others pimped what amounts to a waffer-theeen version of Trumponmics in a desperate attempt to try to maintain control of the party image, such as it is. Too late. Yet despite all indications that the public does not want anything to do with this insanity, the appeal of the illusion of Socialism to the uninformed or the pedagogically-indoctrinated persists. There's an interesting piece over at The Federalist claiming Loopy Ocasio-Fiasco is destined to be the Democrat response to Trump. The comments, mine included, poo-pooed this as wish-casting; and much of the article borders on piffle. Despite the author being barely able to hide his resentment towards the President, his final admonishment is troubling, despite his mischaracterization of PDT's "arguably racist rhetoric" during the campaign. First, PDT will sadly not be President forever. Second, academia is still tightly in their grasp so the brainwashing continues apace. Yes, while all indicators seem to show that the Socialism will drive the Democrat-Left over a cliff in the near term, I would caution that we disregard these people at our peril - unless and until we take over academia lock, stock and barrel forever, and have at least 20 years to deprogram the next two generations of students.
Speaking of Loopy Ocasio-Fiasco, we segue into Amnesty/Immigration where the crazy-eyed Democrat-Socialite equated Zero-Tolerance border policy with ethnic cleansing. That said, despite funding $5 billion for the border wall, the GOP-lead Appropriations committee is cutting funding to AG McSnoozerson's enforcement reforms that have to date been highly effective in interdicting border jumpers. F**k the GOP-e. Meanwhile Joe Crowley thinks we need to compensate illegal aliens for the hardships they endured while breaking our laws and invading our country. Too late, Joe. There's only room for one Socialist in that district. Meh, I'd like to see you and Tom Perez try and rig that election. Rounding out the topic, the thugs who occupied the Portland ICE facility left behind a literal biohazard site after being ejected and Jeff Duncan has introduced a bill to defund cities that issue voter IDs to illegal aliens. More of this guy, please.
In the Fake News department, Facebook stock has plummeted hugely on fears of that company's future prospects, Matt Gaetz is threatening Twitter with an FEC investigation, the Left went ape over a CRTV goof "interview" with Loopy Fiasco, conveniently forgetting all the times they pulled the same nonsense with conservatives, and Rachel Madoff is a liar (yet again).
On the foreign affairs front, the EU has caved on PDT's trade demands and as a result the Dow soared yesterday, the Trump-Putin conference in DC has been delayed until the Mueller Flea Circus packs up after the new year, an interesting piece on Marxico's new prexy, Daniel Ortega remains a vile thug, the UN remains a vile pit of Joo- and America-hate and SoS Pompeo reaffirms our commitment to Ukraine despite "muh koluzhnikovs!" I think behind the scenes, PDT is trying to swing Putin away from the Chi-Coms and into our sphere. Hey, he's a thug but at least he'll be our thug. And that is what you call "realpolitik," my fellow babies.
Moving closer to home (and across categories), California dominates the links. First, evidently Jeff Sessionszzzz moonlights at the California DMV, the administration is moving ahead to kneecap California's idiotic auto emission standards, the LAPD may file charges against the anti-Israel thugs at UCLA (not holding my breath), Kamala-Toe thinks rent is unjust (at least Jimmy McMillan thought it was only too damn high) and why the enviro-luddites are oddly silent over the heatwave in the Golden(shower) state. And speaking of the climate change fraud, suddenly Slate is seemingly spouting common sense about what drives the climate. Hmm. Switching gears, there's a very enlightening piece about administrative law judges for your consideration.
From hither and yon, a Feminazi-nazi offs herself in Paris, French butchers are being terrorized by vegans, Jane Fonda attempts a non-apology apology for being treasonous (the real treason), a study claiming lesbians are just as good parents as normal people has been debunked and lastly a good essay about anti-white being the new-anti-semitism.
Anyway, links from around the world, across the nation and up your street. Have a better one and remain blessed.


SPYGATE, MUELLER WITCH HUNT, DEEP STATE


posted by at
07:36 AM
|
Access Comments