« Saturday Gardening Thread: Night and Day [KT]
|
Main
|
Chess Thread 07-21-2018 »
July 21, 2018
Ace of Spades Pet Thread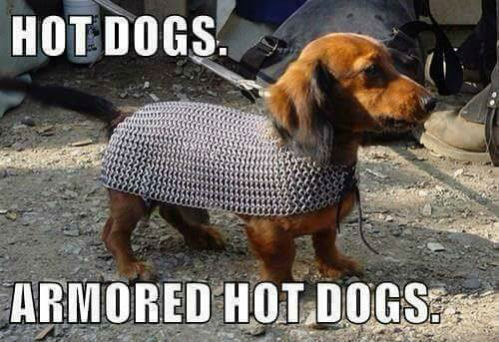 ***

Good afternoon Pet Lovers! Welcome to the almost world famous Ace of Spades Pet Thread. Listen to the command. Sit, relax. Good Moron.
***
A Little of This. A Little of That.
Are you happy? I mean is your pet happy?

My tortoise is always glaring at me. Whether I'm feeding him carrots, stroking his shell, or casually watching him from afar, all I get in return is his eternal stink eye.

I've tried my best to please Linus since spotting him at a pet store chain that shall not be named. He sat in a stuffy, glass tank under fluorescent lights, and hid in his shell when customers peered in or tapped on the glass. His food dish was almost empty, with just a few hard pellets left of commercial tortoise food. The girl working there told me these unappetizing supplements gave tortoises all the nourishment they need (for the record, that is incorrect). I decided then and there Linus was coming home with me.
***
Vegan diet for cats? Weigh in Horde, right or wrong?

A vegan pet owner from the Gold Coast, in Australia, has been criticized for putting his cat on a diet that matches his beliefs and claiming that she's actually thriving after switching to veganism.

53-year-old Harry Bolman has been a vegan for the lat 38 years, and after adopting Uma, a five-year-old cat, last year, he decided that the same vegan diet would be perfect for her as well. Bolman has been feeding her vegetables and special vegan cat food, and despite accusations that he is "abusing" and "killing" the feline, he claims that plant-based food is the "healthiest" for cats.

Quite the dog. Meet Gaspar, a dog who has more than one life.
"The best thing is to approach them from the side and then go down."Phrasing is everything, isn't it?

The Pet Thread has a This afternoon's Feel Good Story of The Day. h/t Hank Curmudgeon
I've done this before with my Lymphoma patient.
Meet The PetMorons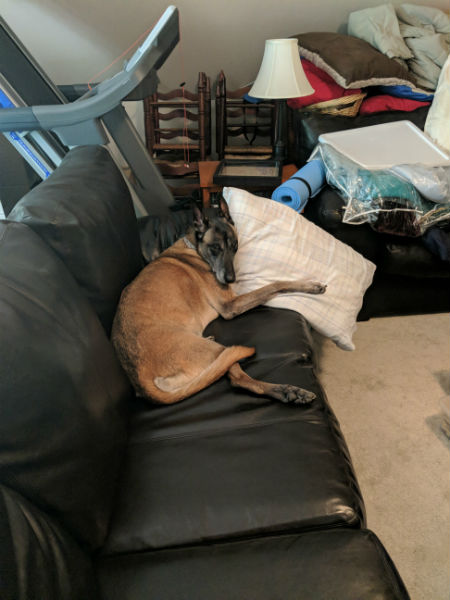 Bonus pet moron picks of Casey Jayne, my 8 year old Belgian Malinois. She's named after two Adam Baldwin characters. I think she's probably the laziest Malinois that God ever Created. -wizardpc
More like a Belgian Couch Potato than a Malinois. Cute pic. Thanks for the submission.
***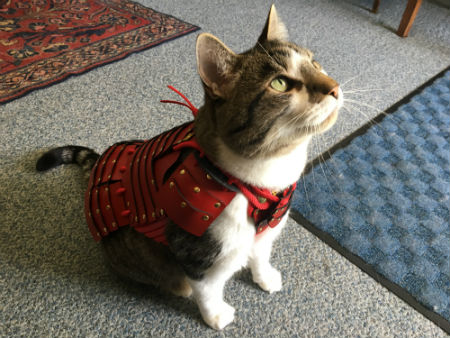 OhCee the Office Cat was previously on a PetThread wearing his tie, but I wanted you to see him showing off his armor from Samurai Age. OhCee was recently diagnosed with an inoperable nasal carcinoma which has blocked his right nostril. He had his first chemotherapy treatment on Monday, but the prognosis is not good and he may only be with us for a few more months. After asking a friend for advice as to whether I am making the right decisions, she said to do what it is in your heart and don't be afraid to talk to OhCee about it. I believe OhCee said to stop treating him like a sick cat, so my secretary and I are letting him do his usual routines, which include greeting and playing with clients (there is a drawer full of cat toys in the reception area he will point out to you). -Name not provided.
I wonder what kind of child you were, did all of your pets have wardrobes? :)
Sorry to hear about your pet's condition. Here's hoping the treatments go well!
***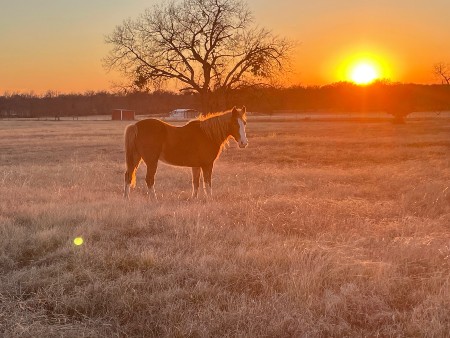 A month or so ago, you posted my two adorable Puggle sister fosters, Palani and Pernelle. They just completed heartworm treatment and were supposed to be adopted tomorrow (July 14). Unfortunately, out of the blue, Pernelle started regurgitating her food. I took her to the vet Monday morning and she has been diagnosed with Megaesophagus. It was a crushing diagnosis, but she has been doing really well. Here she is in the special chair she uses to eat. It's called a Bailey Chair and a volunteer made it for her. Prayers for health and an adopter willing to care for a dog with this condition.
Happy Caturday (I also foster cats and have 8 (!) at the moment) I always enjoy the Pet Thread. - Debbie
Tough condition, but we have a Setter with it who is going on 12. Good luck with your fostering and thank you for the work you do.
***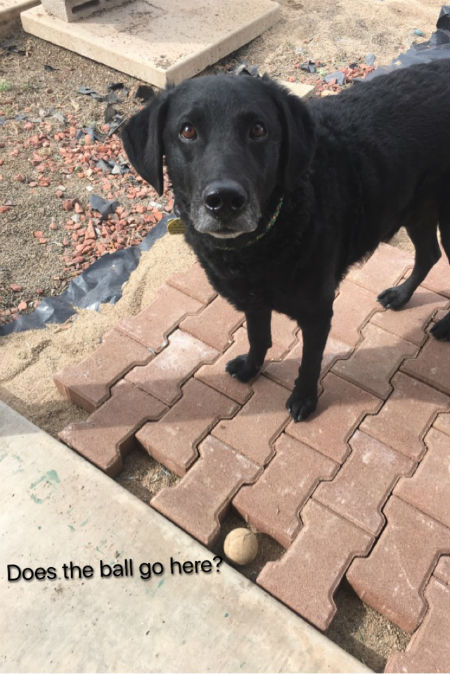 They're such a help, no matter the project. -DT
No argument from the Pet Thread Staff & Mgmt. Thank you for the submission.
***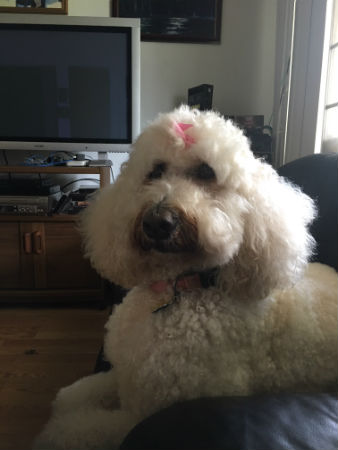 This is Guinevere. She was a Royal standard poodle. I rescued her at age 3. She died recently in her sleep at age 13. She worked as a therapy dog with autistic youth. Some successes, never any failures. Always a lady. Always loving.-Paul
Sorry to hear of your loss. She looks like a very loving dog.
***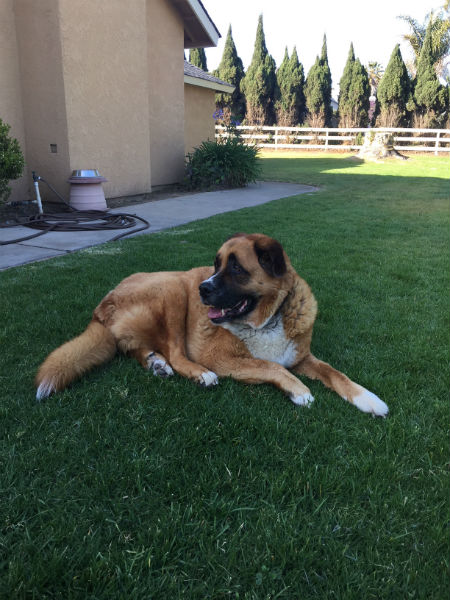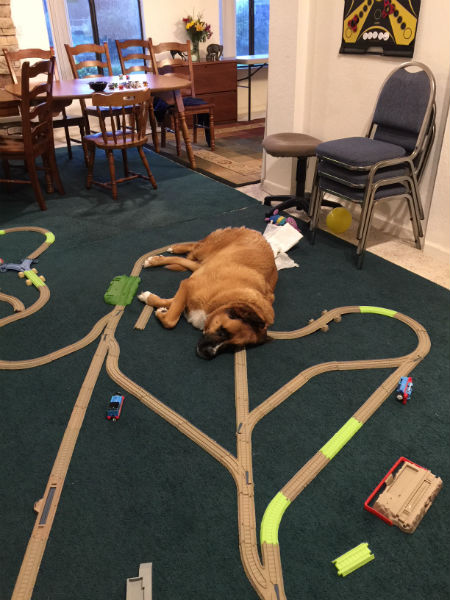 Hi,
We are longtime readers/lurkers Robyn and Billy, deep behind the lines on the central coast of California, in a little agricultural town on the coast right between LA and SF.

This is our baby girl Ruby, a beautiful Dane/Mastiff mix. We lost her to old age on May 15th of this year. She was the best dog...not our first, but most definitely the best. We rescued her 61/2 years ago after she'd been abandoned by her prior owners, left in the backyard, neighbors feeding her over the fence when they realized what had happened. We are convinced she remembered that trauma. As time passed she wouldn't stay in the backyard if we left the house. She always found a way past the fence (chewing through it sometimes), only to be found laying on the front lawn waiting for us to return. Towards the end we just never left for more than a few hours, leaving her inside the comfort of HER house.

I love the Dogzilla photo, so indicative of life with a big dog! At just over 100 lbs, all she had to do to get attention was stand in your way and demand to be loved. Or sit right next to you and lean on you. As long as we were home, she loved her yard. I always thought she looked beautiful on green.

She's left a huge hole in our hearts. See you on the other side, baby girl.

Thanks for your column. Keep up the good work.
What a beautiful dog. It is easy to see how see has left a hole in your world. Thanks for sharing with us.
***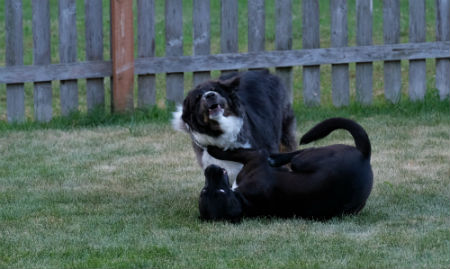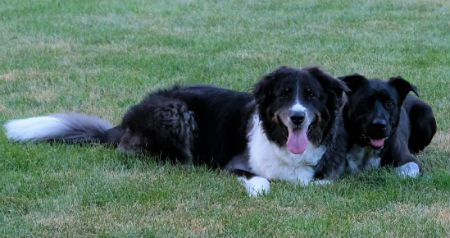 Ace of Spades longtime lurker's (TheCentralScrutinizer) mutts. Sam is a 4-year old Aussie/Newf /Greyhound mix. We recently picked up Spot from a local shelter here in the Omaha area. He was saved from an Oklahoma kill shelter and brought to Nebraska. They're both dumb as a bag of hammers but great family members.

A typical Saturday evening for a moron and his dogs. We hadn't even cracked open the first beer yet:

Edit: Forgot to mention that Spot is about a year old and a Pointer/Pit mix, we think.
Thanks TheCentralScrutinizer. It appears that you have a pair of wrestlers on your hands. The last photo suggests no mischief will take place in your home.
***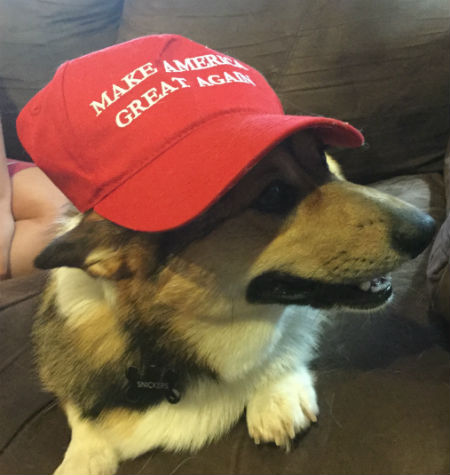 I know it's a Horde tradition to summon the Corgis, so here is our Snickers ready for action. -Bitter Clinger
***
Thanks to you who have stopped by today and thanks to all of you Morons for sharing your pets with us. What a great group of pets!!!!
Do you have something you wish to share with the Pet Thread? Please feel free to contact us at petmorons at gmail dot com.
Have a great week!!!!!

posted by Misanthropic Humanitarian at
03:00 PM
|
Access Comments