« Racist ONT
|
Main
|
Mid-Morning Open Thread »
July 13, 2018
The Morning Report 7/13/18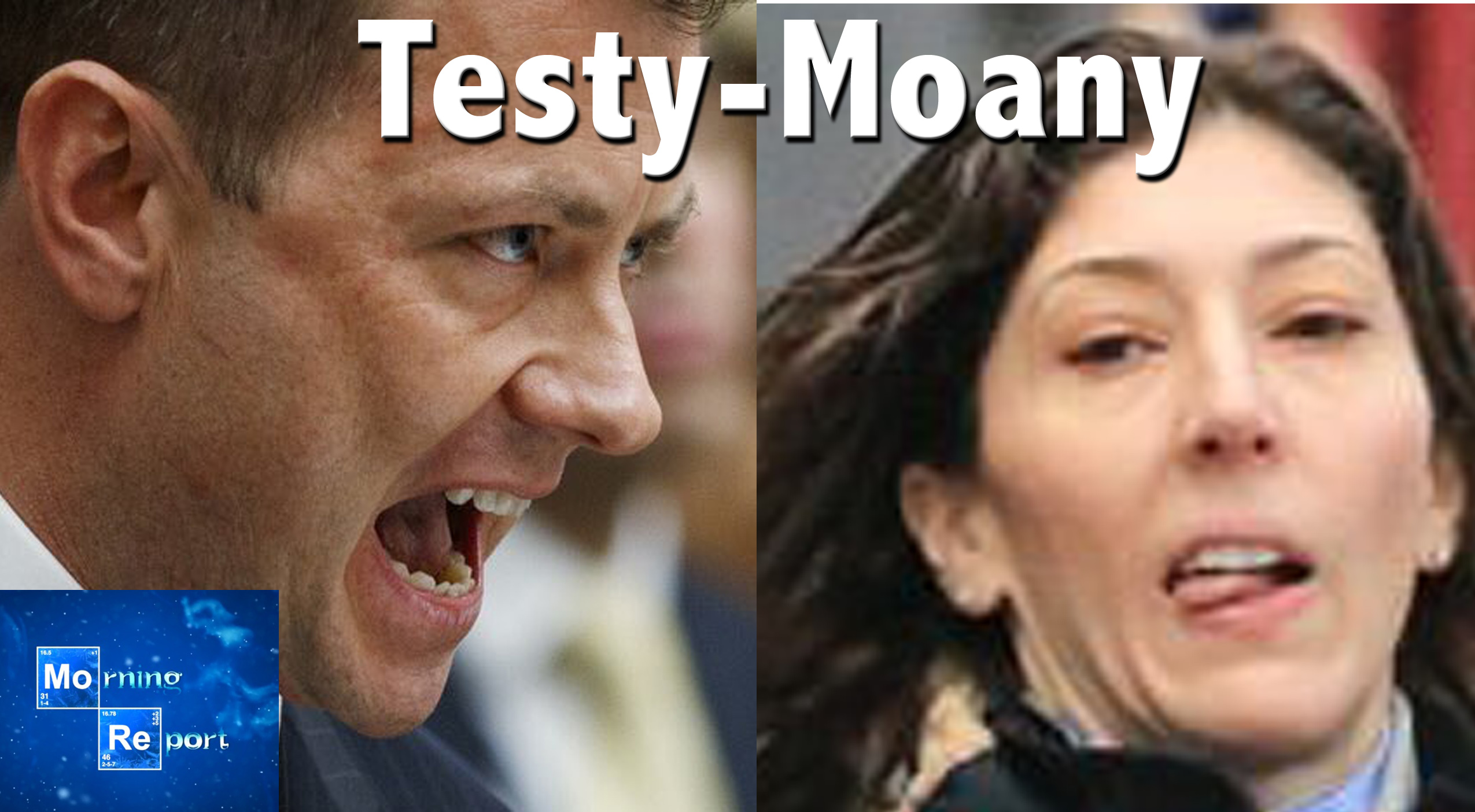 Good morning kids. The weekend is here and none too soon. It's also Friday the 13th so if you have triscuit-deco-phobia, stay away from 13-sided crackers (crazy-ass or otherwise). Obviously the big story in the lead was sleazy, traitorous ex-(or not?) FBI agent Peter Strzok's testimony before the House yesterday. With the boss' stellar coverage yesterday, assisted admirably by the wit and snark of the Horde, whatever needed to be said was said con gusto. Lots of links to sum it all up below. We all know the score here, and really what I have to say I don't think is going to add anything remarkably insightful or new (I think I just insulted myself). That said, Strzok's body language, comments and his facial expressions just spoke volumes about not only the kind of smug, loathsome, elitist, self-inflating ubermensch he thinks he is, but who the people who run our government, infect our body politic and control our media think they are as well. Despite the grilling that Strzok took from Gowdy, Goodlatte and Gohmert - who should be the Attorney General and as such do to the DoJ what Pruitt did with the EPA - he knows he's not going to face any recriminations whatsoever. Someone here please tell me that I'm dead wrong but I bet by the time the NOOD gets posted, there will be no comments forthcoming. And that explains why he acted, strutted, preened and postured the way that he did.
And then there's the Democrats. Ah yes, the loyal opposition (*pukes*) who regard the Constitution as an obstacle or a shield depending upon the direction of the rhetorical and legislative (or otherwise) artillery flying around, and would do away with the electoral process altogether, followed shortly thereafter by a sizable number of the populace as Billy Ayers once fantasized. It was a truly disgusting display, the highlights, or more accurately lowlights of which, included some shrieking dolt from New Jersey comparing the hearings to Benghazi, to Sheila Jackass-Lee claiming Strzok and the FBI had attorney client privilege to the low point of Steve Cohen proclaiming he'd give Strzok a Purple Heart for what he had to endure. Are you f***ing kidding me, Cohen?! As someone who is, as I type this, within arm's length of an actual purple heart earned by an uncle the hard way, getting killed in action, I can honestly say that that remark will not play well in Peoria to say the least. You can guess my own thoughts about my fists and his whore-mouth.
As horrible as they were, and worse, the notion as I stated that Strzok and his ilk will doubtless not only go unpunished but will be feted in all the finest salons of the Left and get book deals, speaking gigs and their own shows on MSLSD and the Airport Radar Channel (aka CNN), there is good news. Peter Strzok, Lisa Page, Glenn Simpson, Rod Rosensmegma, et al would be unknown and all of this buried forever were it not for one thing: the election of Donald Trump to the Presidency of the United States. Many here are jaded and skeptical that most people, save for political junkies and others are really aware of all of this. But PDT has made people aware of it in his own inimitable style. Add this shameful, disgusting, amateurish kindergarten temper tantrum to the Abolish ICE theatrics, the PussyHat resistance garbage and the confrontations with political leaders and ordinary citizens, and the Democrat-Left is going full speed over a cliff.
I think we are in the midst of a political and cultural sea-change gradually building before our eyes. Kanye West, #WalkAway, the rallies, the great economic news, the scorn of the media, the total exposure of the cuck-con-con artists, PDT's incredibly good polling numbers despite the propaganda war against him, etc. etc. and so many other things we see day by day, taken in toto, are not merely anecdotal or one-offs. Circling back, yes it would be eminently satisfying and just to see all these traitors tried, convicted and thrown into PITA Federal lockup for 50 years. But I'm satisfied that the guy I voted for only to prevent Hillary Clinton from being President has, in 18 short months, opened a lot of peoples eyes and set a match to the Leftist machine. And they are obliging by every day dousing themselves in gasoline. Stay tuned for Gun-Moll Gummy Boo-Boo later this morning. The Feminazis should be all over this one.
Moving along, McCarthy and Ryno for once have outmaneuvered the Dems and will put a Dem sponsored Abolish Ice bill up for a floor vote. Of course, the three Dems who sponsored it will vote no. Despite the proclamations from the Media and Eurabians to the contrary, the President masterfully handled our freeloading NATO allies who have cried uncle and will fork over do-re-mi to pay their fair share, some concern about the NorK negotiations, and Secretariat Kerry and Handsy Bidet hated that Russia-Germany pipeline but that was before PDT hated it too. As for Cory Gardner, yes all things considered Russia is a bad actor. But saying they should be put on the list of state sponsors of terrorism is probably not a wise move at this time, given the politicization of "muh kolluzhnikovs" and the fact that they're a nuclear power. Sheesh.
Politically, CNN is pimping Maxine Waters to run for president in 2020, Democrat-Socialite Loopy Velez is crying foul about Joe Crowley, Andrew Cuomo faces even more corruption allegations that he can sue SCOTUS over and Pelosi's challenger to her minority job is not going to go quietly.
On the gun front, California foul-up with registration could mean gun owners are at risk of being arrested and the Annapolis newspaper shooting is gone-goodbye from the headlines. Hmmm. We've got a number of good essays on "progressivism" (so-called) across couple of categories, Clock-Boy got his clock cleaned, Ohio is going to see a massive $2 billion Stormy Daniels theme park (Gropey-Land! Kidding). Don't walk under any black cats today.
Anyway, links from around the world, across the nation and up your street. Have a better one and remain blessed.
IN THE LEAD: STRZOK MAGIC SHOW